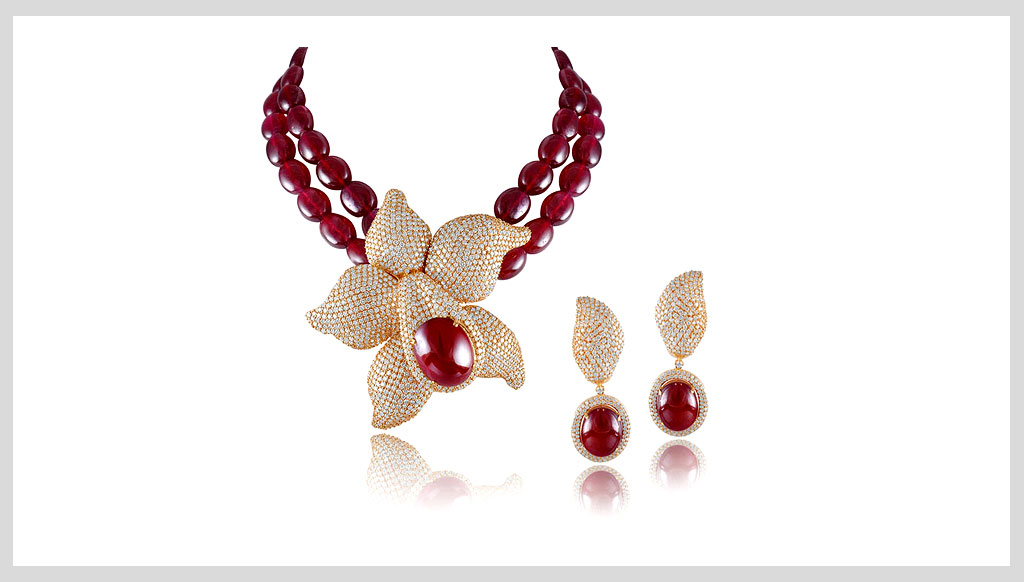 GLITTERING WITH GLAMOUR | With the rich experience of crafting jewellery for royalty since 1897, MBj is a modern torchbearer of regal Indian jewellery traditions
In a candid chat, MB Jewellers' Managing Director, Mayank Soni, tells us how the brand keeps up the beautiful balance between tradition and modernity
M.B. Group of Jewellers is an Indian symbol of timeless quality and style in the jewellery industry. Their collection comprises of limited edition pieces ranging from beautiful chandbalas embellished with pearls and diamonds, chandeliers glittering with diamonds, animal- motif inspired peacock kadas, chunky cocktail rings, bracelets with beautifully crafted motifs, bangles dazzling with diamonds, heavy chokers adorned with rubies, emeralds, pearls and diamonds, which transport one to the bygone era. Since MBJ is one of Luxury Lifestyle Awards nominees, we decided to get to know more about this company and addressed a few questions to its Managing Director, Mr. Mayank Soni. Here is the conversation as it unfolded
The Luxe Café: Currently the M.B. Group of Jewellers consists of 9 members, correct? But MBJ was founded back in 1897. How did group members change over the years? Did people inherit the membership from their relatives?
M.B Group of Jewellers is a family oriented business since seven generations. The current working members are the direct lineage of the founders. We originate from the royal standards of Ratangarh in Churu, Rajasthan – the state known for its exquisite art of jewelry. We have combined the royalty of Rajasthan with the best tradition of jewelry craftsmanship of Bengal.
To bring the highest quality of the jewellery you follow the high royal standards of Ratangarh. What are these standards and how challenging it is to follow them?
MBj has carved a niche for itself through their timeless creations of exquisite diamond jewellery, Rose-cut Antique, Kundan-Jadau, Polki and Gold jewellery. The USP of our collections is that each of our 'traditionally modern' pieces has been thoughtfully created to appeal to the woman of today who epitomizes a beautiful balance between tradition and modernity. Purity and craftsmanship are the skill sets which have been groomed and refined with time to maintain trust in us. With a discerning and distinguished clientele in India, MBj success saga has taken root internationally as well with the group holding a large number of successful global exhibitions over the years.
MBJ specializes in pretty specific kinds of jewellery design. What are they and why they were picked to stick to? Are there any plans to produce jewellery of other kinds?
MBj specializes in bridal, magnificent and one of its kind pieces. The splendid collection of our jewelry upholds the tradition of meticulous workmanship, uncompromising style and implicit trust envisioned by its founders. We have custom designs showcasing a mix of the tradition with the contemporary with specialization in antique, polki, kundan, jadau and diamonds. Peacock being India's national bird is our main source of inspiration. We have designed peacock shaped kadas, neckpieces and earrings with precious stones where every piece stands for the artistic flair of craftsmen who skillfully create them with passion. We bring modern concepts and hand craftsmanship together to make bespoke pieces. Our new collection is also targeting young office going people who want to flaunt their individual styles.
MBJ entered the retail market in 1982. What the company did for the living prior to this event? Why it was decided to enter the retail market?
We entered the jewelry market in 1897 and till 1981 we were involved primarily with manufacturing, wholesaling and exports. MBj moved into the retail market in 1982 with contemporary styled showrooms across the country in Kolkata, Jaipur and New Delhi. Ensuring quality and novelty through seven generations, MBj has evolved from creating the finest Jadau jewellery pieces for royalty, to become one of India's oldest families in the jewellery industry today. The tradition has continued since, with great creativity and spirit, focusing on innovative designs with finest craftsmanship.
What are the further plans of the company that has already become one of the biggest India's jewellery exporters? Have you considered to enter other markets and industries?
We are planning to come up with our own ecommerce portal within few months, as we think that this will help us expand our reach globally. We aim to take it to the next level and aspire to be like 'Tiffany jewelry' while remaining true to our origin. We will continue providing exclusive custom designs showcasing a mix of the tradition with the contemporary with specialization in antique, polki, kundan, jadau and diamonds to our customers. At MBj, consistent quality, highest standards of business dealings, customer focus and custom design have been our hallmark. We are working on concepts and designs for few countries like Luxemburg, France and Japan at the moment.
What do you think is the main reason why M.B. Group of Jewellers is successful? What do you enjoy most when working at MBJ?
As M.B Group of Jewellers is a family owned business, the strong commitment to quality and its relation to the own family name, and the humanity in the workplace where the care and concern for employees is often likened to that of an extended family makes it successful. I enjoy brainstorming new ideas and campaigns with my other 4 brothers who are the fellow Directors of MBj.