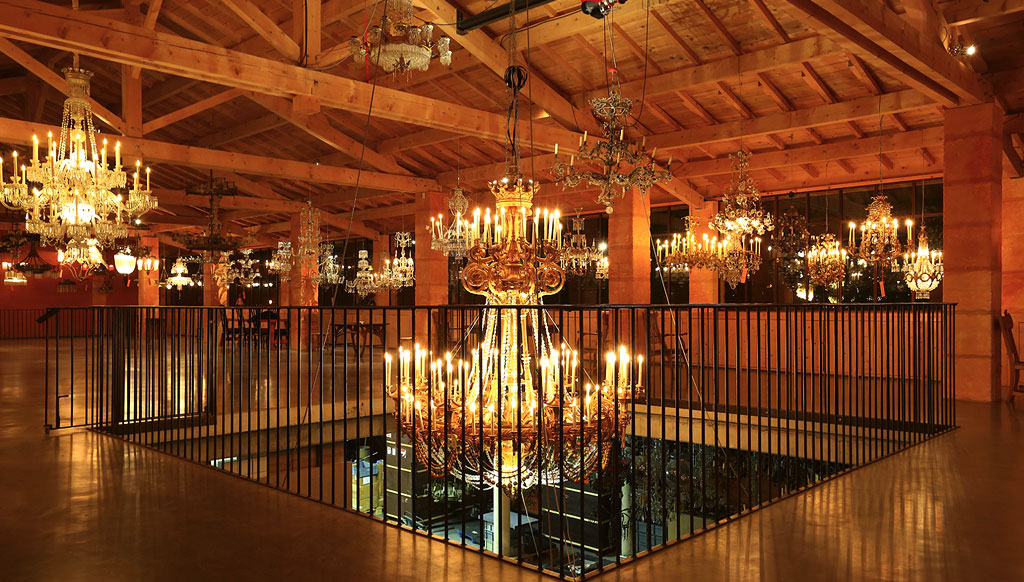 Regis Mathieu has designed chandeliers for the grandest of venues including Buckingham Palace, Baroda Palace and The Louvre, Paris
Breathtaking, original channels of light, shaped like a jellyfish or even the Niagara falls. Mathieu Lustrerie Atelier is an extraordinary boutique in France that restores, revives and reimagines the good old chandelier. The Luxe Café shows you how Regis Mathieu turns light into a sculpture
In the heart of the Luberon, France, along roads of ochre, the one of its kind boutique Mathieu Lustrerie Atelier restores, replicates and creates exceptional chandeliers for the most prestigious venues in the world. From Buckingham Palace to the Baroda Palace, the chandeliers continue to shine through the corridors of time. With a staff of twenty artisans, unique techniques have been developed allowing each piece that passes through their hands to become a true work of art that equals if not exceeds the level of refinement achieved by eighteenth-century masters. The present day face of the business is Regis Mathieu who continues to take his family legacy ahead. An MBA from CECE (European Center for Foreign Exchange Market Studies) in Marseilles, France, Regis is passionate about his art and also collects chandeliers as a hobby. Of late he and his team see themselves spending a lot of time in India.
A Family Business
Chandeliers seemingly destined to disappear, being dethroned by halogens, Henri Mathieu created a collection of lighting in 1970s of brushed aluminum blades, treating lights as sculpture. After Henri's untimely death in 1982 the workshop was run by his wife Yvette. Then in early 1990 their son, Regis Mathieu just 19 years of age, assumed the helm.
Fascinated by beautiful things since childhood, he immediately understood that his future was linked to history. He then expanded sales to the United States and the Middle East, bringing the French style to a prestigious clientele. Always in search of excellence, he turned to the directors of historic monuments; here he developed a unique expertise, working in close collaboration with architects.
After the first project for the Nationale, Mathieu Lustrerie restored chandeliers for the Comédie Française, the Opéra Garnier, the Galerie des Glaces at Château de Versailles, plus the Opéra de Monte-Carlo, and the Academy of Music in Philadelphia as well as numerous other public and private homes. In 2002, the company moved into a former ocher factory in Gargas, near Apt, not far from the family home. Hundreds of lights are restored and created annually by artisans who are continually improving their techniques, achieving an impeccable level of skill. Now nearly twenty-five years, the Mathieu Lustrerie Atelier has made itself known worldwide for its impeccable restoration and reproduction of antique chandeliers.
With work across continents, Mathieu says apart from working with heritage palaces of India, they now get orders for new luxury homes worth millions in this part of the world. "The luxury homes in India are top of the line and push limits, the clients are willing to invest in a larger than life chandelier that marks their style. A-listers who own independent homes, lend a lot of value to this centre piece of their house." People who invest in their work, are those who value art and artisanship and are art collectors even. At present they have individual projects across Mumbai, Delhi, Hyderabad and Chennai. Such is the value of their work, that chandeliers made by them 20 years ago in Europe are being auctioned for an even higher price than what they are selling for now.
Gifted Artisans
The twenty artisans working in the Mathieu Lustrerie Atelier all share the same passion of the ages and the desire for each new project to surpass the last. "They work wonders", admits Regis. Trained at the best art schools, most arrive very young and combine the energy of youth with true experience.
Using the techniques and materials of jewellers, they are masters of traditional know-how and demonstrate the extreme level of skill required. "Together we work for an object that will outlive us, we survive in that piece. This makes us extremely proud of our work," says Mathieu.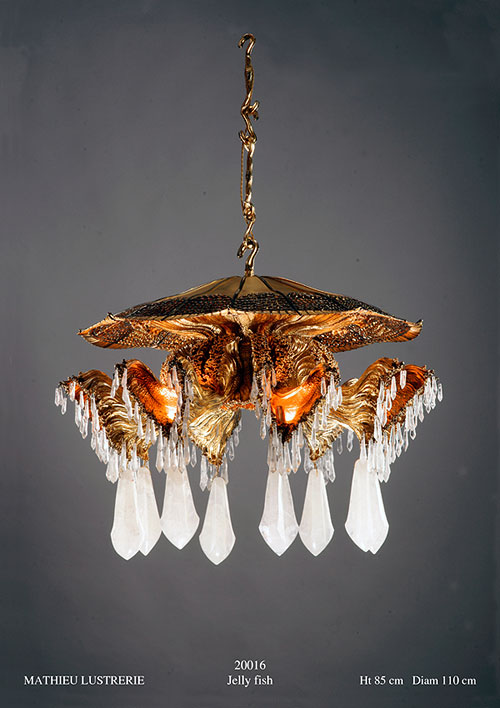 Reviving Heritage 
Most chandeliers from historic homes, museums and palaces have suffered the ravages of time, and are often incomplete and damaged; in many cases parts have completely disappeared.
In depth research is conducted, in consultation with conservators and advisers. Utilizing a computer database and a thorough knowledge of the history of chandeliers, as well as documents from archives, plans, and historic photos a chandelier is reconstructed. Identical Parts are manufactured in accordance with traditional techniques. Sometimes, even old paintings are referred to, in the absence of historical material.
One of their mammoth projects has been sanctioned by the Baroda royal family. It feels different says Mathieu. "In France when we had to restore a chandelier at the Chateau de Versailles, it was a government project that felt like we were undertaking it directly for Napoleon for whom the work had originally been commissioned but in Baroda, while working on the oldest chandelier in their Durbar hall, the family was involved and had stories to tell, it was all very personalized".
The chandeliers in the Durbar Hall had not been touched in all this gap of time. It was an extremely slow and expensive process that took approximately two years. The original colours and gildings had to be reproduced.
Some of their prestigious clients include- Musée du Louvre – Paris, Château de Fontainebleau, Opéra National de Paris – Palais Garnier, Château de Chantilly, Cartier Champs Elysées, Laxmi Navas Palace, Hermès – New York, Notre Dame de Paris, Van Cleef & Arpels – Hong Kong, Chanel – Asie, Shangri-La – Paris, Hôtel Claridge's – Londres apart from many other lauded names
Making a mark
Models from Holland's grand period, from the time of Louis XIV, as well as early eighteenth century, along with Empire and Napoleon III chandeliers are reproduced in the great historical tradition; signed by one of the artisan with a serial number allowing them to follow the history of the object in every detail, explains Mathieu.
Historically, this method of reproduction is traditional of the lighting craft to the delight of the restorers of historic buildings. "This allows them to complete a restoration that they have entrusted us with, to replicate faithfully to the original. Many major international designers use our numbered editions giving historical acclaim to the interiors designed," says Mathieu.