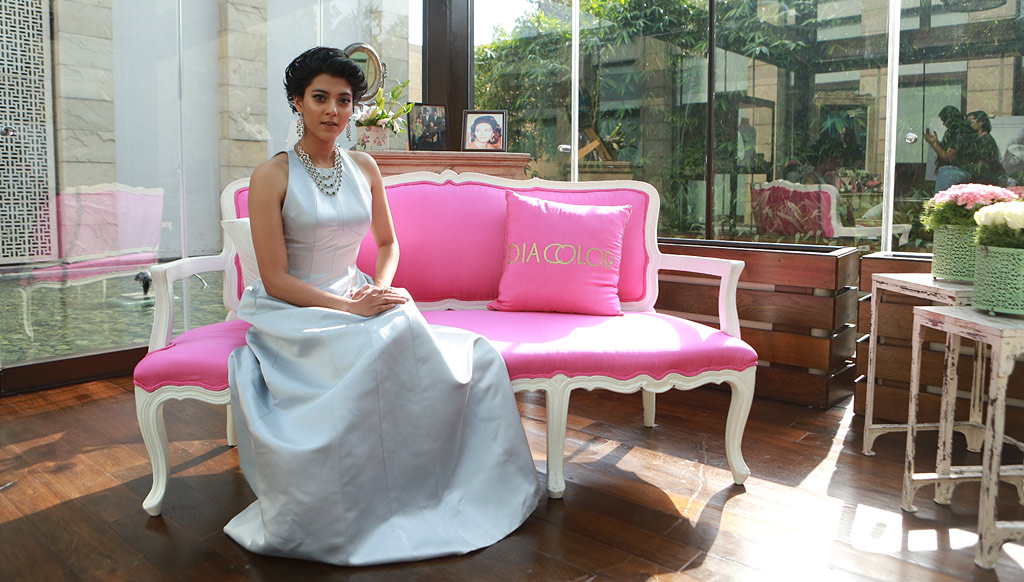 MANY HATS ON A PRETTY HEAD | Artist, photographer, polo player, design expert, Mriganka Singh of Jammu & Kashmir is also the face of Diacolor jewellery
Princess Mriganka Singh of the erstwhile royal family of Jamma & Kashmir, who is currently the face of luxury jewellery brand Diacolor, is a luminous personality with multiple talents. The daughter of Yuvrani Chitrangada Singh and Yuvraj Vikramaditya Singh of J&K, Mriganka credits her parents for a beautiful and humble upbringing that keeps her grounded as she dabbles in different creative pursuits
The Luxe Café: What is luxury for you? How do you define it in current times?
Luxury for me is the freedom to express oneself without any inhibitions. If I have to define it I would say to be with your loved ones and doing what your heart says is a luxury in today's world.
Tell us something about your childhood and your education in various creative fields.
I grew up in Delhi, and the interest in art started in school as a hobby.  As kids my brother and I used to get two months of summer break and we used to go to Himachal every year to my grandparents' home in Taragarh (which is now converted into a hotel). We were encouraged by our parents to interact with local people while we were there, so there I learned about paragliding, riding and I met monks and old musicians. Later I went to study creative arts in Singapore, and before coming back to India I worked in an ad firm there and learned about different aspects of creative business.
Tell us something about your association with art. Are you planning to do an exhibition any soon? What inspires you as an artist?
As a little girl I used to watch my mother paint, and she did some amazing oil and watercolour art on canvas. She used to paint a lot of ponies and horses and used very different techniques. So in school I took up art as hobby and today also I paint, but I have never showcased it in public. I like to do art installations with papier mache – its environment friendly so I prefer this medium.  I tweak the technique, so there are textures and various kinds of colour combinations that one will see in my art. I paint according to my mood and I often listen to some house or lounge music while I am working on my art.
Tell us about your interest in horses and when did you start playing polo?
I was brought up in a family where riding horses is a very common interest, both my father and brother are very good riders. As a kid I could do a little bit of stick and ball, but I started learning professional polo almost two years back. I have my stables and I am very fond of horses, as for me all of them are very special.
You are also very fond of photography, so could you tell us something about that?
I learned photography in Singapore and whenever I travel, I love taking pictures. My father is a very good wild life photographer and he has done some beautiful landscape and nature photography. Whereas, I like clicking portraits and click people are me from time to time.  I have a very good Nikkon camera and whenever I find time I take pictures.
What is your personal style when it comes to clothes and jewellery?
In jewellery, I love wearing earrings and rings. I can't go without these as they are my favourite pieces.  While I love dressing up, I also keep my ensemble very simple and prefer straight lines and sharp cuts. I dress according to my mood, and I like a hint of edginess when I am dressing up. Also, I am a big shoe fan, but instead of picking up heels I like to buy shoes that I live in. My favourite brands are Gucci and Tod's, as they make really smart shoes.