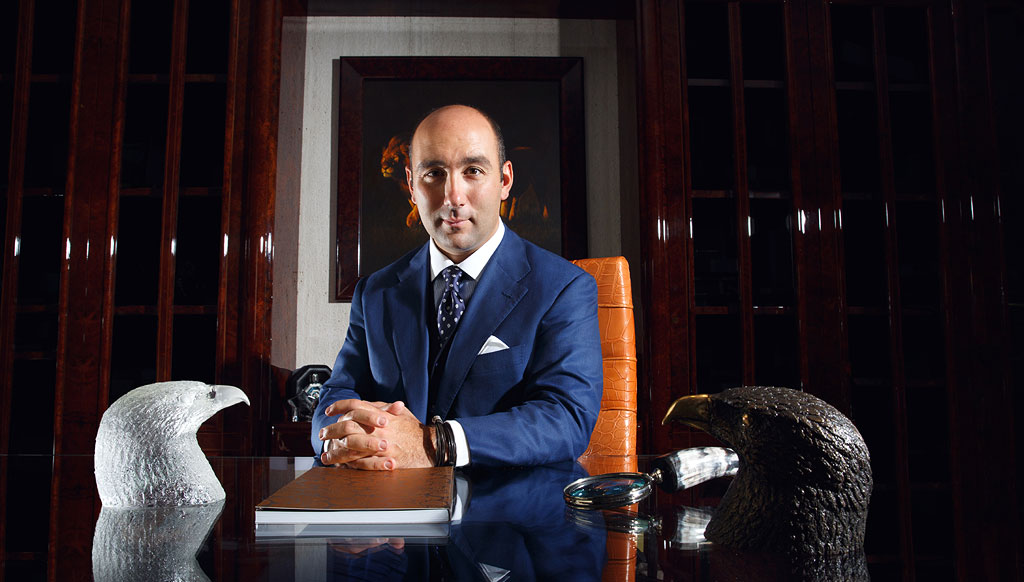 The summer '16 collection designed by Stefano Ricci bears witness to an inherently tasteful Italian flair, as testified by the brand's creative director, Filippo Ricci
Italian luxury brand Stefano Ricci entered Indian market a year ago with its flagship store in Mumbai's Taj Palace Hotel. The ethos of this premium luxury brand lies in its core philosophy of promoting Italian craftsmanship and fine art. For S/S 16 the brand has some exciting interpretations of three-button Safari jacket for men, and in the decor segment a tribute to Sandro Botticelli in pure gold is the highlight of this season. We caught up with Filippo Ricci, Creative Director of label Stefano Ricci, and got an insight of his personal take on luxury
The Luxe Café: How would you define luxury?
Luxury is a term that is very often abused. My father always says that the term luxury is used to give a justification to any product that, in the end, has only the final cost. That is why more than talking about luxury; we prefer to talk about quality and creating an emotion.
Please tell us something about your apparel segment for men. For S/S 2016 what are the trends that one will see this year?
Intense gold, delicate peach, turquoise, deep-water green and ice, these are only a few of the colours that highlight our S/S 16' menswear collection. Shades of the land and countryside alternate with reds that turns brown, never dazzling but always intense. The jacket remains long and fitted, but the structure has been greatly lightened. The fruitful contaminations of casual wear introduce a variation on the theme of elegance, taking the most classic and structured garment to a new shape, to a unique balance between lightness and performance. The three-button Safari jacket made of silk, linen and cotton has a precious artisanal material consistency; worn with the ultra-light cashmere scarf, it has large curved pockets and is worn ton-sur-ton on cotton and cashmere trousers embellished by leather details,  straight, perfect above the matted crocodile leather espadrilles which are rigorously handmade. The cotton and silk casual jackets are worn with a driver hat, perfect also for the short, zipped blousons made from wool, silk and linen.
When it comes to luxury in menswear segment, what are the top three things that Indian male consumers look for?
The Indian gentleman has a very sophisticated taste. A refined cut (real bespoke), comfort and the highest quality – those are the top things that men shoppers always look for.
How big a role does customization play in luxury segment?
Our products are created for those gentlemen around the world who already have everything but are constantly searching for timeless elegance and the highest level of quality and customization. We have made-to-measure services that provide a true bespoke experience to all our clients. We understand that demand for these services are increasing as clients have higher and higher expectations.
Please tell us something about the latest S/S collection in your home decor segment. What are the key trends that are being highlighted in 2016?
For the 2016 Stefano Ricci Home collection, we looked into the future, bringing innovative colours to the ancient skills of authentic Florentine craftsmanship. I chose the favourite colour of kings, the Lapis Lazuli, for a new porcelain décor rich in historical meaning with a modern impact. The intense blue hues are enhanced with hand-painted 24kt gold trims and a marbling effect. Driven by the desire to glorify the Florentine heritage, we wanted to pay a tribute to Sandro Botticelli with a new exclusive floral design. Made in 14kt gold with two types of pure platinum (matte and shiny), the Botticelli precious bone china dinner service, is the fruit of careful design and calligraphic manual work.
How does the brand promote luxury through its creations in fashion and decor segment?From the beginning, we have been focusing on achieving the highest level of quality by maintaining the entire manufacturing in Italy. As it is true for our menswear line, every single piece of the SR Home collection is handmade following Florentine craftsmanship traditions, ensuring only the very best quality of 100% Made in Italy.
It has been a year for the brand in India, so how would you describe the Indian luxury market. Any plans of expansion in other cities and segments under the brand?
I believe India is living a great moment and we are excited to be a part of it. We definitely see a great chance for our brand grow into the Indian market. After Mumbai, hopefully New Delhi is our next destination.