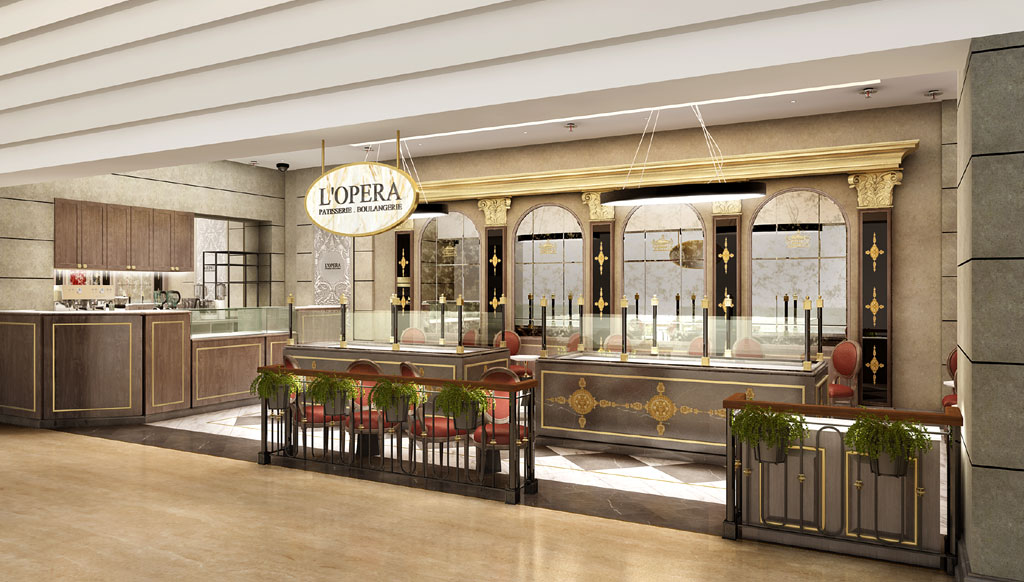 FRENCH FINESSE | Chessecakes, croissants, fluffy pastries and more; for the most authentic French taste, head to L'Opera
At L'Opera, you don't just savour a French dessert, you experience the entire French tradition. Kazem Samandari, founder of the French Patisserie and bakery chain in the capital, talks about how the French dessert lies at the heart of French culture, and how they have adapted to Indian tastes without compromising on authentic quality. In this interview, Samandari tells The Luxe Café how they are proud to be the trend setters in the rising popularity of French desserts
The Luxe Café: How has the journey been so far?
There was no authentic French bakery in Delhi when we started. When the idea of opening a French pastry shop came to our mind, we went to hotels, coffee shops and met the pastry department of hotels like The Imperial, Hyaat and Oberoi's.  We tasted the bakery products and  spoke to a lot of people who had imported French products. We then hired a French chef for six months to come and advise us on raw material to do French-style quality. We also studied the price points and ensured the quality of the raw materials. This entire process took 15-16 months to give a final start to the project.
What difference do you see between L'Opera and other bakery shops?
The products at other bakery outlets look good but quality is far from what it should have been. For example, croissant. You would only find bread shaped in the form of croissant everywhere. The only bakery we found close to the French standards was Oberoi's . Quality and consistency are very important to us. It's an everyday effort, you can't lose vigilance even  for a day with people, with raw material and with the level of service. My wife goes every week to the outlets to see how the people are dressed, how they greet the guests and how they serve. Luxury is attention to detail. Luxury is an attitude, it's a way of behavior, it's a status, beauty, quality. and we are producing luxury at a very affordable prices
What challenges you have faced so far?
Different places have different challenges. For bakery business, we need uninterrupted electricity. But you don't have such challenges in Europe.  Delhi Government doesn't allow you to have refrigerated trucks on the roads during most of the day.  So we have to use special insulated boxes to transport our bakery products.  Another challenge was to ensure we had the right raw materials. In Paris, you order the raw material and it would be delivered to you in an hour. Here, you have to make long term supply contract, to ensure they have right flour because the quality of local flour changes dramatically during the year.
How do you source the raw material?
We are an Indian company, so whatever we can source from here, we do. But we never compromise on the quality. If the Indian flour or other products are not up to the mark, we use imported products. Sometime Indian manufactured products are sufficient but there are times when you need high quality and for that we usually import.
Is wedding an important market for you?
Wedding invitations, yes. But wedding itself is not as big because of the Indian way of doing weddings.  In India, people take drinks and by the time they come to dinner its almost 11 pm in the evening and then the dessert is even later or sometimes neglected. The French dessert is the heart of the culture. Eating is the central part of the weddings and there is a whole ceremony associated with it.  It's a social event.
Which are the most popular French pastries world over that you serve at L'opera?
L'Opera, a pastry with French custard
Mille Feuilles – also known as the Napolean, is a french pastry existing since several 100 years.
Who do you consider as your competitors?
I don't believe there is anyone that can be called a serious competitor. We have authentic French way of creating the bakery products. We have adapted to Indian tastes without  compromising on quality standards.
Have you tried to make the pastries keeping the Indian taste in mind?
We have made a selection of 100 pastries which Indians like but haven't  Indianised our products. For e.g. the Blueberry Cheese cake served at L'Opera. The cheese cake is not French, but we have maintained the French way of doing it. So we have adapted to Indian taste but we are 100 per cent faithful to the French traditions.
How do you see the emergence of bakery in the breakfast biz in India?
When we started, the only French bakery and pastry shops were in 5 star hotels. Now L'Opera has 16 outlets, and another 2 coming up soon. So if we have gone from one outlet in 2011 to 16 outlets now, it shows that we have increased the number of people who appreciate the French pastry and bakery products. We believe the French way of having breakfasts (with croissants and chocolate croissants, or cereal baguettes) is being rapidly adopted by the young Indian population. In South Korea, there is Paris Baguette, similar to L'Opera, which has over 2000 outlets just in one single city. It's a question of being long enough, being patient, developing the taste and I believe French bakery  and pastry products will also become more popular in India in the coming years.
What are the trends that you see in the bakery industry?
French pastry and bakery products will become more and more prominent. We believe the direction towards more sophisticated and more French style of bakery and pastry is for sure the right direction. The trend of bakery and pastries is growing in India and we are proud to be the trend setters. Also, People will soon move from a quantity to quality approach for pastry and bakery products. French people appreciate good food and good dessert (pastries and bread) but they are very careful with the quantity. We don't sell our cakes by kgs, we say 4-6 guests or 8-10 guests. It's not by kg, it's an experience.
How many outlets do you have in India?
We started operations in 2010 and opened our first flagship outlet in Delhi in 2011 and today we have 16 outlets across Delhi, Gurugram and Dehradun. We plan to open 50 outlets across the country by 2021 with focus on cities like Chennai, Mumbai, Bangalore, Pune, Delhi and NCR.