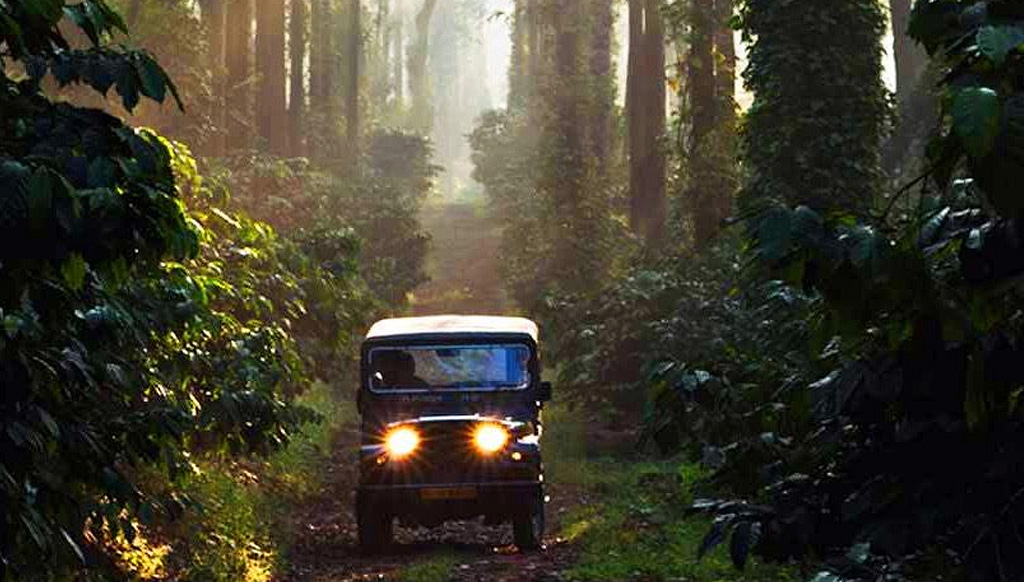 NATURAL NIRVANA | There is nothing quite as rejuvenating as being in touch with nature in its pristine glory.Shown here is a guided jeep drive-through of the coffee plantations
Plantation Trails by Tata Coffee, offer a unique heritage and luxury bungalow experience in Coorg and Chikmaglaur areas, about 3400 feet above the sea level. If you are looking for a holiday far from the city's hustle-bustle, this can be your perfect destination pick
A blend of heritage charm and modern amenities, the bungalows here are over 100 years old, yet well maintained. Amongst various heritage bungalows, the recently restored 'Thaneerhulla' bungalow is the most sought after. It is a unique colonial-style property, combining the grace and grandeur of a bygone era with contemporary comforts and warm hospitality. The century-old bungalow has 5 spacious and airy rooms, wooden flooring, cozy fireplaces, Victorian furniture and an overwhelming sense of serenity. The recent restoration has also added the luxury elements to its old colonial charm. Every room has a view of the coffee plantations and in addition to these amenities, the bungalow is equipped with personalized cook and butler service to give an exclusive holiday experience.
The heritage bungalows also offer vacationers a first-hand opportunity at experiencing a planter's way of life. The tour of the coffee plantations, lavish greens, blue skies, refreshing breeze, neighbouring hills and the soulful environs add to the authentic aura at this property which takes us back to a time, when leisure meant refinement and space.
Activities here are limited but the plantation experience is exemplary. The guided plantation tours and long nature walks are the most befitting for a relaxed holiday. The experts would tell you everything you would like to know about Arabica and Robusta coffees. The aroma of vanilla, cardamom and pepper grown as inter plants would be a surprise element. Long treks amidst the lofty peaks of Baba Budan Giri are a great option for adventure lovers. The Hebbe and Kalahatti water falls call for a special mention as they add the mellifluous beauty around. Chikmagalur is also home to ancient Hindu architecture and mythology with the intricately crafted, historic temples at Belur and Halebeedu from the Hoysala Empire.
The property also overturns the myth that Coorg is not a monsoon destination. In fact, the secluded, airy, heritage bungalows promise to give you the magical monsoonal experience. Plantation Trails is a holiday address that's hard to forget – for the nature lover, the wildlife enthusiast, the culture vulture, the intrepid adventurer, the luxury connoisseur and anyone who needs a serene, rejuvenating break.
Tariff per night–INR 10,234 for Cottabetta Heritage Room; INR 9,632 for Thaneerhulla Heritage Room