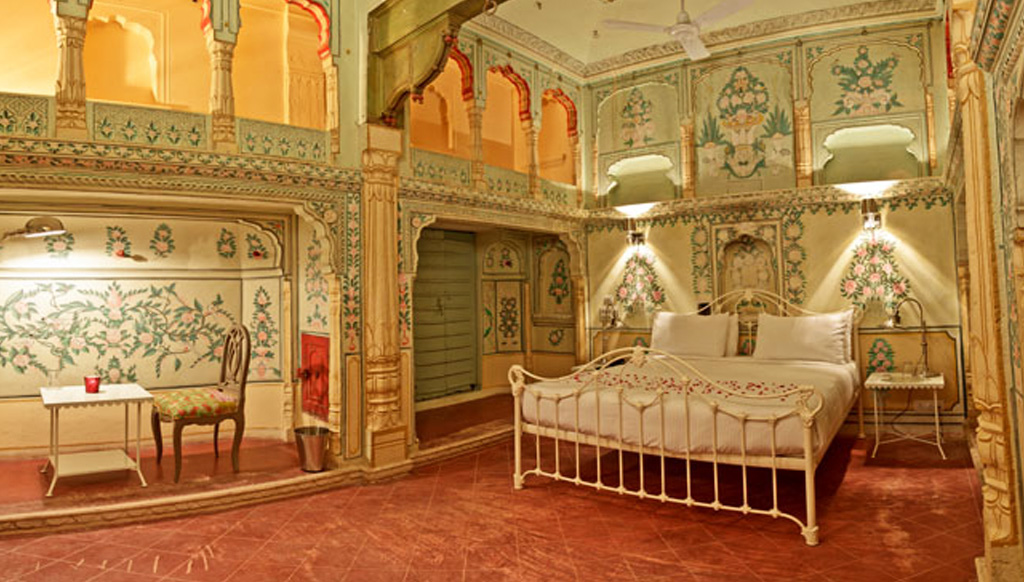 VINTAGE CHARM | Vivaana's richly detailed interiors featuring original frescoes, a salute to a rich legacy
When on an historical trail off the beaten track, remember to peep into the sepia tinted recesses of time past through the handcrafted windows and archways of Vivaana, a boutique culture hotel, unique not just in its concept but in its impeccable charm as a symbol of Shekhawati heritage and beauty
When the time worn frescoes of vibrant Shekhawati enticed an art-loving city dweller into its scintillating folds, Vivaana, a culture hotel was born. In a landscape dotted with havelis, bastions of a culture grown out of the flourishing silk route trade and the ensuing riches of the Marwari merchants finding expression in their palatial family homes or havelis, there stood one in particular – the Ram Pratap Nemani haveli. As a structure that had survived the test of time, it shone in the light of the solo lamp post nearby, full of promise and beautiful potential which, when brought together with its neighbouring twin Kalicharan haveli, restored and recreated to its glory, today stands tall and proud as Vivaana.
A labour of love, Vivaana is mingling of two meticulously restored 19th century Shekhawati havelis in Churi Ajitgargh, featuring 23 luxuriously decorated rooms and suites, each different from the other.The best parts of this heritage haveli are the picture sque frescoes which bring the place alive and which have been left un-tampered. The frescoes adorning the facades, gateways, walls and ceilings of the property depict mythological and historical themes, spanning from images of Gods, Goddesses, flora & fauna, to the life of Lord Krishna and also some erotic frescoes. Introduced by the Shekhawati Rajputs in their forts and castles, later espoused by the Seths who travelled far and wide, the techniques employed to paint these frescoes were elaborate, and comparable to the Italian frescoes of the 14th century. The colors were mixed in lime water or lime plaster and were then made to sink into the plaster physically, through processes of beating, burnishing, and polishing. All the pigments used were prepared with natural and primarily household ingredients like kohl, lime, indigo, red stone powder, and saffron. These frescoes were further complemented with mirror work, lattice work and intricately carved wood work.
Easily connected via road, Churi Ajitgarh is 10kms from Mandawa and lies between the Delhi-Bikaner-Jaipur triangle. Even as Mandawa is the most visited hamlet of Shekhawati, Vivaana is its most well-kept secret, reserved for the discerning traveller who wants an oasis of calm away from the touristy hordes while soaking in the original ambience of a storybook town. Handmade oversized beds, goose down pillows in a room with embellished walls, tall doorways,arched ceilings makes for an indulgent time with old world charm at its best. Personalized service and warm Rajasthani hospitality, right from a musical welcome amidst falling rose petals to alfresco dining on private sand dunes, will make you feel at home as one travels back in time, with only the vibrant space around to be explored, and no television to distract.
Being tucked away in history's cradle, Vivaana does not, however, lack in modern luxuries and houses an Ayurveda spa [interestingly named after the erstwhile resident elephant Rani], pool, Vivaatini bar, multi-cuisine restaurant, tea lounge, library, game room, gardens among other avenues of discovery. With spectacularly rich detailing in its interiors, evident also in the selection of furniture to crockery to curios, it is quaint and old world even in the way the hotel's name is written on the number-plate of a vintage orange Ambassador standing on the hotel grounds.
For eyes sore from all the concrete and smog, a relaxed siesta on the Vivaana rooftop under the pristine blue skies is an unforgettable experience. At night, the inky blue sky becomes a window to the starry sparkle beyond – something too precious to miss out on.While an art lover can easily lose himself in the vast expanse of aesthetically abundant Vivaana, the guided village walks into neighbouring Mandawa, Nawalgarh, Fatehpurand into Churi Ajitgarh itself will be quite an experience of a heritage walk. The ubiquitous camel safaris to see rural Churi Ajitgarh from the height of a camel back is as much an option as is bird watching while also admiring the visiting peacocks. A whole host of other activities, ranging from reading in the Fresco Lounge, watching folk performances to kite flying and karaoke-in-the-bar, are also available for those willing to pursue, but the thing to remember is Vivaana's legacy as an outpost of a culture that faded way into the quite leaving behind its vibrant frescoes to tell all the stories.
Reminiscing about his Vivaana journey, founder Atul Khanna shared – "When I turned 50 I change my focus from following my mind to following my heart. My decisions in business changed from meeting financial goals to creative and conservationist approach. Vivaana is, thus, a labor of love rather than a purely commercial venture. The ambience of a heritage property is its distinguishing difference from the gloss & glitter of a modern box Hotel, and every nook and cranny of our restored heritage haveli radiates old world charm and the historical significance of a bygone era.Our commitment to preserve and enhance the cultural heritage of an earlier century is manifest in every detail which enlivens Vivaana. We made a conscious effort to perpetuate the original structure and traditional integrity of these beautiful havelis.  The surroundings and sounds at Vivaana are reflective of the culture, of the people of Rajasthan, where the wafting music of a colourful and creative tradition is the background score for Vivaana. The Hotel exemplifies the care taken to preserve the rich legacy without any interference with the cultural ethos of the architecture, emotions, and sanctity of this great land of Rajasthan."
And going further, he shares with us his insights while ending on a thoughtful note when he said, "As a conservationist at heart, it pains me to see heritage proper ties falling prey to commercial lucre and greed. The sorry sight of havelis being neglected due to complex ownership patterns through generations pains me immensely. Moreover, havelis giving way to markets and shopping complexes is a sad reflection of today's callous disregard for history and legacy. The beautiful painted havelis of Shekhawati are a historical treasure. Vivaana is born out of an effort to restore this cultural gift and it has undoubtedly been an experience par comparison. The entire process of reviving the twin havelis was greatly enlivening and inspiring, though quite challenging. We would like to appeal to the entrepreneurs to incorporate the havelis in their business models, natives to be proud of their rich heritage, archaeological departments to take ownership and accountability of these ageless wonders,and the government to make stringent rules to safeguard the historical properties."