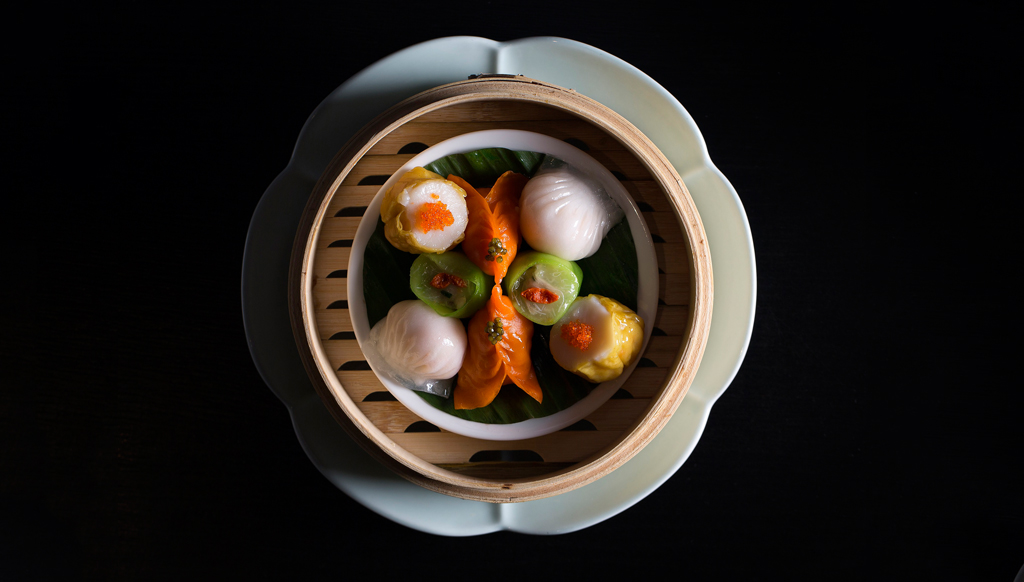 (DIM) SUMMING IT UP | Dim sums have been comfort food but have evolved from their Cantonese origins to imbibe Shanghainese, Szechuan and other local influences, fast becoming a much-loved item on gourmet menus around the world
Taking time out from a busy work day, a lot of young professionals are turning to dim sums as their favoured lunch options and joining in the others from all over the world who love their dim sums, steamed, poached or fried, and at any time of the day. This comfort food favourite from the teahouses of the erstwhile Silk Road is now a soul food featuring high on dedicated menus of fine dining establishments, or the modern day teahouses, as it were. Let us tell you a little more about this culinary classic before you learn more about it straight from the master Chef Stanley Lum Wah Cheok of Yauatcha
Dim sum is a style of Cantonese cuisine prepared as small bite-sized or individual portions of food traditionally served in small steamer baskets or on small plates. This is how Wikipedia simplifies unique culinary object that came up thousands of years ago when people opened up Tea houses for the folks who travelled along the Silk Road through China. Tea was served with bite-sized snacks as an accompaniment, and thus yum cha was born. Today, dim sums are becoming centerpieces on restaurant menus, even as trendy dim sum tea houses are springing up all over the world. As chefs in fine dining restaurants are introducing varied dim sum menus featuring steamed, pan-fried or baked dim sums with myriad fillings – of pork, chicken, prawn, crab, shredded cabbage, asparagus, chives, lotus root, scallops, wild mushrooms, and more – they are no longer the humble appetisers that it began as. With nutritionists also giving their nod to these light bites in their gleaming translucent skins (unlike the Tibetan momos encased in refines flour), the tribe of dim sums is flourishing. Hard-to-please herbivores and hardcore carnivores are both taking to the idea of tucking into these flavour-filled pouches with tasty, meaty, spicy mixes, lightly bathed with seasonings of oyster sauce, honey, Hoisin sauce, sesame oil, soy sauce, five spices, Chinese wine, salt and sugar. Eating a dim sum can be a very Zen experience in itself, given that the simplicity of its appearance belies the complexity of what it contains – fresh, flavour some ingredients in harmonious blends bringing out a richly layered taste and satisfaction.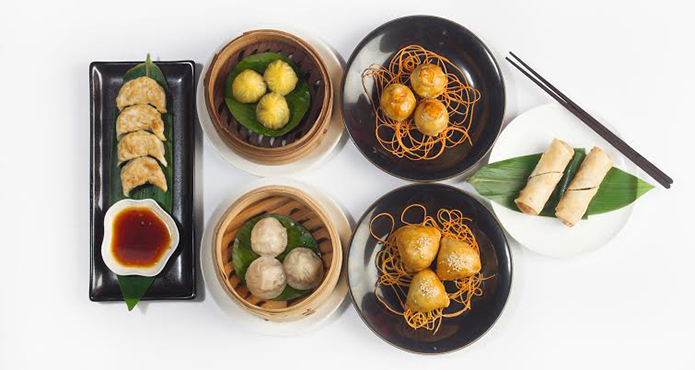 While crafting a dim sum requires patience and practice, the idea of it also begins at the very basics where flour is the most critical ingredient. While some specialty restaurants and chefs use carbohydrate-free flour, others import ingredients like potato starch, tapioca, wheat starch, red lotus flour, rice paper and wonton skin to make that perfect outer casing which then needs to be filled in, but not too much for fear of it breaking, and then folded and steamed, but not over-steamed. It's an exercise in perfection and also imagination, as one can see chefs experimenting with the fillings to offer varieties like dim sums without the flour casing – steamed vegetable bundles, or one-piece items like tofu and radish cakes, filled with carrot, radish, corn flour and Asian vegetables, or veggies stuffed in an omelette covering, or even spinach and lettuce leaves stuffed with mince or veggies. There are harga osin cute bunny shapes, pan fried gyozas, open faced siewmais, melt-in-mouth baos, and some with sweet fillings of chocolates and caramelized sesame. Improvisation is key here and chefs in India are adapting the Cantonese dim sum to offer varieties which are tempting to the Indian taste-buds, which in turn are also evolving as contemporary, cosmopolitan culture is giving the dim sum a focal space in the culinary landscape. Be it a business lunch or a laid back dinner, the pretty and packed dim sums are very much the trend, and not just because of being low on calories and cost, but because of their ease and essence, at once appealing and satisfying.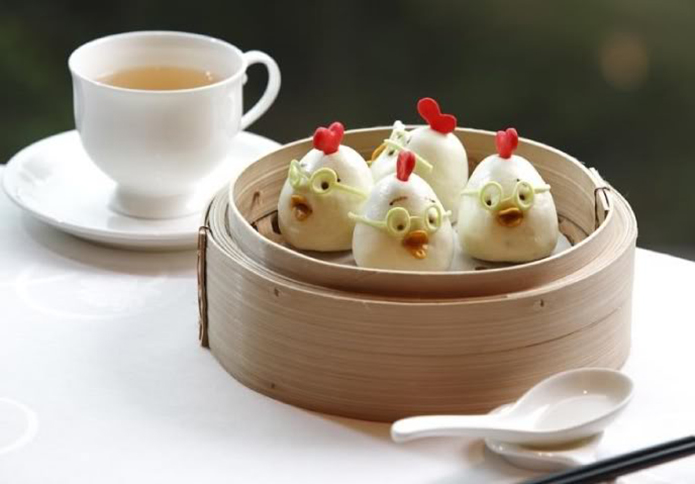 Coming to an exclusive dim sum tea house, Indian cities like Delhi, Mumbai, Kolkata and Bangalore have their fair share of stand-alone restaurants and those housed in the 5-star hotels. One name to mention here is that of the Michelin starred dim sum tea house – Yauatcha – from London. Their forte` is authentic Cantonese cooking with a contemporary, and their creative dim sum menu boasts of a wide range made from the freshest ingredients. Interestingly, the design architecture of Yauatcha's gives a modern twist to the old Chinese tea house where the ambience does not take away from the food, the lighting helps to soothe you, and the seating embodies the atmosphere of a congenially vibrant 'chatter shop', akin to the traditional Hong Kong dim sum restaurants.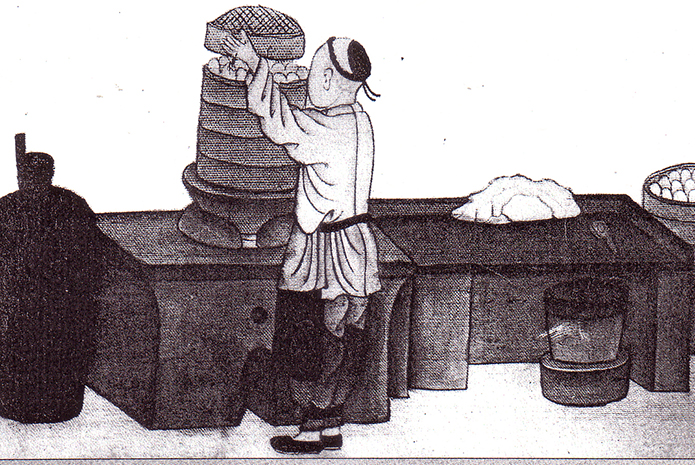 Chef Stanley Lum Wah Cheok is the Head Chef for Yauatcha India heading the team of expat and Indian chefs there. Chef Stanley started his career in the year 1989 and has a proven flair for Cantonese cuisine in which believes authenticity is the key ingredient to sumptuous food.  Having honed his culinary skills at some of the most well reputed establishments around the world, in countries such as Singapore, Malaysia, Vietnam and parts of Europe, he is a widely-travelled and widely revered culinary artist. Here is an exclusive heart-to-heart with the man himself who opens up about his love for dim sums, the intricacies of making it, and Yauatcha's best on the platter.
1. Tell us about the yumcha culture that is so associated with the evolution of dimsum?
Dim sum is a style of Cantonese food that has grown increasingly popular in the Western world in recent years. It is inextricably linked with yum cha, or the act of drinking tea so much that even now the two phrases are used interchangeably.
The unique culinary tradition began thousands of years ago. Those who travelled along the ancient Silk Road through China would often need a place to rest before continuing on their journey. In response to the increasing amount of people passing through, tea houses opened up along the roadside of southern China. It was later discovered that tea aids digestion, so tea house owners began offering bite-sizes snacks as an accompaniment, and thus yum cha was born.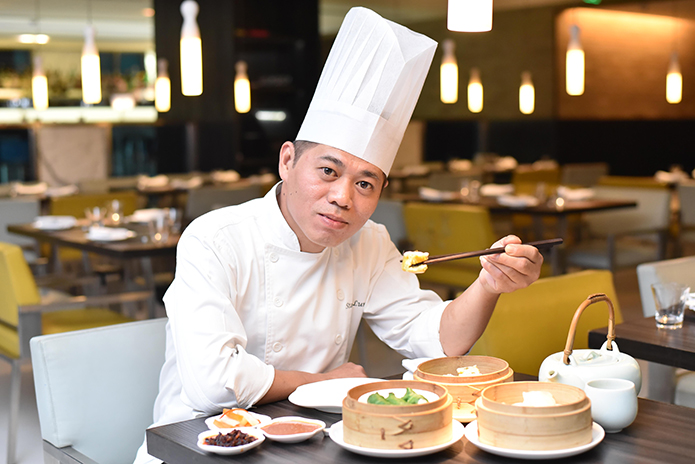 2. What is an authentic dimsum like? Is it only about the thin skin or are there other characteristic traits by which to judge a good dimsum?
At Yauatcha we serve different types of dim sum which are steamed, poached, fried and baked. Our cuisine is modern authenticity with a contemporary flair.
Its not about the skin alone, it is the delicate art in making these dim sum. The filling plays a major role since they are perfectly mixed and matched with herbs, meat, seafood, vegetables and the balance of each ingredient makes them glimmer and the taste buds gets tingling with the flavours and aroma.
3. What is your take on the art of making dim sum? Is it something best suited to specialized kitchens or multi-cuisines restaurants can also make it real good?
Making dim sum is an art and comes only by experience. Our chefs, the culinary experts have spent years to achieve this level of accuracy and perfectionism for each dim sum. We have a wide variety and each of them are different in visual, taste and style of cooking and we are able to maintain excellence by being a kitchen dedicated to Cantonese cooking only.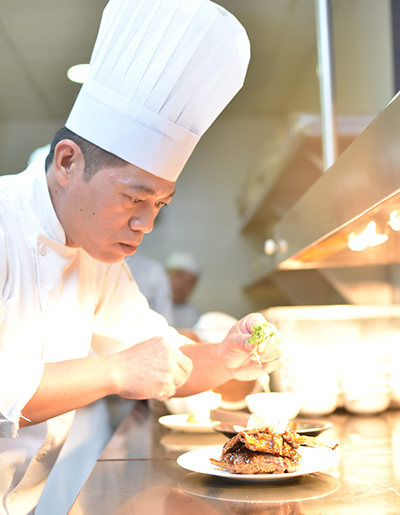 4. What is your take on the trend of dimsum tea houses opening up in London and New York, and now in Delhi as well? Do you think it is another fad or is it actually the long overdue recognition for dim sum as tasty, healthy 'fast food'?
This trend is definitely here to stay. People love our dim sum especially since we concentrate on high quality ingredients. With well travelled Indians now dining all over the world, tastes are constantly evolving, and people are becoming more open minded in trying a new specialized cuisine.
5. What are the major types of dim sum? Which are your favourite types and why?
Dim sum are separated into different categories depending on the cooking method used:
Steam
Dumplings
Buns
Rolls
Meats Cheung Fun
Sticky Rice in Lotus Leaf
Baked
Poached
Fried
As a chef, I enjoy steamed dim sum especially with prawns and pork as fillings.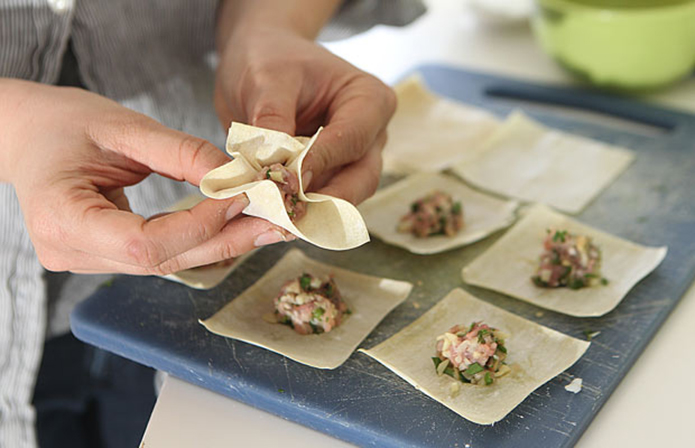 6. Tell us more about the highlights of the Dimsum Trails menu on offer at Yauatcha? Is the menu crafted keeping in mind the Indian taste buds or is it in keeping with Yauatcha's international offerings?
Yauatcha now offers a delightful menu of "Dimsum Trails" to provide gourmands a classic touch of China with a modern twist.
This menu offers a choice of 6 classical dim sum portions from the 13 varieties of dimsum available in this menu. Each dim sum offered in this menu is from different region, but their basic origin is from China. And all these dim sum are modern interpretations of classical dim sum either in respect to the ingredients used or the technique involved in making them.
The menu ranges from Chiu chow dumpling, Asparagus cheung fun, Vegetable Shanghai dumpling to Fried turnip cake with vegetables for Vegetarians. In meat select there is a vivid range starting from Hargau, Crispy duck roll to Chicken char siu bun. This tastefully set trail is a great blend of modernity with tradition and appetizing to tongues.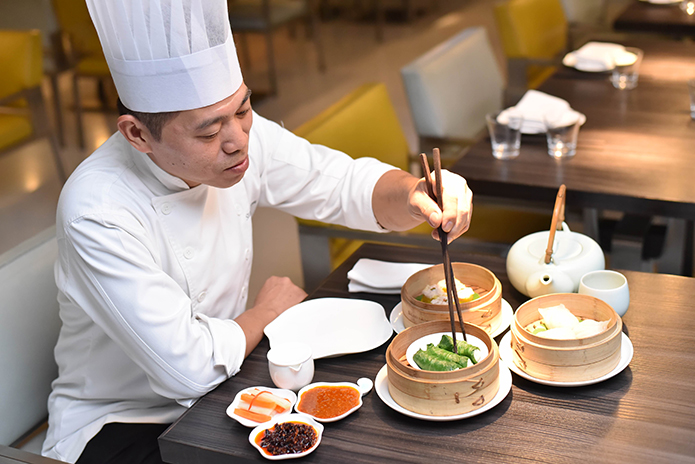 7. What are the latest trends taking over the world of dimsum making (I have heard of kitchens using gourmet ingredients like truffle oil)? How does the contemporary meet the traditional techniques in making dim sum a trendy food?
Being a modern dim sum tea house, it was important to marry the two concepts, traditional and modern. We have taken certain ingredients like Truffle oil and made a fabulous signature dim sum Truffle edamame dumpling, which is a perfect example of this marriage. This modern take on a traditional dumpling, has left many wanting for more.
8. Please tell us about your favourite dimsum joints in the world, wherever you have travelled?
It's always Yauatcha but other than this,
Tim Ho Wan – Hong Kong
Din Tai Fung – (all over the world)