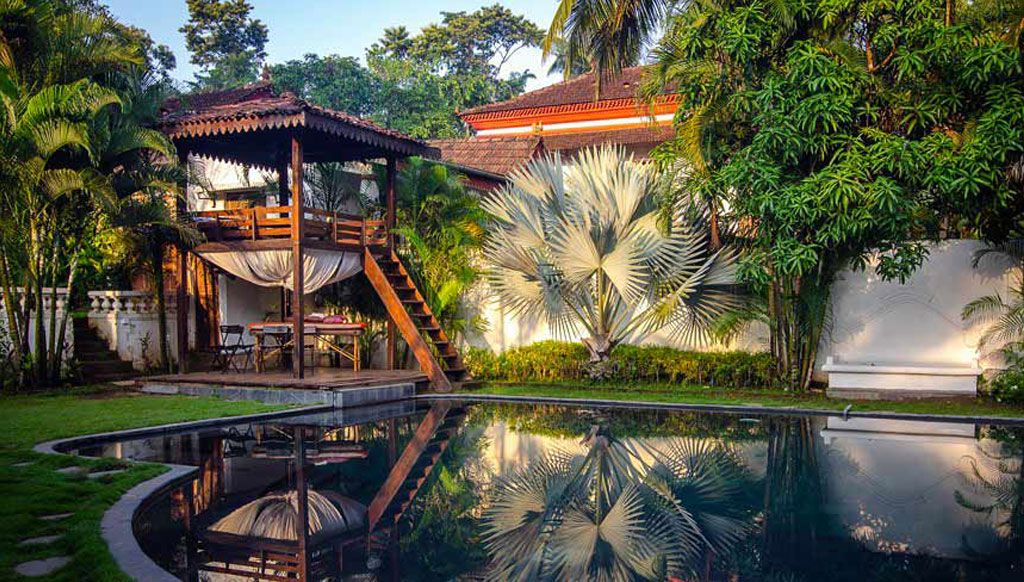 LUXE LOUNGER | A day spent by the Siolim House pool spells vintage goa
With its bohemian vibe in place, Goa is also an idyllic vacation spot for the traveller who is looking at offbeat and chic options for a decadent time-off. Here is a curated list featuring some of Goa's most happening places to stay, eat and shop at, known to and favoured by the discerning lot
Goa is a year-round favourite of the party people and the quiet holiday types. While the beaches, shacks and scooties are just some of the images that the mention of 'Goa' brings up, it's not all sun, surf and sand. Goa has also become a cosmopolitan traveller's go-to destination, given its thriving landscape of plush private boutique properties, innovative culinary hot-spots, and hippie-wired stores carrying bohemian chic from some edgy international labels. Moving away from Goa grunge to Goa posh, we have a list of the best and the brightest, and not over-cited, from the scene for you to explore on your next trip down to the balmy shores. Get the dope on where to stay, eat and shop in style from the Luxe Goa Guide right here –
To stay-
Capella is a gorgeous Goan bungalow exuding old world charm, nestling on a private forested hillin the North Goan village of Parra (neighbouring Arpora, close to Calangute-Baga-Anjuna). Owned by Ayesha and Jamshed Madon, it was built as a private residence, and now works as a boutique, luxury home-stay providing its guests a chance to experience true Goan-style living! With only two double-rooms to offer, it promises private comfort replete with a fabulous home cook, a pool, porch, courtyard, in-door entertainment, all amplified by its aesthetics – the extensive use of dark wood, period furniture and fabulous wall decor. It is indeed an oasis of tranquillity for the discrete tourist who wishes for a relaxing holiday far from the maddening crowds. [Room rates vary from Rs 6900-5500 in the high season].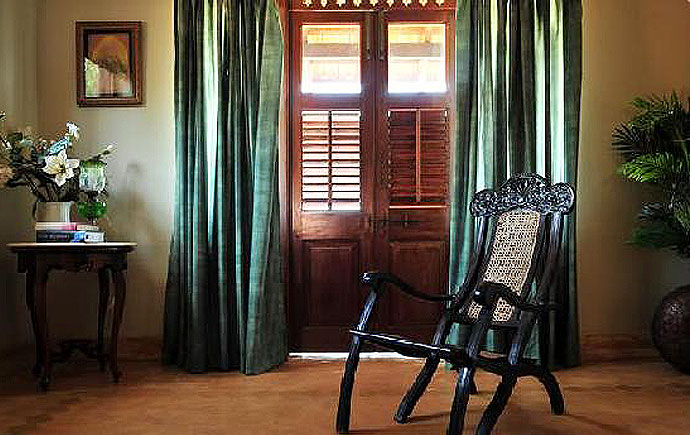 Else where is Goa's best kept secret and is also one of its widely reviewed boutique beach property [Brad Pitt and Angelina Jolie also raved about it]. From Travel+Leisure to Tatler, Elsewhere has made it to the various top lists offbeat stay-options in Goa. Belonging to the Sequeira family of Mapuca, this ancestral property is situated on an idyllic, secluded beach in North Goa, fringed in by a quiet salt water creek. Four Portuguese-style villas and three candy-colored tents on the pristine beach make up this holiday hideout.
You can either soak in the sun lying on the tent's muslin draped four poster bed, kitted out with a fully modern bathroom, private lanai, and your own wooden pier. Or you can savour traditional colonial style inside the villas with their thick walls, shuttered windows, cool natural flooring and lofty terracotta tiled sloping roof, with quaintly rustic furniture. A haven of relaxation, Elsewhere is where you can walk the sands with the turtles, or look at the starfish that washes up, or just watch the sea by day and the stars by night from the open sitting areas. With an attentive staff and an in-house chef dishing out excellent Goan fish curry, you won't be left wanting for more. [Rates vary as per season. The Captain's House will have a rental of Rs 1,24,930 approx. for a week]
Siolim House is a 350 year old heritage property built in 1675 and reminiscent of Goa's Portuguese lineage. Restored beautifully, it now functions as a private seven room boutique hotel hidden from prying eyes by a curtain of tall Ashoka trees. Built in the style of a manor house, Casa Palacio at Siolim House has each of the spacious seven rooms stand out with its own unique décor. Set around the courtyard, they come with four-poster beds [with mosquito netting], antique furniture, terracotta or marble bathrooms fitted with all modern conveniences. Situated in the village of Siolim, it offers you an experience of the slow-paced life which is both lovely and rare.
You can walk around the villages, just relax sitting in the lush garden and the dining verandah, or indulge in invigorating massages while eateries [like the popular Gunpowder] are a short jaunt away. This mansion house also allows for easy access to beaches to the north – Morjim, Ashwem, Arambol and Mandrem – and to beaches in the South – Candolim, Calangute, Baga, Anjuna. In all, it is a pretty proposition which also appeared bold and bright in a NY Times feature, for all good reasons.
Casa Anjuna is a converted Portuguese mansion known for its tranquil surroundings with lush tropical gardens, colonial interiors, discreet and attentive staff, and a location which allows for unparalleled access to everything Anjuna, the beach made famous by the Flower Children of the 60s, has to offer. The property has twenty four spacious luxury rooms and suites/penthouses with private verandahs. While the rooms are airy, the bathrooms are uniquely designed being inspired by Anjuna's hippy roots. The quaint and quiet ambience of this property is further elevated by a lovely pool which makes for the perfect spot to relax in the sun or just dip your feet in.
The experienced chefs here are known for whipping up lip-smacking Goan dishes, using the freshest seafood and produce from the local markets, best enjoyed at the rooftop restaurant with an incredible panorama view. While the Casa itself is a delight to the senses, its experience is not complete without exploring Anjuna's Saturday night bazaar, the Wednesday flea market, cozy beach bars, yummy bakeries and food shacks all along the splendid coastline. For a fun-filled holiday combining both private comfort and cosmo surroundings, look no further than Casa Anjuna. [Average room rate varies from Rs 7000 per night].
To eat –
La Plage could very well be the Club 55 of north Goa. Serving excellent French cuisine along with comforting soul food, it's a restaurant conceived by three friends – Morgan, Serge & Florence. Sporting a casual air of a shack fringed by palm trees, with a thatched roof, airy dining area and classic white tables, it is a must-visit on the fine-dining food-lover's map while in Goa. Located in Morjim, very close to the Ashwem beach, the restaurant stands to gain from the spectacular sea views which heighten the culinary experience. The food is made with fresh local produce and reflects a European sensibility. Some of the must-try dishes on the menu are chicken liver pate with onion jam, tiger prawn carpaccio, crispy sardine fillets with parsley-pine nuts-lime zest, the sesame-crusted tuna fillet with wasabi mashed potatoes. Sea food lovers can further relish the squid in carbonara sauce, and gratinated mussels. To finish there is the gorge-worthy chocolate thali, a sampler of eight different desserts. [Average cost of meal for two is Rs 1800 approx.].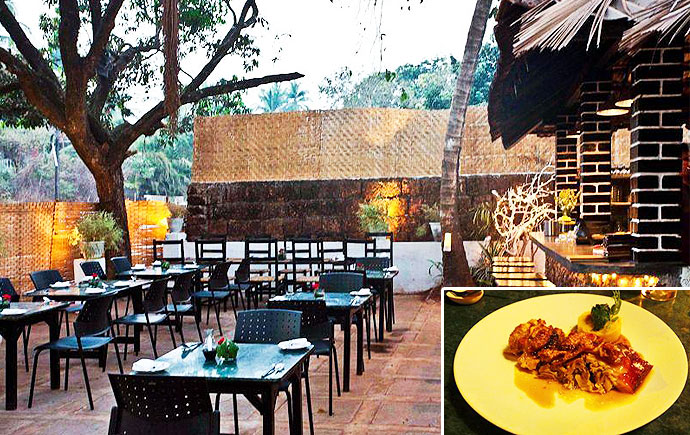 Bomra's in Candolim is writer Amitav Ghosh's favourite in Goa. And one can see the love when Mr Ghosh talk about the restaurateur & chef – "Bawmra Jap is, in my view, one of the finest and most inventive chefs in the world". Originally from North Burma and trained as a chef in London, he is the mind behind the intimate atmosphere at Bomra's, where he serves what can be called 'South-East-Asian-influenced modern cuisine' along with his authentic Burmese cooking. An institution of intriguing cuisine featuring prominently in the list of Goa's bests, the restaurant is known for favourites likepickled tea leaf salad, beef salad, crisp-fried sardines, pomelo salad, pork belly and Kachin chicken along with regulars like authentic Khausueay and interesting drink options like tamarind margaritas. [Average cost of meal for two is Rs 2000 approx.].
A Reverie is one of the most frequented haunts in the popular Holiday Street in Calangute. Founded by a dynamic couple, Aakritee and Virendra Singh, the restaurant's design is as unique as the food itself. Set within a tropical walled garden, tables are placed under gazebos or under the open skies. Sophisticated and relaxed at the same time, A Reverie offers a menu which is all about re-interpretative cooking with gourmet ingredients sourced locally or flown in from abroad. There is an ample choice and diverse international flavour to tease the tastebuds. There is much to be imbibed while eating here and there is some for all – tapas, hors d'oeuvres, cocktails – presented beautifully. So, you can dip your nose in the desi Caipirinha [local sugarcane juice with a blend of dark and gold rum] while the eyes can feast on King prawn, wasabi mayo, shredded Nori, Furikake, prawns poached in dashi (Japanese soup), the warm Bruschetta with smoked mozzarella & Spanish Chorizo Salami, the textured Malibu & tender coconut pannacota among other delights. [Average cost of meal for two is Rs 2500 approx.].
Thalasaa in Greek mythology was a primordial sea goddess, and in Goa it is an authentic Greek tavern, one of the few in India. Perched on the headland overlooking the Small Vagator beach, it offers splendid views especially during sunset. Marikettys' Thalassa, as it is known, is a charming, green and open-air restaurant known for sumptuous Greek cuisine featuring hot barbeques, Greek salads like spanakorizo, appetizers such asmelitzanosalata, and mouth-watering meats dishes such as pork chops and spare ribs from the grill. Interestingly, Thalassa also offers individual cottages with basic amenities, so if you are a gourmand & traveller both, Thalassa could be your best bet. [Average cost of meal for two is Rs 1800 approx.].
To shop-
Jade Jagger's beach boutique in Ashwem [100 metres south of La Plage] is one of Goa's celebrity hotspots. This hut like boutique, styled in black but crafted of natural material similar to the other shacks on the strip, has on display an eccentric mixture of rock'n'roll and Indian influences apparent in the creations of Jade Jagger. The woman's fashion-line has hand-stitched Indian ethnic embroidery and luxurious silks, dresses and scarves, Jade Jagger T-shirts and jewellery with gold and silver accessories laid out on black tables. [Prices in store].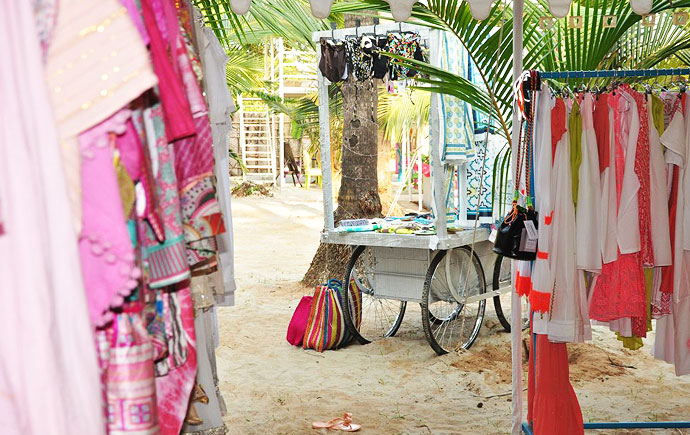 The Shop by Nana Ki stands out as Indo-French boho boutique among the lovely tents of Amarya Shamiyana, a resort on Ashvem beach. The label created by French designer, Chloé Le Bonnois, caters mostly to womenand has beachwear with embroideries, prints, and sparkles, all available in a large choice of stunning colours. The Shop additionally features Nana-ki's collection of Accessories, a dedicated line for Children with kurtas and tunics, a small Menswear collection and a Home line. There is also on display a selection of exclusive brands from all over, handpicked by the designer. [Prices in store].
Gemma Carver Studio in Anjuna houses the Nonchalant Collection designed by the Scottish-born and India-based fashion designer Gemma Carver. Described as an 'Independent label for individuals, free-thinkers who are proud to be extra-ordinary', it offers playful, stylish and summer designs, whilst there is also the Gemma Carver Collection, focusing on couture dresses for weddings, special occasions and red carpet events, replete with specialised bespoke service. Proffered by the designer as 'Goddess Couture', there are jackets in velvet and gold trimmings, shimmering fabric dresses, one shouldered and layered dresses to accentuate the feminine in you. [Prices on request].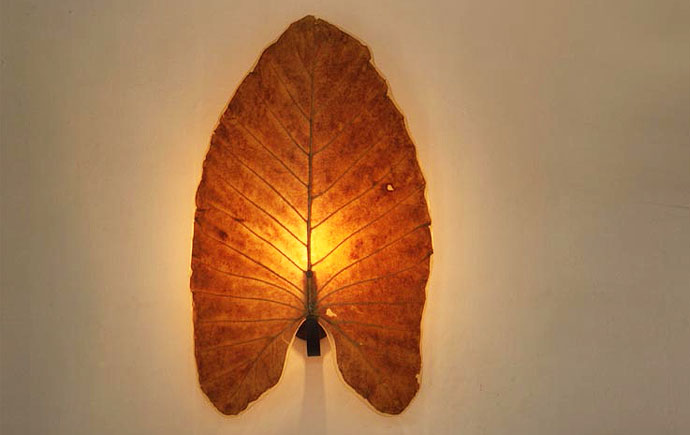 Sotohaus in Candolimis a nature-inspired home décor store run by Sonja Weder and Thomas Schnider – two innovative and award winning Swiss designers who exhibit and sell their unique brand of handcrafted interior furniture, lights and art. Their 'funky yet functional' style is ergonomic, minimalistic, customisable and apparent in their designs which stand out against the background of the store interiors – all pristine whitewash. With a clients' list including Mira Nair and Vijay Mallya, Sotohaus has an inimitable range comprising of unique leaf tables, quirky console tables and exquisite lamps with moulted snake skin. [Snake skin lamps are priced from Rs 12,000 / € 200 upwards].