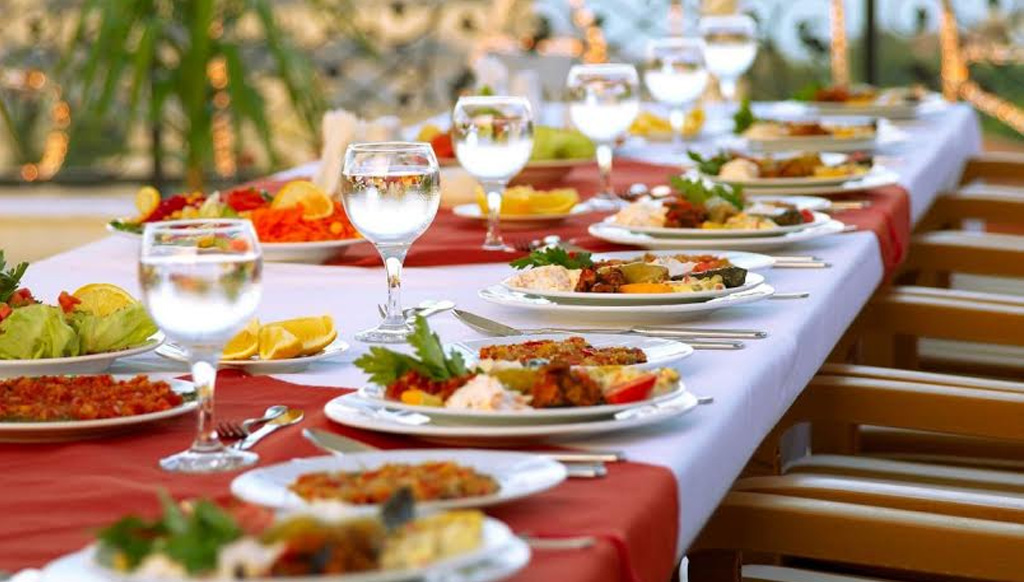 Wedding feasts are becoming a much discussed affair as exotic gourmet spreads and celebrity chefs are leading the way
Weddings in India are about all family, food and fanfare [not to forget the bride and groom]. With shaadi shenanigans soaring high, what's served on the table is of critical importance, and here come in the trend of gourmet weddings which are a gastronome guest's delight and the celebrating family's pride.
Weddings like we know are the one occasion when people don't mind shelling out the moolah. The D-Day is considered to be the most special day in one's life, where everyone wants to live-it-up according to their choicest whims and fancies as they celebrate with their loved ones. And a major ingredient in any celebration is the delectable spread. Food after all is the elixir of life and so takes the centre stage at any festive occasion. Nowadays, with destination weddings and theme-based weddings being all the trend, the related celebrations are being seen more as an opportunity to pamper one's guests and a primary factor here is the food – entailing exotic cuisines prepared by renowned chefs, or a bevy of courses with a wide range of dishes, or a one-time-only customised menu as per the couple – which makes for a memorable feast as the guests tuck into sheer indulgence fit for royalty.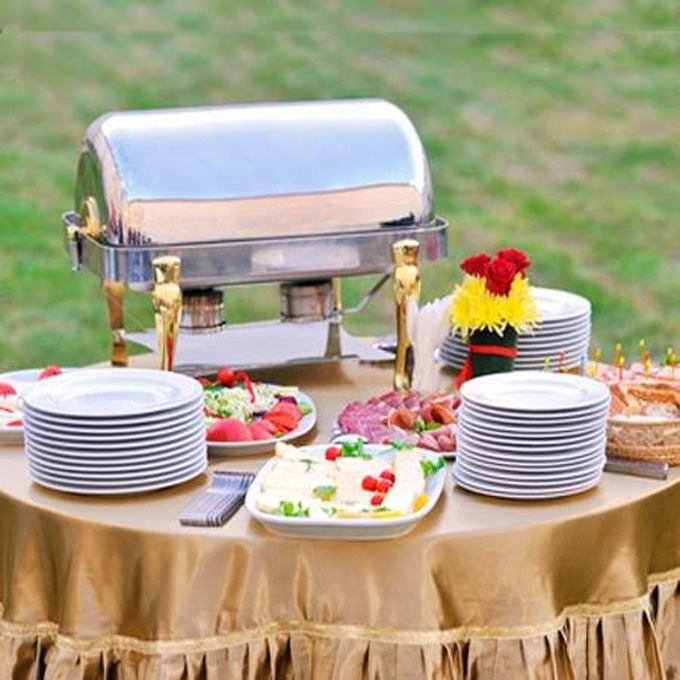 Also, like author of The Big Fat Indian Wedding, Sakshi Salve says, "People who are well travelled and familiar with different cuisines from around the world will want to showcase their experiences through the food they serve. I think it's more a statement of who you are as a person as well." This is really an astute observation so well-fitting the trends one observes at big-budget weddings which are all the rage nowadays.
Restaurateur AD Singh ventured into bespoke catering space with The Moving Kitchen as he saw an increasing demand for gourmet catering. He says, "Apart from presenting a great meal, there's a demand for specialized cuisine from obscure countries and untapped regions". Appetizers paired with miniature drinks, strolling chef stations, de constructed menus, food bars like cheese and sushi bar and sommelier to name a few, are just some of the features. With clients being the crème de la crème, the offerings too have to match the well-travelled discerning global palate.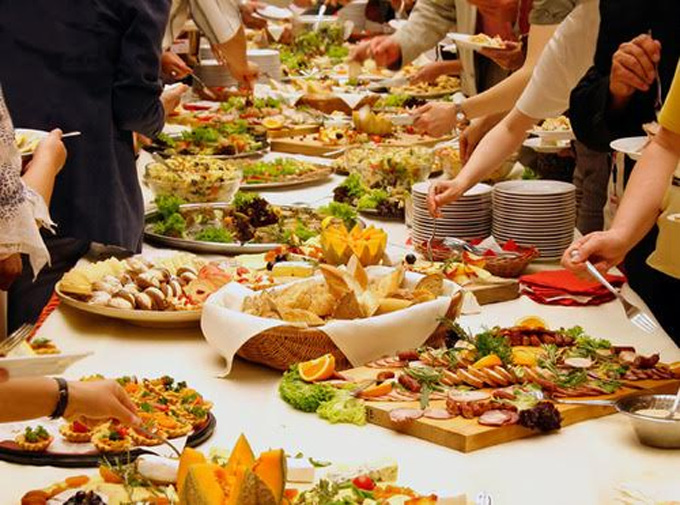 The wide range on offer includes- Mediterranean, Indian, Modern European, Japanese, Chinese, South East Asian, fusion and New World.  They work with specialised chefs representing varied cuisines and also with home chefs to bring a home food experience to meet special regional requirements. There is a lot of possibility by way of presentation and taste, that as a gourmet catering company, they are constantly experimenting with.
Like with any bespoke pursuit that tailors to definite needs, there will always be interesting anecdotes to share.  After all every new occasion has its moments, and some stand out. AD shares, "there was this one incident when we had packed up and the food was over. Unexpectedly, a group arrived late as their flight was delayed and the guest requested us for something to have. So we rustled up a shrimp cocktail and some hummus with pita. They loved our shrimp cocktail and enjoyed the same with chilled shots of vodka."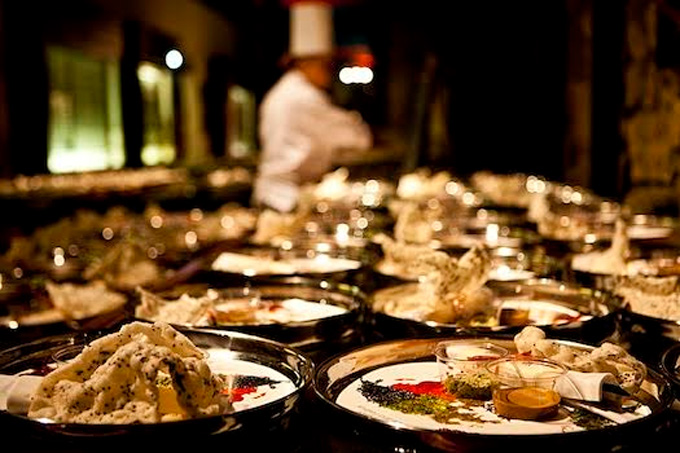 There are also those who are die hard Desi food fanatics and will stick to what they know. They also want to serve the best of the best of regional cuisines and leave no stone unturned in showcasing what our country has to offer – much to the delight of the foreign guests as part of the wedding entourage.
With wedding season right around the corner, celebrity chef Manish Mehrotra of Indian Accent fame is  working overtime charting out a menu and giving instructions to his team. They are to travel to Italy for a big fat Indian wedding. According to Manish, with destination weddings, the need to fly in professional Indian chefs has risen, as in foreign lands they needn't necessarily find someone as proficient to toss up the best dal makhani or make the most superior quality biryani with all the technique and best ingredients possible. For Manish, this is one time where NRI's and Indian top honchos want him to dish out the best Indian cuisine and they are willing to go the extra mile to fly him and his team all over the world. This will be Manish's sixth wedding in Italy. He says, "I am excited as the guest list includes big wigs who love their Indian food and foreigners who are looking to be wooed. At such times I feel the responsibility of representing Indian cuisine to the best of my ability".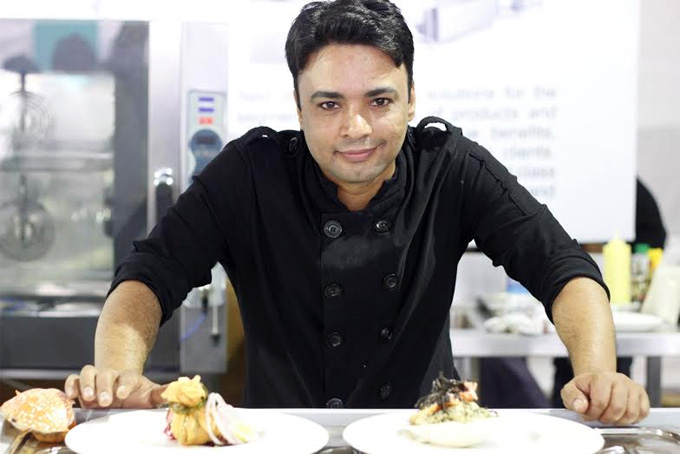 For Nishant Choubey, Executive Chef, Dusit Devarana, it is his busiest period and right now he is preparing for the upcoming wedding of a Bollywood starlet and her businessman husband. "The food will be traditional, authentic Rajasthani cuisine served on brass thalis, and in keeping with the trend of mostly sit-downs as people like their privacy and want to enjoy the different offerings made with all the attention to detail", says Nishant. The wedding will have a lot of famous personalities that will include some foreign names, informs the chef.  For more adventurous high profile weddings that Nishant is called in to help with, he is well known for his Ceviche station, that usually includes-red wine soaked shitake, home cured Salmon, tuna tataki, oyster bar with tequila shots, caviar and classical accompaniments. There is a lot of travel in the pipeline for Nishant as well, as it is the busy period of weddings galore. He rose to fame after being chosen as one of the few to attend MasterChef classes at the World Gourmet Summit in Singapore. While last month we saw Chef Gaggan Anand visiting India from Bangkok for a series of pop-ups, Nishant has now been chosen to represent India at Bangkok with flavours of India at an International pop-up in the coming month.
With the above gourmands rustling up continental fare and Desi dishes with flair to add that extra zing to weddings and make them an experience for the attending guests and foodies alike, there is no saying where the trend of gourmet weddings will go on to. But we can rest assured as we are truly entering a time of festivity and celebration at the traditional family-centric weddings, with something for everyone to cheer about!