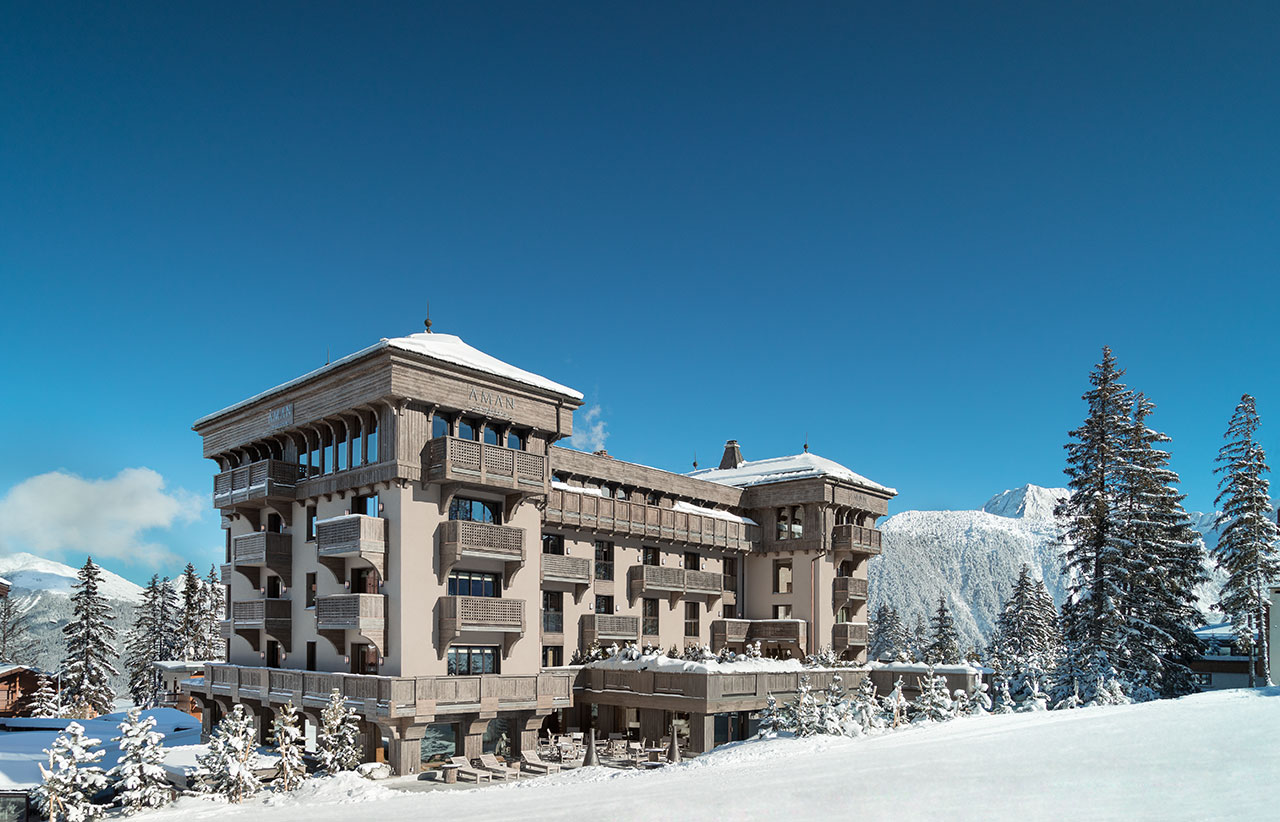 Aman Le Mélézin, an iconic Alpine retreat in Courchevel 1850 reopens for the winter season from 10th December until 10th April.
Located directly on the Bellecôte piste, the hotel offers unimpeded access to over 600 kilometres of pristine ski slopes and cross-country tracks.
Aman Le Mélézin is dedicated to ensuring its guests get the most out of the winter months. Aided by a team of experienced Ski Butlers who transport ski equipment from the heated racks in the state-of-the-art ski room to the piste, winter sports at the hotel are performed with effortless ease.
Ideally located within Les Trois Vallées, guests of all ages are able to enjoy private lessons or can join Courchevel's revered ski school. For those desiring access to the mountain's most isolated and tranquil spots, the hotel's concierge team delight in directing guests to remote backcountry terrain, devoid of crowds.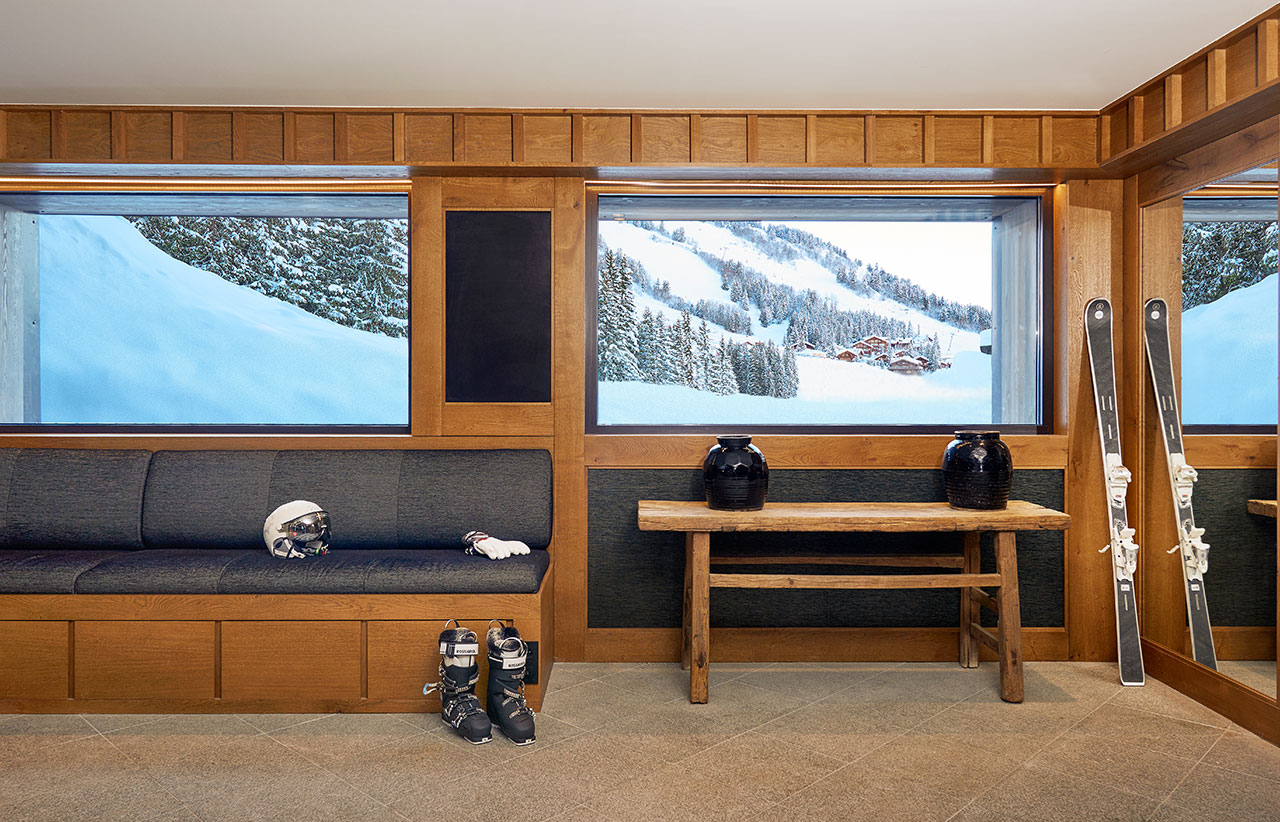 This winter, Aman Le Mélézin has introduced an exclusive First Tracks experience, which takes guests to the highest point within the valley (2,740m above sea level), where views of Mont Blanc and La Grande Casse await.
The hotel also offers plenty of other ways to experience the fairytale snowscape it inhabits – both active and more sedentary – as well as cultural, culinary and wellness pursuits both indoors and out. New this season, Aman Le Mélézin will offer guests the opportunity to glide effortlessly across alpine terrain and along tranquil forest glades on a Moonbike; an ultra-light electric snow bike.
For an aerial view of the region, guests can now enjoy several new scenic helicopter tours over Les Trois Vallées, the Haute-Tarentaise Mountain Range or around Mont Blanc. Alternatively, a trip in a hot-air balloon at sunrise offers panoramic views of the snow-carpeted surrounds.
Catering to both snow sports enthusiasts as well as non-skiers, Aman Le Mélézin has introduced three new five-night exclusive stays during select dates this season. Each one features special inclusions for guests desiring as much time as possible on the surrounding slopes or for those seeking relaxation and rejuvenation in the hotel's extensive Aman Spa. The Call of Courchevel will be available from 10 until 16 December, The Ski or Spa Escape will be available from 9 January until 11 February and The Springtime Sojourn will be available from 27 March until 9 April.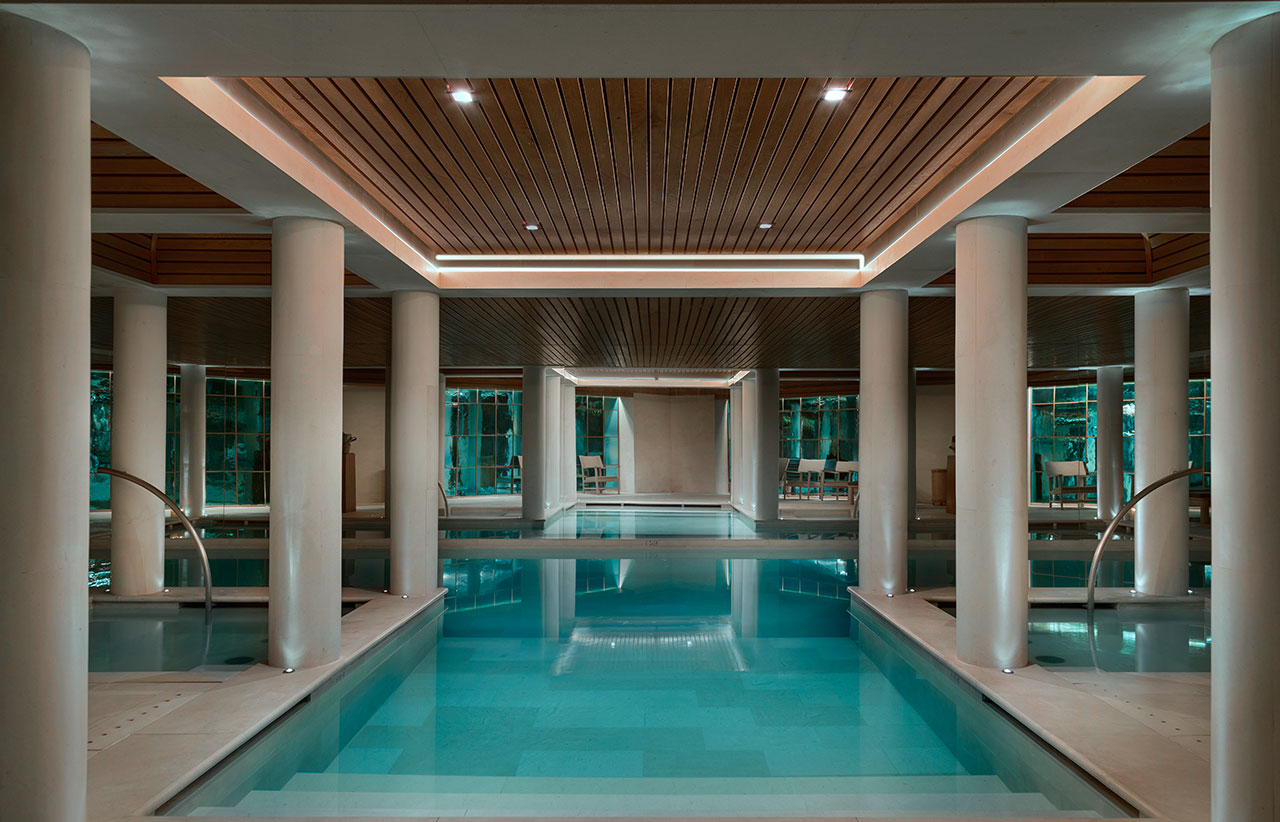 The hotel will also offer a Japanese teatime experience and Matcha tea ceremony every afternoon, where guests will be invited to discover a wide variety of tea, whilst sampling delectable Japanese pastries.
Aman Le Mélézin itself is as much of an attraction as the scenery providing its exquisite backdrop. The spacious 31 Chambres and Suites offer floor-to-ceiling windows with views of the mountains, forest or piste and feature luxurious oak paneling and exquisite French furniture. Many have their own private balconies, and several include an outdoor hot tub. When off the slopes, further opportunities to relax can be found in the property's 767sq-m holistic Aman Spa, an oasis of tranquility and rejuvenation. Comprising two entire floors of the property, the spa features five spacious treatment rooms including two double suites and one signature Thai massage suite, while a traditional Turkish hammam is perfect for soothing hot stone massages and energising Himalayan salt scrub experiences.
The Call of Courchevel (10 until 16 December)
Five-nights' accommodation
Daily breakfast
Daily a la carte lunch or dinner at Aman Le Mélézin or in a choice of five other restaurants within Courchevel 1850
Upgrade at the time of booking and early check-in/late check-out (subject to availability)
Shuttle services within Courchevel 1850 
With the choice of:
Ski lift passes for Les Trois Vallées and a daily private ski instructor daily
Or:
A daily 30-minute yoga session at 9am, a daily 50-minute holistic massage and a daily 30-minute spa treatment
Ski or Spa Escape (9 January until 11 February)
Five-nights accommodation
Daily breakfast
Daily a la carte lunch or dinner at Aman Le Mélézin or in a choice of five other restaurants within Courchevel 1850
Shuttle services within Courchevel 1850 

With the choice of:
Ski lift passes for Les Trois Vallées
Or:
A daily 30-minute yoga session at 9am, a daily 50-minute holistic massage and a daily 30-minute spa treatment
Springtime Sojourn (27 March until 9 April)
Five-nights' accommodation
Daily breakfast
Daily a la carte lunch and dinner at Aman Le Mélézin or in a choice of five other restaurants within Courchevel 1850
Shuttle services within Courchevel 1850

with a choice of:
Ski lift passes for Les Trois Vallées and ski rental
Or:
A daily 30-minute yoga session at 9am, a daily 50-minute holistic massage and a daily 30-minute spa treatment
#Aman Le Mélézin  #travel  #luxury  #Courchevel  #Aman  #Aman #amanresorts  #skilodge #alps #skiseason