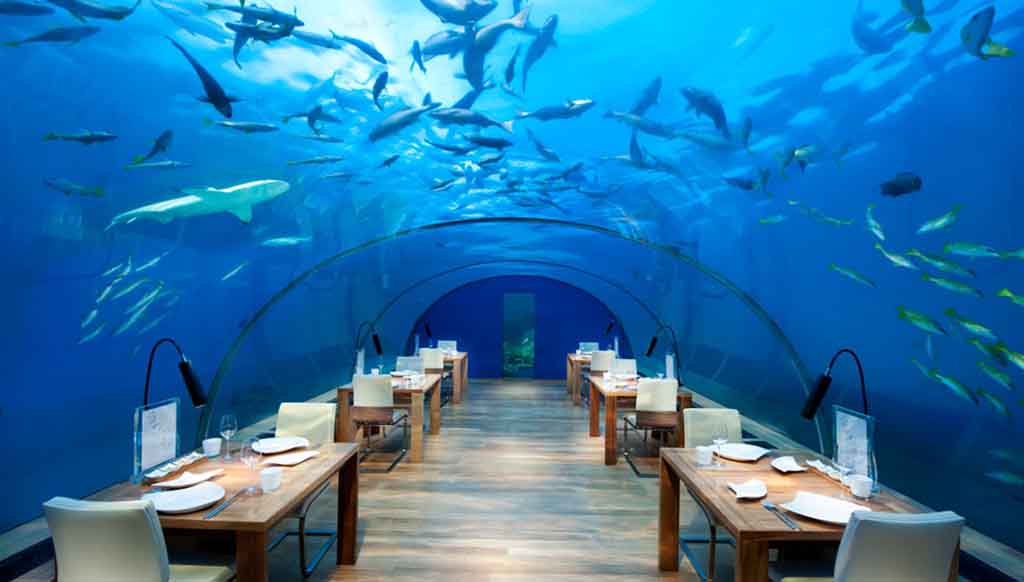 WALLS OF WATER: Ithaa in Maldives is the world's only all-glass underwater restaurant, with transparent arched walls and ceilings that offer 180-degree sea views
Relaxing in the azure glow of sunlit, dappled waters, dining with shoals of fish or sleeping with Manta Rays, there's an inexplicable, ethereal appeal in merging with underwater life. So what better way to spend your vacation that at these unique underwater villas, restaurants and even an undersea spa
In love with the ocean and the myriad creatures that reside within it? Well here's five ways in which you can literally live with them. Underwater villas, restaurant and even a submerged undersea spa—you're spoilt for choice with these luxe travel options that help you realise your aquatic dream.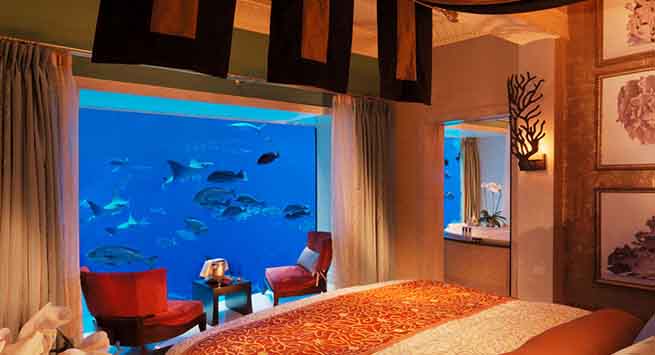 Neptune and Poseidon suites, Atlantis The Palm, Dubai
The most famous among underwater accomodations, of course. Who can deny the magic of floor-to-ceiling windows right in your bedroom, providing glimpses inside a manmade lagoon teeming with 65,000 marine creatures. A stay at the Neptune and Poseidon Suites would bring you face to face with a marine world full of vibrant fish and magnificent manta rays, whether you're in the dining area, the bedroom, or just lounging in the deep-soaking bathtubs.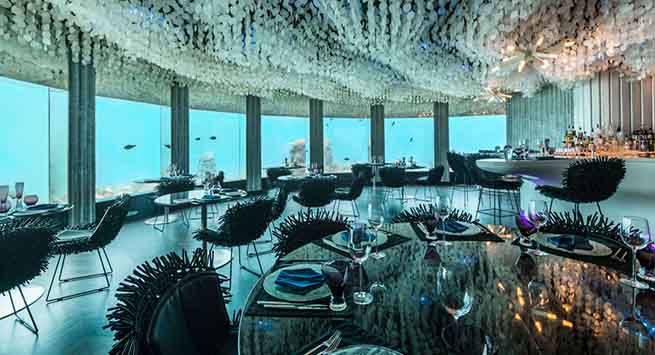 Subsix restaurant, Niyama, Maldives
Niyama resort in Maldives, takes you deep under the sea—6 metres to be precise, or about 20 feet, for a dinner date with creatures of the blue at its restaurant, appropriately named Subsix. This elegant restaurant allows diners to get up-close and personal with such marine friends as parrotfish, moray eels, rainbow-colored butterflyfish, and more through floor-to-ceiling windows throughout. The resident hawksbill turtles are an added allure at the impressive bar draped with shimmering waves of aquamarine capiz shells.
Underwater spa at Huvafen Fushi, Maldives
The first a suite, the second a restaurant, and the third a spa. Yes, Maldive's Huvafen Fushi resort, which first opened in in 2004, stunned travellers with its spectacular undersea spa, featuring unique submerged treatment rooms located 26 feet below the surface of the sea—the only ones of their kind in the world. Reached by a 300-foot overwater promenade, the spa offers scrubs, wraps, massages, and facials in a glass-enclosed oasis so you can bask in the glow of dappled sunlight on azure waters in the company of dazzling fish.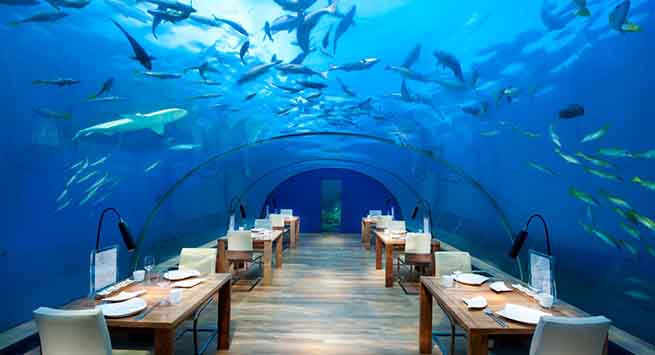 Underwater Villa, Manta Resort
The underwater villa at Tanzania's Manta Resort on Pemba Island is a 3 storey floating accommodation that offers the best views of the marine-life-rich Blue Hole. Located 2 minutes by boat from the rest of the hotel this villa's stunning underwater bedroom has windows that wrap nearly 360 degrees for an all-round spectacular display of fish, squid, octopus, and jellyfish in their marine abode. The villa also offers a sea-level pavilion that offers shaded lounging and dining, and a rooftop deck for sunbathing and stargazing.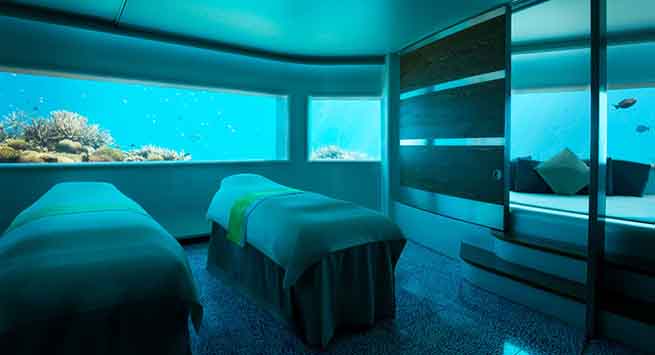 Undersea Restaurant Ithaa, Conrad Maldives Rangali Island
Claiming to be the world's first—and only—all-glass underwater restaurant, the Ithaa Undersea Restaurant at Conrad Maldives Rangali Island boasts entirely transparent arched walls and ceilings with unobstructed 180-degree sea views offered over six-course meals, so that you dine in the company of  shoals of hundreds of fish swimming alongside and overhead. The restaurant, whose name means "mother of pearl" in the Maldivian language of Dhivehi, can also be booked for private breakfasts, or even converted into an overnight guestroom for a night of pure aquatic pleasure!