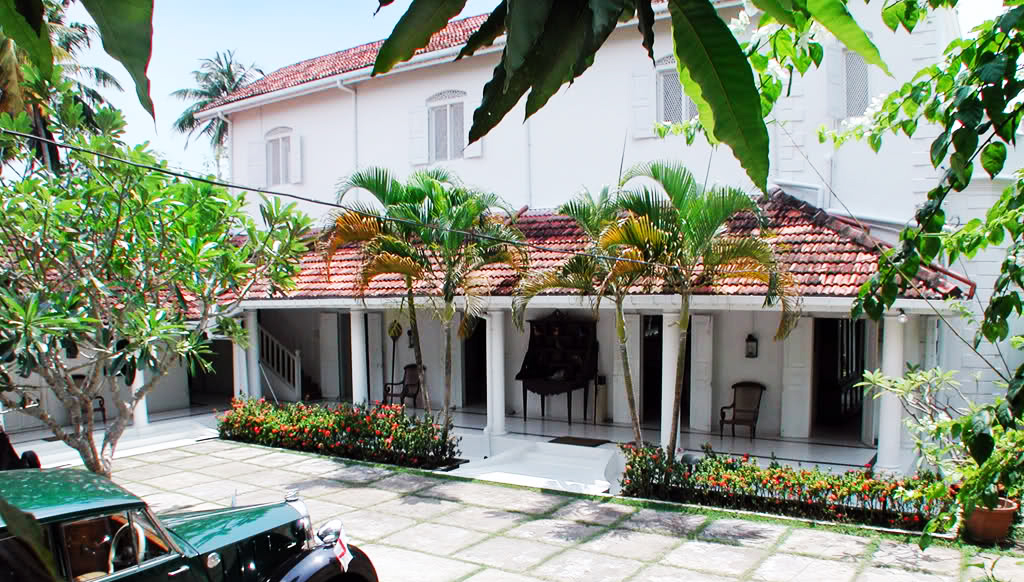 BESPOKE LUXURY | Perched high on a hill, the Sun House is an oasis of calm offering a feel of life in the days gone by
An island of myriad shades, Sri Lanka harbours many surprises for the city-weary travellers. With a blend of cosmopolitan neighbourhoods and pristine countryside, the coast is worth exploring. And to help the case here, we have a list of select, private boutique hotels to stay at
Sri Lanka (formerly Ceylon), is a tiny island nation south of India in the Indian Ocean. It is a rugged land dotted with Buddhist ruins, rainforests, diverse wildlife and endless beaches. What makes it more interesting is the flavourful local cuisine featuring fresh seafood and a balmy climate which is so conducive to appetite and merry-making in general. If a massage followed by lazing under the sun on the beach, cocktail coolers in hand, followed by an alfresco dinner and dancing by the seaside is your idea of a perfect holiday, then go ahead and book your next trip to this beach paradise. Also, Sri Lanka offers a varied platter of mini islands and beaches off-the-beaten-track for those who wish to explore not just the party lights in Colombo but also exotic locales like Balapitiya, a river-crossed, jungle-strewn, ocean-side escape.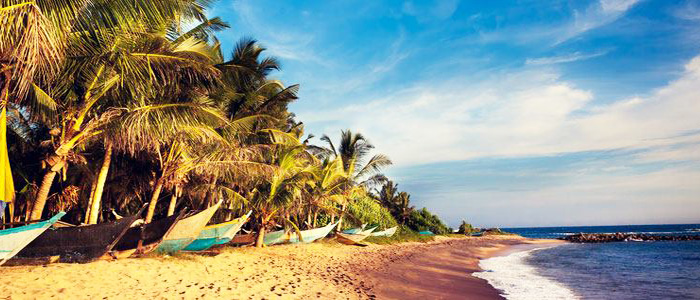 To jazz up the prospect for you we have gone onto dive a little further to give you a list of hand-picked boutique and luxury hotels in Sri Lanka. Your experience of this beach country will only amplify if you are to couple it with a stay at an authentic planter's house, or a colonial bungalow, or a beach-side cottage which bring you closer to the sea, sand and the sea-food. So, consider for yourself this collection of cosy, comfortable and chic retreats as opposed to run-of-the-mill five star plushness.
The Sun House, Galle, was once the house of a Scottish spice merchant located close to the UN World Heritage site of Galle Fort, Buddhist temples, rainforests, tea plantations, wildlife reserves and some of the most fabulous beaches in the Indian ocean. This colonial house, built in the 1860's, has been converted into a small hotel exuding a country house atmosphere offering guests the chance to experience a planter's life where the day began with an English breakfast and ended with sun downers on the balcony overlooking the beach. With seven individual bedrooms, an eclectic décor boasting artworks, books and furniture, this colonial property also has two beautiful gardens – the fragrant frangipani ("temple tree") garden, leading to the swimming pool, and the mango garden which faces a stunning view of Galle harbour. The gardens are an idyllic and serene place for guests to relax, read, write or sunbathe. The evening drinks at the famed Dick's Bar and the fusion cuisine served in the airy verandahs add to the charm of a laidback holiday spent in picturesque Galle.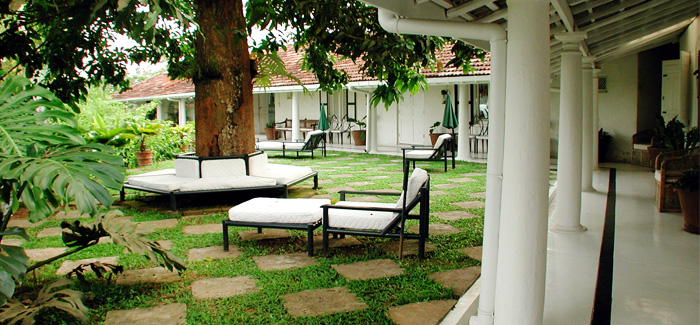 Casa Colombo, Colombo is a 12 suite Retro-chic boutique hotel with suites individually designed by the hotel's flamboyant owner, Lalin Jinasena. The ruby-red rooms have 15 foot high moulded ceilings, Mosaic and sea-grass floors blending in a contemporary style with the charms of a magnificent 200 year old Moorish mansion. Acres of Italian and Indian mosaic floors, carved arches, moulded ceilings and Moorish styled balconies are mark of effort that has gone in to restore the building back to its former grandeur. Located in Bambalapitiya in Colombo 4, it is in the heart of Colombo's business district, and yet it is a gated and private hotel. Lazing on the sun bed by the unique pink pool [which could be the first pink pool in the world], or dining by the poolside, or reading from their well-stocked library, one can do a lot in terms of spending time on the hotel premises or venture out with help of the hotel's luxuriously executed adventures and excursions to exciting hot spots in the city. Eating in is a delight here as this famed Sri Lanka hotel boasts of world class eateries and some which are curiously designed like the ZAZA Bar, a mystifying glass cube that contains chic, comfy ball chairs with plush cushions.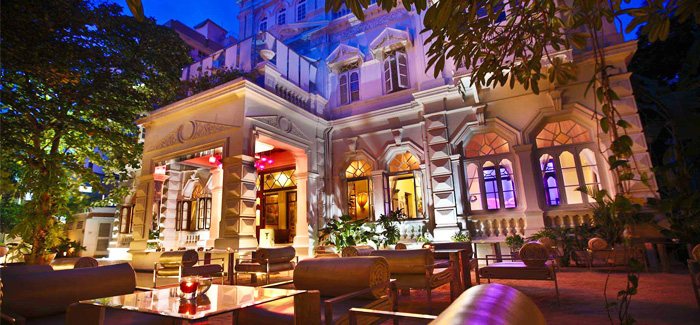 Kandy House is a boutique nine-room hotel in the hills, and a 20-minute tuk-tuk ride from Kandy.  This ancestral manor house was built in 1804 and has a rich history with exquisite restoration work evident. Its room, categorised as Ultra and Deluxe, are kitted out with four-poster beds and fans, whitewashed walls and a colonial ambience. Interestingly, the rooms are named after Butterflies which thrive in Sri Lanka, and are styled individually incorporating local fabrics, antique furniture with all modern amenities in place. There's an infinity pool set around tropical trees which look out over the paddy fields and stay here to read and soak-in or you can take a bicycle for exploring the countryside. In-house chefs serve traditional Sri Lankan delicacies and modern international dishes but the highlight twice a week is their highly acclaimed feast of ten traditional Sri Lankan curries.
Club Villa Bentota is a boutique beach-side hotel located just 1.5 hours drive south from Colombo. This Paradise Road property has been much talked about as one of Sri Lanka's best and has catered to guests such as Paul and Stella Mc Cartney. The hotel's 15 rooms are all designed by Shanth Fernando, a well-known local lifestyle guru, who has also modernised parts of this pioneering boutique property, going on to add new wing, entrance pavilion, and a new swimming pool. The Villa Café is housed in this newly built pavilion in Paradise Road style and serves some local favourites like Lemongrass and Ginger Chicken, Wasabi-coated Salmon, fresh Cucumber Salad and an unrivalled desserts menu.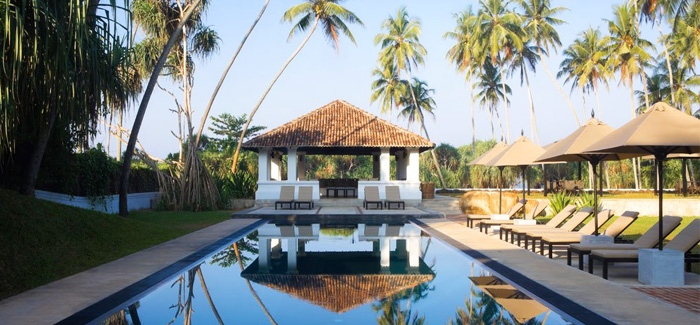 Ceylon Tea Trails, Sri Lanka's first Relais & Chateaux resort, is situated south of Hatton in the Dickoya and Bogawantalawa region of the hill country in south-central Sri Lanka. It comprises four luxurious colonial era planters' bungalows, connected by walking trails through poetica, beautiful Ceylon tea gardens. Each of the four individual bungalows offer delightful views and unparalleled luxury. There is Summerville with an air of a country cottage, Castlereagh with an eclectic style of its own, the high colonial Tientsin and the more modern Norwood. Built between 1888 and 1950, the bungalows offer a taste of living in the yore, replete with butler service & period furnishings, Victorian bathtubs, chaise lounges, four posters and gourmet meals prepared by the chef assigned to each bungalow.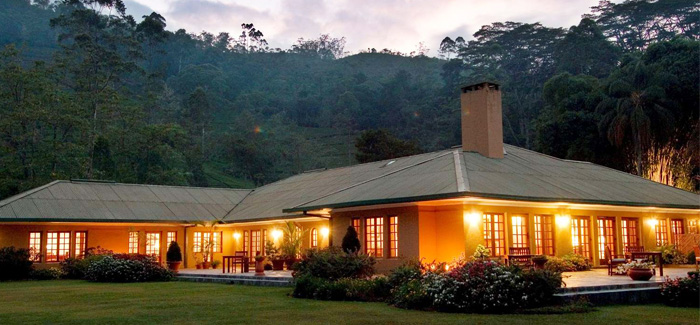 You can follow the Tea Trail from one bungalow to the next, while taking in all the views as you trek, bike or picnic in the heart of Sri Lanka's picture book pretty Ceylon tea country.