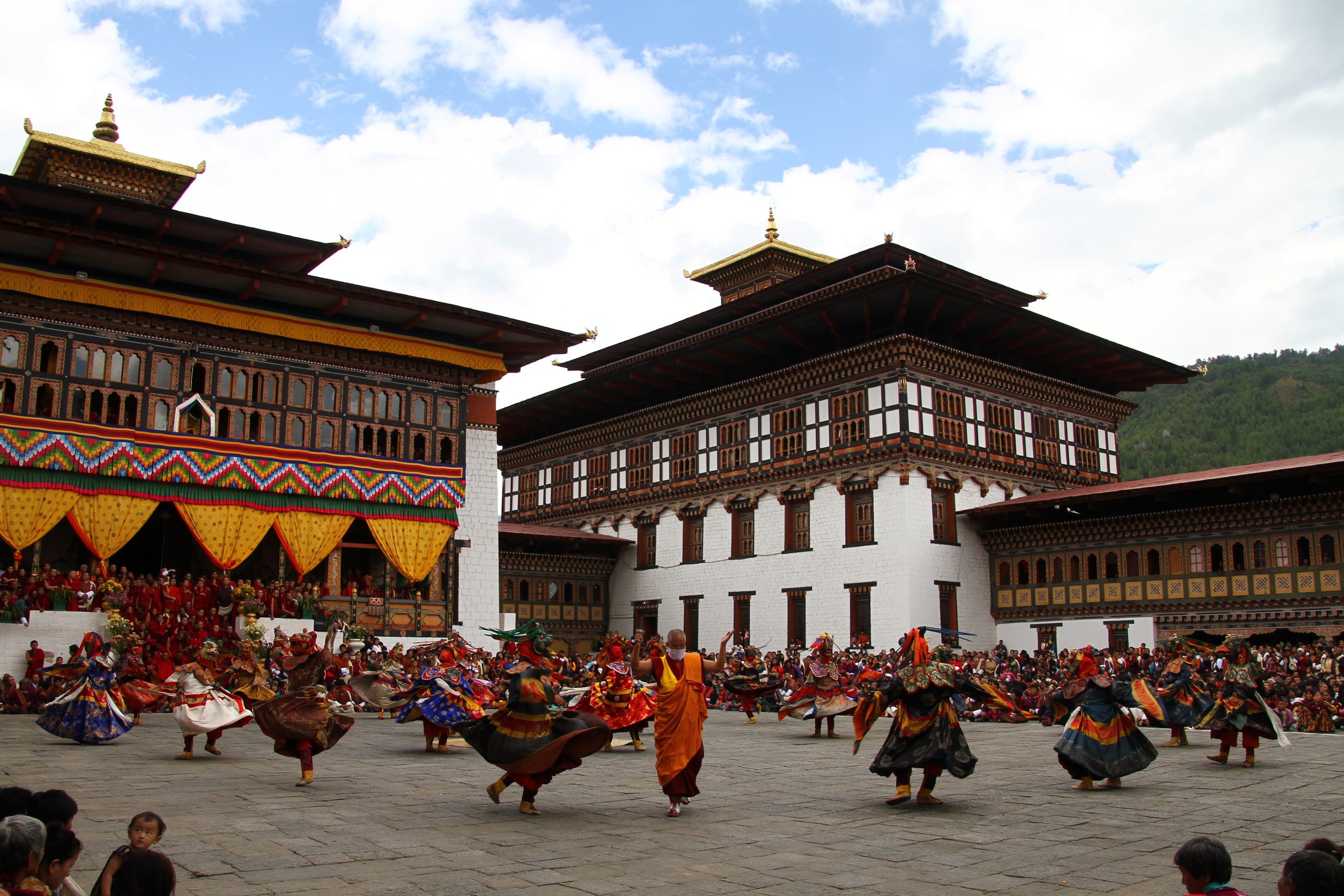 Masked dance in the courtyard of Thimphu Dzong
The Kingdom of Bhutan reopens its borders to international guests following the Covid-19 pandemic. With this, the country unveils new national brand 'Believe' and creates a whole new identity to inspire a new vision of the future to its citizens. The result reflects Bhutan's character and landscapes, history and ambitions: bold, vivid, richly storied and utterly distinctive – rebranding it for a new future for its people and guests to seek different travel experiences.
The country also rolled out a new tourism strategy which focuses on three key areas: enhancements to its sustainable development policies, infrastructure upgrades, and the elevation of the guest experience.
Enhancements to Bhutan's sustainable development policies
Bhutan would raise its Sustainable Development Fee (SDF) from $ 65 to $ 200 per person, per night, which will go towards projects that support Bhutan's economic, social, environmental and cultural development.
Guests from India are levied a SDF of Rs. 1200 per person per night, which will remain in effect for two years.
The fees raised will fund national investment in programmes that preserve Bhutan's cultural traditions, as well as sustainability projects, infrastructure upgrades and opportunities for youth – as well as providing free healthcare and education for all. For instance, some of the Sustainable Development Fee funds go towards offsetting the carbon footprint of visitors by planting trees, up skilling workers in the tourism sector, cleaning and maintaining trails, reducing the country's reliance on fossil fuels and electrifying Bhutan's transportation sector, among other projects.
As a country that is vulnerable to the effects of climate change (experiencing melting glaciers, floods and unpredictable weather patterns), Bhutan will also be stepping up its efforts to maintain its status as one of only a handful of carbon-negative countries in the world – in 2021, Bhutan sequestered 9.4 million tonnes of carbon against its emission capacity of 3.8 million tonnes.
Infrastructure upgrades
In line with this, the government used the period during the COVID-19 shutdown to upgrade roads, trails, temples and monuments around the country, upgrade public bathroom facilities, organise clean-up events, enhance the standards and certification process for tourism service providers (such as hotels, guides, tour operators and drivers). Employees across the tourism industry were required to participate in up skilling programmes to focus on enhancing service quality.
Elevation of the guest experience
The new SDF brings with it a certain expectation when it comes to standards of quality and service to enhance the guest experience – whether that is through the quality of services received, the cleanliness and accessibility of our infrastructure, by limiting the number of cars on the roads, or by limiting the number of people who visit the sacred sites.
Bhutan government would also work with tourism partners to upgrade the itineraries that guests can experience in the country – to help showcase the very best that Bhutan has to offer.
The revamp of Bhutan's tourism comes amid a widespread 'transformation project' rolled out across the country, from the civil service to the financial sector. The changes are geared towards developing Bhutan's human capital by equipping the population with more proficient skills, knowledge and experiences.