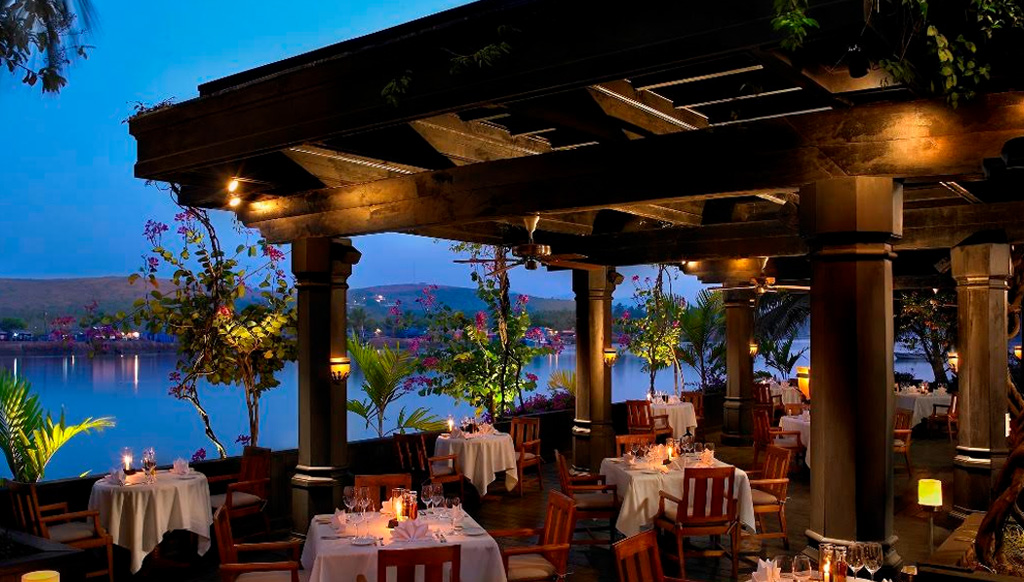 BY THE RIVER | 'The Riverside' housed in The Leela, Goa offers contemporary Italian cuisine with fresh local seafood and a fine selection of wines and cocktails
At the Riverside, the menu is only a suggestion and the traditional Italian dishes are impeccably rendered with no mindless mishmash of ingredients
You name it, they prepare it at this South Goa charmer named 'The Riverside'  housed in The Leela, Goa. Here the menu is only a suggestion and the traditional Italian dishes are impeccably rendered with no mindless mishmash of ingredients. Italian cusine is not about aping how they do it in Sicily or Tuscany. A true Italian food is akin to polygamy. Please don't discern it otherwise.
It's about how you master the art of marrying all three –  authentic recipe, latest global trends and locally grown herbs and  ingredients. Chef Lenin has perfected the art of polygamy.  Add to that his personalised service and you feel like family.
We (my wife of four year old marriage and I) entered at around 9 PM. By this time the restaurant is filling up. I am almost ready to begin my new career as a food reviewer with the venerable The Luxe Cafe.
We choose a wine by the glass from the extensive list. Many regions are represented. There is a reserve section for those wanting an extra special drop and there are several options by the glass. I always let the sommelier choose, usually a surefire way to end up with the most expensive glass from the list. Here, the restaurant manager doubled up as the sommelier and he can potentially pass off as one any day. And, what choices of wine he made to go with our four course hearty meal. Bang on!
Offering contemporary Italian cuisine with fresh local seafood and a fine selection of wines and cocktails, the menu is planned with care. For starters, we tried the Pan Seared Scallops – beetroot and pomery mustard carpaccio, a truffle flavoured mushroom mousse, a puree of green peas with bacon and then the scallops with white parmesan.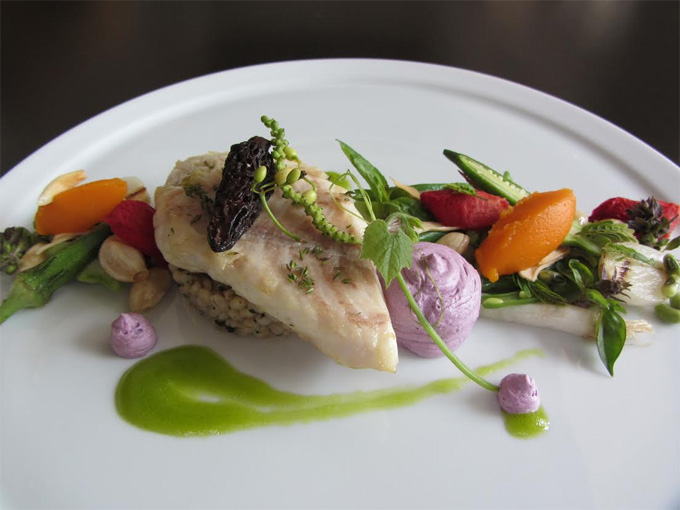 Ringlets of fried calamari had crunchy outsides and bouncy insides. The Caesar salad was beautifully dressed, each crisp leaf carrying the same measure of salty, cheesy bliss.
The combo blew our senses totally. Somehow we came back from hibernation to think of and order from the mains. We went nuts over the fishy spread that came next to embrace our palate.  It was   pan seared seabass with carrot mash, ricotta mascarpone spring onion and saffron braised fennel. We tried the pancetta wrapped mozzarella stuffed chicken breast served with soft polenta and butter sauté vegetable and porcini sauce. For veggies, I would recommend asparagus cannelloni with parmesan crisps and green apple. The sea food platter consisting prawns, fish, lobsters and squids was like as if it was  straight from the sea with minimalistic tempering. That's how Chef Lenin keeps the freshness of meat intact with just as necessary intervention of ingredients.
Steak lovers would balk at the thought of having their choicest cut in India's sea food capital. But you have to cut it to feel how marbled it is. And, eat it to feel how juicy yet perfectly grilled it is.
This Wagyu steak, the famous cut from Wagyu province of Japan is firstly a herculean task  to source. Then, to prepare this cut with perfection if something I don't know about.  I have heard its somewhere even next to a Herculean task. We ordered medium rare. It is accompanied by bone marrow bruschetta, a chicken liver sauce made with wine and garlic. A great ensemble to feast on!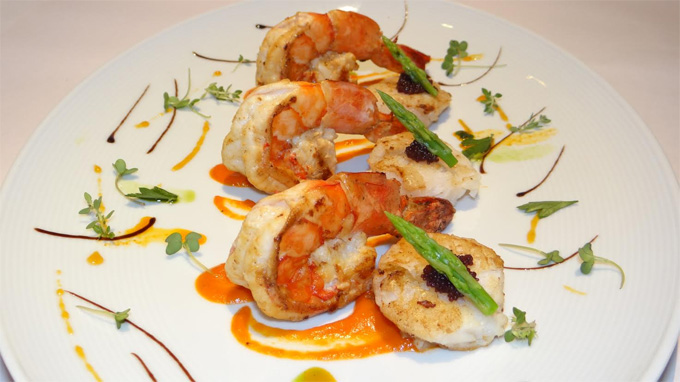 It was a melange of food emphasizing Northern Italian cooking.  While it has a wide selection of the usual entrees, including pastas, fish, and meats, its preparation of even 'standard' dishes is creative, visually appealing and delicious. The gnocchi, tiny light potato dumplings, covered with a piquant, creamy gorgonzola sauce is delightful; as is the pasta fusi alla grappa, bowtie-shaped pasta with a sauce of mushrooms, grappa, and parmigiano. The tiramisu, among the deserts, is smooth creamy and light yet comes with a tinge of decadency. You just can't let go off this treat even if you are struggling with your gut filled to brim thanks to the food you have already had.
We received attentive service from a caring, helpful staff. Both the chef and the restaurant manager kept us hooked on to both food and their endearing conversation on life beyond Italy, restaurants, Leela, Goa and many more. We left satiated after being fed soul stirring food from the land of Mussolini by Lenin.
While bidding adieu to the staff of The Riverside, a thought criss crossed my mind. The night. The restaurant by the bank of river Sal. Great food and service is an understatement. A slight nip in the humid air due to monsoon. The company of my soulmate. And Goa! It was a perfect set-up for renewing my wedding vows with my equal half that night.