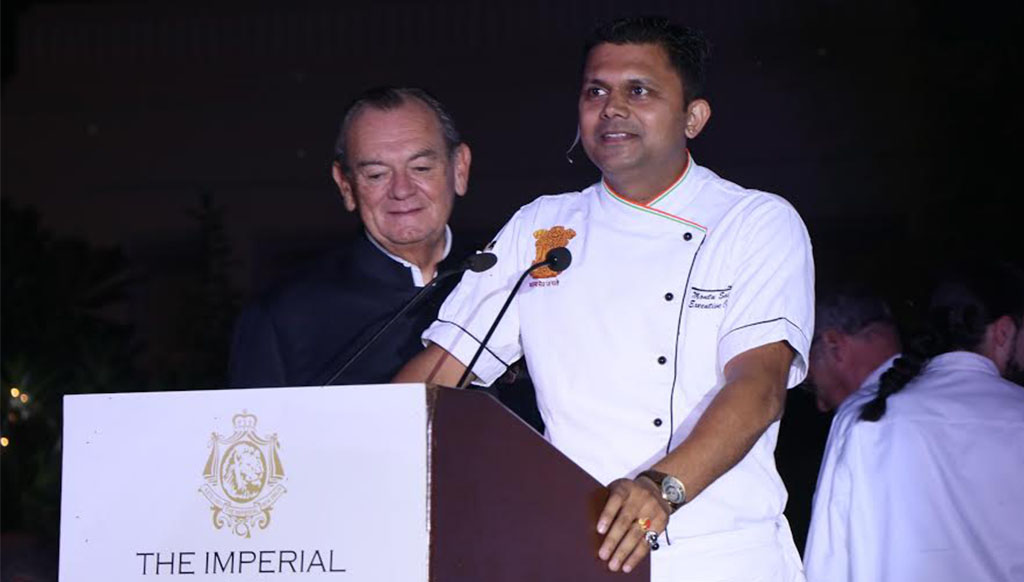 CHEF TO THE CHIEF: You can be sorry in a restaurant but there is no room for mistakes at the Rashtrapati Bhawan, says the President's Chef Montu Saini
Chef Montu Saini is the youngest ever executive chef at Rashtrapati Bhawan, and the youngest member of the Club des Chefs des Chefs—an elite international gastronomic society who cook for presidents, prime ministers, kings and queens. In this exclusive conversation with The Luxe Café, he speaks about the culinary preferences of the current President and his family, the pressures of cooking for Heads of State and the meticulous detailing required for the gastronomical service of the highest office in the country
"I am loving the pressure. If there is no pressure, you certainly are not on the right track," says Chef Montu Saini, youngest ever executive chef to the President and the youngest member of the Club des Chefs des Chefs, an elite international gastronomic society of chefs who cook for presidents, prime ministers, kings and queens.
Before taking up this prestigious post, Saini trained at the Institute of Hotel Management in Bangalore and worked briefly at Pizza Hut and with the Oberoi group. He then joined the India Tourism Development Corporation's Ashok hotel in Delhi, where he worked at the hotel's coffee shop and multi-cuisine restaurant for eight years before securing his current position.
Saini had applied for the position of executive chef to president of India after seeing a newspaper advertisement. He was selected after a series of interviews, followed by culinary test where he was asked to cook.
The 35-year-old is inspired by the make in India programme. "Until and unless you don't showcase your country to the world, how can you expect them to invest in your country? I want some other chefs to come back to India and establish their chain of restaurants in India."
Here are extracts from a conversation with Saini on the culinary preferences of the current President of India, the challenges of cooking for Heads of State and the detailing required in the gastronomical service of the highest office in the country.
The Luxe Café: So what exactly is your schedule at the Rashtrapati bhawan?
My role goes beyond just cooking. I work with a team of 40 chefs, where the chefs are divided into teams for different responsibilities. In fact, there is also a section for bakery and confectionary as well as a halwai section. First task of the day is to  look at cold storage supply, followed by procuring it. There is a quick check on everything in the kitchen and then directing the staff on the day's schedule. Besides this, I also look at recruiting new staff, the upkeep of the kitchen, upgrading the equipment when required.
How has been the experience cooking for Rashtrapati Bhawan?
The experience has been unparalleled.  Here we are working for the President and always concerned about how we can we be better and work efficiently in tight time frames. We are not bothered about meeting sales targets unlike other commercial jobs.
We work out of two kitchens. One is for the president and his family, and another (a bigger one) for state heads. It is a zero error job. You have to be very careful in what you do.  
You can be sorry in a restaurant but here there is no room for mistakes. We are serving the state heads. On a daily basis, we make new dishes. That's the beauty of my profession. If you are not creative, you can't be a chef. We are representing India and it is our responsibility to showcase the culture and cuisine of India .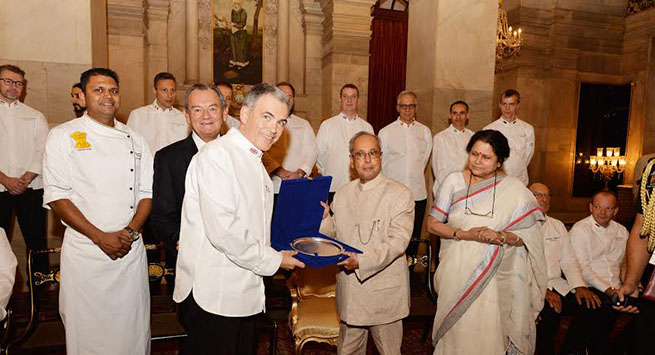 Is there a preference for Bengali cuisine?
Yes, Bengali cuisine is their mother cuisine. You can have Italian, Chinese food but you definitely will come back to simple food.  Everybody is adventurous to try sizzlers sometimes and as far as my President House kitchen is concerned, we are responsible for showcasing the best of India to the world. So when we prepare the menu, we ensure we prepare Rajasthani, South Indian, North Indian, Kashmiri, Guajarati to maintain a balanced menu.
Who places the menu for family meal?
Whatever they want to have they let you know and if not, we have a set menu.
What are the Signature dishes? How many dishes on an average does the family  have for a meal?
Subz Bowli handi where vegetables are slow cooked in the dum style in their own juices and especially mutton darbari are the special dishes of  the house. It's usually a simple meal: daal, subzi and a non-veg preparation.
Is the raw material sourced from the kitchen garden?
Yes, most fruits, vegetables and herbs are, including Stevia, which is sourced from the daali khaana — the garden in the Rashtrapati Bahvan. Seafood and meats have to be tested and approved by New Delhi Municipal Corporation doctors before they are used.