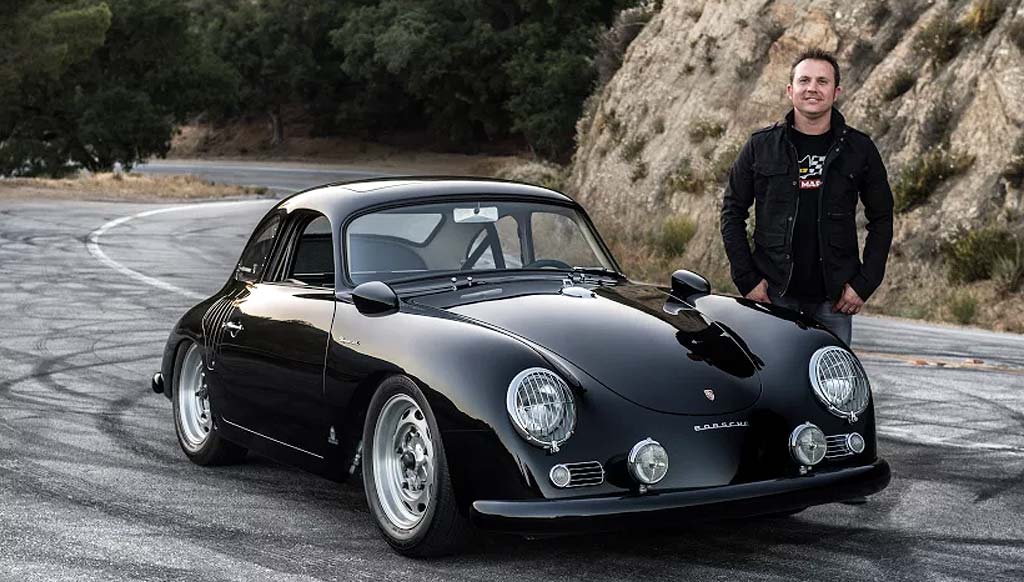 THE MASTER AND THE MUSE | Rod Emory likes to build cars that don't just go fast, but also look fast standing still (Photo: Drew Phillips/Courtesy: Emory Motorsports)
Get a glimpse into the world of Rod Emory, creator of dramatically souped-up vintage Porsches, and what drives his passion for them
In the world of customised sports cars, Emory Motorsports spells thrill and luxury like no other. If a Porsche 356 has been touched by an Emory, it's been transformed into an Outlaw or a Special, a legendary creature of dramatic performance and unique elegance — all vintage-class. Purists might sometimes turn up their noses at what is for them a heresy, but the desirability quotient of these cars is nothing short of phenomenal. We bring you an exclusive tete-a-tete with the man himself — Rod Emory, founder and creator, who's been building cars since the age of 14 — and for whom Porsche runs in the blood.
The Luxe Cafe: Tell us about the origin and evolution of Emory Motorsports?
Growing up in Trabuco Canyon, CA, life was about competition. Since before I can remember, I've been racing something. To be the fastest at anything was the goal, whether it was bicycles or ATV's or cars. My mechanical upbringing laid the foundation for everything that I am today. My grandfather Neil Emory co-founded a car customising business known as Valley Custom Shop in Burbank, CA. The basis of his life's work revolved around the idea that the cars the major American manufacturers made were good, but that he could restyle them aesthetically to make them great. It's not that his idea was original, many others were doing similar things; it's that his designs and his eye for proportion were exceptional. Today his cars are highly prized possessions, fetching substantial sums at auction when they do occasionally cross the block.

Our cars were relegated to the spectator parking lot and our friends jokingly referred to us as the "outlaws" because we did not conform

My father Gary also had the design gene and kept the family firmly rooted in Porsche with a business called Parts Obsolete, a retail enterprise which benefitted from Porsche's factory parts obsolescence. Blessed with the know-how of auto body repair and modification, assisted with the availability of factory parts, I built my first Porsche when I was just 14 years old. This 1953 split-window coupe is a car I raced in "vintage" classes for almost two decades.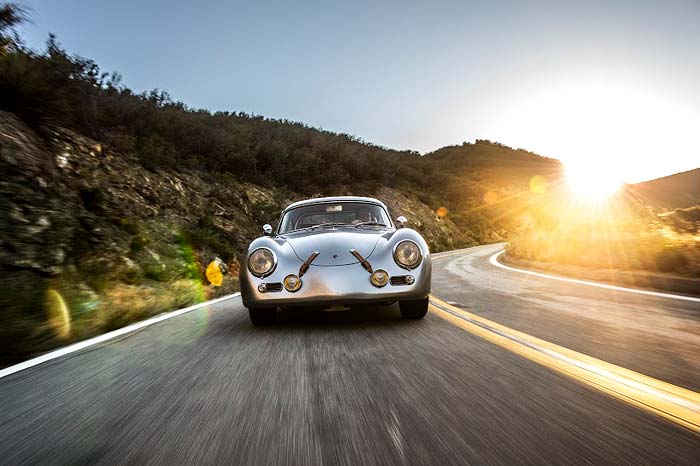 Along the way, my father and I built many more street cars for customers, all variations of the Porsche 356 and early 911, but always using a race- or rally-inspired design aesthetic. Let's face it, there's nothing sexier than race cars, because they benefit from the kind of aerodynamic touches and weight reduction techniques that my grandfather had been applying to cars through the decades. The street cars we built looked different because we wanted them to go fast, but also to look fast standing still.
How did you begin using the term 'Outlaws'?
In an era when the dyed-in-the-wool Porsche community actively sought to restore decaying cars to factory specification, our cars, even though our restorations were every bit as good, were excluded from awards consideration at judged concours. Our cars were relegated to the spectator parking lot and our friends jokingly referred to us as the "outlaws" because we did not conform to the then accepted norm within the Porsche hobby. In the late '80's, a jeweler friend of ours crafted a grill badge using a stylized heraldic eagle and the words "356 Outlaws." Since then we have used this badge to not only distinguish the cars that we build, but also to recognize the efforts of individuals whose 356 modifications satisfy my idea of what an "Outlaw" should be.

My parents brought me home from the hospital after I was born in a fat-fendered Porsche 911

My wife Amy and I created Emory Motorsports to fulfill a need we saw in the marketplace. Wherever I raced my blue '53, people would say to me "I'd like to go racing. How do I do that?" With many types of competition experience and with a ready supply of resources, I was able to build dozens of vintage-class race cars and act as a driving coach for the people who owned and drove them. Our customers competed in events from Seattle to Daytona. While we were racing, we continued to build Outlaws and Specials, street cars which now number more than 150.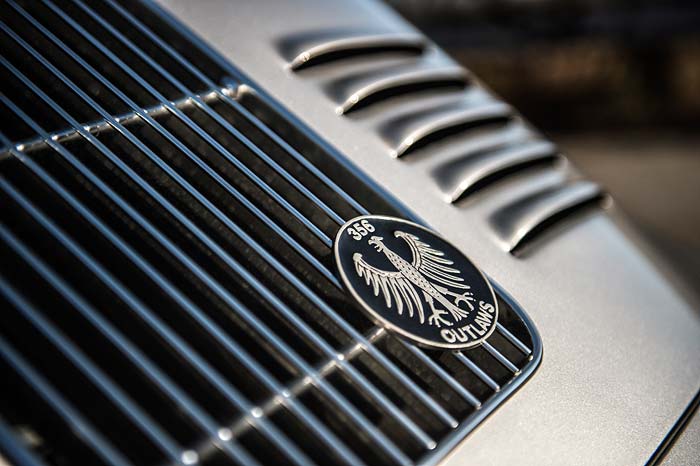 Why just Porsche? Why not others?
My parents brought me home from the hospital after I was born in a fat-fendered Porsche 911, so the Porsche marque has been imprinted on my DNA from day one. When you study the subject of Porsche you realize that the encyclopedia of information just relating to their competition experience is enormous. There simply isn't enough time for me to be as expert as I am with Porsche for any other marque. You know best what you grew up with and I feel like I have been inside Ferry Porsche's head since the beginning. Also, the early Porsche passenger cars lend themselves quite nicely to tasteful modification. The advancement of engine, suspension and braking technology has made the job of customising the 356 more exciting than ever.
Tell us about your work, the kind of alterations and customisations you work upon the Porsches.
Each Emory Outlaw or Special is a bespoke automobile tailored to its customer's wishes and each one began life in Porsche's factory in Germany. Each car benefits from a ground-up, bare-metal rotisserie restoration where we repair damage from corrosion & accidents, strengthening the unibody chassis in the process.

For an Emory Special we restyle the exterior design aesthetic in a way we think that Porsche themselves would have done if they had had the luxury of time

An Emory Outlaw is a Porsche 356 that maintains its original design, but from which we have removed or streamlined the bumpers, added our signature louvers to the engine lid, built higher-horsepower engine, added more modern Porsche suspension and drivetrain and customised the interior with understated upholstery and functional technological enhancements.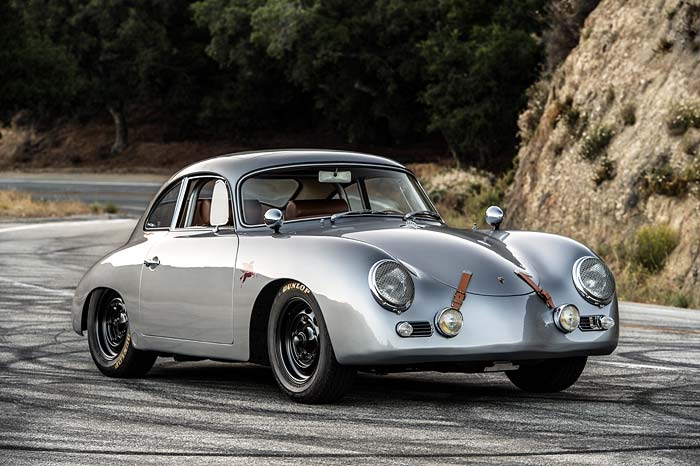 An Emory Special takes the idea of bespoke to another level because we restyle the exterior design aesthetic in a way we think that Porsche themselves would have done if they had had the luxury of time. These modification are generally subtle, sometimes undetectable to the untrained eye, but they also take a long time to achieve because we modify the steel skin of the car. But for those who know what to look for, these changes are appreciated because they distinguish the car forever and there will never be another one like it. To date, we have built six Specials. These cars feature unique mechanical appointments that also distinguish them from any other.
Can you describe some of the finest specimens of the Outlaws and Specials you've created?
The standard bearers of the two classes of cars we build are both based on the 356 A model.
This 1959 silver sunroof coupe is an excellent illustration of the Outlaw concept. It has a bumper-less body whose modifications include a shaved hood handle and leather hood straps, body-mounted driving lights, headlight grills, through-hood fuel filler, engine lid louvers, powder-coated aluminum billet wheels, painted pegasus graphic and custom wing windows.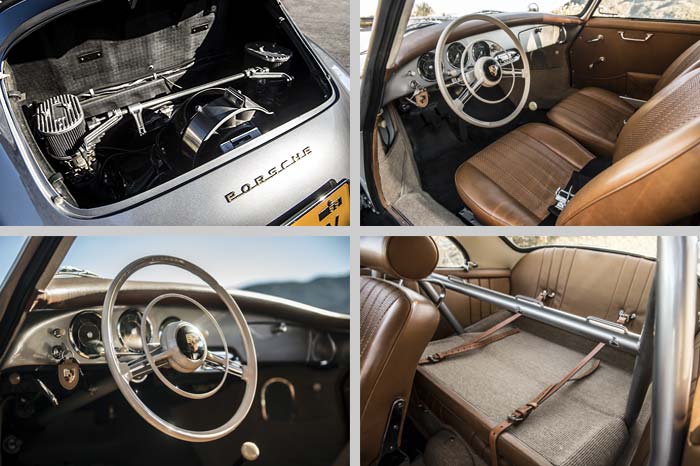 The interior features a one-off use of baseball-glove-quality leather upholstery including the headrests, with square-woven leather seat panels. There is also a roll cage welded to the frame of the car which creates additional torsional rigidity. The engine is a 2.6-liter 4-cylinder Porsche powerplant made by Fat Performance which generates 180 horsepower, three times the amount the car would have had from the factory. The car has custom disc brakes to make sure it stops as well as it accelerates.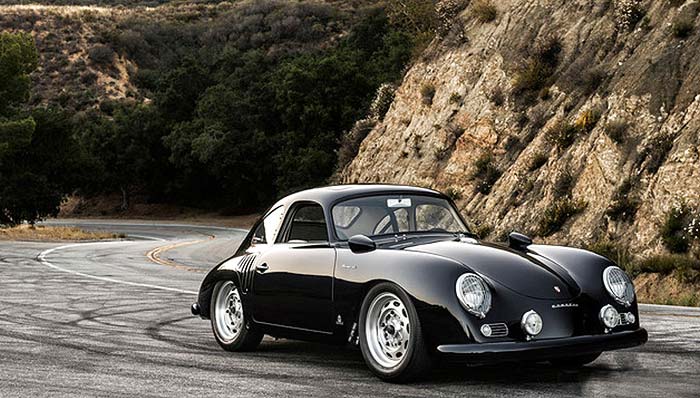 This 1958 sunroof coupe is representative of the Emory Special line. We built this car for a man who has the newest examples of Porsche technology, including a GT2 and a GT3 RS. He wanted a similar driving experience, but in a vintage package. This car has so many unique features, it's tough to describe in a short Q & A, but your feature article from earlier this year does a good job of highlighting the most notable items.(http://www.theluxecafe.com/motoring/luxury-cars-superbikes/the-emory-touch-1958-porsche-356-special/ )

Even Jay Leno, whose car collection is extensive, was a little star struck by this car

At the mechanical core of each Special, however, is a unique powerplant known as a "911-4." This engine design is based around a Porsche 3.6-litre 6-cylinder architecture, but whose center cylinders have been removed to save weight and space. The 911-4 produces a unique sound unlike any other Porsche and accelerates an Emory Special very quickly due to its minimum 185 horsepower and increased torque. Each Special begins with a dream about what could be and is inspired by a few simple ideas, but the combination of which produces a totally engaging driving experience. Even Jay Leno, whose car collection is extensive, was a little star struck by the performance and beauty of this car.
How much do your prized creations sell for?
The price for an Outlaw treatment of this caliber—like the one done on the 1959 sunroof coupe—is approximately 225,000 USD additional to the cost of the "donor" car. An Emory Special treatment on the other hand (such as the 1958 sunroof coupe) can add 300,000-400,000 USD additional to the cost of the donor car.

Within each of the cars I build is a little bit of my grandfather

For you, what's the best part of creating these customised Porsches?
For me, it is two-fold. Within each of the cars I build is a little bit of my grandfather, who passed his metalworking and design skills down to me at an early age. Because we are a small family-owned company, several members of the extended family touch these cars at various stages of their rebirth as an Outlaw or Special. These cars are personal.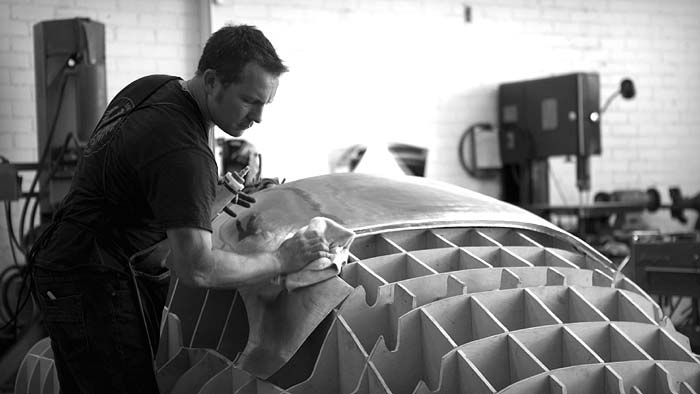 Also, I get immense satisfaction when I see the smile on the owners' faces when they are driving or just talking about their cars. I build a car that satisfies me but that also resonates with the particular tastes of the owners who now care for them.
What are you working upon at the moment? What more would you like to try out in future?
We have a number of very exciting projects in the works. Currently in restoration is a 1951 Porsche 356 Gmund SL which is Porsche's very first Le Mans 24 Hours works entry and class winner. We are developing the first all-wheel drive 356 as well as a radical makeover of a 356 bodied car based on a '70s-era RSR race car. We also have a bevy of Outlaws and a few Specials in progress which will be revealed in the months ahead.
Visit Emory Motorsports