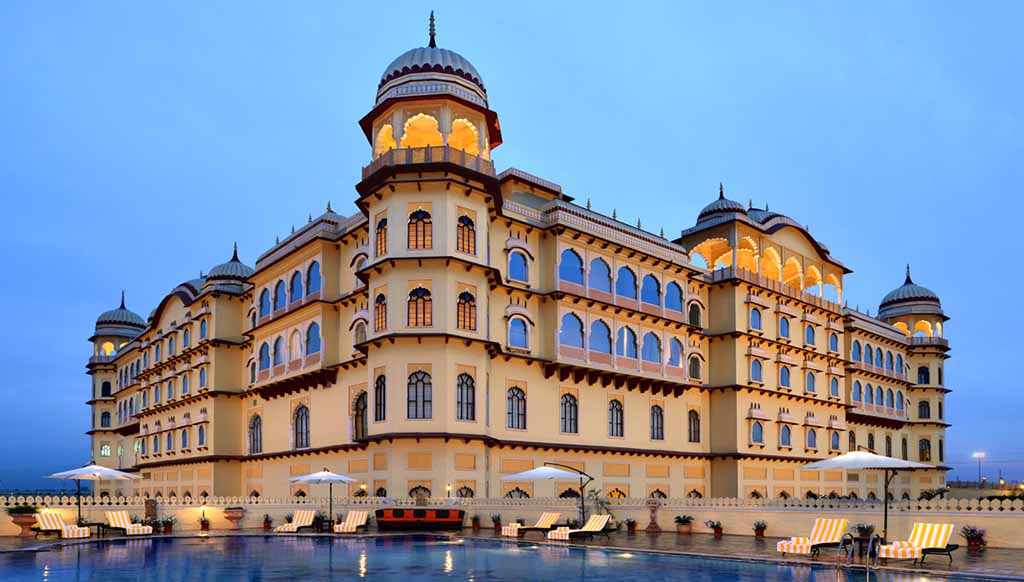 Set on almost eight acres of natural countryside, Noor Mahal offers modern day comfort while keeping the essence of traditional Mughal and Rajputana styles of architecture
Life in the hustle bustle of metro is often accompanied by the serenity and calmness of a quick getaway. If your everyday dwelling is Chennai, you could always get away to some very relaxing quick breaks in Puducherry. Likewise, Mumbaikars, Bangloreans and friends from Hyderabad and Kolkata, all have their own quick getaway secrets.
We Dilliwalas were not this lucky always. Well, not till few years back. Earlier, the nearest "destination" you could take with the intent to unwind would require a harrowing 8 plus hours drive, on roads we would not prefer night drives. So if we started on a Saturday morning to unwind, by the time we would reach, there would always be the pressure to get back.
But that's not the bigger problem. The bigger problem is what if I want a luxurious get away? What if we want to be treated like royalty, and not be far away from modern amenities? We didn't have an answer till recently. When someone pointed out about Noor Mahal in Karnal, I presumed, it could be one of the better motels on the Delhi Chandigarh Highway. And then the recommendations kept increasing. Recommendations from friends I take seriously. Recommendations from connoisseurrs of luxury. Recommendations from serious travellers. Recommendations from friends who enjoyed the good life. So many recommendations that I could not contain my temptation to make a trip.
Like all good things in life, journey to Noor Mahal in Karnal comes with its own share of hardships. You do have to battle the traffic of one of the busiest highways in India. But once there, all you say is that it is worth it.  For once, you may not believe it. In the middle of lush unending greens, you have an architectural magnificence that resembles nothing short of the best palaces in the country.
As soon as you enter the design haven, it takes you back in time to the ancient royal lifestyle our kings and queens used to lead. You are welcomed by an impressive lobby featuring intricate furniture, antique paintings & artefacts.  The hotel has a modern day comfort while keeping the essence of traditional Mughal and Rajputana styles of architecture.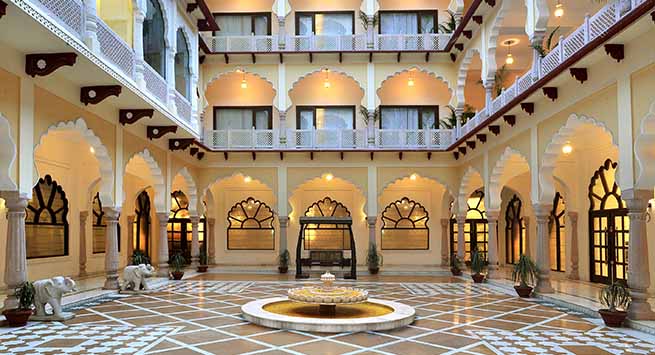 And the eye for details is not just on the physical appearance of royal grandeur. The detail extends to the way you are welcomed. Unlike conventional hotels, there is no waiting and sign up formalities at the reception. All that is done as per your comfort, in your suite. Yes. Every room competes to a suite in any conventional hotel.
While checking in, I saw a big group check out. Out of curiosity, I asked the very cordial hotel staff, what is the guest mix usually. And contrary to what I thought, I got to know that it's much more than Delhi weekened get awayer like me.  Noor Mahal is an ideal venue for destination weddings, corporate events, conferences and off-sites meetings as well.
"In fact, the wedding season is so busy, we don't have even a day off," said a senior hotel official. There's clearly a niche that the hotel has been able to cater to, as far as destination weddings are concerned. "Noor Mahal is now the most sought after destination for the uber rich of parts of North Delhi and almost all of Haryana. That's a huge catchment to cover," said Roop Singh Choudhary, the founder and MD of The Noor Mahal.
The hotel was conceived by Roop along with his father, Manbeer Choudhary, retired army personnel. It took almost 8 years to build Noor Mahal and the entire family has been collectively involved in minute detailing of its architecture and designing. "The designing part is something my mother takes care of. We have the collection some rare artefacts and carefully chosen objects d'art, some of them my family has collected and owned since generations," said Roop.  The doors, windows and table tops are sourced from the old mansions and havelis of Rajasthan, while antique paintings and photographs adorn the walls of the restaurants, lobby and other parts of the hotel.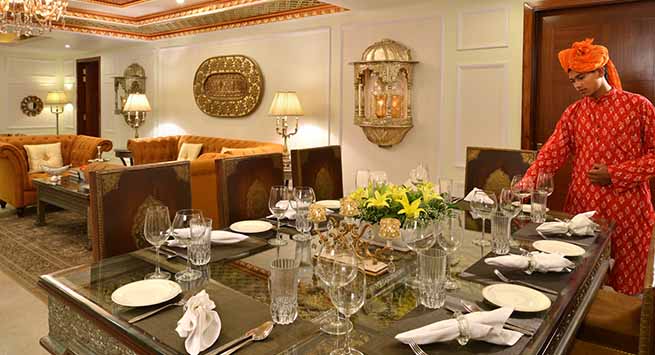 Set on almost eight acres of natural countryside, the modern day palace has 125 heritage-style rooms and suites. Apart from the Presidential and heritage suites, Noor Mahal boasts of an exclusive royal sleeping chamber called the Khwabgah, which includes two bedrooms, a living room, a dining room, a separate bar, an office chamber, and a private terrace overlooking the Karnal city.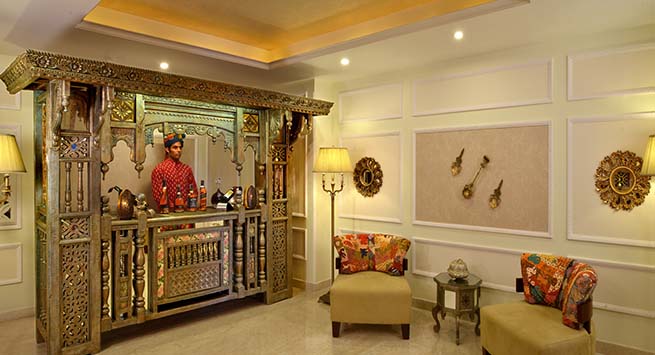 The Subtle aspects
The making of a royal experience is not just about architecture or the look and feel. The subtle experiential aspects, such as food cannot be ruled out. Not at least for a Delhi bred foodie like me. You may be a desi style foodie, you may appreciate the royal cuisine, you may just be fine by international delicacies or you want to see through an evening with cocktails, vintage wines or rare single malts. Noor Mahal has something for everyone.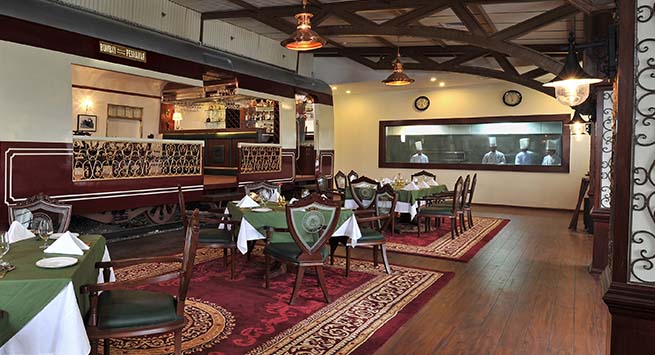 Frontier Mail Its Indian restaurant has been designed recreating the legendry Frontier Mail that operated between Mumbai and Peshawar during pre-independence days with elements taken from the actual train. For meat eaters, the Tuni Khatta is something not to miss here. The chef special daal will pull you back again and again.
Polo Bar A colonial style English bar maintains its vintage theme with wood panelling and collection of some rare equestrian-themed art. A visit to the bar also indicates that Roop is actually a thorough connoisseur. From rarest French and Italian wines, to the best of single malt, you have everything you could ask for, making your evening, truly royal high.
7th Heaven Spa  No experiential journey to a destination, as royal as Noor Mahal is ever complete without pressing your senses at the spa. The 7th Heaven Spa is just the right touch of royal de stressing you look forward do. "We are further expanding the capacity of the spa and will soon have more therapies," said Roop. For now, the 90 minute pressure modulated Noor Mahal Signature Spa is all you need to get all stress off you.
As we write this, Noor Mahal continues to be a work in progress. It continues to be a story that's evolving. And as it evolves, we just hope it continues to be a treat to everyone.
(Noor Mahal is equidistant from both Delhi and Chandigarh, roughly 3 hours. Rooms start at Rs 9,500. The Presidential suite is for Rs 45000, while Khwabgah is priced at 1.25 lakh, exclusive of taxes)