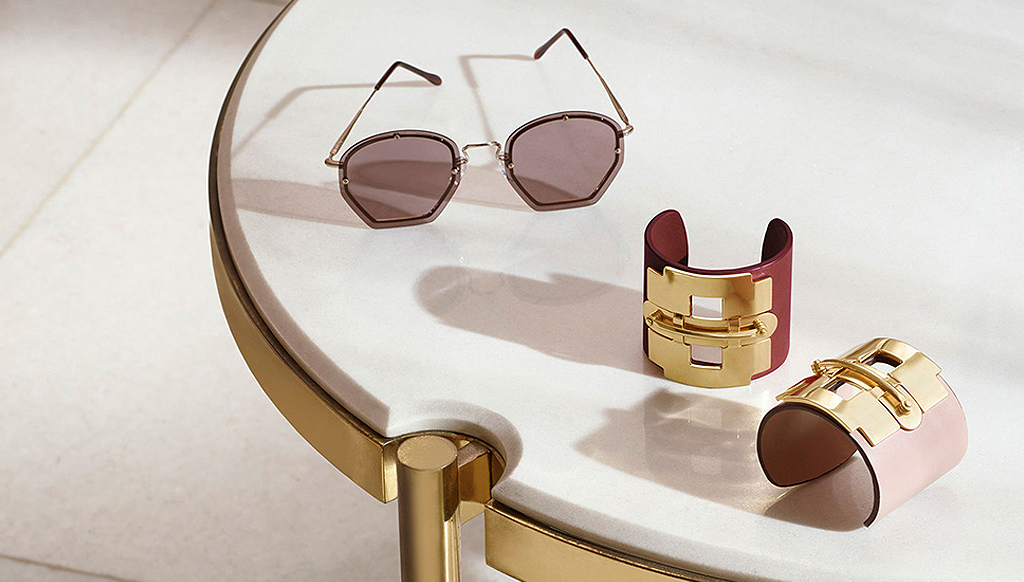 PRETTY POINTS | Add some glamour to your wadrobe with some beautiful summer accessories direct from the runway. Photo by Tods.com
An accessory can make or break the look of your ensemble and can completely alter the expression of your outfit
At this year's Oscars, Cate Blanchett's Armani Prive gown grabbed eyeballs. Charlize  Theron's Dior dress was breathtaking and Jennifer Lawrence was the darling of the red  carpet, classic stumble notwithstanding. In essence, Cate's exquisite Chopard opals and Charlize's Harry Winston diamonds made their looks. But it was Jennifer's backward flip of her Neil Lane necklace that stole the show.
An accessory can make or break the look of your ensemble and can completely alter the expression of your outfit. It can add interest, glamour and become the focal point .The versatility and feasibility of a garment increases with accessories, it breaks the typical reasons we keep in mind while shopping for  clothes. A simple summer dress can be a refreshing option  for a night out with the girls with the help of a spectacular neckpiece and a pair of stilettos. The pretty precious sparkle does not just add glamour but if sported correctly takes the focus away from other areas.
The impression of coveted and highly desirable bodies pasted on our minds from the catalogue of bikini magazines or calendar shoots are now slowly being altered and the beauty of other shapes and sizes are being embraced with warm, relieved smiles. Finding your lovelier points makes it easy to build a wardrobe and dress without stress.
Here are a few ideas direct from the runway to brighten up your summer—after all life is too short to wear boring jewellery.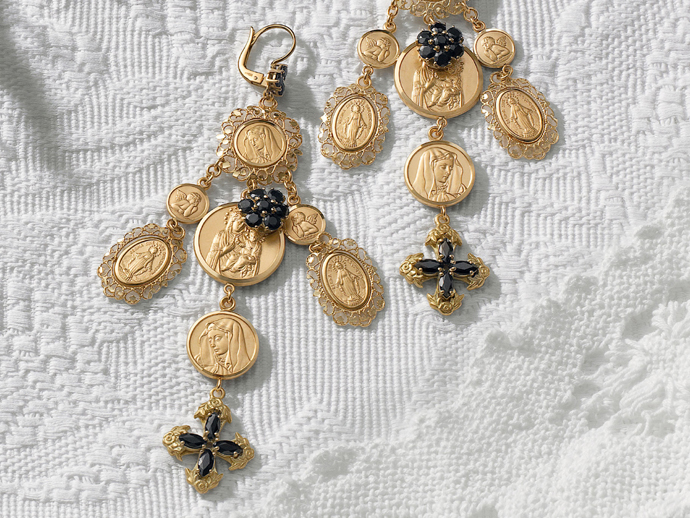 Nothing plays up a beautiful smile like bold earrings—seize the evening with Gold filigree  statement earrings from Dolce and Gabanna paired with a well-tailored red dress or jumpsuit. Flaunt a great cleavage in a spectacular flora and fauna neckpiece from Proenza Schouler or an elegant turquoise petal vine wrapped around the neck from the collection of Oscar de la Renta. These can also work well with a slimmer torso in off-shoulder styles. Another way of creating interest around the neckline is a conversational scarf, or a beaded heart jewel scarf from Louis Vuitton.
Got gorgeous hair? Try a bright hairclip or headband, like the subtly bohemian  interpretation in Anna Sui's look, adorned with flower appliqués.  Dolce and Gabbana brings a more classic and feminine floral interpretation, the delicate headbands distinctly hellenic.
There are nights when you want to look more feminine although you love your strong shoulders. Use striking jewellery, big necklaces and dangly earrings. One way is to reverse the proportions—with a  majestic and colossal drop stone neckpiece by Lanvin, the emphasis is on square stones. Another way is to distract the eye completely—achieved perfectly with gold chrome dipped geometric cuffs from Alexander Mc queen. Stark and unusual, they will instantly add sophistication to a simple ensemble.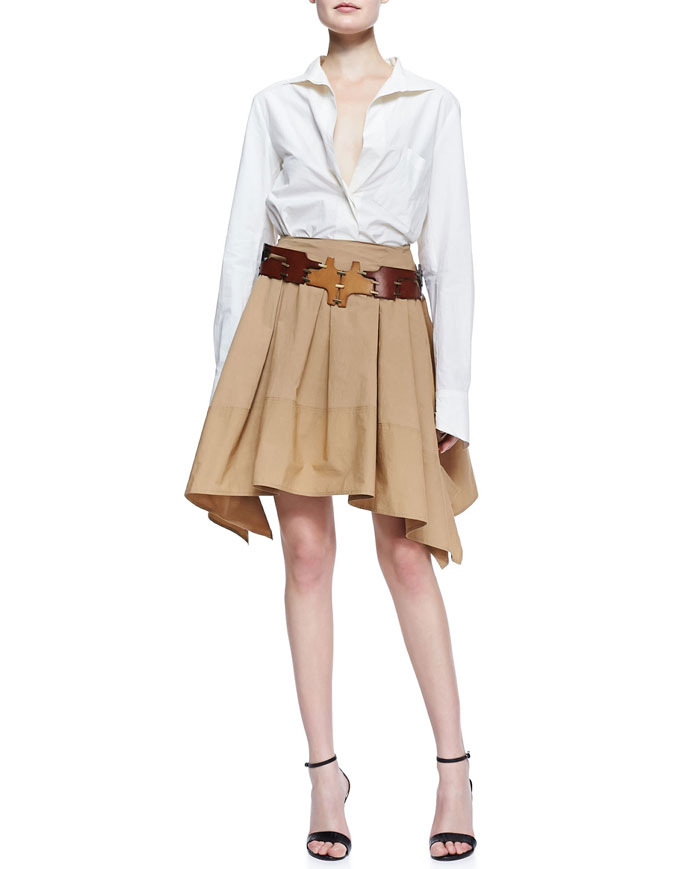 And if your trump-card is a pretty waist, fashionable waist-belts are your best friends. Keep things in proportion by sticking to a slimmer belt, a more contemporary and every day option like the simple tan belt from Chloe with a school girl bow that is perfect for a shorter torso. A more futuristic look could benefit from a modest  Metallic band by Josie Natori providing enough glamour to dress up from one simple accessory. For a longer body, a Tan Leather puzzle piece from Donna Karan is an exceptional choice a white layered or wrapped around dress, long skirts and high waist silhouettes.

If you want to streamline your silhouette and create the illusion of height, simple styles such as classic pumps, kitten heels and smooth leather boots in neutral or transparent  colors will create a visual continuity and a sleek, elongated silhouette.
The Foot-note If you want to streamline your silhouette and creating the illusion of height , the worst way to do it is to wear vertiginous heels in loud styles. Simple styles such as classic pumps, kitten heels and smooth leather boots with minimal detail in matching, neutral or transparent colors will create a visual continuity and create a sleek, elongated silhouette. A mid-heel halter or a Hangisi satin pump from Manolo Blahnik will work with most outfits, as would Christian Louboutin Djalouzi PVC cap toe pumps. Also worth the investment are classics such as the Ferragamo D'orsay pumps or the Rilly bow pumps.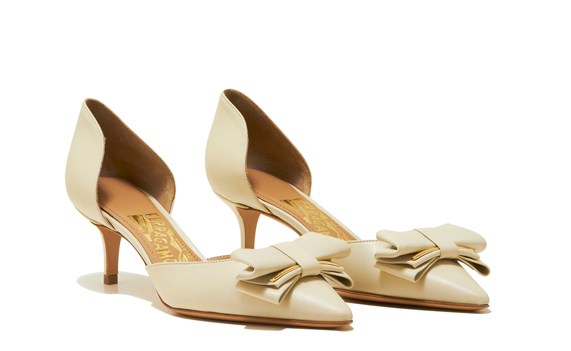 Long legs are desirable irrespective of body types and figures—choose shoes and boots with a medium to high heel, Knee boots to draw the eye to lower legs instead of thighs, knee high chic and strappy dark brown leather buckled boots from Michael Kors add an oomph factor to the attire besides providing height.
Wearing heels is a sport, if you can play the game. Marriage of punk and classic gold describes Balmain's open toe, tee strap shoes with heels. Worn with a calf-length tapered skirt, it will give you the desired curvy figure.

The gems and stones, the pearls and gold, they are ageless . The most precious of all ornament is always confidence—wear it like you own it.

If you have  broader shoulders and slimmer hips and legs, then party with joy. If any woman has a licence to splurge on fabulous shoes it's you, as they will divert attention from your mid-section and accentuate your striking legs.
Chunky wedges will draw the eye down, be bold and go for a bright colour. Slender and eye-catching Tom Ford stilettos  with a disco feel are perfect  for  a crazy night out.
Among the din and clamour of fashion, maintain inner composure and don't run after celebrity trends. The idea is to create harmony the overall impact of your attire. The gems and stones, the pearls and gold, they are ageless . The most precious of all ornament is always confidence—wear it like you own it.