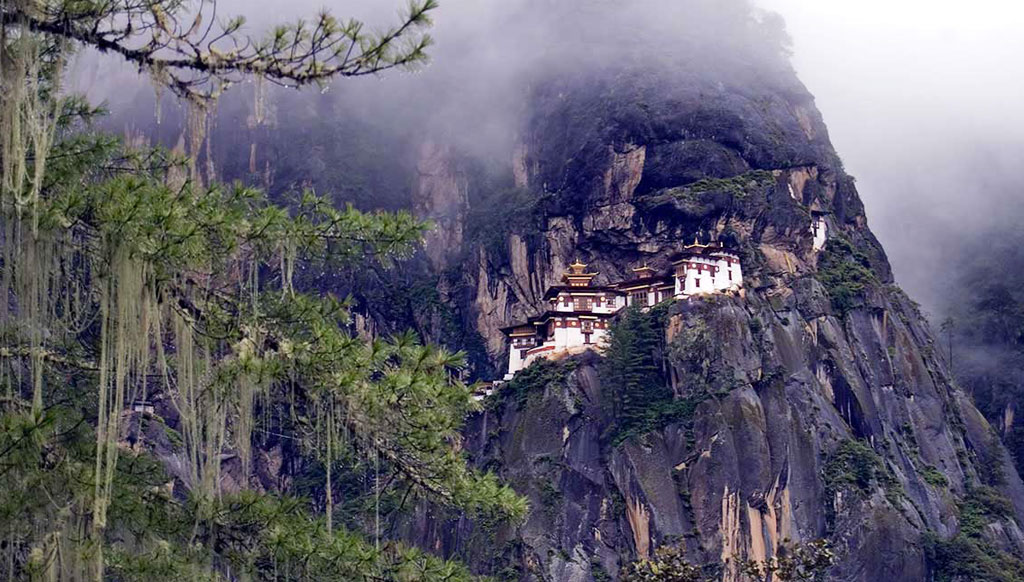 FAIRYTALE LAND |Remote and reclusive Bhutan is a paradise unspoilt, retaining its beauty and exclusivity while being an example of sustainable eco-tourism
Bhutan, a land of mountains, monasteries, myths mystery, remains an unparalleled destination for those who love a sojourn back to nature, to a simpler way of life and the luxury therein. Here is a ready guide for planning your trip to Bhutan and its famed golden triangle – Paro, Thimpu and Punakha
The tiny landlocked Himalayan kingdom of Bhutan has been much talked about for having deemed the Gross National Happiness more important than the Gross National Product. Druk Yul, or the Land of the Thunder Dragon as Bhutan is also called, is a guarded oasis of natural beauty, indigenous Buddhist traditions, and the world's only carbon sink, i.e. it absorbs more CO2 than it gives out.
The pristine beauty of Bhutan is picture-book pretty with its Himalayan landscape, where cloud-capped peaks rise above mysterious gorges covered with a thick tapestry of forests, rivers, interspersed with the majestic fortress-like dzongs and monasteries. The innocence of all that untainted greenery set off by the Buddhist-inspired architecture is perfect background for a culture, at once specific and spectacular. The exciting diversity of Bhutan extends into all that you can see, smell, feel and do there – ranging from the tsechus (colourful dances) at the famous Thimpu Festival, local archery competitions, homespun textiles and handicrafts at the weekend markets on both banks of Wang Chhu, forest trails rife with rhododendrons and spring flowers on way to ancient Buddhist monasteries and shrines like the fertility God Chime Lhakhang's temple, or high altitude trails through chir and pine trees extending into the isolated Lunana. Bhutan is aloof yet accessible and abounding in the joys of a life in sync with nature, culture and astounding structures.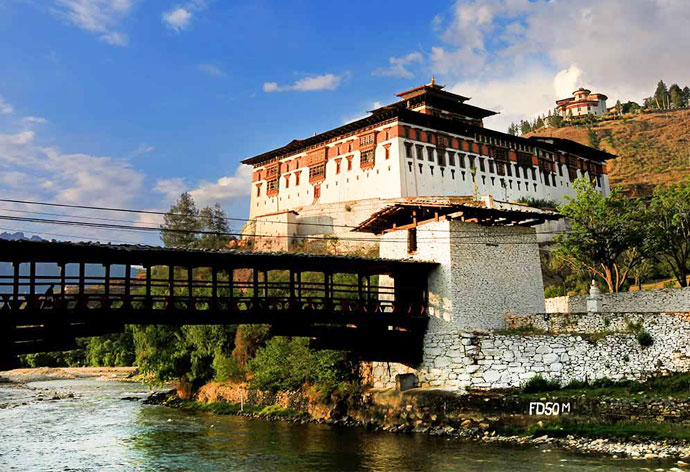 For those who wish to take a trip into the heart of Bhutan, the Golden Triangle of Paro, Thimpu and Punakha should be a trail worth exploring. Whether you are given to an adventurous streak, or a loner who loves looking into limitless horizons, Bhutan has much to offer, and in style. The experience of a lifetime, into the lap of Shangri-La on earth, should not forego a stay at the stellar properties of Amankora [Paro], Taj Tashi [Thimpu], Uma by COMO [Punakha] which are not just luxury hotels but also beauties unto themselves, providing the perfect ambience to enhance your Bhutan experience.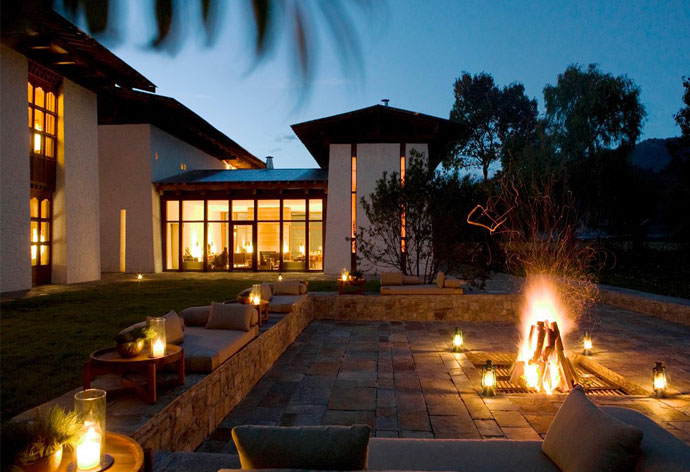 Arriving at Paro, you will find 'peace' at Amankora, a luxury hotel built as a unique circuit of lodges set through Bhutan's central and western valleys. Blending rustic elements with contemporary design, the 24 suites at Amankora's Luxury Lodge are easily accessible from the Paro International Airport. Near Balakha Village, there are views abounding of a forest of blue pines, the ruins of the historic Drukgyel Dzong as well as majestic Mount Jumolhari. The Buddhist-inspired architecture features natural rammed-earth walls, gently sloping roofs and wood-panelled interiors reflecting historic Bhutanese motifs. With a large flagstone courtyard in the centre, a lime-washed stone pavilion houses the living and dining room facilities, library and outdoor terrace, all lighted up by fireplaces.
The cosy ambience of the space is further enhanced by the presence of a library range of books on Buddhism and local lore, textiles and the Himalayas. Situated below the living room, the dining room opens onto a flagstone terrace and wooden deck overlooking a mountain stream. The views extend to the dzong and distant snow-clad Jhomolhari. The dining room serves breakfast, lunch and dinner, and specialises in Indian, Western and Bhutanese dishes. Behind the main cluster of buildings is the luxury Spa Bhutan which is set on two levels and offers relaxing therapies typically commencing with a hot stone bath filled with local herbs followed by traditional treatments. There is also a gift shop offering a selection of Bhutanese handicrafts, textiles for you to pick souvenirs from. While at Paro, one must not forget to hike upto the Taktsang Monastery, or the Tiger's Nest as it is called. To soak in a sea of beautiful blue, one can consider the ten minute drive to Kyichu Lakhang, one of the oldest temples in this Himalayan kingdom. For art lovers, there is the Paro Museum which is also the vantage point for the best views of sunset and Paro itself.
Moving on from sceneries and stoic monasteries to more robust entertainment will bring you to Thimpu, the capital city known for its drayangs or dance bars which are not quite the mundane discotheques but again an outpost of traditional Bhutanese songs and dance. And then there is the golf course, the only one in Thimpu, and the colourful weekend market worth a trip for curios and clothes. But local fun aside, there is also another experience awaiting you in Thimpu which is that of staying at Taj Tashi itself. The 66 elegant rooms are luxurious with heated floor bathrooms, high ceilings, lacquered wood floors, decorated with hand-painted murals, walk-in closets, canopy beds- all housed in a stunning building built in the traditional Bhutanese Dzong architectural style with swirling dragons. There are breath-taking views all around, of the mountains that surround Thimpu valley while the hotel is only a trek away from old monasteries, traditional street festivals, scenic mountain passes and wilderness.
The warm service and attentive hospitality is one of the special features of this property and one can feel it starting from the welcome you receive when offered traditional healing tea and warm towels. There are stellar dining options which will bring one in touch with the other treasured aspect of Bhutanese lifestyle – their food. CHIG-JA-GYE is the restaurant specialising in   Bhutanese cuisine and aptly named after the 108 principal temptations in Buddhism. To mark its opulent ambience, the interiors are embellished with old style gold-leaf paintings and horn instruments called dhungs. To indulge in quiet reflections of the day, there is the chance to sip Suja, Bhutan's distinctive 'salted butter tea' at the well-lit tea lounge, Rimps.
Gazing at the monumental prayer wheels in the centre of the property is a luxury to be indulged into while sitting by the panoramic windows of The Thongsel, the all-day coffee shop which serves both European and Bhutanese. To make one sink into the serenity that is so amplified here, there is the Jiva Spa with its exclusive signature treatments offered in treatment rooms outfitted in wood and marble, decorated with Bhutanese artefacts, and the perfect setting for the exclusive Bhutanese hot stone bath and other Ayurvedic therapies.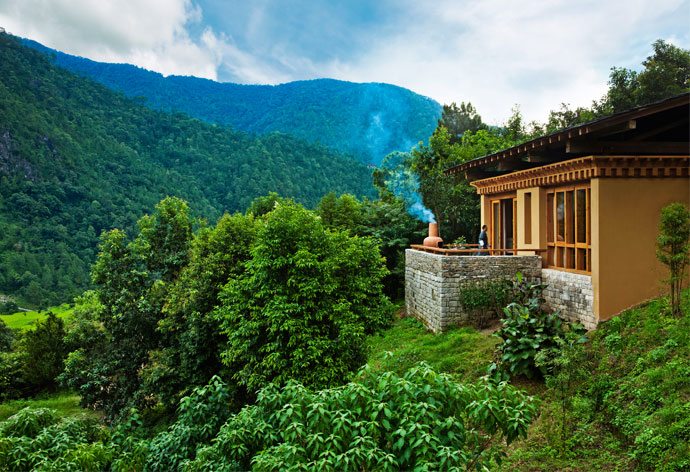 Uma by COMO, in Punakha, is a five-hour drive from Paro, and in the not so oft-frequented Punakha valley which lends this luxury lodge the air of an intimate hideout, a hermitage, as it were. COMO's second hotel – which guests pair with Uma by COMO, Paro – is situated on a bend in the Mo Chu river, covered in the alpine stillness of the Punakha Valley. The property allows easy access to some of Bhutan's most celebrated landscapes and historic sites, including the famous Temple of the Divine Madman and the imposing Punakha Dzong.
With nine hillside Valley View rooms, and two free-standing luxury private villas (one One-Bedroom Villa and one two-bedroom COMO Villa), Uma Punakha provides luxury in the wilderness in signature COMO style. Our Bukhari restaurant serves both local and international cuisine, while our standalone COMO Shambhala Retreat offers traditional holistic therapies. The 11-room lodge has nine deluxe rooms, a one-bedroom villa, and a two-bedroom villa. Both villas can be linked to a deluxe room, making it more spacious and customised for a family getaway. The décor is traditional hand-painted Bhutanese art and wood-burning stoves for that rustic touch.
For dining, there is Bukhari, named after the traditional Bhutanese fireplace. Menus are based on seasonal, local produce sourced by the expert chef who delivers both Bhutanese and international dishes with panache. A special mention is deserved by the spa in Punakha – Shambhala Retreat – which nestles amidst a woodland glade near the hotel and offers a range of holistic, Asian-inspired treatments like signature massages, facials and body therapies. The two treatment rooms- a double for couples and a single room featuring a traditional Bhutanese hot stone bath have far-reaching views of the valley and enhance the spa experience manifold.
Punakha, being at the sea level, offers one lungful of oxygen, before moving further up into rarefied realms to sites like the Talo monastery (built in 1764 AD), the panoramic high valley of Phobjikhaeven as trekkers can choose to halt at the quaint little village of Nobgang with bright red splashes of poinsettia.