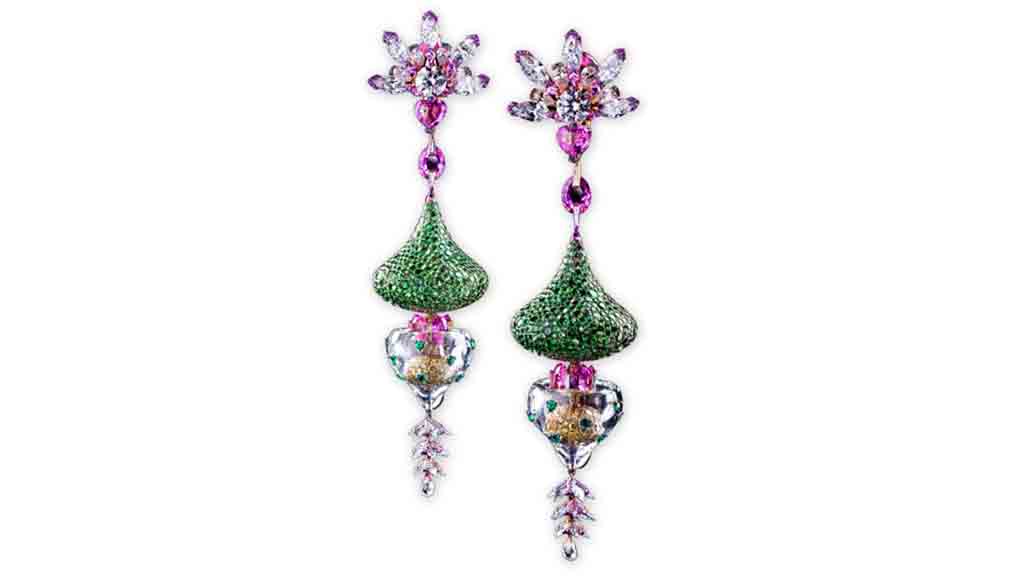 Wallace Chan's earring with diamond briolette 'roots', yellow-diamond-encrusted orb, green tsavorite garnet bulb and white diamond blossom
The European Art Fair's New York edition was launched last year itself, and while it displayed everything from Old Master painings to 20th century furnishings, perhaps the most dazzling part of the display were the exceptional pieces of high jewelry
The European Art Fair's New York edition, launched last year, showcased some rare and exceptional high jewelry pieces from various contemporary designers this year. Founded in 1988, the European Fine Art Fair or TEFAF is held in Maastricht in the Netherlands every year and is widely regarded as the premiere showcase for the richest and the best that the worlds of art and design have to offer.
The displays at TEFAF range from Old Master paintings to 20th-century furnishings, curated by an exclusive vetting committee that inspects and authenticates each item on display. But perhaps the most glittery section of TEFAF is where the most impressive, world-class jewels are on display. TEFAF, which stretched from Oct 28 to Nov 1 at New York's Park Avenue Armory this year, elicited collective sighs through its displays of these fine jewelry pieces. Presented here are some of the exclusive pieces from the exhibit.
Floral Brooch from Lee Siegelson's Collection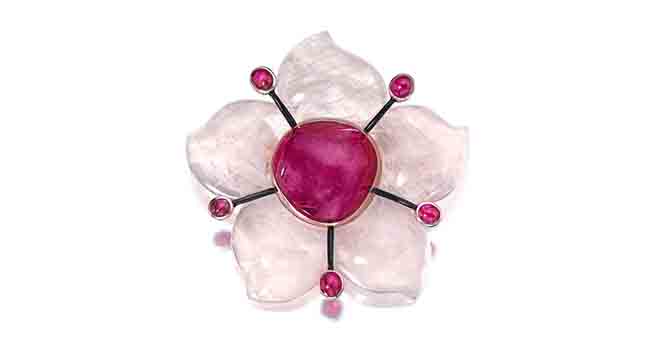 On display at TEFAF was the exquisite ruby, quartz and enamel floral brooch from the collection of Lee Siegelson, which includes some very rare jewelry and objets, from Art Deco Cartier clocks to mid-century modern cuffs by Art Smith. The dazzling floral brooch in question was created by Suzanne Belperron in 1936 and was featured in Harper's Bazaar by the legendary fashion editor Diana Vreeland.
Wonders of Life Earrings by Wallace Chan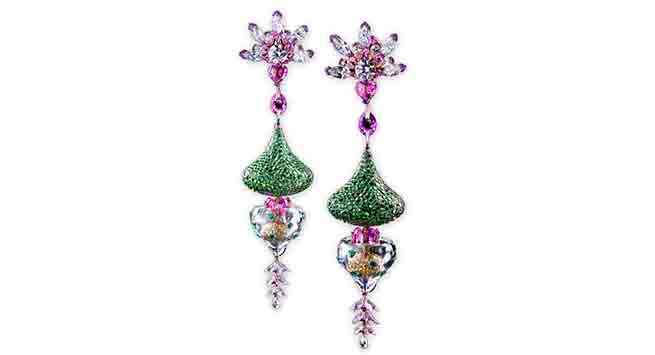 Intricate earrings titled 'Wonders of Life', a creation of Chinese jeweler Wallace Chan, evoke the exquisite image of a flower blossoming from a pinecone. The earrings reveal diamond briolette 'roots' that lead to a yellow-diamond-encrusted orb nestled inside rock crystal dotted with emeralds. The green bulb of tsavorite garnets set in purple titanium is followed by pink sapphires linking the jeweled stem to a white diamonds blossom. Wallace Chan is famous for his poetic approach to design as well as his unique methods, with several patented ones of working with everything from jade to titanium.
Geometric Marble earrings by  Hemmerle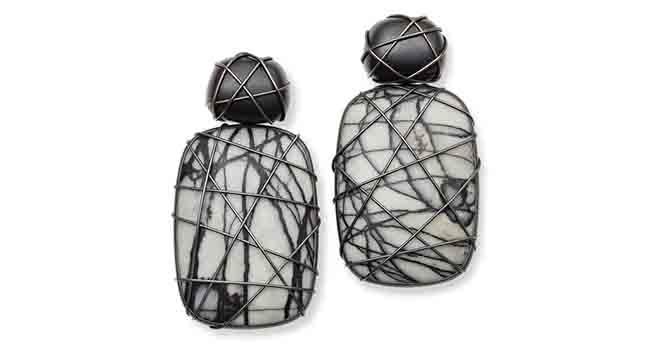 Munich-based Hemmerle's signature style is stamped all over these marble earrings displayed at TEFAF New York. Minimal and geometric in design, the earrings highlight the natural veining of marble by graphic lines of oxidized silver and white gold. The oxidised metal is a reference to the Berlin iron jewelry Hemmerle created in the 19th century. Hemmerle's specialty has been his innovative designs since 1893, and the rand's signature style today is the interesting combination of unusual, everyday materials like pebbles and aluminum alongside the most regal sapphires and spinels.
Burmese Sapphire bracelet from Olivier Reza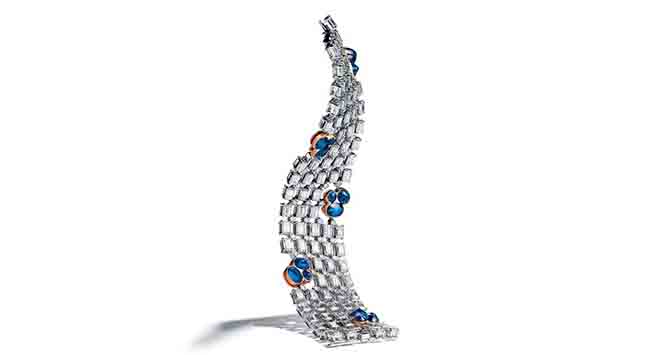 This bracelet from Oliver Reza's collection is 19.5 carats of pure unheated Burmese sapphire cabochons, contrasted with 44.24 carats of emerald-cut diamonds, alternating with smaller rows of brilliant-cut diamonds. The scintillating brilliance is typical of all the objects in the collection of Olivier Reza, who heads the house founded by his father, Alexandre, in postwar Paris. The brand's Place Vendôme atelier is renowned for crafting pieces that are a captivating mix of traditional craftsmanship and contemporary design.