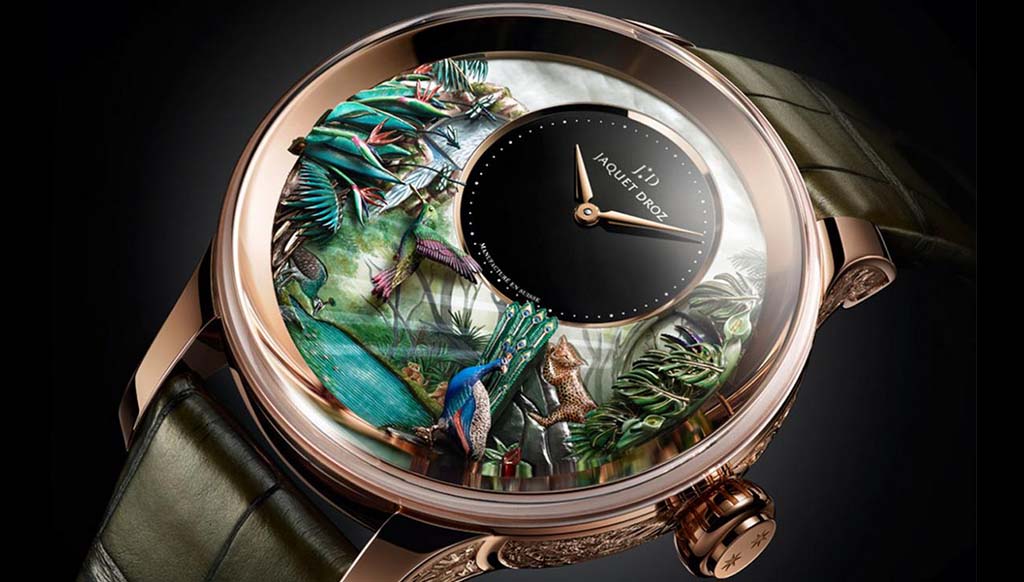 Swiss luxury watch brand Jaquet Droz celebrates the magnificence of nature with Jaquet Droz Tropical Bird Repeater watch
Jaquet Droz Tropical Bird Repeater watch is a feat of mechanical artistry, with 7 animations that include a hummingbird fluttering its wings, a peacock unfurling its tail, dragonflies with wings glowing in the dark, and more
We're addicted to marvels of beauty and feats of engineering showcased in exquisite timepieces, and this spellbinding watch that brings alive a tropical paradise in the tiny space of your wrist has to be seen to be believed. Swiss luxury watch brand Jaquet Droz is celebrating the magnificence of nature with Jaquet Droz Tropical Bird Repeater watch, pushing the boundaries further in the "art of astonishment."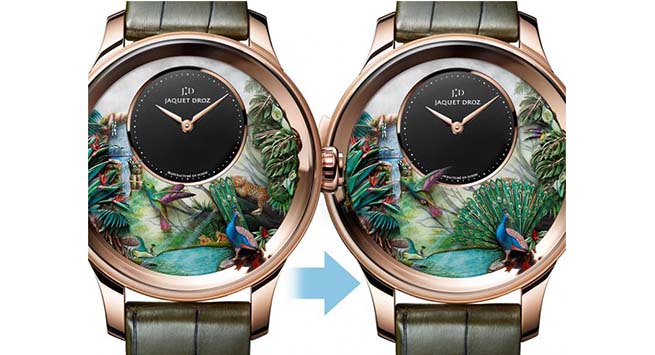 This captivating work of mechanical artistry draws inspiration from the Enlightenment-era passion for nature and animals of brand founder and namesake Pierre Jaquet-Droz. Automatons, along with the Ateliers d'Art, represent two of the eight codes of the La Chaux-de-Fonds manufacture, hand-decorated by engravers and miniaturist painters. These codes are indispensable to the creation of the scene that unfolds on the dial, replete with striking colors that emerge like a lush oasis on a mother-of-pearl dial, which is enclosed in a red gold case adorned on the sides of its lugs and on the middle band with an animal motif hand-engraved by the brand's craftsmen.
The handcrafted watch joins the Mainson's line of automaton timepieces first introduced in 2012. But the most fascinating part of it is the lush, exotic forest scene featured on the dial. In the center, a hummingbird hand-carved and hand-engraved by the Maison's artists moves towards a shrub of bright orange birds of paradise. A one-of-a-kind animation, its wings beat up to a remarkable forty times a second. To the right, a peacock with intense blue feathers fans out its tail, while a toucan emerges from the palm leaves at 3 o'clock to open its beak. And that's not all—you have three dancing dragonflies, located at 9 o'clock, with tiny SuperLuminova-coated wings that glow in the dark! In all, 7 animations that may exceed twelve seconds allow for up to 4 different scenarios, all the more striking as they contrast with the suspended background of the scene.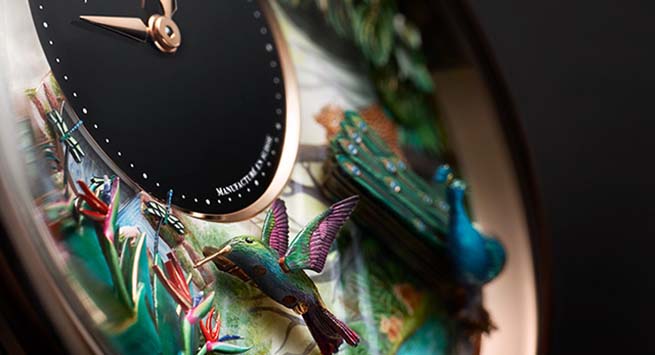 And the grand horological complication merits as much of a mention: the Jaquet Droz RMA89 movement features a minute repeater that enables the marking on demand of the hours, quarter hours and minutes via the vibration of cathedral gongs struck by hammers inside the case. A slide activates this complex mechanism. The movement is equipped with a virtually silent wheel regulator, as the regulation of the minute repeater's speed is operated by the friction between small outer spring blades. New rack springs, an extended pause between the quarter hours and minutes, and the striking of the quarter hours at major third (spanning four semitones) are also part of the complication's innovations. The power reserve has been increased to 60 hours with an oscillating frequency of 3 Hz. The case itself is 47mm-wide and 18.95mm-thick.
A dark green alligator strap lends the finishing touch to the masterpiece, whose exclusivity is heightened by the fact that only 8 pieces of it will be created. Priced at $661,500 this is truly a collector's delight, a timepiece that's nothing short of magic.