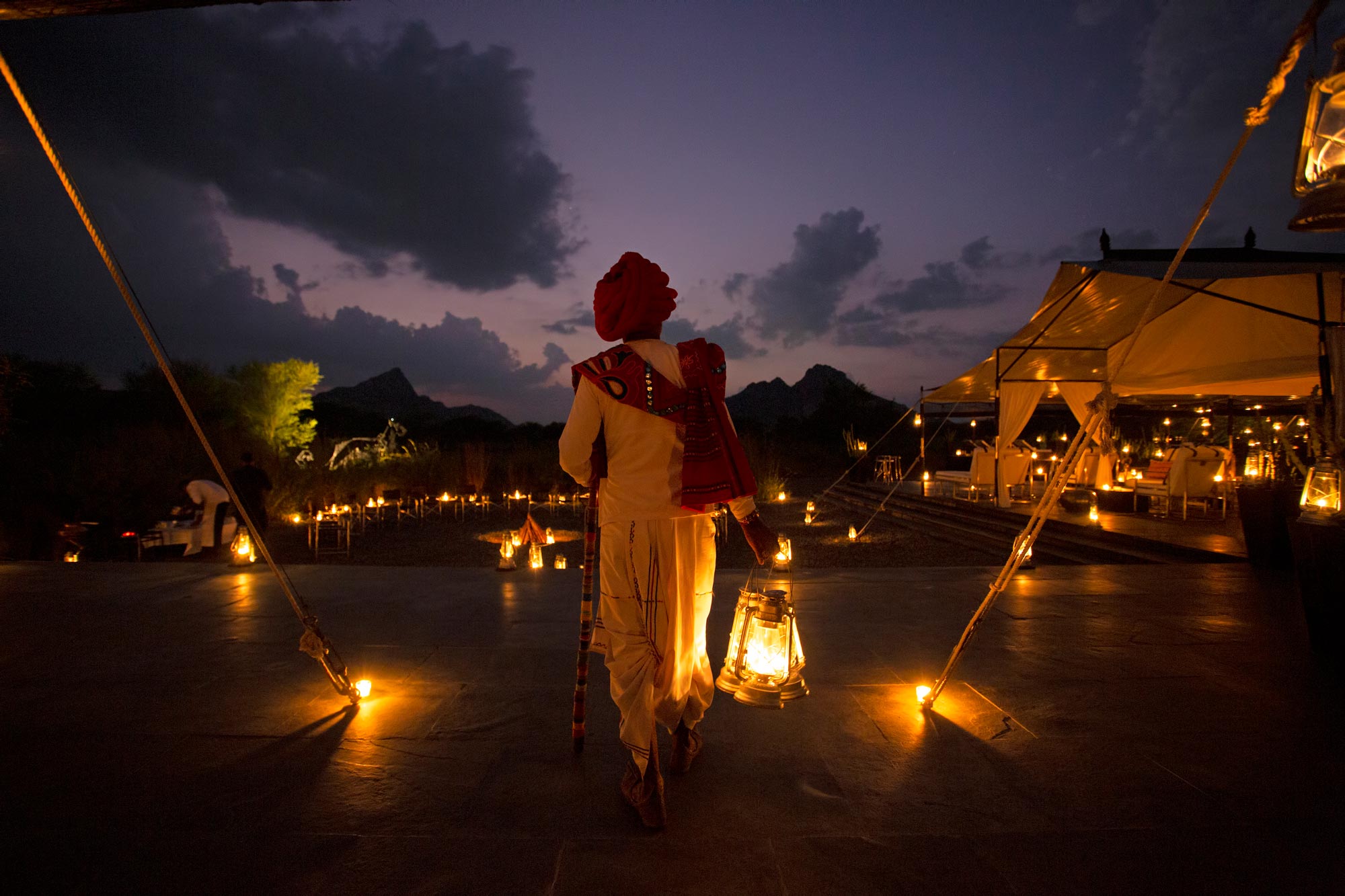 The camp at Sujan Jawai celebrates great outdoors and offers you a chance to immerse yourself in the local culture of the region.
Winter is the best time to answer the call of the wild. And if you are doing it, why not do it in style?
These are the months when national parks are open and so are the luxury camps catering to wildlife. Hospitality brands are giving a unique twist to the otherwise regular itinerary with lucrative offers to engage the travelers for longer periods and also induce them to come back again.
While most camps catering to wildlife are providing all-inclusive offers comprising daily meals, a safari ride as well as recreational activities, some are walking an extra mile to offer rare experiences to their guests.
Depending on what exactly are you looking at, there are plenty of options. The Luxe Café helps you cut the clutter and make an informed choice to book your next wildlife vacation.
Rajasthan
Aman-i-Khas
A luxury wilderness camp by Aman on the edge of Ranthambhore National Park in Rajasthan is something you can't miss. With only 10 tented suites, the camp offers incomparable privacy, each serviced by an experience batman.
Spot tiger, leopard, spot foxes, deer, antelope and many beautiful varieties of kingfisher birds during the daily safaris organized by the camp. After an exhilarating game drive, comforting Aman spa therapies, picturesque swimming pool and the dining tent awaits you.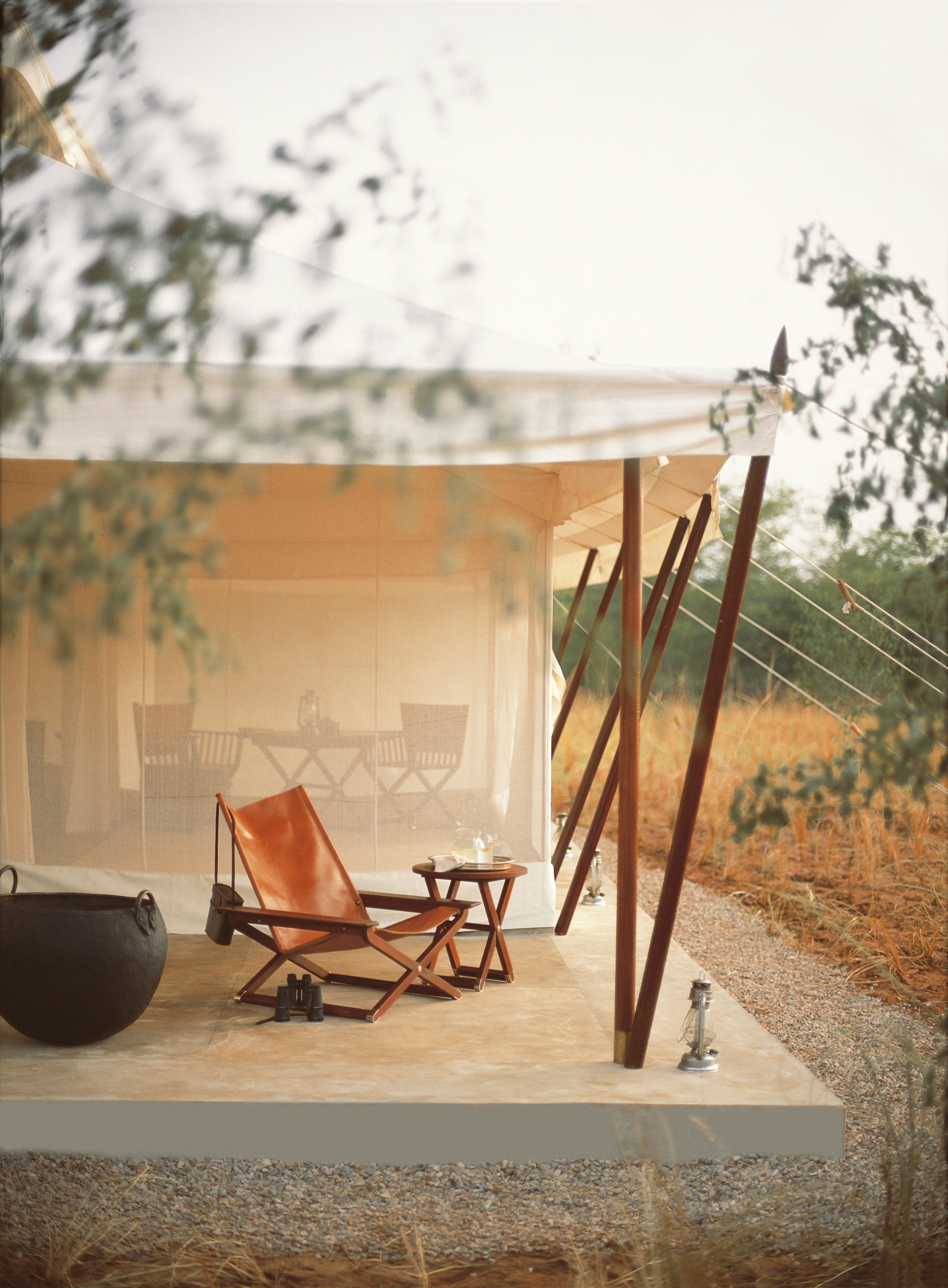 Visit to Unesco-protected Ranthambore Fort, a bush dinner in a secluded location within the camp, with live cooking on chulha and a half-day Chambal River Sanctuary excursion, with a private picnic are some of the  unique and rare experiences for you while at Amani-I-Khas.  The Camp is welcoming visitors in a new Wilderness Escape experience; with exclusive rates for residents of India.
Doubles from Rs 1,00000
aman.com
Closet National Park: Ranthambhore National Park is 15 minutes by car
SujanSherBagh
If you are looking for a place that takes you back to 19th century style camping yet modern enough for a luxury traveller, you should head to SherBagh.  The Camp consists of 12 hand-stitched white canvas tents inspired by the adventurous charm of old-world safari camps in India.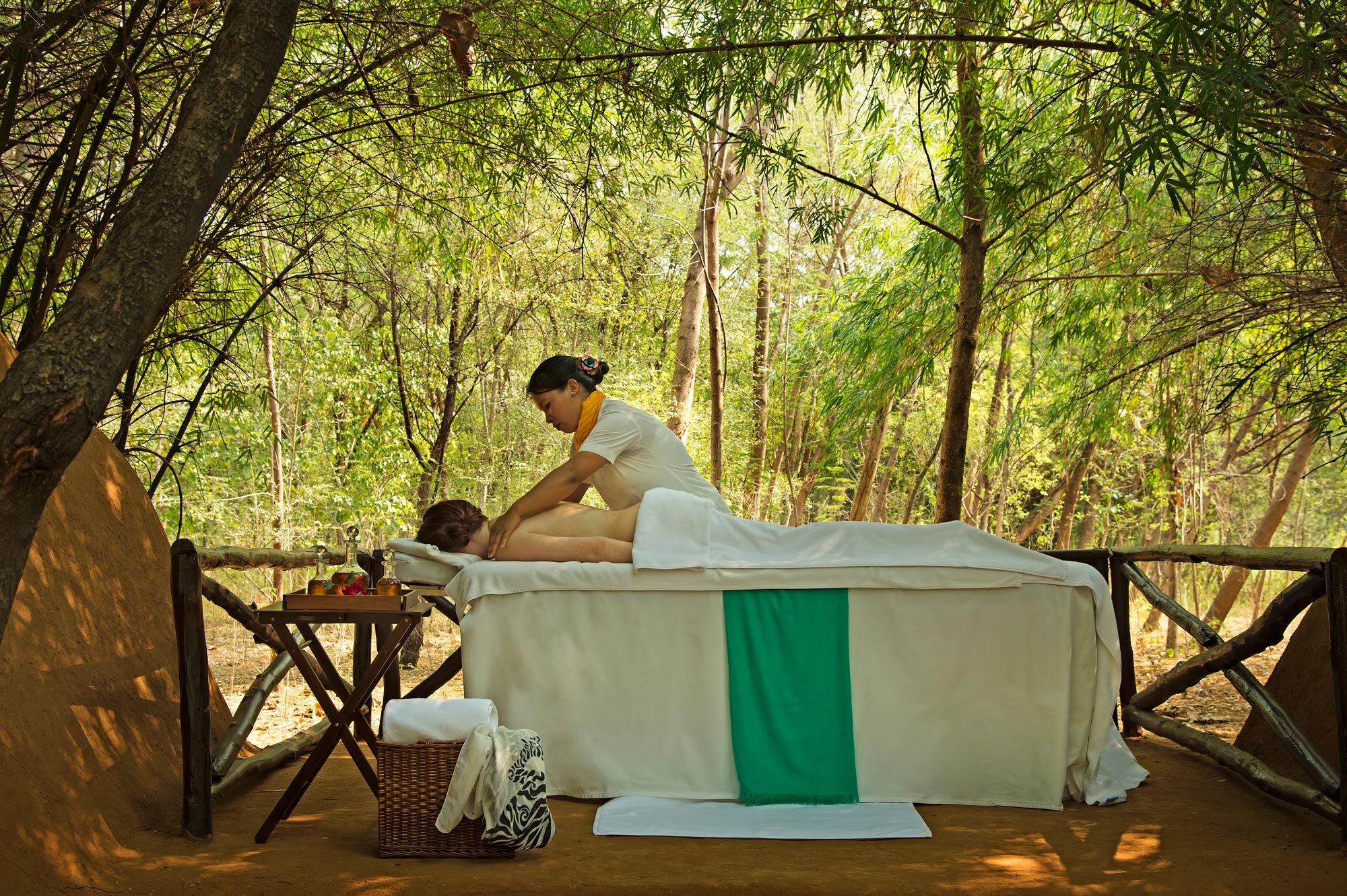 Cooking sessions with the team, picnic at the fort, spa therapies under the spread of an ancient peepal tree, breakfast near the pool, savoring traditional thalis surrounded by wild grasses under the star lit sky are a few experiences at SherBagh.For game drives, we suggest you to book through SherBagh for an unparalleled experience of the wildlife with their carefully selected guides and drivers
Doubles  fromRs 71,000
sherbagh.com
Closet National Park: Ranthambhore National Parkis 12 km away
SujanJawai
Set up against billion-year-old granite rock formations, SujanJawai is a place where leopards roam wild and free, coexisting comfortably with the charismatic communities. You can spend your day in the wilderness tracking leopards and other wildlife.
The camp celebrates great outdoors and offers you  achance to immerse yourself in the local culture of the region. With just ten tented suites, SujanJawai redefines responsible luxury in the wilderness.
Experience dinner on the rocks or a guided walking safari with the Rabari tribe to track animals through the wilderness and explore the magnificent plants and landscapes around you.
thesujanlife.com
Doublesfrom Rs 99,000
Closet National Park:The Jawai area, which is between Udaipur and Jodhpur, is nearby.
Madhya Pradesh
Jamtara Wilderness Camp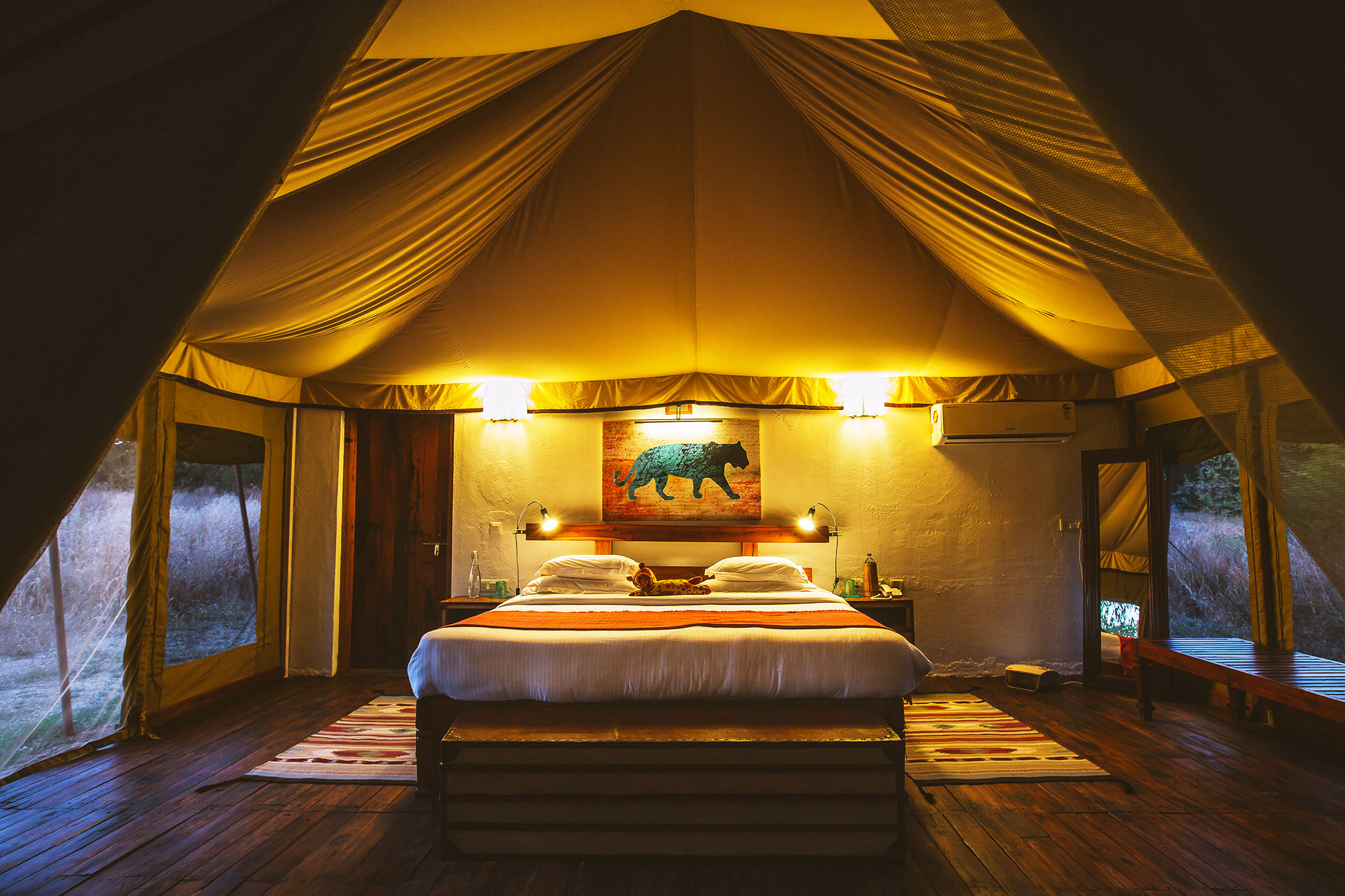 Jamtara Wilderness Camp is a 10 luxury tented camp, in the heart of rural Pench, right next to the national park.  It's a place where you can even chance to spot a tiger passing by freely through the camp. Each tent overlooks the forest which sets the perfect background to the jungle experience.
Whether you want to take a walk or a bike ride, naturalists will accompany you to help identify the flora and fauna around the camp. While you are here, must experience the "star bed" machanthat is placed under the vast star lit sky in middle of the wilderness.
Doubles from Rs 37,800
jamatarawilderness.com
Closet National Park:Pench National Park is 49 minutes away by car.
The Sarai at Toria
Close to Khajuraho and Panna Tiger Reserve, Sarai at Toria is a uniquely designed 8 room accommodation situated along the banks of River Ken. The  Safari though "river garden" is a haven for birdwatchers as kingfishers, storks, ducks and even an eagle owl are all part of the landscape. The place is surrounded by wonderful history and natural beauty and is a destination in itself.
Doubles starts from Rs 20,000
saraiattoria.com
Closet National Park:Panna Tiger Reserve is just a 5 minute's drive.
BaghvanTaj, Pench
Baghvan, which literally means the 'tiger forest' is a beautiful retreat of 12 quaint standalone suites, right next to the Pench national park. The suites are built alongside a picturesque 'nullah' (dry riverbed), that demarcates the lodge premises from the national park. Each bungalow comes with its own rooftop machan, and a private sit-out surrounded by the woods.
You can sign up for private jeep  safari to track the Royal Bengal tigers, leopards, Barasingha , sloth bears, wild dogs, and over 250 varieties of birds.  One can even opt for a night Safaris and listen to the sounds of the wild that give away the flurry of activity in an otherwise tranquil night.
Other attractions include Canoe Safaris to enjoy the unique eco system around the rivers and floodplains; Bonnet breakfasts in the jungle or a village visit to the local tribes. "From the Pardhis to the Gonds and Baiga communities, Taj Safaris provides a deep insight into the century-old heritage of local art, providing a platform to these unique art forms for the guests," says  KanhaiKapoor, associate vice president, Taj Safaris.
Doubles start from Rs 35,500
tajhotels.com
Closet National Park:Pench National Park is 27 minutes by car
Pench Tree Lodge
A luxurious abode in the jungle includes six spacious cottages on ground and six tree houses perched on top of the Mahua trees that are supported by stilts. You can spot wild boars, civets, jungle cats, jackals and spotted deer while sipping your morning tea or the evening sundowner on the private deck.
To keep the adventure alive in the night, you can opt for a night safari which starts just after the sunset. "It's a great way to experience the nightlife and is very popular amongst the guests for leopard & tiger sightings," says ManavKhanduja, co-founder, Pugdundee Safaris that runs Pench Tree lodge.
A haven for bird photographers as the lodge offers a unique concept of Bunker Bird Hides to take eye level shots of their subject.When it comes to food, local authentic recipes are given utmost importance. Experience the bush and farm dinners with the vibrant sounds of the forest to give you company.
Doublesfrom Rs14,500
penchtreelodge.com
Closet National Park: Pench National Park is a 37 minute drive.
Maharashtra
Svasara Jungle Lodge
Svasara  is a eco-friendly luxury jungle lodge, situated 300 metres  away from Tadoba-Andhari Tiger Reserve.  The lodge features 12 elegantly furnished suite rooms with all modern amenities.
Besides the safari experience through custom-fitted jeeps , one must take a nature walk at dusk to spot the tiny termite nest frog. The lodge offers delectable food spread to choose from  and the chefs can even customized as per dietary requirement or preferences. But please be sure to inform them before the arrival.
Doubles from Rs 8000
svasararesorts.com
Closet National Park:Tadoba-Andhari Tiger Reserveis 300 metres away.
Bamboo Forest Safari Lodge
The Bamboo Forest Safari Lodge at the Tadoba Tiger reserve curates eco-luxury experiences in a very rustic-style lakeside villas and bungalows.
During your stay, you are likely to see the Big 5 of Tadoba – Tiger, Leopard, Wild Dog, Sloth Bear and the Gaur, along with a great variety of ungulates and birds.
Explore nature around the lodge at night with specialized naturalists and discover the fascinating nocturnal world of beetles, spiders, owls, moths and other creatures. A must do for all the nature lovers.
Post the jungle safari, take some relaxing therapies in the spa or  a dip in the pool. The Lodge accommodates almost every request made for the food whether it is eating out in the bushes or customizing your own meal.
Doubles start from Rs 22,000
Bambooforest.in
Closet National Park:Tadoba-Andhari Tiger Reserve is 50 km away
Gujrat
The Blackbuck Lodge
One of the most amazing wildlife resorts of Western India. The elegant Indian antelope, called Blackbuck, venture close to the cottages here, while globally-threatened birds can be seen in the bushes. That's the beauty of this lodge.
For more wildlife experiences, the lodge provides blackbuck safaris in customized jeeps with experienced drivers and guides. Book a Bush Dinner with a beautiful setting enhanced by lanterns, a bonfire and an open barbecue under the star-lit skies of blackbuck national park.
Doubles start from Rs 8000
theblackbucklodge.net
Closet National Park:Blackbuck National Park is just 3 minutes away
The Postcard Gir Wildlife Sanctuary
Raw yet luxurious, the fifteen rooms at The Postcard Gir are a modernist refuge in a surrounding that is as old as time itself.  You can head to Gir Jungle safari to spot majesctic Asiatic lions besides leopard, blue bulls, wild boars and jackals, organized by the property.  Back at the lodge, enjoy a dip in the pool or some relaxing Ayurveda treatments to rejuvenate yourself.
Doubles start from Rs 55,000
postcardresorts.com
Closet National Park:Gir Wildlife Sanctuary is 39 km away
Karnataka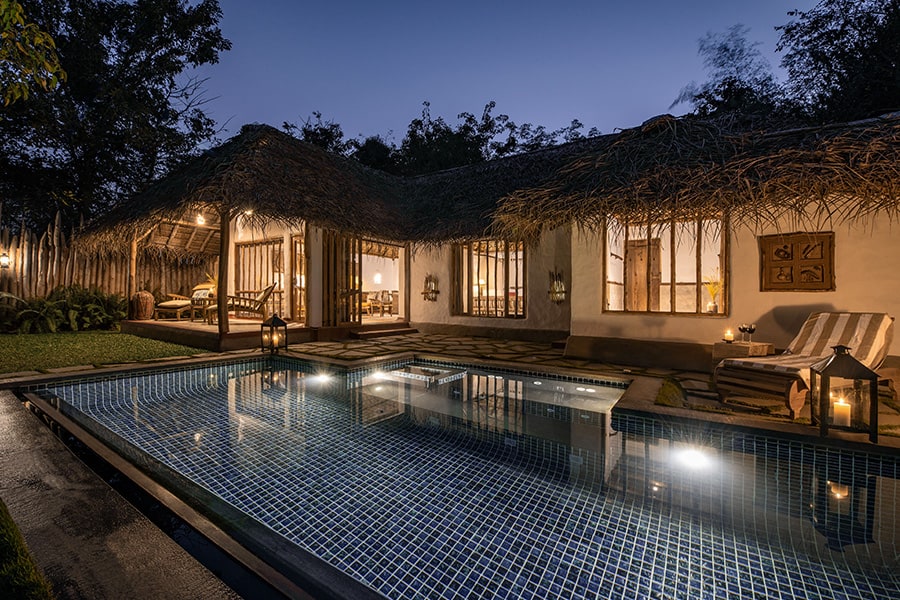 Evolve Back Kuruba Safari Lodge
Evolve Back Kuruba Safari Lodge, Kabiniis a luxury resort surrounded by forest and river and offers a range of wildlife activities. Go on a safari organized by the lodge to spot some large herbivores such as Chital, Sambar, Gaur, Asian Elephant and a large number of predators including the Tiger, Leopard and Wild dog.  You can also opt for a boat safari to witness the largest congregation of Asiatic elephants, Marsh Crocodile, Smooth-coated Otter and myriad water birds.
In the evenings, enjoy traditional Kuruba tribal dance around the campfire or indulge in boat-dining experience where you savour exquisite food and wine from a menu prepared onboard just for you, while silently floating on the waters of the Kabana.
Doubles start from Rs 18000
evolveback.com
Closet National Park: Nagarahole Tiger Reserve is 65 km away
Serai Bandipur
Nestled on the fringes of the vast forest reserve, SeraiBandipur offers you rustic luxury amid the wilderness. Take part in a variety of activities, from jungle safaris, nature walks to mountain bike trail and therapeutic wellness sessions at the spa to rejuvenate yourself.
The base of Bandipur Tiger Reserve is only a 45-minute drive away from The Serai where you can chance to get real close to tigers, leopards, panthers, elephants, and other wild animals during the safari.
Doubles start from Rs 38,000
theserai.in
Closet National Park:Bandipur Tiger Reserve is 14 km away
The Bison Resort
The Bison is situated at the confluence of the Bandipur and Nagarhole National Parks, on the shores of the Kabiniriver. The camp represents a good mix betweena rustic African styled tented camp and the old lodges of the Raj. Elephants, leopards, wild boar, and deer can be seen quite often from the camp itself. If you are lucky, you may even hear tiger roaring into the night, its terror stricken prey sounding their alarm calls. Curl up in yourcosy deck and gaze into the forests at sunset, have a drink by the crackling fire, dine in the jungle under the stars, soak in the romance of a midnight boat ride or thrill yourself with tracking down a big cat on safari. And when the Camp is run by India's "Leopard Man" Shaaz Jung, you know you are definitely in good hands.
Doubles start from Rs 13,000
thebisonresort.com
Closet National Park:Nagarhole Tiger Reserve is 32 km away and Bandipur Tiger Reserve is about 100 km
Uttarakhand
Paatlidun Safari Lodge
Paatlidun Safari lodge is as close as it gets to the Corbett Tiger Reserve. This Lodge captures the essence of rustic luxury and weaves it with Kumaoni hospitality to bring the best wildlife experience one can get.
Each cottage-suite at the lodge has a private pool, cozy sit-out and a sunny backyard to enjoy the outdoors that open to wildlife.  The resort is frequently visited by tuskers at night and wild boars who like to dig up the grounds.
Paatlidun offers you plenty of experiences to choose from. One can head to Himalayan ridge for a sunrise breakfast or for a high tea at the Kosiriver or on a nature walk in the plush forest.
Doubles start from Rs 15,000
Patlidun.com
Closet National Park: Jim Corbett National Park is 11 km away.
Jim's Jungle Retreat
Jim's Jungle Retreat situated in the lush southern forests of Jim Corbett National Park offers old forest bungalows and rest houses of the Raj era packedwith modern amenities for a luxury traveller.
Stay overnight in one of the park lodges in the forest for the most immersive jungle experience.
An Indian barbecue by a bonfire, tea by the end of safari by the forest, snacks served by the pool and exclusive private dining options are parts of your gastronomical experience.
You are surrounded by the sights, smells and sounds of the lush forest around, whether you are in the park on a game drive, taking a nature walk, fishing in the Ramganga or simply lying back at the retreat.
Doubles  fromRs 16,000
jimsjungleretreat.com
Closet National Park: Jim Corbett National Park is 12 km away.
From the Experts:
Must-haves on a Safari
While for summer safaris, early morning rides can be a touch cool, with temperatures rising only as the sun comes up. Choosing lightweight materials in natural colours such as olive, tan and khaki that can be layered with a sweatshirt is a good idea.  For winters, one should pack heavy woolen clothing, Woolen hats, scarves and gloves.
According to  AnandShekhwat , general manager,  Aman India, a few must-haves that guests should pack for their safari visit to continue capturing the wildlife are Itinerary, camera, binoculars, comfortable shoes, insect repellents, flashlights, sunglasses and sunblock, hat or scarves and a power bank to charge phones. Lastly, a strong rucksack to withhold all the essentials.
Things to be careful about
"Our advice would be to ensure all possessions such as sunglasses, jewelry and valuables tucked safely away just in case a mischievous monkey makes an appearance.  Many seasoned safari goers have lost such items to the wilderness when forgetting to conceal them from the hands of a passing monkey," says Shekhawat of Aman.
While ManavKhanduja, Pugdundee Safaris emphasizes on respecting the forest.  As safaris are conducted in eco-sensitive areas it is very important to tread in a responsible way and avoid littering of the forest in order to conserve it in its original form.
Most of the tourists are tiger centric & in their chase for tigers, visitors miss out on the opportunity of observing small living wonders, the landscape, the sunrise & sunset and a vast array of fauna that the forest has to offer. "If you go only with the expectation of sighting a tiger, you might miss out on the rest of the treasures that our jungles have to offer," says Khanduja.   Every small detail can leave you mesmerized and will take you to a different world, provided you are paying attention.