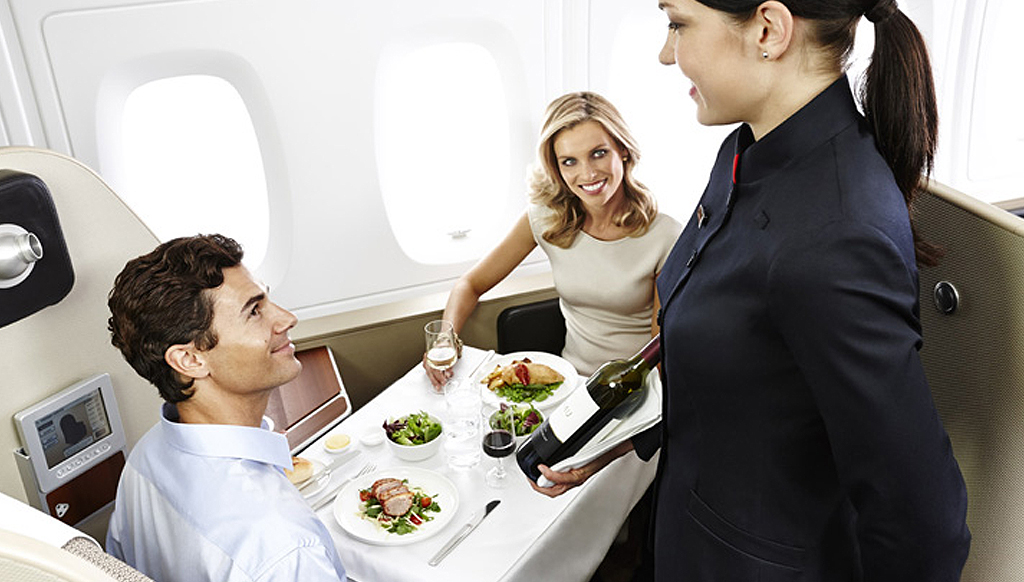 IN FLIGHT IN STYLE | Options to spoil your silly like the gourmet on-board dining in Qantas
While travellers tend to choose their airlines based on frequency, timings, and frequent flier programs, here is how you can bypass the ordinary jet-setter
Reviewing first class seats, or 'suites' as they are called, has become a tad difficult. Choosing the best one is a step further. Various airlines are set to outdo each other when it comes to spoiling their top clients. And for good reason too—for instance, 70% of American Airlines' revenues comes from 20% of its well-heeled customers. This puts you in a tough spot. But don't break into that frown—not yet. The Luxe Café tells you how to get airborne in style.
Broad flat beds and quality of mattresses, duvet and soft cotton pyjamas (British Airways), privacy (Jet Airways), large screens, quality of champagne and caviar, designer toiletries, and chauffer drops to and from the airport (Emirates), are all close to becoming passé now. While travellers tend to choose their airlines based on frequency, timings, and frequent flier programs, here is why you should bypass the ordinary.
The need for exclusivity and new levels of privacy have resulted in check-in areas that are truly exclusive and discreet. Emirates' new concourse in Dubai for instance, has a lounge on the top floor for its premium passengers with direct boarding to the cabin of the double-decker Airbus A380.
For valued Air France clients, the first class lounge in Charles de Gaulle's Terminal 2 has a Didier Lefont-designed space that serves an Alain Ducasse menu accompanied by award-winning vintages like a Premier Cru Sauternes and a Domaine du Chevalier Bordeaux.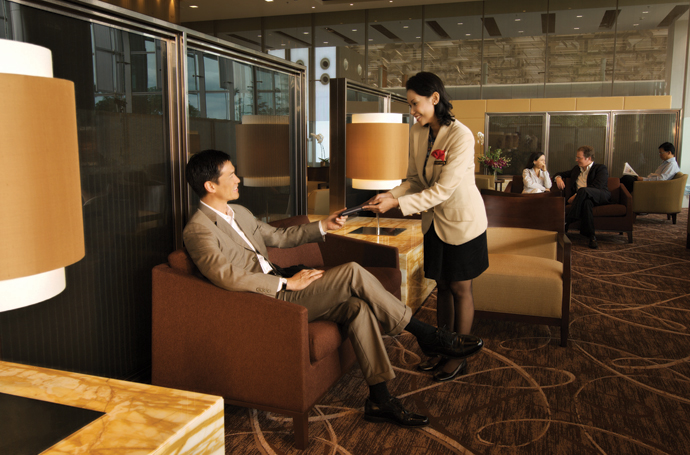 For an extra Rs 2.5 lakh at London's Heathrow Airport, a private suite area will be made available to you where British Airways has a champagne bar while the Virgin Atlantic Clubhouse lounge is equipped with a spa and hairstylist. Lufthansa's separate premium terminal in Frankfurt has a restaurant, cigar lounge and immigration officers. You are driven to the aircraft in a Mercedes-Benz S-Class or Porsche Cayenne.
At Etihad's Champagne bar in the air, you can sip Billcart-Salmon in a chic setting with Bang & Olufsen electronics. And Singapore Airlines serves its signature Singapore Sling, a mix of dry gin and Angostura bitters that you would have tried at the Raffles Bar & Billiards Room in the city.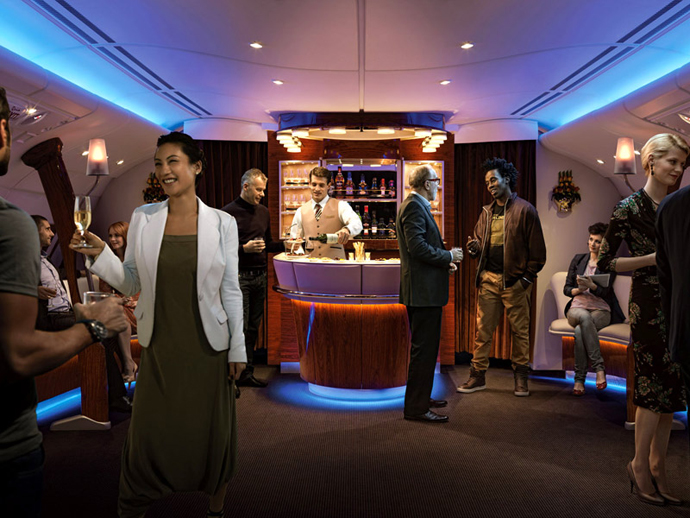 Then there are in-flight cabins that are becoming personal sanctuaries in their own. Etihad, for instance, has seats that are upholstered in Poltroon Frau Leather. Built into them is a mini-bar, a wardrobe and built massage options. There is also a changing room replete with Six Senses products.
British Airways is the first airline to offer electronic blinds. And its amenity kits are upgraded regularly. JAL recently introduced new kits from Loewe, the first time the brand has collaborated with an airline. The colours will be changed for you through the seasons!

In-flight cabins that are becoming personal sanctuaries in their own. Etihad, for instance, has seats that are upholstered in Poltroon Frau Leather. Built into them is a mini-bar, a wardrobe and built massage options.

And when it comes to Qantas Airlines, Australian designer Marc Newson in collaboration with his associate architect Sebastien Segers & Woods has sourced the finest materials and worked with luxury brands across the globe to produce the Qantas suite that has a sheepskin mattress, and a fully flat bad that reclines to 212cm.  ANA's square cabins in wood tones have 23-inch LCD monitors with access to 170 films, videos, music, and games. While, American Airlines' Flagship Suite on the Boeing 777, provides the first swivel seating to enable face-to-face business meetings.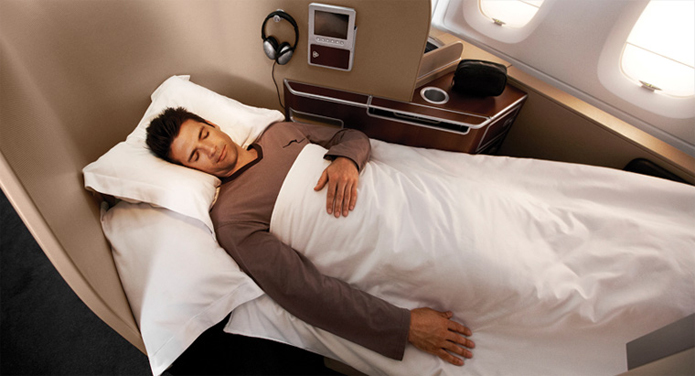 And last but not the least on the menu is gourmet food. To savour some of the celeb chefs' dishes on ground, you will have to cough up as much as Rs 3.5 lakh, the price tag of a suite on board a Singapore Airlines A380 from Australia to Singapore return. In the air, this is on the house. Menus created by celebrity chefs for Singapore Airlines include New York's Alfred Portale, Kyoto's Yoshihiro Murata and Sydney's Matt Moran. Carlo Cracco, a two-star Michelin chef in Milan, is the latest appointee for Italian food.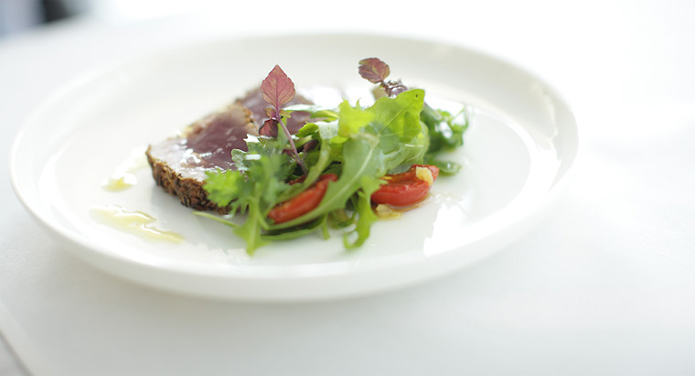 Qantas has Neil Perry. Heston Blumenthal is with British Airways. Air France has roped in Michelin-starred chef Joel Robuchon while Peter Gordon consults for Air New Zealand. Similarly, Virgin Atlantic's launch of its 'Little Richard' (Branson) ice cubes is a quirky addition to its first-class services. The bespoke ice cubes crafted in the image of its founder is being served on board on its new Upper Class Cabin at the new bar—the longest of any airline—designed for those who are keen on socialising while flying.
The Author contributes to major aviation​ and tourism​-related publications​, having written for inflight and specialist publications all over the globe for the past twenty years. Her passion for aviation has resulted in her taking a ride in some of the swankiest private jets, and following the sector at a regular pace.