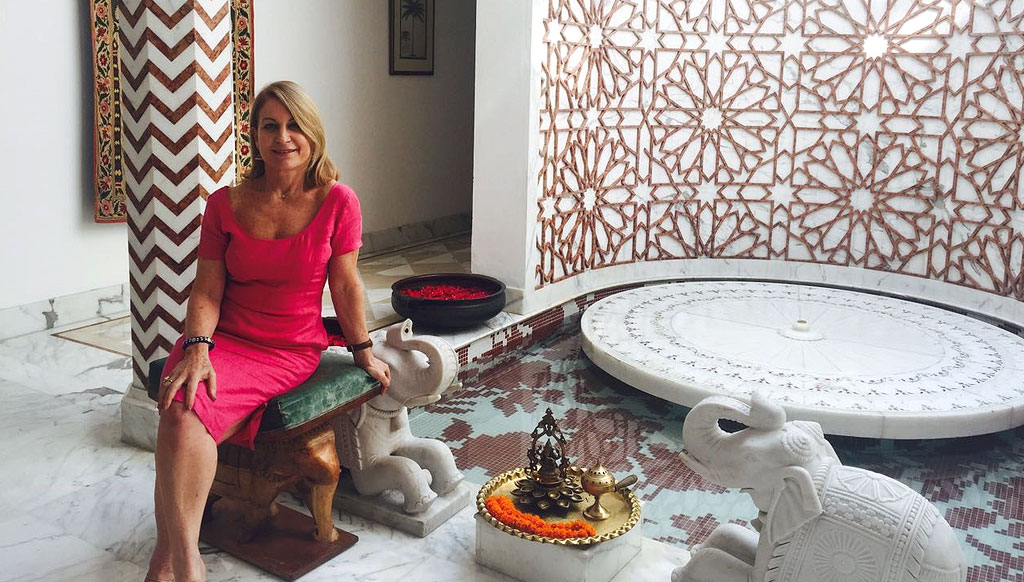 PERCHING PRETTY | Jacqualine Tara Herron, director of The Imperial Spa and Salon, poses amidst the serene beauty of the exquisitely designed interiors of the spa
From developing wellness products to designing luxe spas, Jacqualine Tara Herron has many feathers in her wellness expert's hat, and here she lays bare her journey as the spa director of one of the most awarded spas in the country, The Imperial Spa and Salon, while also telling us about the best treatments, latest spa innovations and the time-tested tips to follow for a holistic life
More than just a luxury hotel, The Imperial is a destination in itself, acknowledged for its exemplary art deco architecture, historic collection of artworks, impeccable service and unconventional appearance. Taking the tradition further is The Imperial Spa and Salon, a world of ultimate relaxation and sublime opulence. One of the largest city spas in India for The Imperial launched in December 2010, it has been honoured with multiple awards since its inception, including the Global Award Winner 2015 Best Luxury Wellness Retreat India and Best Spa Interiors by GeoSpa asiaSpa India Awards 2015 & 2014. Nestling amidst the landscaped gardens of one of the Asia's finest luxury hotels, The Imperial Spa evokes a feeling of spiritual harmony, at the very outset. Intricate architecture highlighting the influences of Mughal traditions and Indian motifs embedded beautifully in different spaces adorn the expansive spa, creating an aesthetic space meant for the rejuvenation of mind, body and soul. The philosophy of The Imperial Spa is founded in a living awareness of the value of wellness through a healing touch, a nurturing environment, cleansing, yoga, signature holistic massages, peace and deep relaxation as essential elements in maintaining a healthy lifestyle.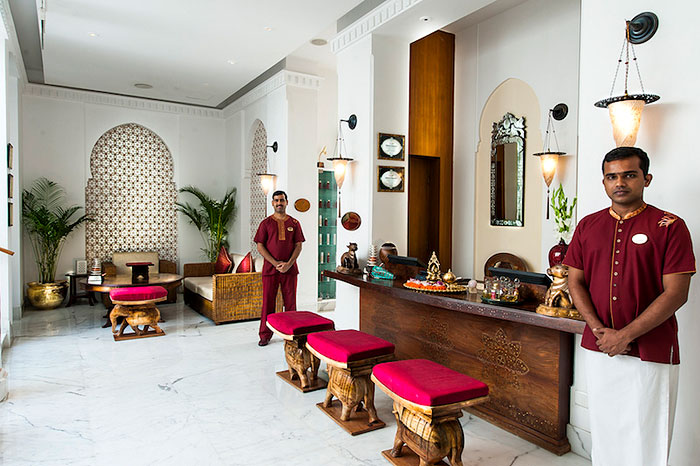 The reception, all white marble with intricate motifs, Moroccan style braziers and a cosy sitting area, is surrounded by nine Sufi themed treatment rooms for international and signature therapies, including the luxurious private couples' therapy abode- Moghul suite – and Kerala Suite for traditional Ayurvedic therapies. The Imperial spa is a perfect abode to indulge in spa therapies designed with signature oils from its own SUFI signature blends and administered by highly-trained, hand-picked therapists. Hydro Therapy areas and changing rooms with spacious vanity areas, ensure privacy and leisurely indulgence. The traditional Ayurvedic rituals on offer are also accompanied by an in-house Ayurvedic doctor's consultation and spa cuisine which adds to the presence of premium Spanish skin care brand, Natura Bisse, and SUFI skin care range, all offered in a pristine environment housed in breath-taking architecture. As Ms. Jacqualine Tara Herron, Director of The Imperial Spa, Salon & Health and Racquet Club, aptly sums it up, "Our team of caring spa professionals are here to make your journey through the Imperial Spa a meaningful and heartfelt experience that will plant seeds of positivity and wellness enriching your life onwards".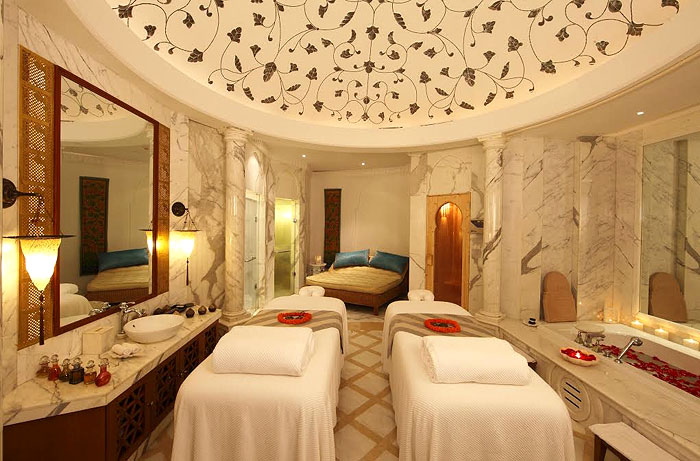 As we take a deep dive into the regalia that is the spa, we talked to the spa director, Jacqualine Tara Herron, a seasoned wellness professional with over two decades of experience, who spearheaded the 16000 sq ft Imperial Spa project from concept to launch in 2010, staying on till 2014. After a two and half year stint developing a wellness retreat In China, J Tara Herron has re-joined The Imperial as Director of The Imperial Spa, Salon, Health & Racquet Club and is all set to take on new challenges of the luxury wellness in the hospitality industry. While this is where she currently is at,  Tara's career in wellness and spa began years ago in the UK & USA as a yoga/meditation teacher, aromatherapist and stress consultant. In 1990 she founded 'Yogic Solutions' seeing clients and operating an accredited body/mind training school. She has since collaborated on the conceptual and creative formation of global spa developments which brought her to India as she worked on prestige projects like One and Only, Taj Exotica, The Royal Crescent, Tor Spa Retreat, Octave Living and The Imperial New Delhi. Here are excerpts from our chat with her, where she talks about her love for Sufism, India, latest beauty innovations and some must-dos for optimal living.
The Luxe Café: From your sojourns in the West, travelling around, teaching Yoga, and finding Yogic Solutions, how did India come to figure in your scheme of things?
I was always interested in spirituality and further got into learning yoga, astrology, ayurveda and holistic healing while travelling far and wide, leaning towards Eastern influences and Sufi mysticism, living in a monastery in Maui, and taking up courses in healing arts along the way. After about ten years in the US, I came back to England and registered for a degree in aromatics and healing at Warwick. While not much for pre-planning, my interests carried me along and I also set up the Evolved Healing Arts school in Bath where I taught holistic living courses, and went on to developing the Yogic Solutions brand of products. A meeting with Rosamond Freeman-Attwood, who developed the Aman Spa, brought me to work with Taj Exotica and that was the start of my travels to India. While I was engaged in spa consultancies and developing product lines, trainings et al, I was referred for the role of Spa Director at The Imperial and as things came together, I found myself working on developing this beautiful spa project where I stayed on for the next four years following the launch and where I am at now, having come a full circle, as it were.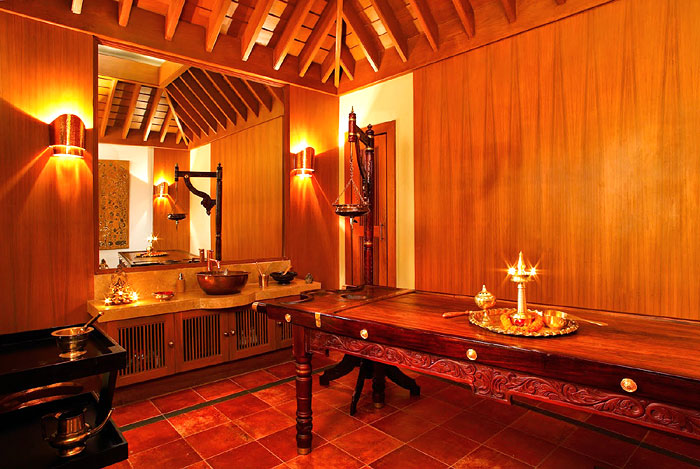 What are the elements essential to setting up a spa and what are the challenges that one has to face in the process?
If you are building something from scratch, it is not only about procuring the material but paying attention to how that material fits into the larger theme and design to create a memorable visual experience. While I had always wanted to create a Sufi-inspired spa, and my own design experience, having designed my own outfits and a product line, went some way, I was convinced all the more about the Imperial Spa project when I saw the tiles embossed with Mughal motifs. Operational instinct came together with design instinct as the space came to life, bracing in its aesthetic scape and authentic in its ode to the theme, where each piece and part was specifically sourced – from the antique tapestries with Mughal art, the Moroccan style lamps, the Sufi poetry engraved on the tiles, to the in-house product range named Sufi. Spa is a stylish business and spas need to impress with visual grace, as what comes foremost is to create the ambience even as the treatments and massages come after. Another critical element is preparing for a team of trained therapists who are aligned with your vision so that there is a set standard that one can replicate and keep refining. The creative license that I had when I started work on The Imperial Spa was crucial to my scheme of things as I worked to optimise on a collective vision, which you sense as you step into the spa, which for me is the labour of my love.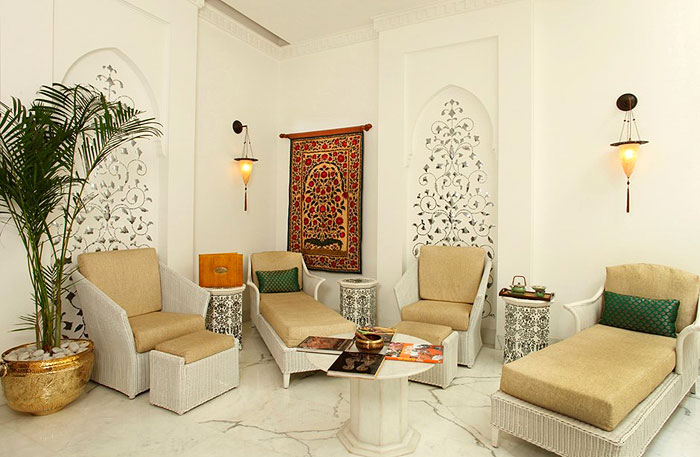 Where do you see the beauty and wellness industry heading towards? What are the latest innovations in treatments and therapies that one should look out for?
To begin, I believe in wellness coming together with aesthetics to combine for a holistic, targeted treatment. I am very enthused about non-invasive procedures which are a meeting ground of hi-tech innovations and wellness rituals. One in particular is the high intensity focused ultrasound (HIFU) which can be used for face sculpting and requires a medispa atmosphere. As we look forward, we will find the indigenous techniques coming together with scientific techniques, symbolising a mix of the old and new. The changes that I see happening point towards a fusion of salon beauty treatments, anti-ageing tech, which are then finding space within the wellness industry which is riding high on a general awareness of toxins on everyday environments and advanced ways of battling the aftereffects. So, one can witness the surge in medispas which incorporate treatments such as colonic irrigation, vitamin drips and other focused detox therapies which are then paving the way ahead as spas start to address physical as well psychological concerns, working on the inside out.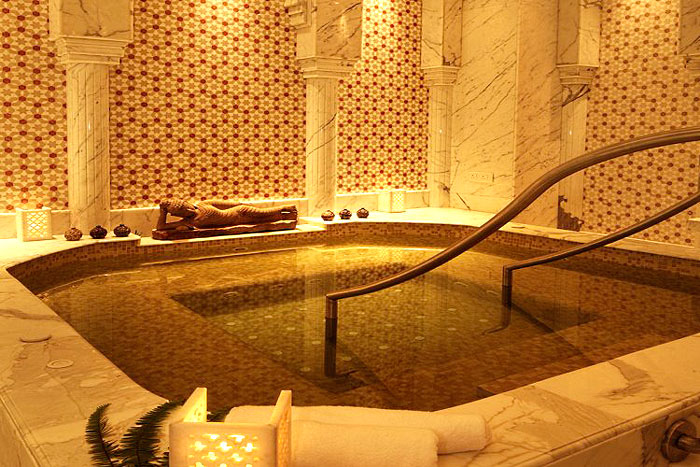 What are some of the signature spa treatments at The Imperial Spa and what are some of the upcoming additions to the spa menu?
Spas offer one an escape to a different world where there's something meaningful awaiting them, in terms of reconnecting with one's body and spirit. At The Imperial Spa, there's a whole host of therapies and treatments on offer. But a quick guide to some our best will include the anti-ageing skincare treatments like Diamond DNA, using intensive serums and algae masks, and the Timeless Age treatment which is very hydrating for mature skin. When it comes to body treatments, there's the signature massage ritual using our Sufi range of oils and there's the 91 minute indulgent Imperial Death combining different techniques like Swedish, deep tissue, energy balancing and reflexology which I developed an all-in-one aligning mind, body and spirit. As spas are all about preventive therapy, massages top the list of such therapies. We also offer time tested ayurvedic rituals like the shirodhara which is done in our specially designed Kerala suite. In the new spa menu, about to be unveiled soon, I have am incorporating other ayurvedic treatments such as a tridosha facia using pure herbal ingredients, a ritual only for hands and feets, another based on the four hands abhyanga, and a lymphatic drainage ritual. This will be accompanied by the launch of our specially developed product line including Himalayan hot soaks using Himalayan salts.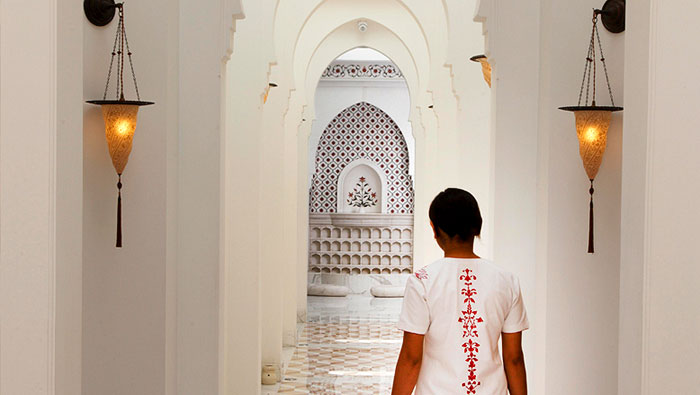 What are your tips for making the most of spa visits? Which is your favourite spa outside India?
The secret of getting the best spa experience starts with getting an expert trained therapist, so ask and enquire before you book. During the therapy, knowing the pressure you like and telling that to the spa therapist is important. You will realise that doing light massage is as artful a technique as doing a deep massage. Also, it is advised that you have a shower before a massage as the oils works well and if possible, you should keep the oils on for few hours post massage as it seeps in. And remember to relax after a massage as enhances the after effects. My one favourite spa haunt is this luxury health resort called Kamalaya in Koh Samui, Thailand.
Would you want to share some tips and tricks with our woman readers looking for expert advice?
I have always followed these rules and advise others to do so as well-
Dress fab as you want to feel
Cleanse and moisturise your skin at night for sure
Exfoliate at night which is better
When you wake up freshen up with a flower water and put on at least 30 Spf
Also, to maintain a fit figure, yoga is best as it maintains a feminine shape and addresses all parts of the body.