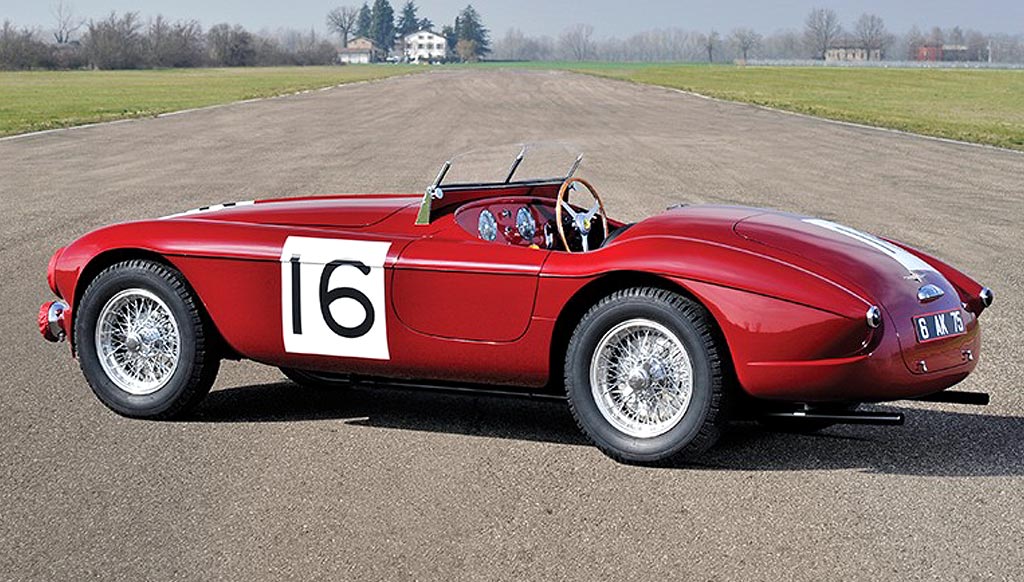 MESMERISING MASTERPIECES | From a peerless Prancing Horse to a timeless Tucker, each of these exquisite examples present the best of their period with provenance beyond compare
RM Sotheby's Monaco auction is all set to feature some really glitzy roadsters, all yours for the taking. Feast your eyes on a preview of some of the best on offer
While fans of Formula 1 gear up for the Monaco Grand Prix—held May 26 to 29—car collectors the world over will be racing to the RM Sotheby's Monaco auction on May 14. Tracing the automotive industry's technological advancements in design and performance, masterworks from the world's leading marques will cross the block—many for the first time.
1965 Alfa Romeo Giulia Tubolare Zagato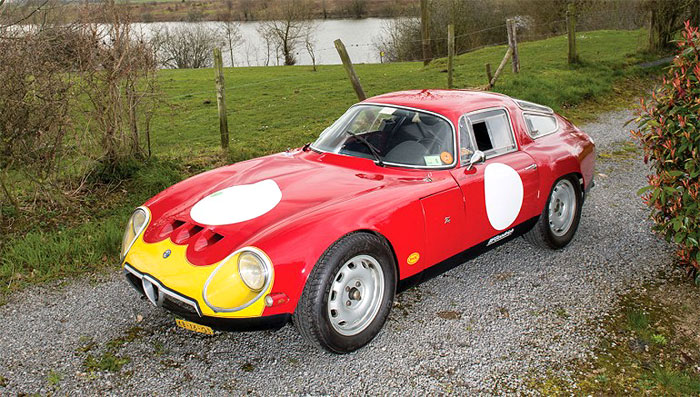 A beautiful berlinetta, the Alfa Romeo Giulia Tubolare Zagato is named for its lightweight tubular chassis and the Zagato-constructed aluminum body. At 1,455 pounds (including its 1.5-liter Giulia engine), the coupe was designed for competition and can reach speeds of up to 133 mph. The model finished second in its premiere race—the Coppa FISA in 1963—and won its class in numerous others the following year, including the 12 Hours of Sebring, the 24 Hours of Le Mans, the Tour de France, and the Coupe des Alpes.
Of the 101 examples built, Chassis No. 750039 was first sold in 1965 to Angelo Pelatelli, who drove it to multiple first- and second-in-class wins. It was piloted next by Pier Luigi Vasile of the Squadra Piloti Senesi racing team before he too passed it on. For the past 33 years, the car has been with the same individual and has been entered in several vintage rallies such as the Coppa d'Italia and Targa Florio. A new collector will be expected to pay up to $1.4 million to make it their own.
1930 Alfa Romeo 6C 1750 Gran Sport Spider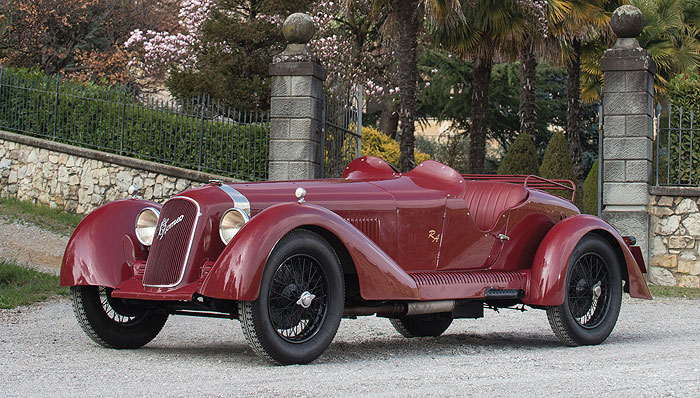 Hired by Enzo Ferrari, Alfa Romeo's team manager at the time, engineer Vittorio Jano first developed the marque's 6C series—a tourer equipped with a 1.5-liter, 6-cylinder engine—in 1926. By 1930, the car came with a bolstered 1.75-liter engine and the option of a shorter wheelbase along with alloy superchargers and intake manifolds—a combination that created the 6C 1750 Gran Sport Spider. Equipped with a Roots supercharger as a standard feature, the roadster rocketed with 85 hp and won both the Tourist Trophy and Mille Miglia that same year. Chassis No. 8513048 was sold to professor Mario Ferraguti, who entered it in the Mille Miglia in 1931, 1933, and 1936.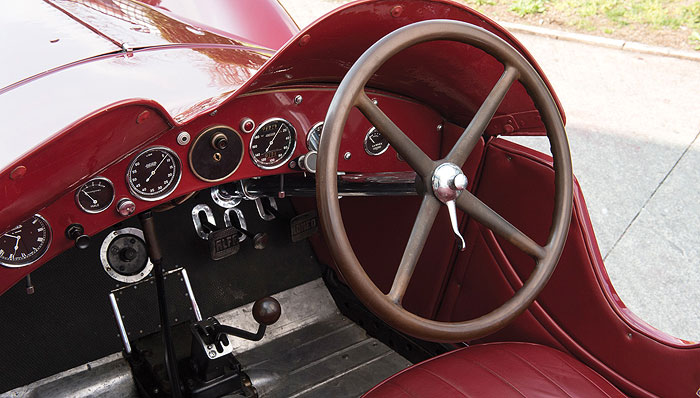 The only race he finished was in '33, when the car had been modified to run on an alternative fuel source (produced from coal or wood) known as gasogeno. Ferraguti completed the course with an average speed of 31 mph as opposed to the winning rate of 67.8 mph. Restored back to its original factory specifications and in the Count Agusta Collection, the rare Alfa Romeo is valued at up to $1.4 million.
1988 Porsche 959 "Komfort" Stage II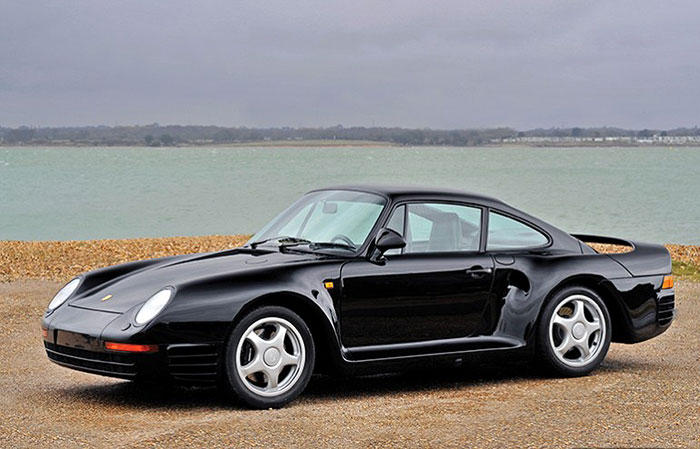 Designed and developed to compete in the Fédération Internationale de l'Automobile (FIA) Group B World Rally Championship, the Porsche 959 featured top-tier technology, including adjustable suspension, all-wheel drive, tire-pressure sensors, and power-assisted disc brakes. Despite the FIA's Group B category being eliminated in 1986, Porsche continued with a road version originally planned to meet homologation requirements. The result was the fastest production car of the day due to its 585 hp, twin-turbocharged 6-cylinder engine that allowed a maximum speed of 197 mph—power that would propel it to first place in the 1986 Paris-Dakar Rally. Of the 329 examples made, the car at auction (with the "Komfort," or street trim, as opposed to the sport package) is believed to be the only one that came in black with matching interior. During the course of ownership, it was given Stage-2 specification by the Porsche Classic Centre in Stuttgart, Germany—a designation that included a boost of almost another 100 hp. With only about 5,900 miles on the odometer, the prized Porsche is estimated to demand a price of up to $1.4 million.
1955 Mercedes-Benz 300 SL Gullwing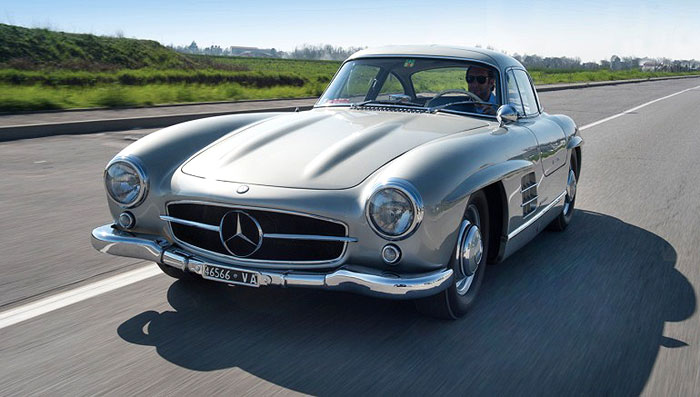 Built for the U.S. market, the Mercedes-Benz 300 SL Gullwing was a production model based on one of the German marque's most successful racecars. The latter was victorious at Le Mans, Nürburgring, La Carrera Panamericana, and, most memorably, with Stirling Moss behind the wheel to set the course record for the Mille Miglia in 1955.  The "sport light" (SL) speedster had a body of welded tubular-steel that weighed a mere 182 pounds. But gravitas was given by its 215 hp, 3-liter OHC straight-6 engine (with fuel injection) that gave it a top speed of 161 mph and the ability to accelerate from zero to 60 in 8 seconds. And cruising comfort was enhanced by its fully independent suspension. Most notable, however, was its distinctive design, including the "birdcage" frame and namesake doors.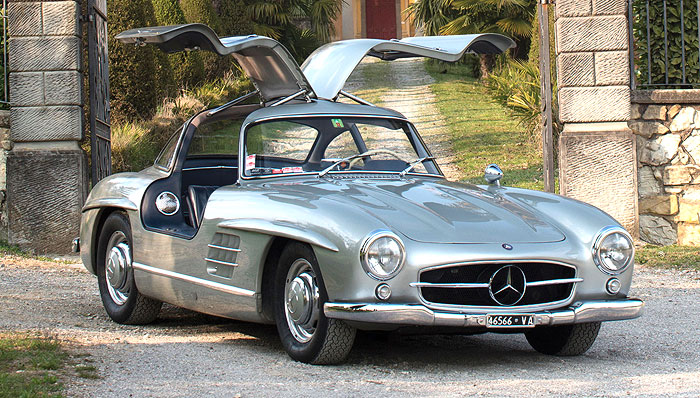 What makes Chassis No. 5500799 stand out even more is the fact that, since it left the showroom, it has been in the care of Italy's Agusta family—a name synonymous with aircraft and performance motorcycles. Maintained in its original metallic silver with dark blue interior, the car will change possession for the first time for a price expected to peak at $1.5 million.
2008 Peugeot 908 HDi FAP Le Mans Prototype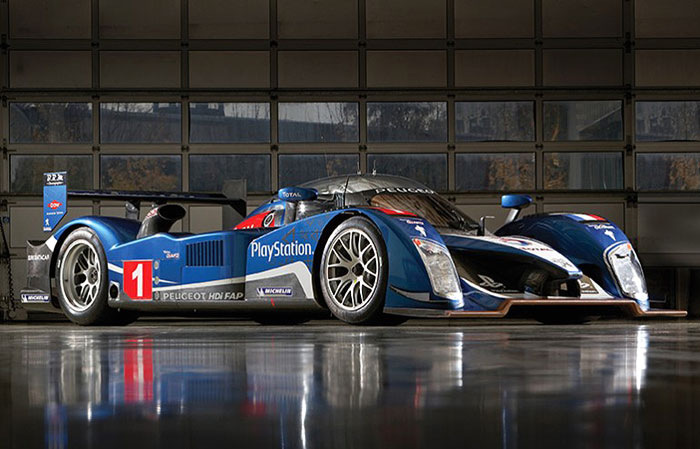 An environmentally conscious competitor, the Peugeot 908 HDi FAP Le Mans Prototype made a fast mark in motorsport when it won the first race it entered. Firing its monocoque chassis forward is a diesel-powered V-12 engine that contains an exhaust particulate filter for cleaner emissions. After a second-place performance at Le Mans, Chassis No. 05 went on to win at the Petit Le Mans and the 1000 Kilometres of Algarve races as well as garner two additional second-place finishes, three pole positions, and four fastest lap times before it was retired by the Peugeot team. The victorious vehicle is estimated to sell for up to $1.8 million.
1948 Tucker 48
A testament to tenacity, the Tucker 48 is the realization of automaker Preston Thomas Tucker's vision of a vehicle that represented the vanguard of safety in its day. With a body designed by Alex Tremulis, the model features a windshield that ejects outward on impact, a third headlight (centrally mounted) that turns with the front wheels, and expanded space under the dash for a passenger to tuck into in case of a crash. Under the hood is a modified Franklin O-335 flat-6 aircraft engine generating 166 hp. Due to the duration it took Tucker to develop his dream machine, the U.S. Securities and Exchange Commission became suspect of potential fraud in deference to investors, which led to an investigation and eventual charges. By the time he was cleared of any wrongdoing, Tucker's business had tanked, but not before his employees volunteered their own time to finish building the prototype and 50 production cars. After being sold at the company's bankruptcy auction, Chassis No. 1049 (the last complete car built at the factory) had a starring role in Nick Jenin's exhibition The Fabulous Tuckers—a traveling road show that played on the defunct marque's notoriety. Attention followed with its next owner, Gene Zimmerman, who included the car in his Automobilorama museum in Harrisburg, Pennsylvania, until 1978. When a comprehensive four-year restoration was completed in 2007, the singular sedan was sold to a British collector and became the only one of its kind in Europe. There, it has won Best in Class at the 2008 Goodwood Festival of Speed Concours d'Elegance, among other accolades. The tony Tucker carries an estimated value of up to $2.1 million.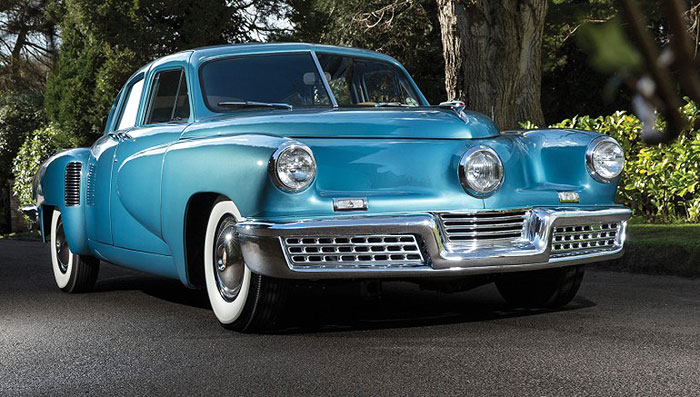 (Source: www.robbreport.com)