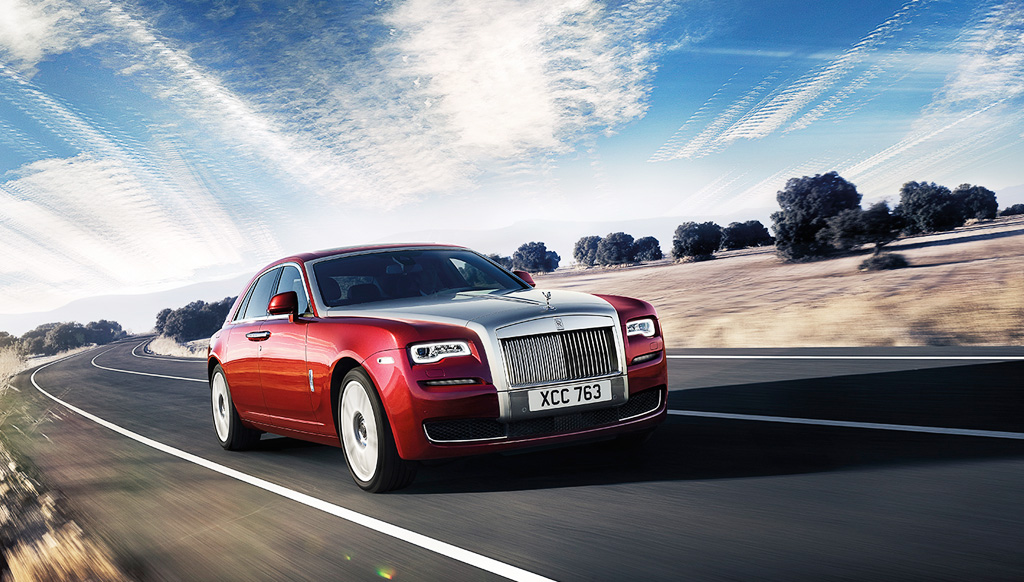 PERFECT FUSION | Ghost Series II depicts traditional Rolls-Royce DNA in the elevated prow, large uninterrupted surfaces, long bonnet and short overhang
An uncompromising approach to materials and craftsmanship remained and traditional visual tenets were re-imagined to express the car's modernity and dynamism
In essence, Ghost is a Rolls-Royce that meets its owner's every need; an exquisitely appointed business tool for the business week and an engaging and effortless driving experience for leisure at the weekend.
A single defining principle came to characterise the Ghost design process – to harness the power of simplicity. In Ghost Series II, tradition blends perfectly with this bold, contemporary direction.
An uncompromising approach to materials and craftsmanship remained and traditional visual tenets were re-imagined to express the car's modernity and dynamism. For example the stately presence of Phantom's grille made way for a softer, less formal design – its subtle curvature more akin to a jet air-intake than traditional pantheon facia.
Flowing 'yacht lines' and powerful flanks hint at the car's inherent dynamism, whilst traditional Rolls-Royce DNA is expressed in the elevated prow, large uninterrupted surfaces, long bonnet and short overhang.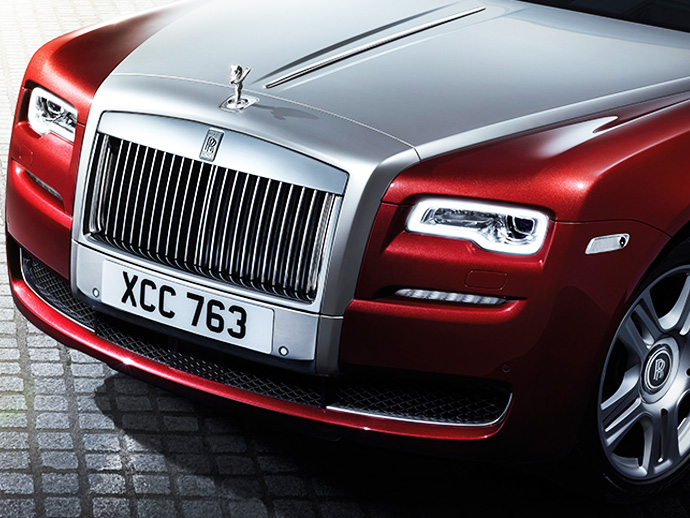 The eye is immediately drawn towards the re-sculpted headlights, with unbroken daytime running lights framing a new, more dynamic shape, giving Ghost Series II a distinct visual signature from the front. This blends perfectly with revised surface treatments to the front of the car. A tapered 'wake channel' on the bonnet, emanating from the Spirit of Ecstasy's wings, evokes the sight of a jet's vapour trail, hinting at the car's dynamism. Subtle re-sculpting of Ghost's bumpers creates a stronger stance and a sense of extra width and height, whilst the contemporary aesthetic is further enhanced with the addition of chrome inserts to the front air intakes, which now feed more air cooling to the front brakes.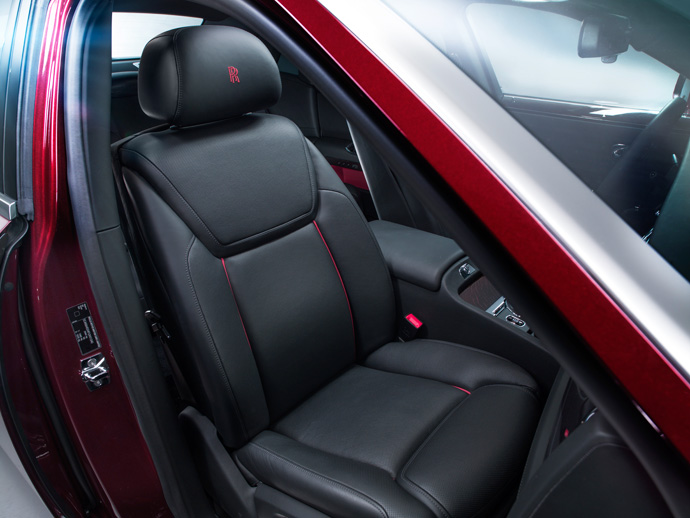 One of Rolls-Royce's defining visual signatures is given an enhanced dynamic edge. The famous waft line has be re-designed on Ghost Series II to lean further forwards – with a view to emphasising the car's effortless dynamism.
Interior comfort and style are enhanced with re-designed seats. Electronically adjustable thigh supports for front seat passengers complement a new seat structure, enhancing Ghost's interior comfort levels. A revised rear seat design ensures absolute comfort for those wishing to conduct business or simply relax. In 'Lounge seat' configuration, the seats are gently angled towards each other to create a more intimate setting, allowing passengers to communicate more easily.
The seats are available with three-level heating as standard with optional massage function and can be reclined for comfort. Chrome surrounds to the sun visor lights and a new soft-feel dashboard treatment enhance the car's premium tactility, whilst sumptuous natural grain leather can now be optionally extended to the A and C pillars.
The instrument dials and clock have also undergone subtle enhancements with individually applied polished metal chaplets around the dials evoking the precision design of hand-made, luxury wrist watches, whilst the matt chrome centres 'float' in the middle of each instrument.

Eighteen individually-tuned speakers, with both theatre and studio settings, deliver a pure 'larger than live' sensation

On opening the car's coach doors, one is met with a calming, light and uncluttered space. Occupants can work, relax or simply enjoy the pleasure of driving in a cosseting, peaceful atmosphere, assure that they are fully connected to the outside world of business affairs through the car's connectivity suite.
Eighteen individually-tuned speakers, with both theatre and studio settings, deliver a pure 'larger than live' sensation. Two bass speakers located in the boot complement seven speakers meticulously placed throughout the cabin. Two 'exciter' speakers in the roof-lining bring the sound to occupants' ear level creating a completely unique listening sensation.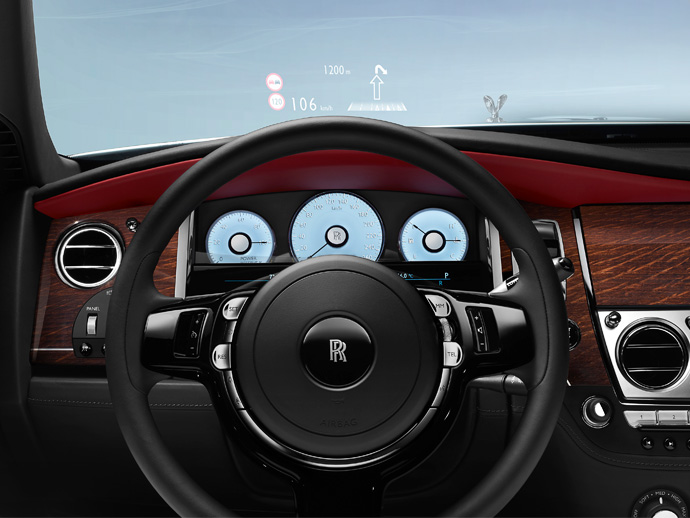 The system utilises a highly sensitive microphone to constantly monitor ambient exterior noise, subtly adjusting the volume and tone settings accordingly to ensure the system delivers consistent perfection. The technology complements this, with frequency and phase correction for individual speakers eliminating potential loud and dead spots caused by outside influences.
Re-designed front and rear struts married to new steering gear and adjusted dampers significantly increase Ghost Series II's cornering ability, whilst enhanced feedback levels can be felt through a thicker steering wheel. In all specifications, ride quality and rear stability is further enhanced thanks to new rear hydraulic axle bearings.