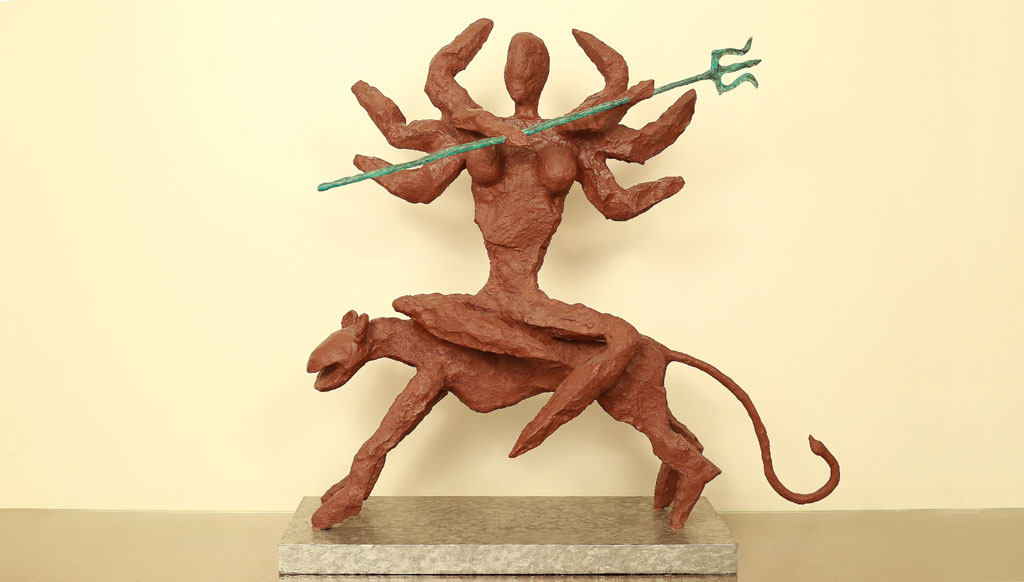 SINGH-AMBIKA | Created from a fusion of 32 rocks, this sculpture features Durga on a lion with trishool in one of her arms in finish of red stone, with trishool in rustic copper patina
If you're looking for a unique, non-replicable décor piece that creates an instant connection between your home and the natural world, here's your ticket to the right place. Sang e Casa is an exclusive sculpture studio in Mumbai, where artefacts are created through handpicked, naturally sourced rocks and pebbles—picked from mountain bases, demolished architecture sites and riverbeds—and their natural colour and texture is allowed to lead the process. From Durga and Shiva to Buddha and Jesus, from mythology to meditation and facial expressions, you will find something special here that speaks to your soul
The right piece of art is a must for homes with character. A unique, non-replicable sculpture would certainly be the dream possession for the art aficionado. And if you're looking for something that particularly channels the spirit of nature through stones, then Sang-e-Casa is the right place for you. An exclusive sculpture studio, Sang e Casa tries to create sculptures by letting nature have the upper hand. Munish Gangwal, founder of Sang e Casa, explains its philosophy thus: "It's very true that no two stones, rocks can ever be identical in this nature created by God. Hence, not trying to change that, we create pieces by sourcing interesting naturally shaped rocks and let the imagination revolve around that. The artist himself cannot reproduce an identical piece again." And so, what you get is truly remarkable, a one-one a kind piece of art shared between you, the artist and the original creator of the rocks and stones in the universe.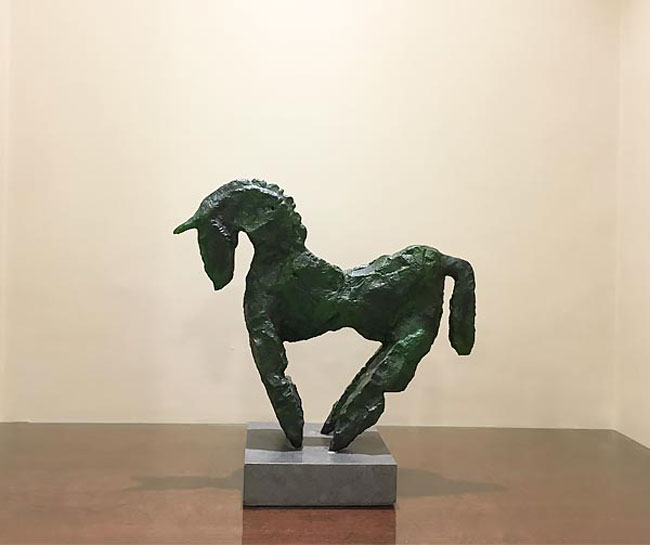 Gangwal further explains the process involved in creating sculptures at Sang e Casa, "The sculptures are usually made with a combination of stones or rocks or both of different shapes and sizes," he says. "Once these are put together, the artist, using his imagination, creates different figures. There are also single rock pieces from which the artist has created different face structures. The natural texture on these rocks and stones created over millions of years helps in discovering an expression. This is what makes every piece truly one of a kind."
Gangwal's journey began 8 months ago, when he was searching for "good artefacts" for his Farm House, something particularly "rugged and rustic".
"Most of the pieces I came across were not something that could fit well with the minimalist approach of my interiors," he reminisces. "With muted colors and clean lines, I needed something that could stand out for its beauty and break the monotony. Being the creative kind, I have always made small pieces out of passion. I have applied my creativity in all my business ventures, be it exclusive furniture, designer garments or bespoke automotive fabrication. And so I started looking for naturally available materials. As I came across some very interesting shapes and textures, I knew I was one step away from building my own piece. Feeling content with my first creation as a sculptor, I instantly knew I wanted to take this forward and explore more and put my hobby in the business of Art."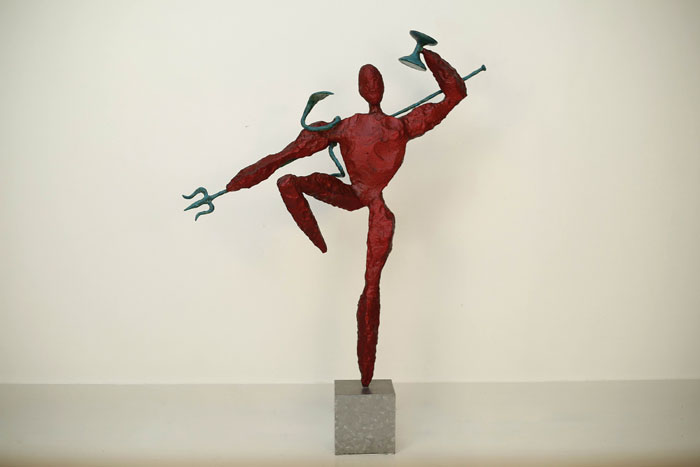 He developed his first full collection of sculptures using only pebbles, handpicked by his team. "Every stone had such a distinct color, texture and shape. It was impossible to replicate any piece. That is when I found exclusivity and started experimenting with rocks. Traveling to different parts of India, mountain bases, demolished architectures and riversides were some of the places from where we would handpick interesting shaped stones, pebbles and rocks and create pieces. This is when it got down to experimenting with materials and other manufacturing processes."
For Gangwal, inspiration came from any and every life form, which found its way into his art. Combining some engineering with imagination, mythology, meditation, culture and human anatomy, Sang-é-Casa was born.
So, the guiding spirit behind the sculptures at Sang e Case becomes the original state of single rocks and stones in nature and the states brought about through the combinations of these. The complexity of the sculpture is decided by the number of stones, with the sculptors sometimes experimenting with even ten stones at a time. Some of the key pieces that you find at Sang e Casa are representations of facial expressions, poses, mythological characters, and meditation positions.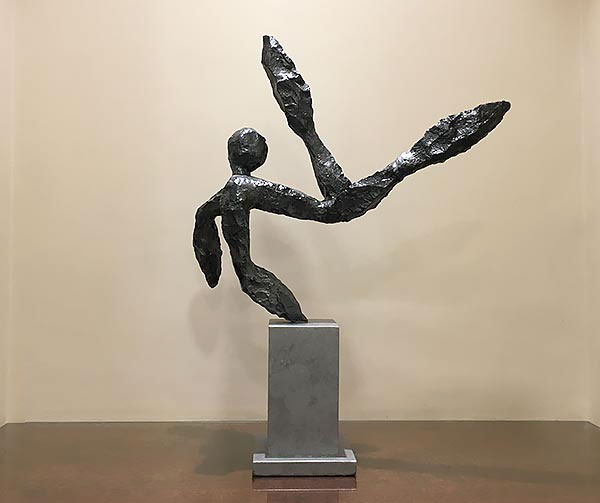 "There are only simple straight cuts given to take out some part of these stones to create balance, but they are smartly hidden from the eye," explains Gangwal. Some of the treatments involved in the making of these sculptures are sand blasting, acid wash, carbon-welding and steel re-inforcements. A natural finish is achieved by the use of stone powder as the top coat.
Sang e Casa sculptures are created at their workshop/studio in Mumbai, by a team of highly skilled labourers. According to Gangwal, they also travel from time to time, locally and domestically, to find the most interesting raw materials. "We have also established a few very hard working families in particular cities like a village in MP to handpick these materials."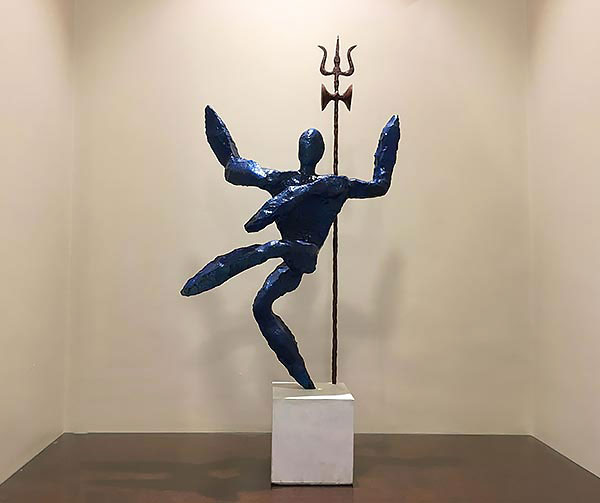 So which of these creations would he list as his favorites? Gangwal has a list, which includes the sculpture of Lord Shiva in his iconic 'tandav' pose, another of the Goddess Durga, taking her place on the tiger, and numerous 'Unmaad' poses— Sanskrit for 'mad' or 'insane'. Also in the list of favorites is Michelangelo's famous Pieta, where Virgin Mary is depicted cradling the dead body of Jesus—created here with a fusion of 20 rocks.
The pieces at Sang e Casa range in price from Rs. 80,000 to Rs. 4,00,000 depending on the complexity of the sculptures and the availability of the stones and rocks.  Gangwal plans to take his artwork a step further and make the sculptures available at exclusive and high end interior decor showrooms and studios.
"Our plan is to establish Sang-é-Casa as a premium luxury home decor brand," says Gangwal.  "We also have two very interesting collections in the works. The first is Kudrat: artefacts created from polished round stones or cobbles found near water streams of the Himalayas. The second, named Khalbatta features artefacts created from crushed rocks or glass or both using proprietary manufacturing processes."
Sang e Casa exclusive creations are available at various addresses in Mumbai: Sang e Casa at Oberoi Garden City in Geregaon; at Indoors, Lakozy Mansion; and Furnitech Design Studio at Lower Parel.
(This article is a promotional piece.)