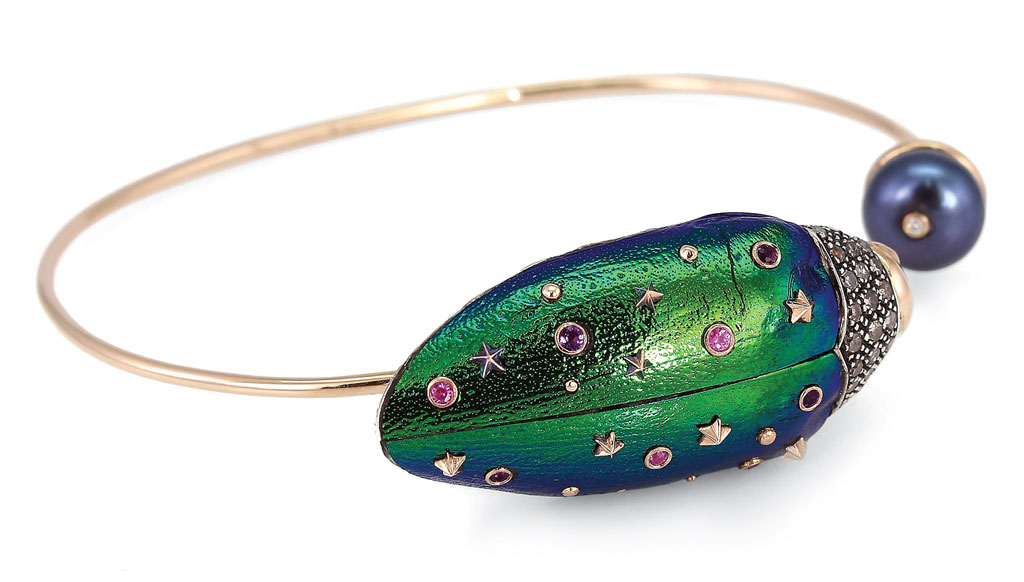 DISTINCT DAZZLE | Inimitable pieces crafted from astounding materials are the latest must-have, such as this bangle featuring jewel-encrusted Scarab beetle wings
Amid the throngs of designer jewelry pieces that razzle and dazzle, how do you stand out? We have an idea: just pick these pieces that are created from the most unconventional materials: petrified scarab beetles, ancient woolly mammoth tusks and fossilised dinosaur bones, volcanic rock, recycled white gold, and so much more!
Unconventional is the way to be, especially when designer jewelry pieces are vying with each other for exquisiteness. So take your pick from inimitable, one-of-a-kind jewelry that features such unique, organic materials as ancient woolly mammoth tusks and fossilised dinosaur bone, volcanic rock, beetle wings, petrified wood and so much more. Here's a selection of the most incredible kind of jewelry created by designers specialising in masterful use of earth-friendly materials.
Scarab Ring Fly by Bibi van der Velden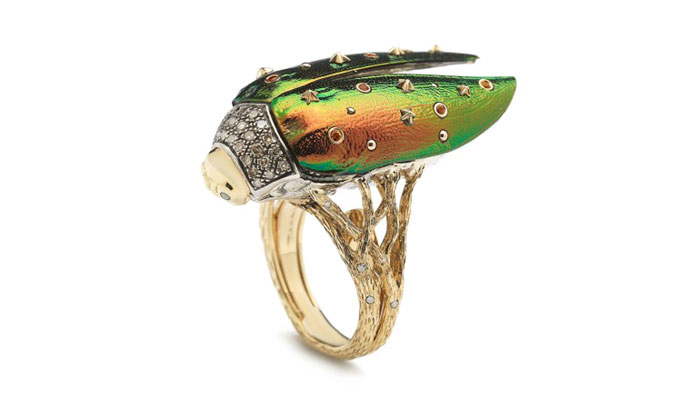 New York designer  Bibi van der Velden  trained in sculpture at Italy's Florence Academy of Art and launched her outstanding jewelry line in 2005. Her genius lies in the creative use of recycled and organic materials like baroque pearls, 40,000-year-old mammoth ivory, preserved scarab beetle wings and even fossilised shark teeth. Her Scarab Collection features ear rings, bangles, rings and ear-cuffs, all crafted round actual, spectacular petrified beetle wings! This 18-karat-gold ring, called Scarab Ring Fly, features preserved scarab beetle wings along with brown and white diamonds, tsavorite, and orange and yellow sapphires. The genuine beetle wings radiate with iridescent blue/green tones. Priced at $5,750, this one is a must-have and sure to be an eye-catcher—provided you don't get the heebie-jeebies with a creepy-crawly on your finger!
Dinosaur bone bracelet by Monique Péan
Another designer from New York,  Monique Péan creates dazzling pieces from earth-friendly, recycled materials and is best known for her inventive use of fossils, from ancient woolly mammoth tusks to petrified walrus ivory. The bracelet shown here makes use of fossilized dinosaur bone set in 18-karat recycled white gold. Paired with colorful thomsonite, tremolite, and sparkling white diamonds, this bracelet carried a price tag of $25,775.
Volcanic Rock bracelet by Federica Rettore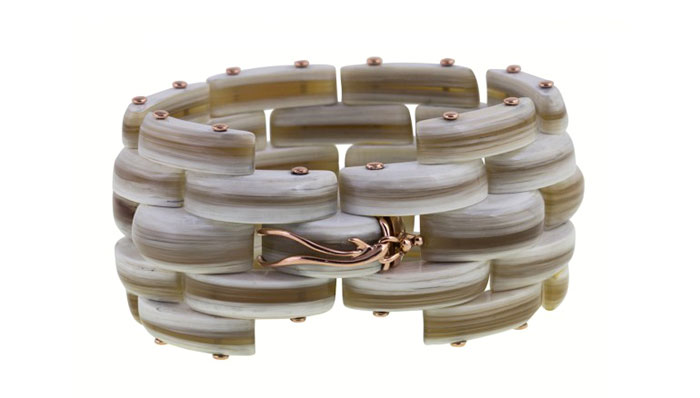 Milan-based Federica Rettore has a special knack of putting together recycled, organic bits and pieces, which is evident from the myriad jaw-dropping materials used in this fascinating bracelet. This 18 k gold bracelet brings together colorful volcanic rock, petrified wood, and humanely collected, beautifully striated Zebu horn (go figure that one!)—all featured in a wicker-cut pattern and rose-gold accents. Priced at $9,500, this bracelet is a masterful piece of creativity and a sureshot conversation starter!