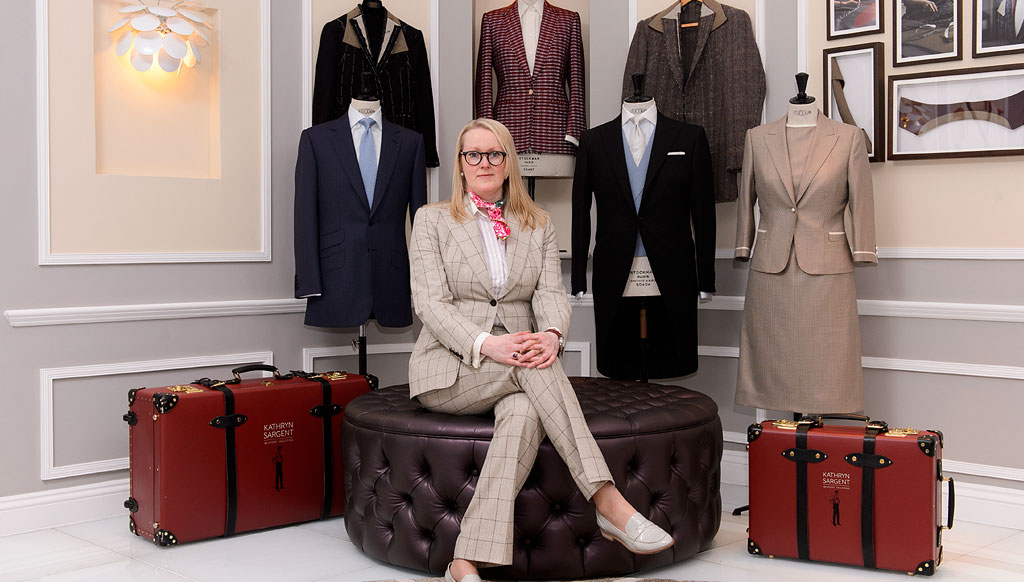 THE LADY AMID GENTLEMEN | Kathryn Sargent sits elegant amid her creations at her Savile Row establishment, her own sharply tailored attire the best endorsement of her craft (Photo: Jonathan Hordle/Courtesy: Kathryn Sargent)
From being the first Head Cutter at Savile Row to the first woman ever to have her name grace the front of a shop on the Streets of sartorial bliss, Kathryn Sargent has crafted not just bespoke offerings for elite clientele, but also a fascinating story of success, stitching up an incredible legacy for women aspiring to storm into all-male bastions
Here's to the indomitable lady that smashed the ceiling at a Gentlemen's Club with aplomb. We're talking about Kathryn Sargent, the first woman ever to set up her own establishment at the world's most elite address for bespoke tailoring: Savile Row. In all of 213 years, Kathryn Sargent's is the first female name to grace the front of a shop at the sacrosanct streets of sartorial bliss. But she has risen slowly up the ranks, gathering laurels along the way—from becoming the first female Head Cutter to receiving the Hand and Lock Prize for Embroidery Design twice and creating bespoke pieces for clients ranging from David Beckham to members of the royal family. Sargent's inherent desire to swim against the major tide of womenswear in fashion coupled with her instinctive taste for sharp tailoring led her to the very top at the hallowed streets of Mayfair.
Recently, she has come up with two new offerings, 'Crafted' and 'Sargent Harris Tweed'. While Crafted is made-to-measure tailoring delivered at a faster pace and keener price than her full bespoke offer, the second one is a partnership where Harris Tweed has created a unique cloth for Sargent's designs: a unisex house tweed of subtlest heather tones and soft over-check, perfect for a bespoke blazer or statement coat. Though her shop is open only until the end of summer for now, a very confident Sargent has plans for 'evolution' even as Savile Row evolves with the times—and she dares you to "watch this space"!
In this exclusive conversation with The Luxe Café, Sargent speaks of doing a 'modern' take on traditional handcrafted tailoring and the changing contours of a once-impenetrable male bastion.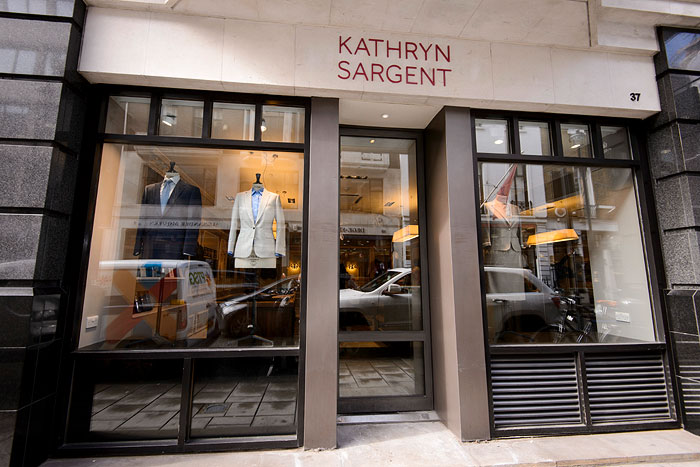 The Luxe Café: Being the first woman with her own tailoring house on Savile Row is a major achievement. Would you describe for us your journey that led to this destination? What do you attribute your success to?
I first went to art school and then on to fashion college. It was there that I began to have a passion for menswear, which naturally led me to Savile Row. I completed a work placement at a smaller Savile Row tailors, Denman and Goddard and then went on to work at Gieves & Hawkes, where I worked my way up through the ranks and eventually became their first ever female Head Cutter. After 15 years there I decided to set up my own business in 2012, and now I am fortunate enough to be the first woman with her own tailoring house on Savile Row. I attribute a lot of my success to hard work. Also throughout my career I have received a lot of support by my colleagues within the Savile Row community. I have been lucky enough to have amazing mentors who have inspired and helped me enormously.
What made you take up tailoring as a profession? How did you prepare for it?
I was always interested in fashion, in particular men wearing sharp suits and wondered how to make them. As a teenager I remember going on a family holiday to Paris and noticed how differently the women dressed – their style and attention to detail inspired me to want to make things for stylish people.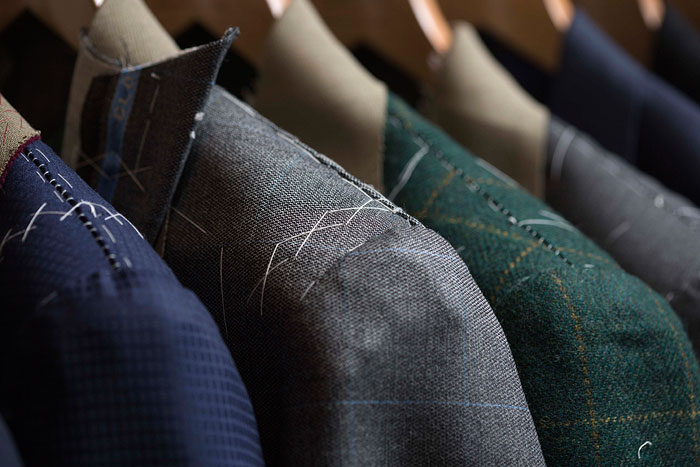 Did you ever feel squeezed up against the proverbial glass ceiling?
When I first started working in tailoring being a woman was more unusual. However over the years the majority of people I have encountered have been supportive. I was aware early on that being a woman, or indeed a man working on Savile Row, you needed to earn people's respect through hard work and being passionate about the training and the art of tailoring.
You've mentioned elsewhere that you used to take apart Burberry suits to help yourself learn tailoring. Are there other such interesting anecdotes from your learning process?
At college I used to buy second-hand suits and coats from charity shops and then take them apart. I would photocopy them and then try to put them back together. From this I developed a taste for tailoring, in terms of my own wardrobe, and started wearing some of those tailored pieces myself. I think as a result I was one of the most smartly dressed people at college!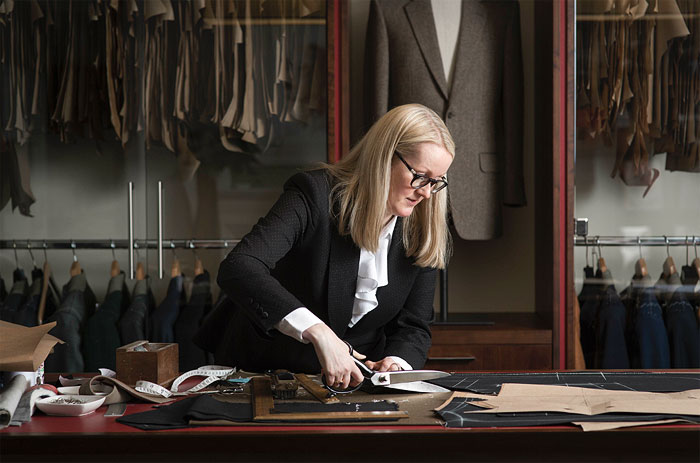 What is it that sets you apart from others on Savile Row—other than your gender, of course!
My brand has at its core a modern take on traditional handcrafted tailoring. Unlike some of the other houses on Savile Row I do not have a house style, which means that the client leads the process and I create beautiful garments based on their specific requirements. I will of course help guide them through the bespoke experience, offering recommendations and ideas throughout our relationship, but for me a truly bespoke garment is an investment piece made to perfectly match the client's vision, lifestyle and personality.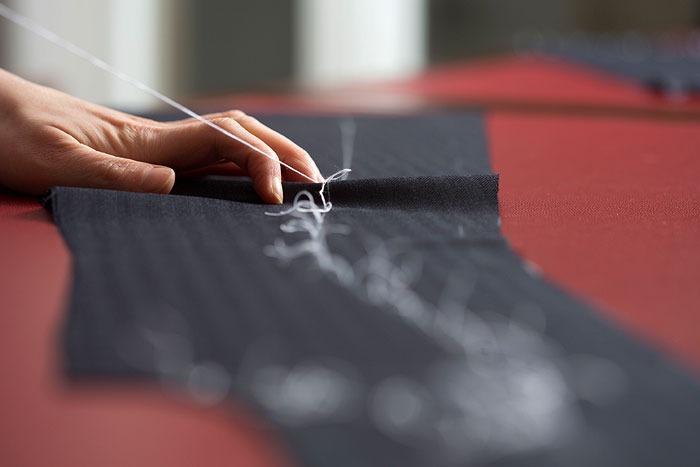 Could you recount for us some memorable episodes from your experiences at Savile Row?
We have showcased the woollen trade alongside the tailoring trade during Wool Week on Savile Row. This involves the entire street being laid with real turf and flocks of sheep being brought onto the Row. I have made a suit for the shepherdess and all the tailors have open houses. It is a fun opportunity to showcase the trades!
A bespoke suit is a work of art, a masterpiece. What goes into the creation of this masterpiece?
I meet with a client for an initial consultation, where I get to know them and understand their requirements and lifestyle. The design of the garment(s) are discussed, cloth and lining chosen, and finally measurements taken. I then cut a pattern and prepare the first fitting. I meet with the client again for the fitting, mark up the garments and alter the pattern where necessary. The garments are then baisted together for a second fitting with the client. The process is then repeated two to three more times until the garments are finished and delivered to the client to wear. It is an exacting process which takes approximately three months from start to finish.
How much do you charge for your bespoke creations?
Prices are dependent upon the cloth selected but to give you an idea, a two piece bespoke suit starts from £4,220 (£3,520 export) and a bespoke jacket from £2,970 (£2,475 export), and a pair of bespoke trousers from £1,300 (£1,083 export).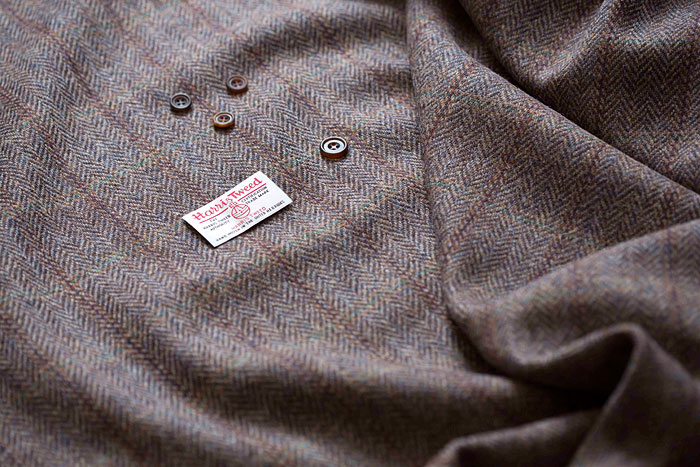 More and more women clients are approaching Savile Row. What differences do you see in the approach and requirements of your female clients?
Some of my women clients are frustrated by designer offerings, in terms of how poorly their garments fit them. When it comes to tailoring, many are realising that for about the same price they can have something made that will be unique and fit them perfectly.
Do you think we'd be seeing a more feminine side of the typically male Savile Row—both in designs and their creators—in the near future?
People view suits as more of a masculine creation, however part of the excitement of creating bespoke pieces for women is using traditional methods and craftsmanship to include more feminine details and style elements. There are now more female tailors, cutters and clients coming to Savile Row, and therefore it is inevitable that we will see a progression of designs over the coming years, but with the history and craftsmanship remaining at the heart of the work.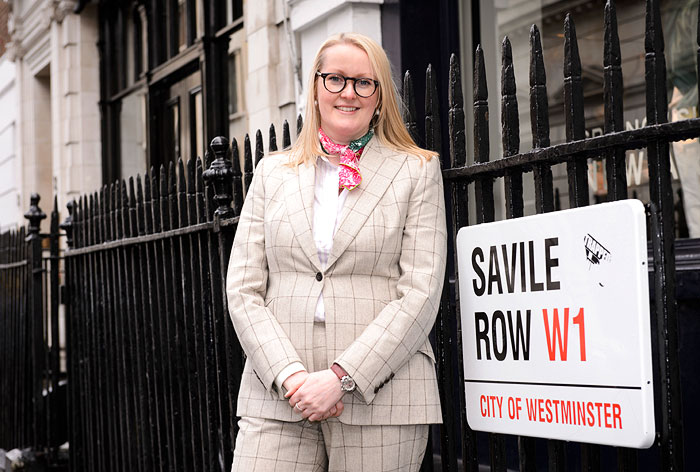 What embodies the idea of true luxury for you?
For me true luxury is about making sure that every part of a client's bespoke journey is the absolute best it can possibly be. This includes ensuring they feel comfortable during their fittings, attending to their needs and working to fit to their lifestyle, using the finest cloths and materials, and creating something exquisite.