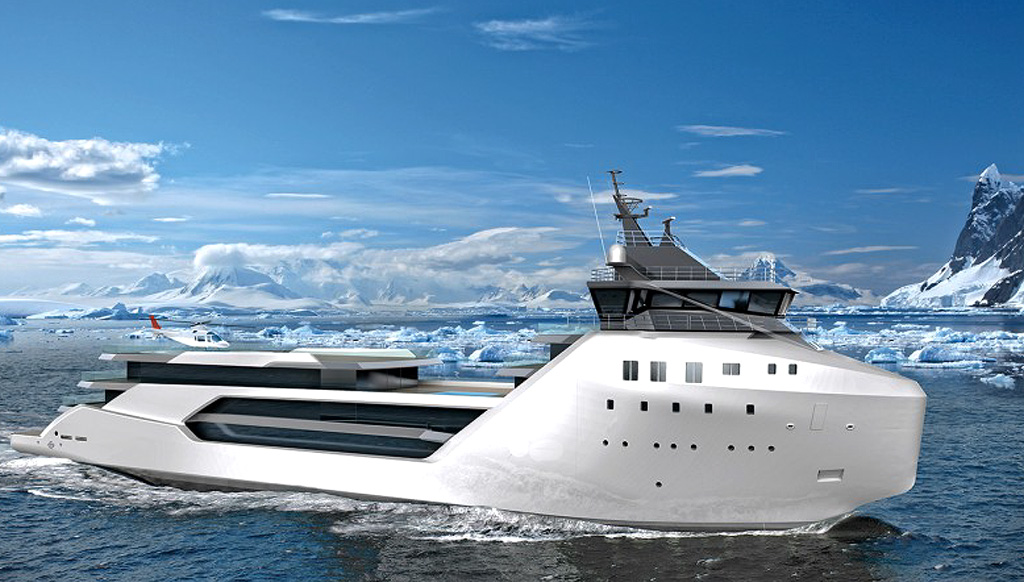 KILKEA ON THE SEAS | The 270-foot explorer features the latest navigational technologies and will comply with the Passenger Yacht Code regulations
Designed to explore remotest corners of the globe, Kilkea can travel straight for month without having to make landfall, has a lighter carbon footprint with low fuel consumption and all of it enhanced by the uber-luxe travel experience
The expedition superyacht segment will soon receive an intrepid, one-of-a-kind new member. The creative wizards at Bannenberg & Rowell Design conceived the 270-foot Kilkea explorer to travel to the most remote corners of the globe, while providing onboard comfort for weeks on end. The hull is currently being built at a shipyard in Vietnam owned by the Norwegian commercial builder Vard.
Kilkea is based on the Vard 1/08 hull, a supply-vessel platform designed for offshore use. A steel hull with a class notation of ICE-C will allow it to operate in light ice conditions. The yacht is designed to travel for a month without having to make landfall, and its low rates of fuel consumption will leave a cleaner footprint and provide an extended range.
Bannenberg & Rowell added layers of superyacht comfort across the lower decks, with master apartments, guest suites, and saloons that are part of the forward bridge deck. Kilkea will comply with Passenger Yacht Code regulations and accommodate up to 36 guests.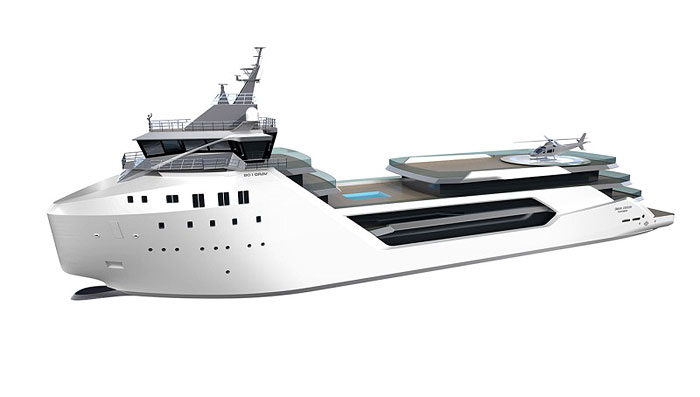 The preliminary plans include a full helicopter pad and hangar, indoor and outdoor swimming pools, and an on-deck soccer pitch, but allows for flexibility with the design—while the massive 59-foot beam leaves many opportunities open for the center deck as well. There is even the possibility of including a submarine dock and underwater observation room.
Like any serious expedition yacht, Kilkea will feature the latest navigational technologies, like a dynamic positioning system that keeps the yacht set in one place via GPS, and joystick maneuvering for easy navigating and docking. A propulsion system with two azimuth units will enable superior turning capabilities. The yacht's naval architects project that the superyacht will reach a top speed of 15.4 knots and a comfortable cruising speed of 12 knots. The boat is priced at $62 million.
(Source: www.robbreport.com)