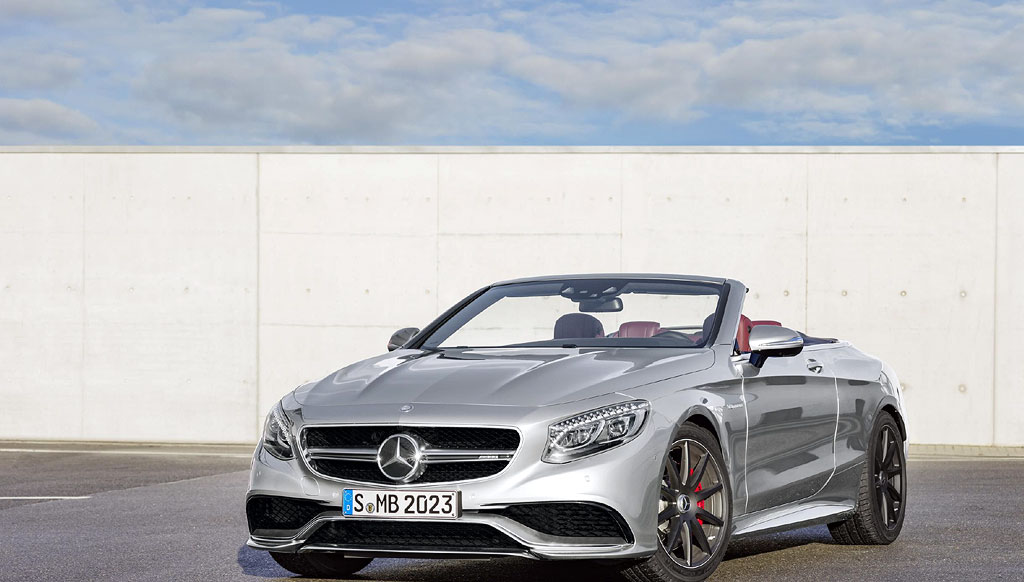 SPEEDING OVATION | Mercedes-AMG S63 4Matic Cabriolet Edition 130 honours the achievements of its founders and demonstrates the developments the automobile has undergone in the last 130 years
Celebrating over a century of superlative car creation, Mercedes-AMG raises a toast to exemplary motoring with a limited edition cabriolet that stands out in class and competency, a creature straight from auto-fantasy. In anticipation of its collectible value, each of the 130 comes with its very own bespoke embroidered car cover too
The new Mercedes-AMG S63 4 Matic Cabriolet "Edition 130" is a ravishing tribute to the founding fathers of the brand. Limited to 130 examples worldwide this car marks the celebration of 130 years of Mercedes: the history and heritage of the company, as well as its reputation for making superlative cars. The limited number is quite a change of pace for a firm that sold close to 2 billion cars in 2014 and by all indications, when the final numbers are in, will have raced past that count in 2015. The new limited edition was unveiled at the North American International Autoshow (aka the Detroit Motor Show). Here's a bit of Merc history at this, well, historic occasion.
In 1885 Karl Benz developed the first vehicle – a three-wheeler – powered by his internal combustion engine and a year later Gottlieb Daimler independently debuted his own gas engine four-wheel car. And although both innovators initially set out with their own businesses to sell automobiles to the public, by 1926 those businesses had joined forces to become Daimler-Benz, Mercedes-Benz's parent.
"The first automobiles from Karl Benz and Gottlieb Daimler were open vehicles. Mercedes-AMG honors this achievement of the founding fathers with this highly exclusive cabriolet, and demonstrates the developments the automobile has undergone in the last 130 years, developments which would have been inconceivable at that time," said Tobias Moers, Chairman of the Board of Mercedes-AMG GmbH.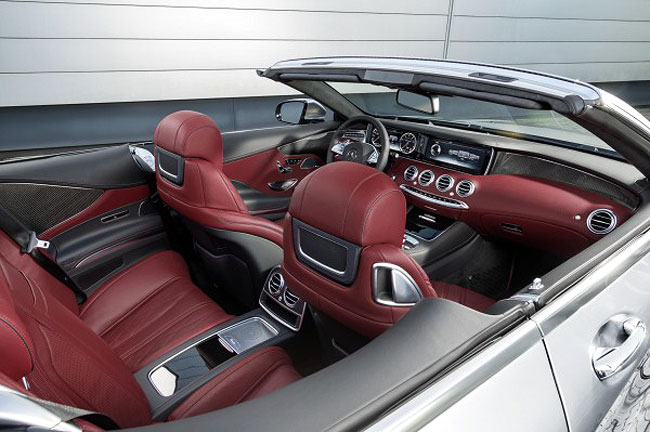 To ensure the car stands out from all other S-Class cabriolets, it will feature a special high-gloss silver paint finish chosen to pay homage to the firm's racing heritage. The fabric folding roof will also be finished in red, an option unavailable on any other production Mercedes drop top. The seats are finished in Bengal red and black Nappa Leather, with the red brake calipers and floor mats in Bengal red making for a visual treat. Exclusive carbon fiber and piano black veneers adorn the console and door panels. The four-seater is accentuated further by matt black 20-inch 10-spoke wheels with high-sheen rim flanges. An engraved steering wheel bezel and a prominently placed plaque on the center console indicate that the car is both a special edition and record which number in the 130-model run it represents.
And that's not all. Aware that truly limited edition cars very quickly become collectible, each example will come with its own bespoke embroidered car cover, with the lettering – Edition 130 – 1 of 130. Additionally, every example will be handed over personally to its owner along with a Welcome package, which will include a special Edition 130 badge key ring for the vehicle and an aluminum box in which to keep it safe.
But with a 5.5-liter bi-turbo V8 under its hood, an output of 577bhp to all four wheels and a 0-100km/h time of 3.8 seconds, it will be a true shame if these cars are put into storage rather than being used for their intended purpose—a celebration of the automobile.
To be delivered in April this year, the car commands a price of € 226,457 (approx. INR 1 crore). With all that pampering, you wouldn't expect otherwise.