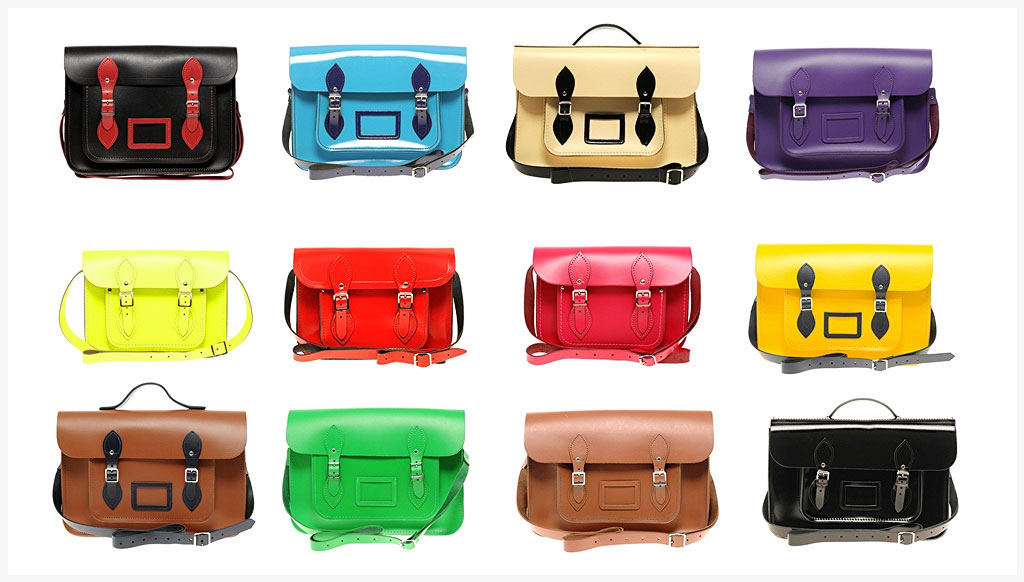 With the rise of the 'power purse' phenomenon, luxury brands are reviving old classics and also adding to their top-of-the-line offerings even as the price tag for these luxe accessories goes into the four figure brackets. One trend that has been around the block for a while and is witnessing a major comeback is the satchel – the structured 'it' bag for day to evening wear. To help you land the right satchel style, we bring you here a brands' guide for your satchel shopping
A satchel is a bag carried on the shoulder by a long strap and closed by a flap. And this is the very simple, dictionary based, definition of what is a Satchel which is actually one of Spring's beloved 'bag' trends, working its way well into the summer. The versatility that a satchel commands and the practicality of it shape and size make it the perfect pick between a clutch which can hold only so much and a tote in you can haul in oh-so-much. Runways have been abuzz with classic and contemporary variations of the satchel, in sizes small and medium, marking another very important trend when it comes to bags – keeping out the 'slouch', and bringing in the super structured. The clean, square lines of a classic satchel has made it a unisex favourite and also lent itself to myriad interpretation by designers who have gone for single and double strap handles, or those with detachable shoulder straps to allow one to wear it across the body or over the shoulder. In line with these subtle innovations is the current favourite variation of the satchel – the boxy satchel. Almost square or rectangular in shape, the compact box satchel usually includes not only a cross-body strap, but also a retro top handle for carrying it in hand, like a vintage valise. Presumed, and preferred, to be in the usual neutral palette of hues – burgundy, navy, black, red and brown – the satchel has now opened up to a wider canvas of colours as different, and tempting, as powder blue, dusty pink, minty green, cherry red and of course, everyone's fave – marsala.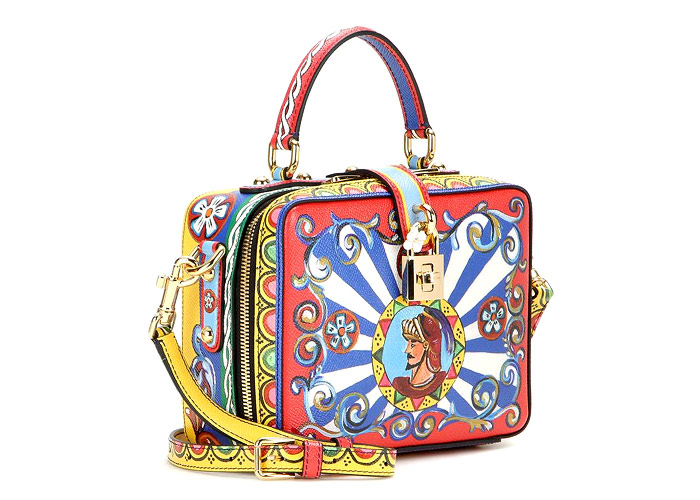 With so much going for the satchel, often referred to as the cross-body bag as well, there have come up quirky and chic brands which specialize in the art of satchel-making, while the long-loved luxury brands have also gone the satchel-way with their imaginative takes on the minimalistic satchels. These petite versions now come in fun prints with bold detailing and curiously done-up flaps. Some of our reigning favourites from the world of satchels include the multicolour leather 'Rosalia' crossbody bag from Dolce & Gabbana with a front flap closure, sporting the signature lush Carretto Siciliano print. In contrast to this is the 'Rockstud' from Valentino Garavani in pale blue, yellow and red calf leather with a foldover top and tonal pyramid studs. Then there is a beige-pink one from Alexander Wang and the bright ochre yellow 'Drew' handbag from Chloé, designed in Italy from calfskin and suede, in a horse-shoe silhouette with gold-tone hardware.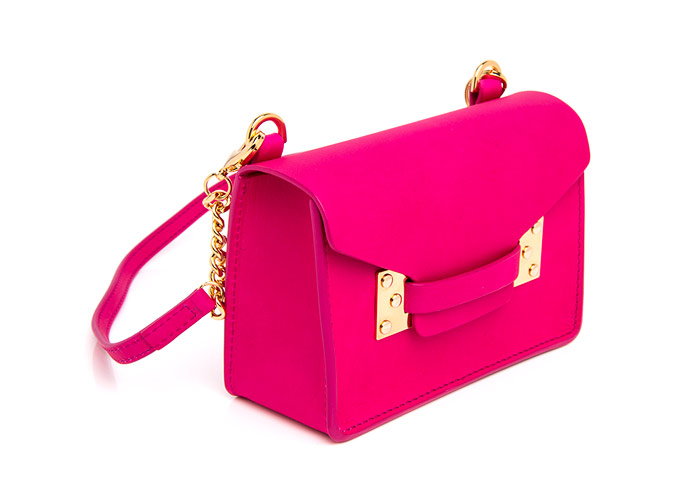 Something about satchels is oh-so-British that you cannot but admire the forthrightness and the no-fuss angles of the bag itself. Claiming it as their own, are some British designers like Sophie Hulme whose minimalist, masculine, bags in heavy cow-hides have become all the rage as she sells across the world in top departmental stores like Harrods, and has her fans from among the fashion and film folks to political heavyweights. While her range of bags includes totes, rucksacks, clutches, purses, bucket bags, there are also nifty saddle bags and front-flapped boxy cross-bodys [variations of the satchel] to be grabbed in prices which are not four-figure heavy. The no-labels, no-bling designs with just the right amount of subtle gold detailing make these smart, snappy pieces the coveted chic for fashionistas. Talking about her aesthetics, Hulme said in an interview, 'I was looking at incorporating toughness in a chic womenswear context, so I combined really heavy, vegetable-tanned cowhides with laser-cut brass panels'. Having won the Emerging Talent Award for Accessories at the British Fashion Awards 2012, Sophie Hulme's eponymous label is one of our much-loved brands to stock up on trips abroad. And if you were to see the pop of colours in her Spring Summer 2016 collection, you'd agree as well. So for a luxe satchel collection, look for the Sophie Hulme classic, the Milner, in a fresh, new season shade – fuchsia – and crafted in saddle leather with a gold-plated closure and chain-adorned strap, as well as a clip-on lolly-stick charm.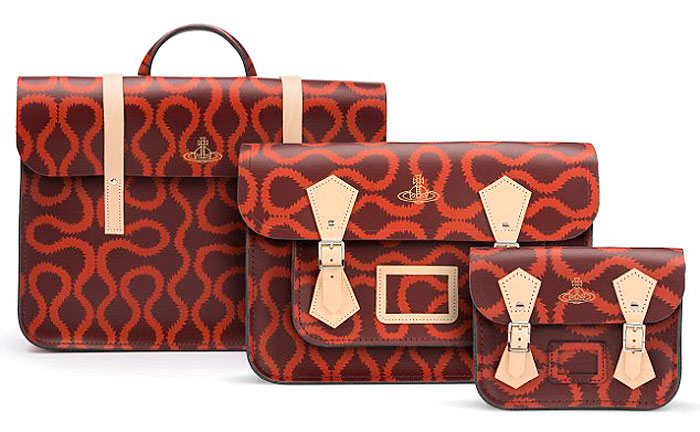 Talking of British style and the classic satchel, we now move onto another UK based brand with a self-explanatory name, The Cambridge Satchel Company. Set up in 2008 by Julie Deane and her mother, Freda Thomas, has had fashion bloggers from all over the world clamouring for, and posing with these satchels which are old school in their styling, with real buckle straps and no faux magnetic ones. Made of 100% genuine cow leather, the satchels and batchels [satchels with a top handle] and backpacks are luxurious to hold and feel as they are also user-friendly and prone to wear better. A business that started on her kitchen table with a shoestring budget, and with the aim to fund her child's schooling, has today grown into a company which is busy meeting supply with the overwhelming demand, even as the innovations don't stop. Talking of the initial years, Julie Dean said, "I was quite obsessed with satchels at the time, because I was reading Harry Potter to my children and I wanted to find them, because they are exactly what Harry and Hermione would have used at Hogwarts." Available in a whole host of colours and sizes [from brown to blue to red to two-tone ones, from 11 to 15 inches], there is also the option to have your name monogrammed on your satchel, this is one bag brand that has not diversified wildly but kept to its USP  of bags and accessories, and only made it better. A firm insistence on the brand's aesthetics make the founder reassure that "Our bags are handmade in British factories because there is nothing more British than a satchel". The popularity has also resulted in some enviable collaborations, like the recent one with British fashion designer, Vivienne Westwood, in which the latter's iconic squiggle print finds itself on Cambridge Satchel Co's tiny satchel and backpack in oxblood and red hues. A must have for any fashion lover, man or woman, these solid-hued satchels are drool-worthy even by themselves, iconic print or not!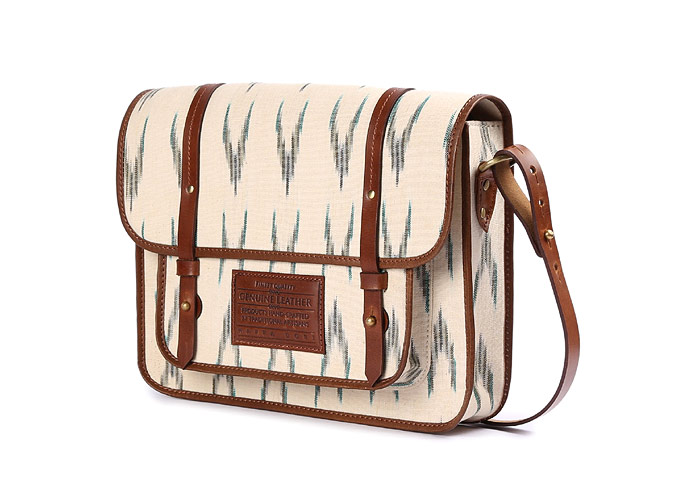 Closer home, and for those looking for an ethnic variation of the satchel, we heartily recommend Nappa Dori's elegantly shaped, vintage satchel made out of the finest handwoven ikat fabric and vegetable dyed geniune leather detailing on the front with a leather shoulder strap.