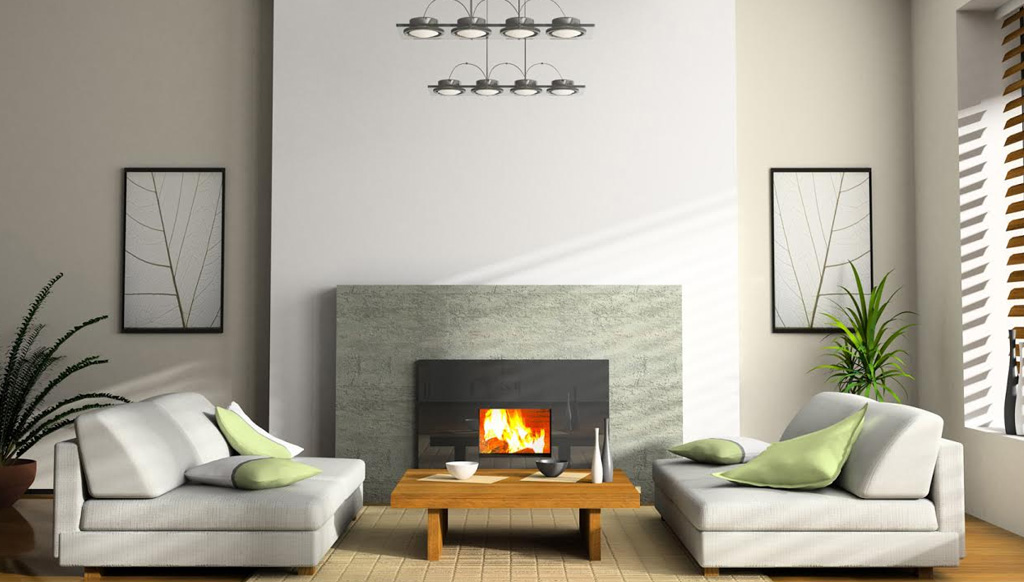 FURNISH TO LOVE | Furniture is not just function any more as designers and brands join hands to recreate concept décor pieces that combine aesthetics with quality and utility
Moving away from fashion in terms of clothes, shoes and make-up, there is also fashion in terms of furniture. As interior design opens itself to a growing market and designers take upon themselves to craft a modern furniture aesthetic, here are some statement pieces for your bedroom, lounging room, study room and bar room – all in the spirit of bringing you some décor inspiration from the best available.
Contemporary, classic, minimalistic, rustic, deconstructed, futuristic – furniture can be one or many of these terms. Its style however, in whatever way you name it, every piece of furniture is critical to the scheme of the house. While style is a matter of personal taste, and can vary broadly across regions as well, what remains true across subjectivities is the need for your personal space to be an emotionally and spiritually rejuvenation place. India's heritage of royalty has made aesthetics a part of life lived not for its own stake, but also for the pleasures it accords. And this is the kind of luxury that one takes to because then it is a concept more than just an indulgence.
In contemporary times, furniture is not just an item of utility with which to fill space, but a design, an objet d' art as it were, and here is where we think of fluidity, functionality and funk pertaining to these that populate our homes. Bespoke pieces, limited edition concept furniture are part of the new turf for Indian interiors and space designers to work on given the appetite for usable art and the ability to spend have both gone up. Keeping this in mind, we have gone on to enlist a few pieces which are sure to change the mood and make of your favourite spaces inside your home.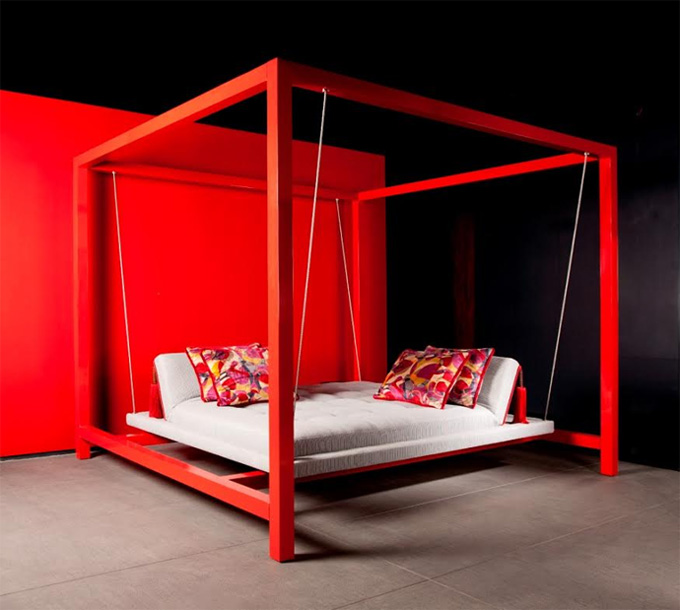 Pinakin Jhoola Bed – As we start with the most private of your rooms, the bed room, we shall begin with a distinctly fashioned bed inspired by the amorous couple, Radha and Krishna, the Jhoola Bed designed by Pinakin Retail embodies a spirit of playfulness. "A bed that swings and can be placed in any indoor verandah or a large atrium space, it is not just based on form, functionality and ergonomics but also on the principles of engineering. The bed's unique design makes it an eye catcher," said Pinakin Patel, renowned designer and owner of Pinakin. The brand is best known for its distinctive interpretation of contemporary design based on classic elements and does signature pieces which are avant-garde and combine design philosophies from both East and West. This artisanal bed, made from a mild steel (MS) steel frame, is suspended by SS wires of high gauge thickness to bear the weight and gives you all the comfort with the art element in place as well. The bold red lacquered wooden frame gives it the air of singular boldness and can be your favourite lounging space.
Price – 4.5 lakh; at PINAKIN, Mumbai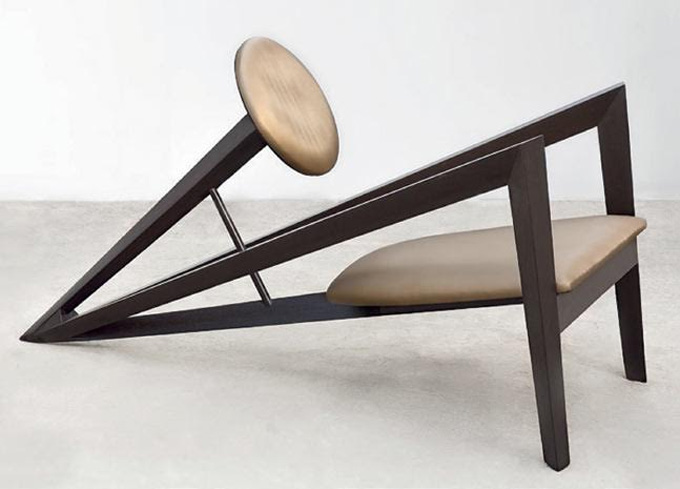 Red, Blue & Yellow's Trumpet Chair – bringing in the abstract into play, The Trumpet Chair by Red, Blue & Yellow is a modern re-imagination of the famous musical instrument – the trumpet. The oblong form, in solid Burma teak wood, is not just an eyeful but also a comfy seat as the angular shape of the seater ensures good lumbar support. Available in two styles, one made from wood with a cushioned seater and the other with a cushioned seater and upholstered headrest, this stark, solid chair is sure to pep up your seating area, study or parlour. Red, Blue & Yellow, founded in 2000 by entrepreneurs – Karishma Bajaj, Asim Merchant and Paul Rodrigues – has at its heart the passion to create original, cutting edge furniture using the finest Indian craftsmen and traditional woodworking techniques. Their award winning designs have their own place in Indian contemporary design map, and have a future-forward feel about them. Take for example, the Bowloader which is a very next-gen take on the good old sofa as it is a two-way seating system crafted on the lines of a rowing boat. Ergonomical and sculptural, the Bowloader is built using an ancient Chinese ship-building technique using bent ply and paper veneer and looks every inch the stunning wooden marvel that it is.
Price – Rs 28,000 (for upholstered version), Rs 36,000 (for wooden version); at G/ 11, Laxmi Woolen Industrial Estate, Shakti Mill Lane, Mahalaxmi, Mumbai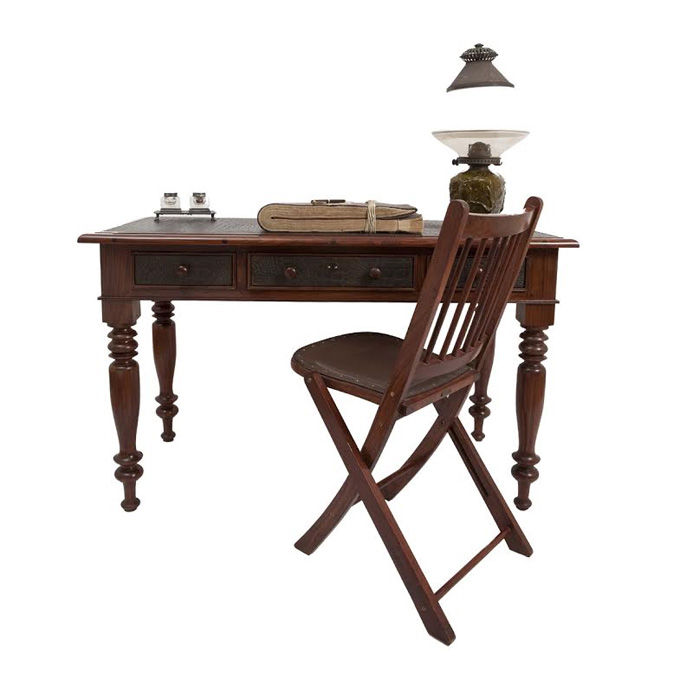 Skinners Desk from J & R Guram – Jeet and Raj Guram, descendants of Raja Bhagmal Jat of the royal house of Bithur,grew up in colonial cantonments all over India where "outdoors" was a way of life, Having been exposed to Campaign furniture and field equipment early in life, they have now brought back to life the trend of Campaign furniture which referred to ingeniously designed pieces that were easily knocked down and stacked, yet elegant, utilitarian, carefully wrought, finely detailed and robust. As avid conservationists/ revivalists the brothers have gone ahead to resource and revitalise near-extinct craft skills to produce a whole range of customised furniture where each piece is a limited edition work of art.With their products named to revoke nostalgia, such as the King George Chair, Anderson Safari Chair, Goojerat Chair and Jorhat Camp Table etc., the dark polished and sturdy wooden beauties takes you back to the olden golden times while also adding that vintage veneer to your space. The Skinners Desk, handmade from rosewood with brass details, is an elegant creation that has a work surface of chocolate brown buffalo hide which will develop a beautiful patina over years of use. A two inch beveled border frames this as there are also beveled drawers, 13″ wide and 6.5″deep, that run the full width of the desk. Straight legs join the top seamlessly with brass plate for quick de-construction while they can be unbolted and stored in the drawers for easy packing and transportation as you decide on setting up a study for some writing in the garden or for use at a picnic or camp even.
Price upon request; Available at http://jandrguram.com/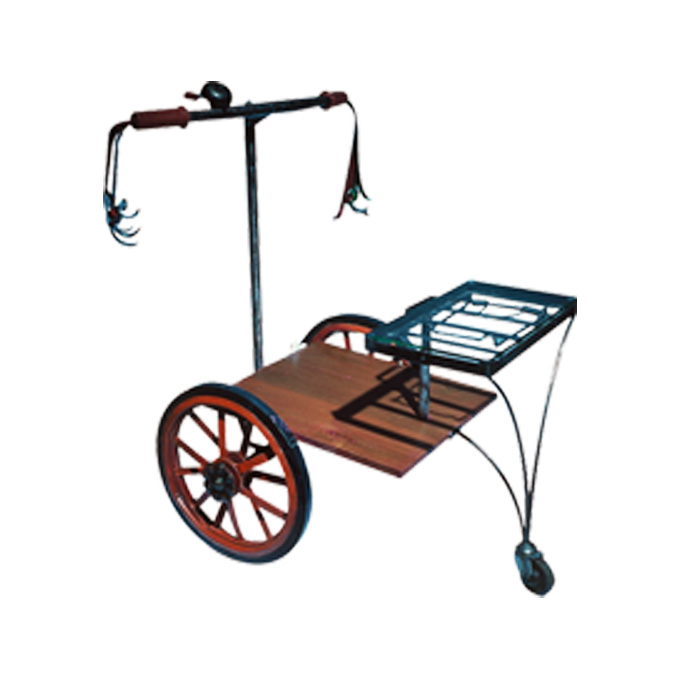 The Bicycle Trolley from Orange Lane –"The Orange Lane designs range from soulful to eclectic with lots of experimentation on each project. It is our constant endeavor to keep reinventing our design sense", says principal designer, Shabnam Gupta, about her brand of eclectic furniture and décor ideas. And some help from her you can set trends serving a la cart at your party, as the Bicycle Trolley is this intriguing trolley which defines reinvention. Re-interpreting the conventional bar and with the vision to transform a modest bicycle into an exciting form of art, here is the trolley of all times to serve from. The bicycle bell being the crowning, the bicycle wheels at the back and the front trolley wheel showcase the attention to details and also serve the purpose of moving it around. The wooden base is the foundation that binds together all elements and can also be used a table top.
Price upon request; at 31N, Laxmi Industrial Estate, Andheri Link Road, Mumbai