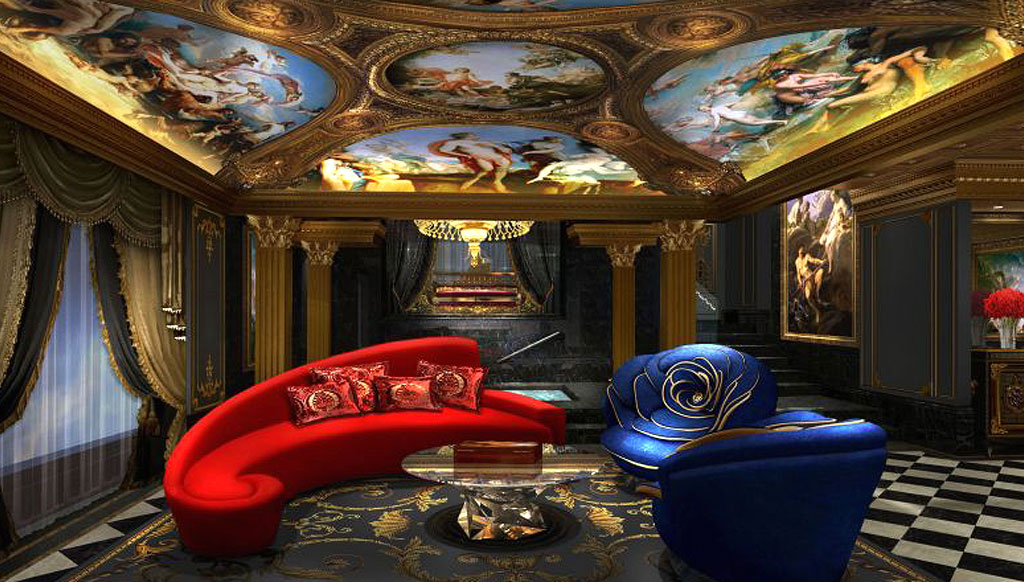 MODERN MONARCHY | Stephen Hung the hotel czar is the mastermind behind this spectacular piece of hospitality that cost in excess of $1.4 billion
Louis XIII Holding's hotel The 13 spells opulence in mammoth proportions, with its 200 baroque suites that flaunt flamboyant period artwork and modern imperial luxuries like marble Roman Baths, diamond series furniture, Rolls Royce shuttles and private elevators for each suite
At the startling cost of $7 million per room, Macau's The 13, with its 200 baroquely crafted suites, fancies itself as the hotel for the one percent of the one percent. This mindboggling extravagant creation, which reportedly cost in excess of $1.4 billion, was spearheaded by the infamously flamboyant Stephen Hung, the hotel czar with a taste for the highly decadent who earned his fortune from investment banking and real estate. Stephen Hung's company, Louis XIII Holdings Ltd—that should be enough to explain the name—first announced the hotel in 2013, which is expected to open in late summer this year. The images here are of the "Villa du Comte, our entry-level accommodations." Of the all-villa hotel's 200 rooms (large suites, actually) most will be Villa du Comte with a gross floor area of approximately 2,000 square feet while 31 are even larger, topping out at a monumental 30,000 square feet for the Villa de Stephen.
To give you some perspective on the price, the 13 Hotel is not the most expensive hotel in Macau even. The hotly anticipated Wynn Palace Cotai cost a reported $4.1 billion but, at 1,700 rooms, the per room cost there is a mere $2.4 million. The secret sauce here is clearly exclusivity.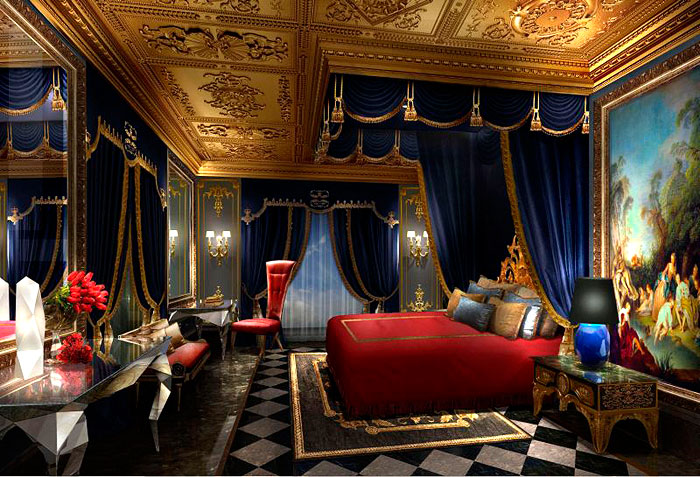 Virtually every design detail in the hotel is bespoke and created especially for THE 13. Everything—from the elaborately detailed Baroque scrollwork, to the sculptures, to the fabrics, to the wall coverings, to the furniture, to the tableware, to the exclusive Red Rolls-Royce Phantoms used as VIP shuttles—was created by Stephen Hung, Co-Chairman of Louis XIII Holdings Limited, as well as THE 13's talented team of designers.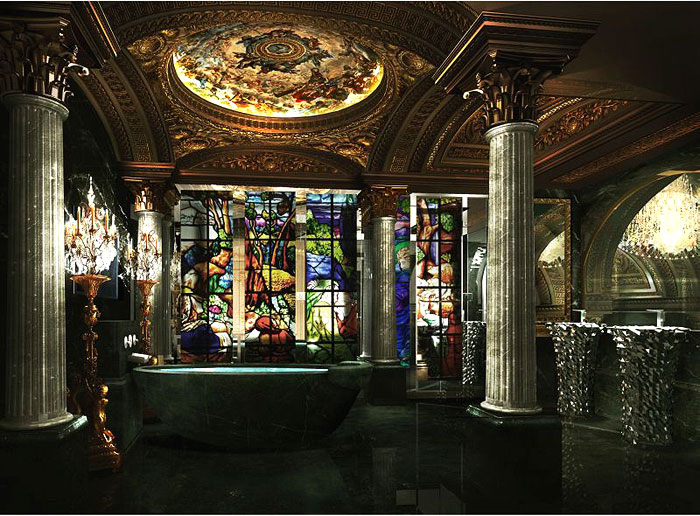 Every inch of the hotel seems to be embellishment: baroque inspired frescoes on the ceiling; gold-fringed drapes hanging across the room; black and white marble checkered floors; stained glass windows; neo-classical columns; crystal chandeliers. Likewise, in the taste department, there are six Chinese, French and Japanese restaurants & bars. The hotel even has a private invitation-only shopping space called L'Atelier – featuring exclusive bespoke products by high-end luxury brands. "This was a labor of love," said Stephen. "The team and I put every ounce of creativity and passion we had into this project to ensure every detail was perfect. Our guests, I believe, will find the result truly remarkable and beyond anything they have previously experienced."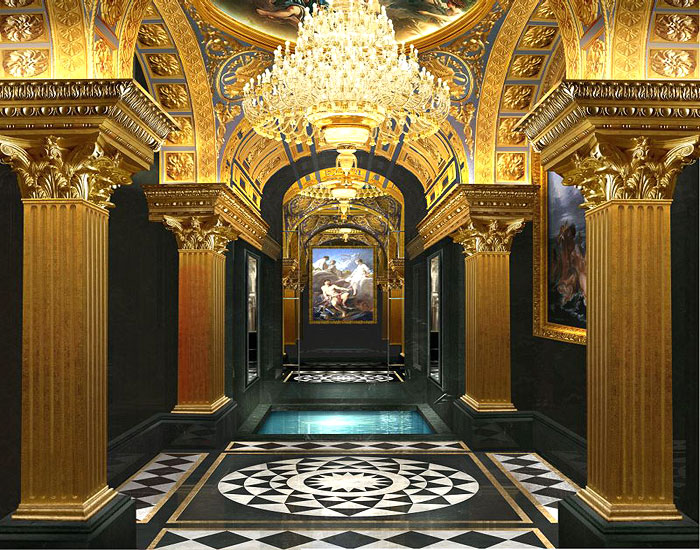 The Villa du Comte is a split-level, one-bedroom villa. Feast your senses on all the reasons why it's worth $7 million:
Butler Service: Every villa is supported by 24-hour butler service from THE 13's team of majordome, trained by world famous MCM Palace Consultants and certified by the English Guild of Butlers.
Spectacular Décor: The décor combines spectacular floor to ceiling baroque details and period artworks contrasted with surprising modern elements
Roman Bath: 6-8 guests can relax in the Villa du Comte's ornate marble Roman Bath beautifully presented under a vaulted baroque ceiling supported by neo-classical columns and lit by a spectacular crystal chandelier. When not in use, the Roman Bath is covered by a retractable marble floor.
Stained-Glass and Marble Bathroom: Guests bathe under art covered ceilings lit by standing candelabra. A rain shower and electric bidet toilet are hidden behind a floor to ceiling stained-glass façade.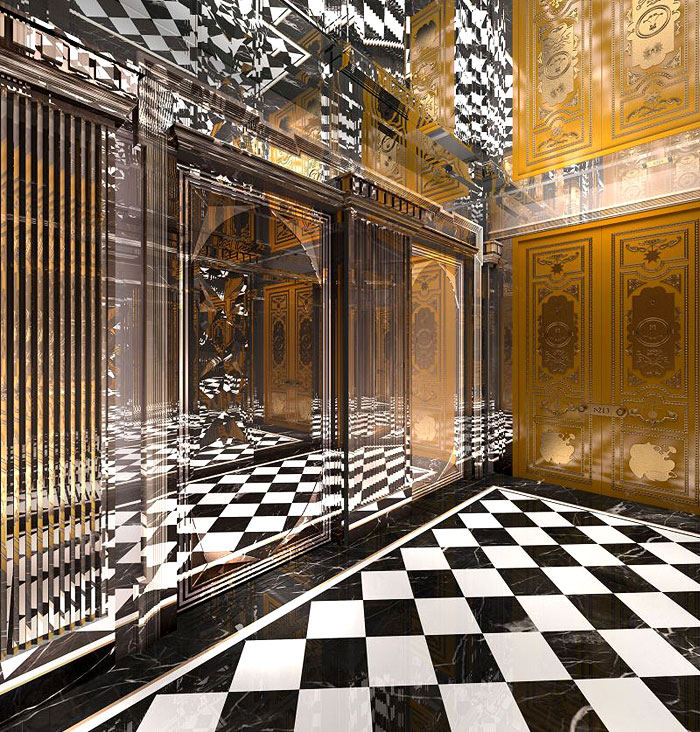 Private Elevator Lobby: To ensure the ultimate in privacy, all guests access their villas via elevators which open directly into the villa's private elevator lobby, like a New York style penthouse.
Royal Bedroom: The villa bedroom features a king-size, velvet-canopied bed with an elaborately carved and gilded Baroque headboard in the royal tradition.
Diamond Series Furniture: To complement the Baroque setting, a glittering series of faceted chrome furniture adorns the living room, bedroom and bathroom.
Rolls-Royce Transportation: On arrival and departure, all hotel guests receive complimentary transfer to and from Macau transportation hubs via THE 13's fleet of bespoke, red, extended wheel base Rolls-Royce Phantoms.
Whew! That's quite a drool-worthy list. Wonder what would top this fortress of Eden?