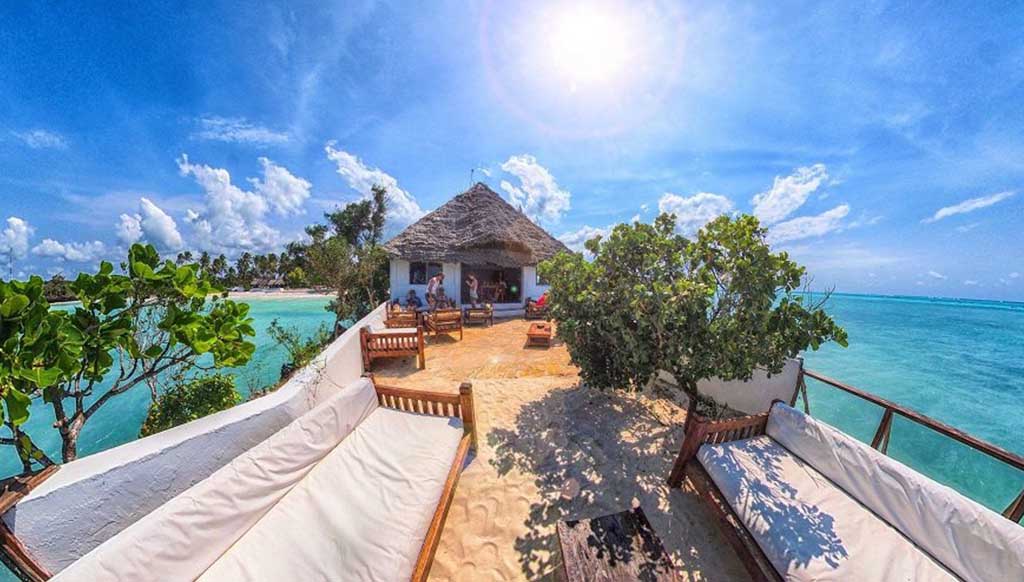 The Rock from Zanzibar is as secluded and exclusive as it gets—for you are dining on a rock in the middle of the Indian Ocean
Gourmet dining isn't just about food—it's a comprehensive experience that includes the view, the décor, and the final ingredient: competent and unobtrusive staff. Here are ten of the best restaurants on the planet, in terms of their uniqueness and sheer quality
As anyone familiar with the Michelin Guide knows, gourmet dining isn't just about the food. If it's sub-standard, it will ruin a meal, but it can also be enhanced by the view, and the décor. The final ingredient is competent and unobtrusive staff, which in the best restaurants is guaranteed.
Even among luxury dining there are places that stand out for their uniqueness and sheer quality; here is an introduction to ten of them.
1) Restaurant Le Meurice, Paris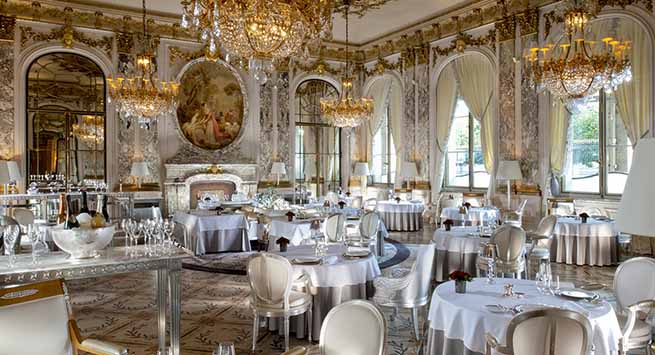 For true haute cuisine, one has to go to France. This 2 Michelin star restaurant is situated inside the hotel of the same name, which has exceptional décor inspired by Versailles. Diners are surrounded by grand crystal chandeliers, antique mirrors and marble, while large windows provide a stunning view over the Jardin des Tuileries.
Exceptional ingredients are masterfully transformed by Alain Ducasse and executive chef Jocelyn Herland into dishes with an elegant simplicity, while preserving the authentic flavours. Guests of the Chef's Table can see the Head Chef at work while enjoying a customised menu. Such quality is reflected in the bill – Le Meurice has one of the most expensive restaurants in the world – which can reach $434 for three dishes, cheeses and dessert.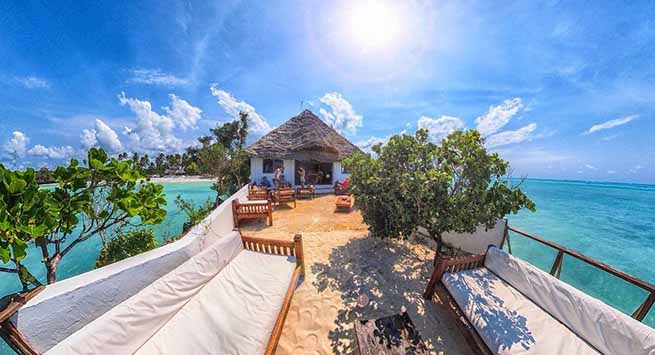 For a more secluded dining experience, it's difficult to surpass a restaurant standing on a rock surrounded by the Indian Ocean. This unique location lies a short distance from Michanwi Pingwe beach, and in fact, diners can walk from it to the restaurant during low tide. When the tide returns, a boat service is offered to ferry guests over the turquoise waters.
Its location also influences the menu, which is predominantly local seafood specialities, carefully selected for a limited menu. It seats twelve tables, with two lunch, and two dinner seatings; making reservations is highly recommended due to demand.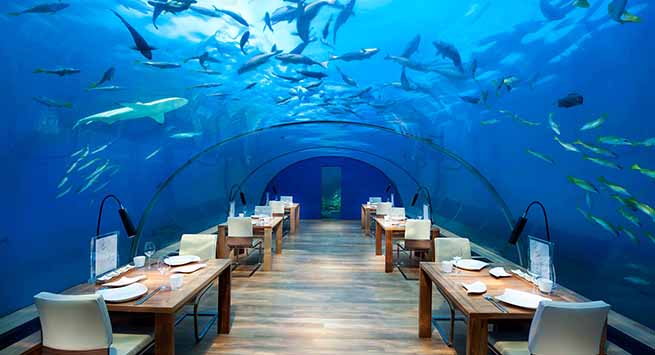 From above the sea to below – five metres below. This undersea restaurant is located inside a custom-built, glass tunnel that provides a 180-degree panoramic view of coral gardens. This décor is all the more exclusive for being novel, but it won't last forever. Even the high-grade materials used can't resist salt erosion forever.
The expensive set menu comes to around $400 per person for a sumptuous array of international dishes, from squid ink miso-dashi consommé at lunch to sous vide veal tenderloin at dinner. Make reservations and follow the smart dress code in order to not be disappointed in securing a table.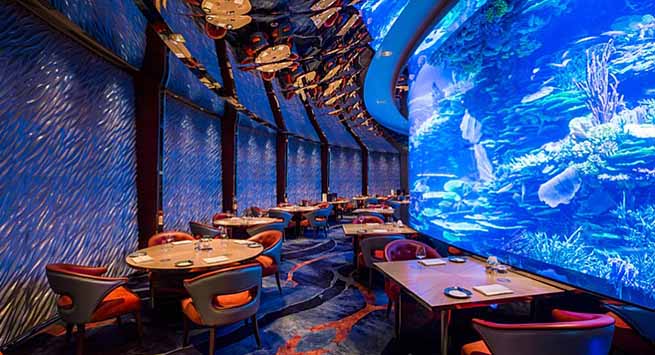 If you can't relax with the thought of the sea pressing down on you, here's a restaurant with the same feel but safely on dry land. Al Mahara's décor – or rather its walls – are enormous aquariums that bathe everything in a relaxing light.
This opulence extends to the menu, which as expected for a restaurant whose name means "the oyster shell" in Arabic, serves outstanding seafood. Local, seasonal and responsibly sourced, everything is exceptionally prepared by 2 Michelin star chef Nathan Outlaw and his team. Top-quality sashimi, langoustine and caviar are available alongside decadent, non-seafood options such as wagyu beef.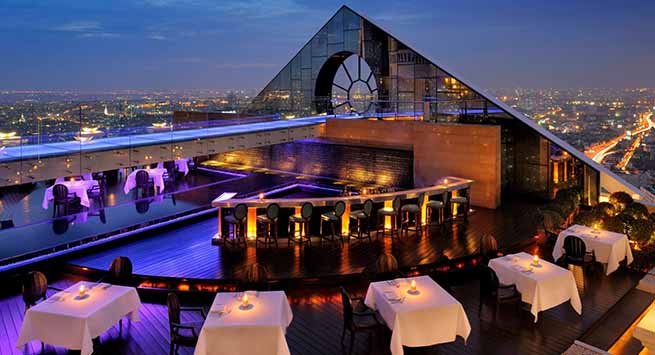 The world's highest alfresco restaurant is a tough location to beat. The 360-degree view over the city from the 63rd floor of the State Tower, the second tallest building in Thailand, is incomparable. Every evening a live band plays to diners and bar-goers as Chef de Cuisine Gonzalo Ruiz serves gourmet ingredients – blue fin tuna, wagyu, Iberico pork, Muscovy duck – in mouth-watering arrangements.
Sirocco also strives to offer the best privacy, comfort and safety. Children must be seven years or older and are included in the smart casual dress code; photography may not be allowed in certain areas. As there is only a dinner service, reservations are particularly in-demand, and it's recommended that they are made at least a week in advance.
6) Treepod Dining, Koh Kood, Thailand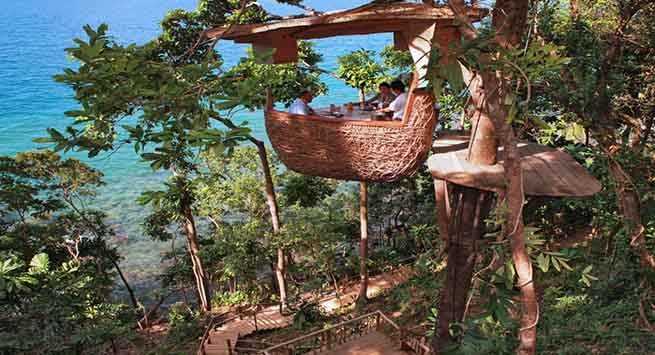 Rooftops seem so pedestrian when you can have a meal in the treetops instead. To the south-east of the Thai capital is a spectacular island, rich in nature. Here the Six Senses Soneva Kiri resort offers a unique dining experience. Diners are winched up in a pod made from bamboo and locally-sourced rattan, and served via zip-line.
Up to four diners can indulge in gourmet Thai food, sourced from the resort's organic garden or the local markets. The natural elegance of the pod and gorgeous views of the water heightens dishes such as "canapés in the canopy" and white fish baked in banana leaves with salsa verde.
Those interested in dining in a treepod will have to stay at the resort, which is all-inclusive, at a cost of around $1000 a night for two adults.
This next restaurant keeps its plants closer to the ground, serving them fresh every day from the greenhouse and nursery where De Kas is based. The impressive, 26-foot high glass building was saved from demolition by its current owner, Michelin-star chef Gert Jan Hageman.
Besides the delectable, on-site vegetables, herbs and flowers, he sources ingredients from local suppliers and farmers to create the most seasonal dishes imaginable. The set menus can be adjusted for different diets and are complemented by delicious wine from the nearby Limburg. Five dishes cost $60, or the Chef's Table can be reserved for $150 to dine on a more exclusive menu. Reservations are advised two to three weeks in advance.
8) LumiLinna Snowcastle Restaurant, Kemi, Finland
Sometimes fresh isn't enough, so here's something colder. Every January the restaurant is carved anew from snow and ice, providing a continually unique experience for diners up until April, when the castle it's situated in is closed.
The world's largest of its kind, it can seat 200 guests in wondrous surroundings filled with ice sculptures. Seated on reindeer fur to insulate the chill from the frozen furniture, diners are bundled up warm and served steaming-hot, local dishes such as salmon, soup and lamb for lunch.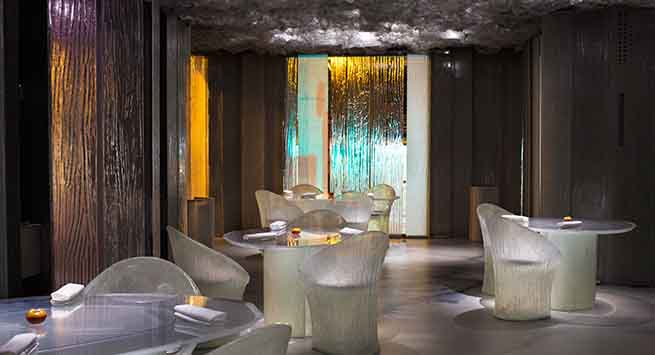 Enigma only looks as if it's made from ice, but it's hard to know for sure with this ultra-exclusive, highly secretive restaurant. Described as a "culinary amusement park", the ethereal décor also includes cloud ceilings. The interior isn't the only custom aspect, as the international food is constantly updated to surprise and delight guests.
The tasting menu of 40 courses takes around three hours and costs approximately $235. The selection of gourmet wine, sake and tea is optional. Groups of six travel around seven rooms, where each unique course is served. To preserve the mystery, diners are provided with a door code upon reservation, and photos are restricted for personal use.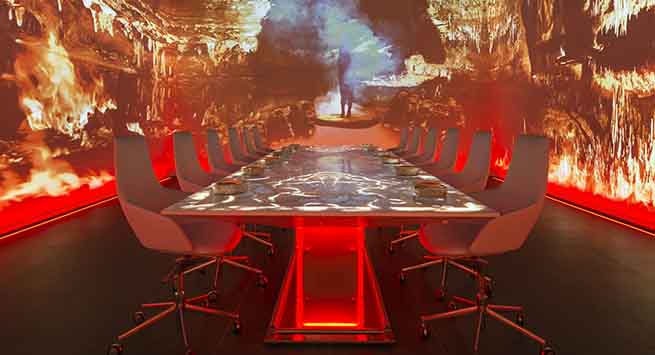 Another restaurant vying for the title of most secretive and exclusive is the world's most expensive gastronomic show. Haute cuisine meets the latest technology in head chef Paco Rancero's three-hour culinary vision of molecular gastronomy and adventure.
The microenvironment is tightly controlled to complement every stage of the meal and involves all five senses of the 12 lucky patrons who secure a reservation. These diners are taken to the hidden entrance after enjoying an initial cocktail at the Hard Rock Hotel in Playa de Bossa. The menu, naturally, is a secret.
Under or over the water, reaching new heights, or creating a unique dining experience, the world's most prestigious restaurants provide quality above and beyond the food, which is already exceptional.
About the author
Pedro Zapata has been in luxury hospitality for the past 25 years.  During his career, he has been part of luxury brands such as Four Seasons, Ritz Carlton, Trump International, Exclusive Resorts, and the Bentley Group.  Today he is one of the founders of Eterno Escapes, a luxury vacation rental company.  He is the proud father of 3 beautiful children, Leonardo, Allegra, and Micaela.