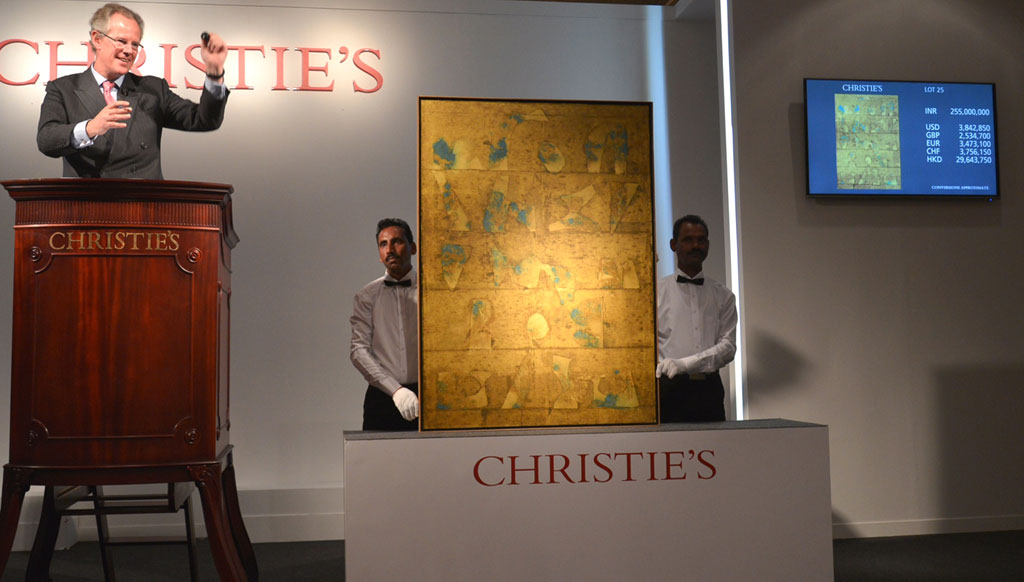 PRICED REVERIE | William Robinson, Auctioneer and International Head of World Art, selling Vasudeo S. Gaitonde 'Untitled' painting for INR 29,30,25,000 ($4,416,502), in Mumbai
As the leading international auctioneers in the world, Christie's is a name and place synonymous to extraordinary art and unparalleled services
The third Christie's sale held at the Taj Mahal Palace hotel in Mumbai, grossed INR 97,69,90,000 / $14.7million, much above the pre-sale high estimate of INR 75,06,30,000, becoming the highest total for any auction in India. The bidding was seen across all price points from clients on the telephone, and in the room, who battled for 'Untitled', an oil painting by one of India's most respected artists, Vasudeo Santu Gaitonde. The painting was made in 1995, and is one of the last works completed in Nizamuddin, before the artist moved to Gurgaon in 1996. The painting soared above its pre-sale estimate to sell for INR 29,30,25,000 ($4,416,502), breaking the previous world auction record (INR 23,70,25,000 / $3.7 million) for the artist and the category set by Christie's at the inaugural India sale in 2013.
With a strong global presence of 54 offices in 32 countries and 12 salerooms around the world including London, New York, Paris, Geneva, Milan, Amsterdam, Dubai, Zürich, Hong Kong, Shanghai and Mumbai, Christie's offers around 450 auctions annually in more than 80 categories, in all areas of fine and decorative arts, jewelry, photographs, collectibles and wine. Christie's hold the world auction records for works by F.N. Souza, Vasudeo S. Gaitonde, TyebMetha, S. H. Raza, M. F. Hussain and many other artists.
"With each sale, our collectors here increase in number and appetite. The Gaitonde canvas achieved a world record for any Indian artwork sold at auction in the country," said William Robinson, Christie's International Head of World Art.