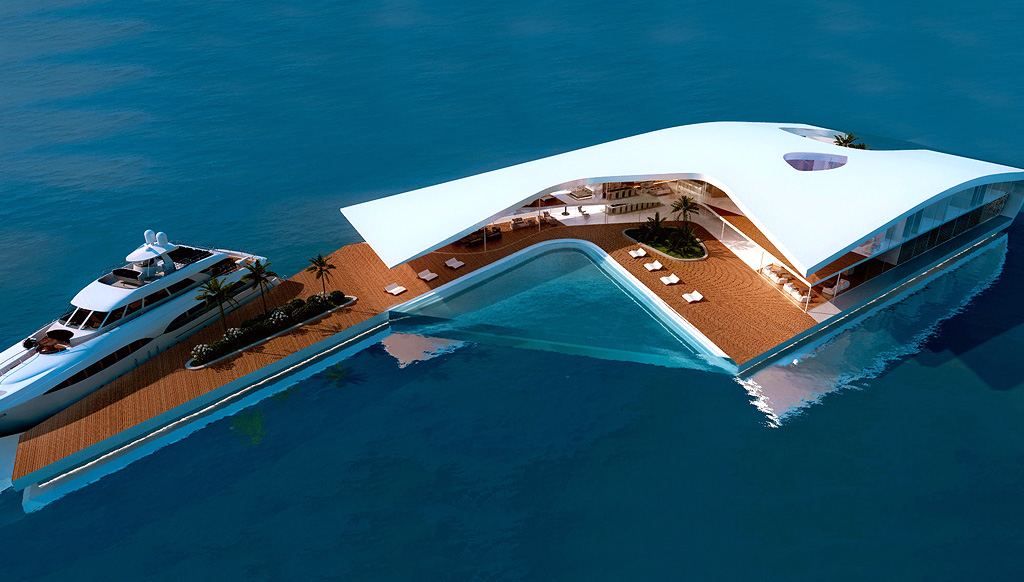 AT HOME IN THE SEA | Villas that float around as independent units tap into the primordial desire of existing in an alternate universe
Homes that can be tethered and untethered at will, bedrooms that remain submerged under water, coral reefs growing in your very own abode. Welcome to the world of extreme luxe residences, the kind that fantasies are made of
Drifting away from the world in a secret lair unhooked from reality, lounging in a glass bedroom on the waves with jellyfish for sleeping companions and seahorses playing peekaboo in the coral reef in your backyard—nope, we're not talking fantasy here, or the latest cinematic blockbuster. We're talking homes that take you into the ethereal zone of aquatic living. The freshest in uber-luxe housing taps into the primordial desire of existing in an alternate universe: jaw-dropping villas that float upon water complete with glass walls and—hold your breath—under-water bedrooms and baths, with a submarine access or two thrown in to complete the 'future is here' scenario.
Floating villas are the flavour of the day, designed to be tethered and untethered at will, promoting ecologically sound living while indulging the most incredible of your fantasies. We've zoned in on three different models of walking-on-water houses, the first one being available in Dubai right now and the other two still in concept stage—though it's just a matter of time before they are translated to habitable versions. After all, yesterday's fiction is today's fact, right? So here goes:
The Floating Seahorse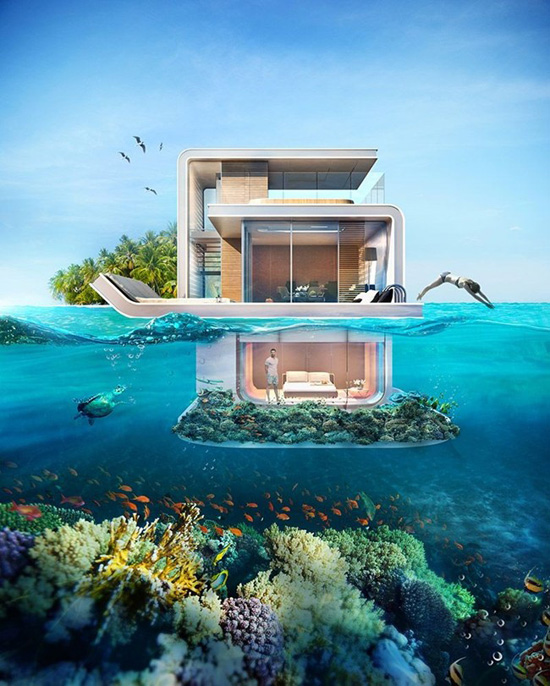 Located off the coast of Dubai, The Floating Seahorse comes straight from the stables of the Kleindienst Group.  Essentially designed as a boat without propulsion, this lavish villa is a three-floored work of living art. The sea level features an open-plan living area, kitchen and dining area, while the deck features a mini-bar—along with a glass bottomed Jacuzzi.  The lowest floor is completely submerged underwater, where you'd find the master bedroom as well as the bathroom—with floor-to-ceiling windows offering mesmerising 360 degrees views of the ocean around you. We do wonder, though, if it would be the fish staring at the strange exotic creatures in a glass tank this time!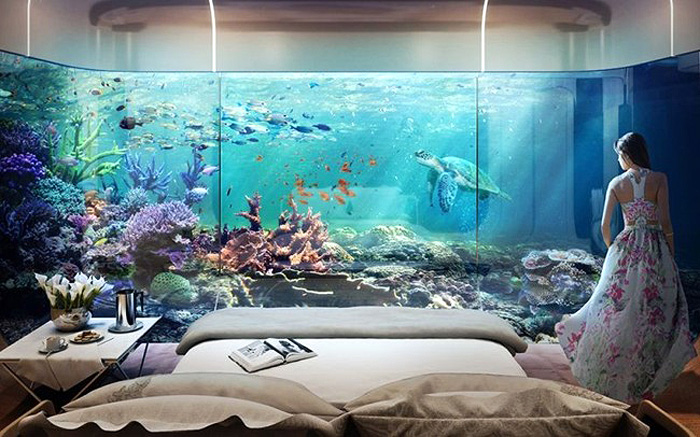 And before you mistake the name for an artistic metaphor, let's drop you a nugget of mindboggling information: the residents of this marine abode get their very own artificial coral reef underneath the villa, to serve as a protected dwelling for seahorses where the endangered species can live and breed safely. Living, quite literally, with your own seahorse: how's that for a slice of aquatic heaven?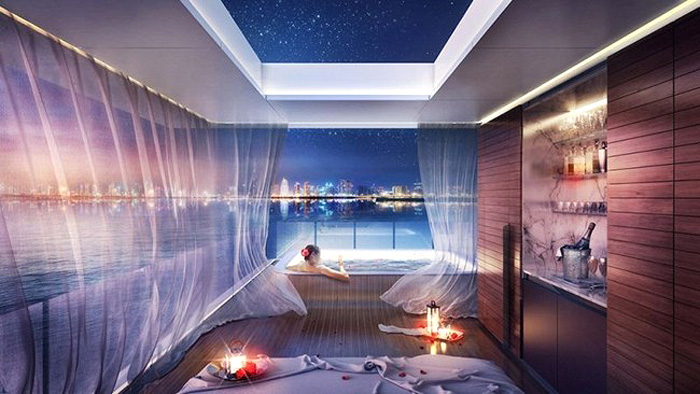 Minimalist in essence, with the quintessential modernist touch, these villas have been built using high-quality marine materials since they are, as we mentioned earlier, boats that stay in one place. But the company states that they can be moved too, making them the perfect retreats for privacy-seeking celebs or simply the footloose recluse with a taste for luxe. Celebs might, however, have to think of drawing the curtains—or camera-wielding sharks aka paparazzi might just have a field day.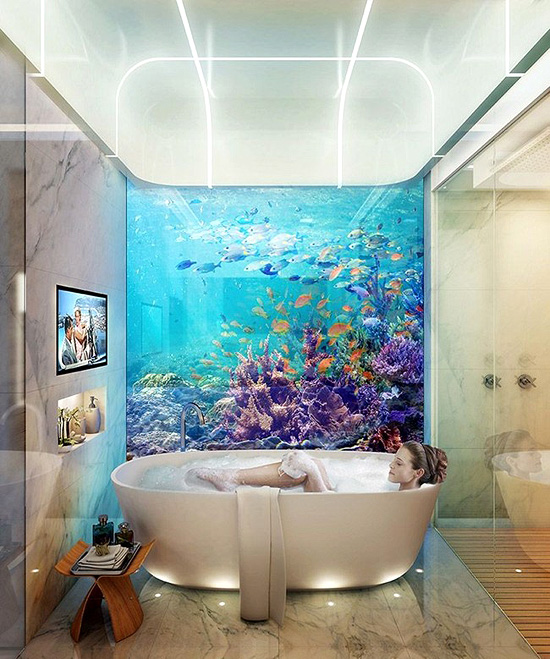 According to Kleindienst, each of the 1,700 sq ft villas is selling for $1.8 million dollars. From the select collection of 42, 80% have already been sold. Josef Kleindienst, CEO of Kleindienst Group, estimates the completion date for The Floating Seahorse to be the end of 2016, and tenants would get to move in by 2017. Built on Monaco island, these villas are part of The Heart of Europe (THOE) project, which covers six islands. THOE is the first permanent development at The World, a collection of manmade islands in the shape of the world, 4 kilometres off the coast of Dubai.
Looks like owners of The Floating Seahorse will have a world all to themselves.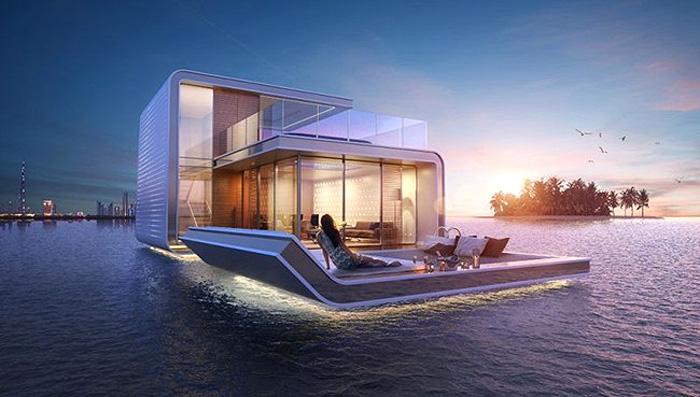 ADMARES Floating Villas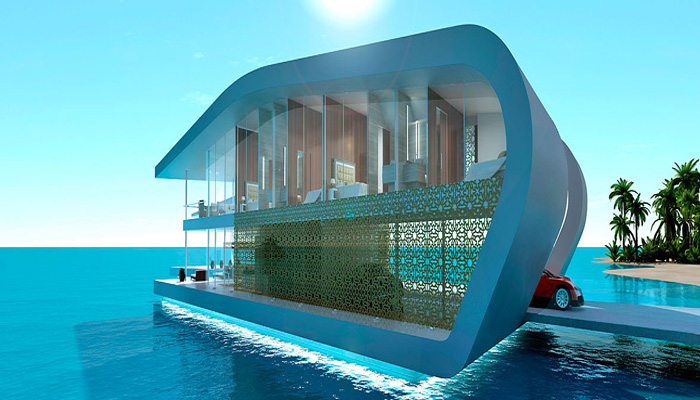 This bunch certainly looks freshly minted from the latest sci-fi flick. X Line and M Line floating villas from ADMARES—which, by the way, is a 'marine construction expert': a company dedicated solely to the construction of alternative floating accommodations ranging from villas and hotels to entire islands. In fact, ADMARES is the force behind the ultra-posh and uber luxurious 10,000m2 fan-shaped North Deck commissioned for the Burj Al Arab—a name symbolising the pinnacle of luxury itself.
ADMARES's Luxury Floating Villas can either be connected to city infrastructure or operated completely independently. The units are supposedly equipped with the latest green intelligence for power generation, sewage treatment and water production, and able to operate independently in areas where city infrastructure is not available. Therefore, as an added bonus, you can languorously travel in your villas to remote destinations—at least, that's what the company claims. Additionally, it promises to provide customers with total lifecycle support for each of the units, starting from the conceptual design through to the end of the lifetime of product.
At present, though, there are no reports of any actual, liveable samples being built, but here's a peek at the two types of stupendously gizmo-fied floating homes.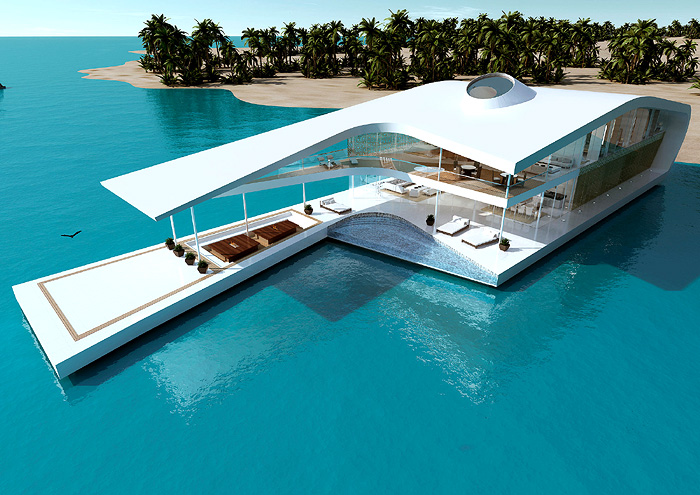 The X-LINE and M-LINE Villas range from the smaller 4,300 sq ft ones up to the 65,000 sq ft mega abodes. The X-LINE range is for those who wish to make a great splash (pardon the pun) going the entire James Bond way, while the M-LINE ones offer 'cost efficient' luxury housing, though of course it would only be cost efficient compared to the former!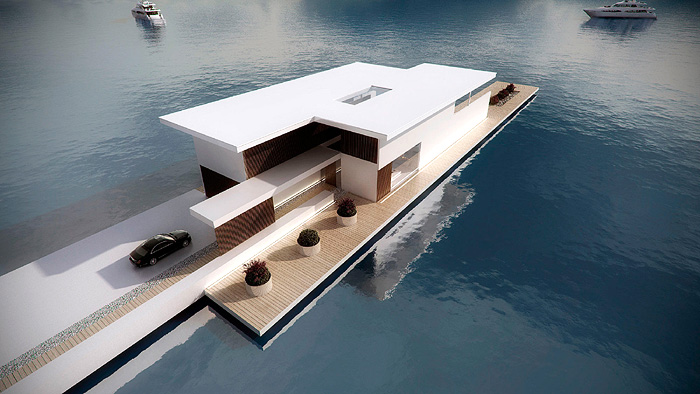 Both selections are equipped with latest green concepts and look like something straight out of a modern art installation with clean lines and futuristic silhouettes.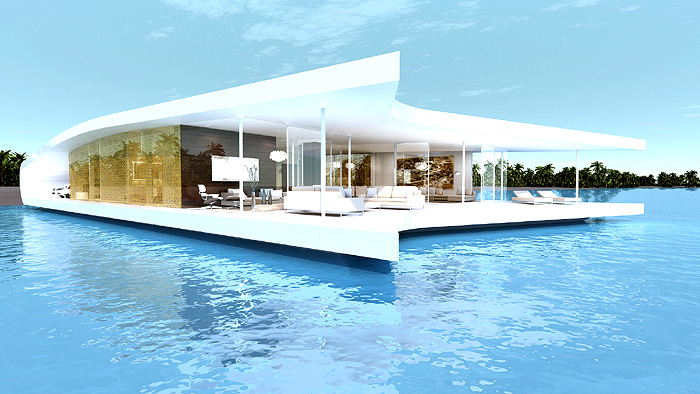 Our favourite, of course, is the completely outlandish X Line range—X Line 65, X Line 35, X Line 15 and X Line 4. The numerals indicate the differences in size, and while each comes equipped with a garage, private dock and infinity pool (except for the smallest), you get some serious add-ons with the larger ones.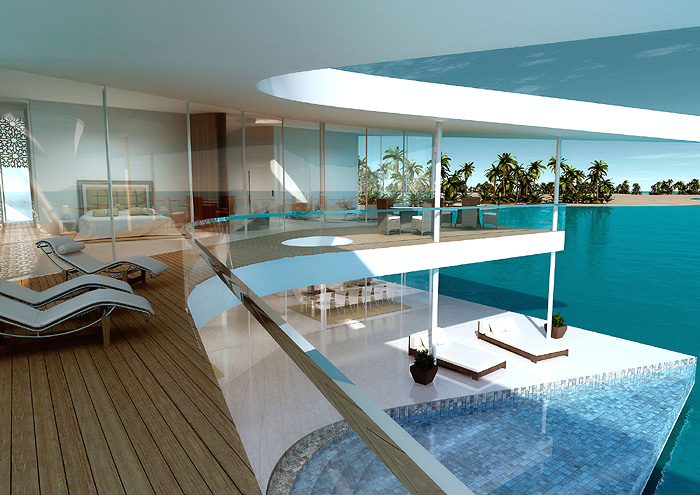 X Line 65 and 35 each boast of large plush suites and double floors plus one 'tech basement', along with larger garages and a spa and gym besides. To top it all, the super-luxury 65 version comes equipped with Water Jet Parking and Helideck, and to complete the James-Bond-meets-Mission-Impossible effect, there's even a 'Submarine Access', should you ever wish to evade your enemies and save the world in one swashbuckling move. Whew!
SeaScape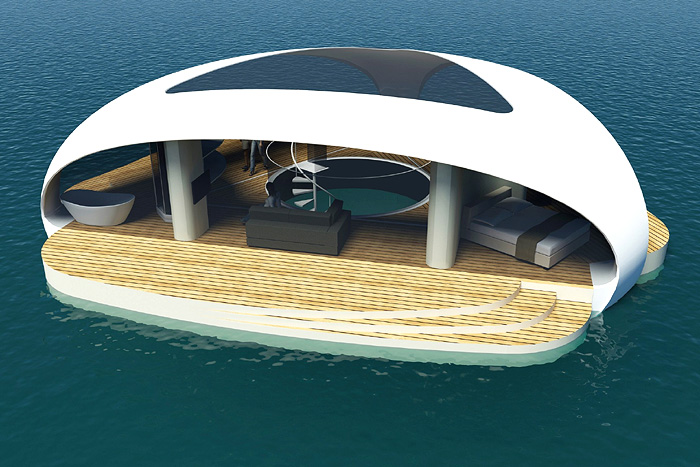 Coming in third in our handpicked selection of floating abodes are the SeaScape villas from BMT Asia Pacific. Targeted primarily at the hospitality sector as separate guest units for swanky, eco-conscious resorts, these are triangular modules with expansive 40-foot decks open to the sea and sky on all fronts, with the chief attraction being the 13-foot diameter acrylic column, which is the main bedroom. Sinking three meters into the deep, it provides unrestricted 360-degree sea views—pretty much like The Floating Seahorse. This one doesn't come with complimentary seahorses, though—what it does provide is an interior that can be reconfigured to attach multiple villas together as one structure spanning upto 3,000 sq ft, taking advantage of the three-sided shape's modularity.
The villa itself is perched on a marine-grade aluminum pontoon with a curved fiberglass roof. In addition, these homes will all be "classed" (i.e. made to follow standards set by organizations ensuring safety of marine structures)—and would be impervious to stormy weather, the company claims. Though, of course, you're not expected to put them to a test in exposed ocean areas—that much is clearly enunciated! Managing Director of BMT, Richard Colwill suggests "a Pacific island with fringing coral reef" as an ideal site they're looking at, since it's "generally sheltered from everything but local waves."  That is as good an advice as any, for romantic though it may seem, you wouldn't want to create a personal Titanic.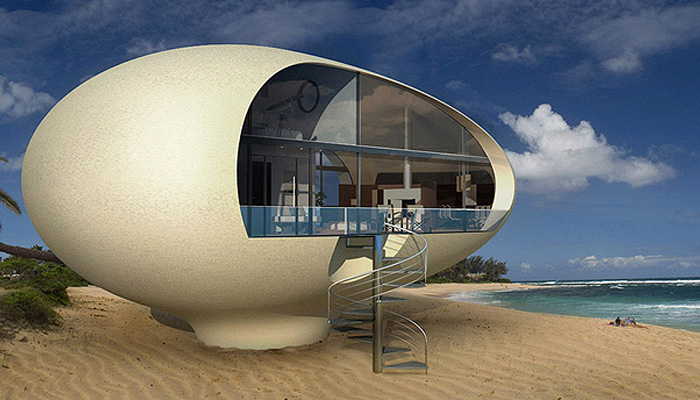 The SeaScape is actually the successor of the Sea-Suite designed earlier by BMT, which consists of egg-shaped floating villas and beach cabins. Sea-Suite debuted in 2014 with three models – Floating Lodge, Houseboat, and Beach Cabin – that each use the egg-shaped mould as the basis for their transportable, adaptable and nautically minded lodging designs. The Sea-Suite was such a hit that it was shortlisted for the International Yacht and Aviation Design Awards. The SeaScape takes off from there, as its modular design is focused on reducing transport costs for construction and installation at remote sites—much easier than the egg shape, which called for special lifting and transportation.
And these are just the tip of the berg, if we might say so. We're pretty sure we'd be witnessing the dawn of a new epoch in luxury residences, as one by one these floating dreams morph into reality. So pack your bags and gear up to drift away from the world in style and chutzpah.