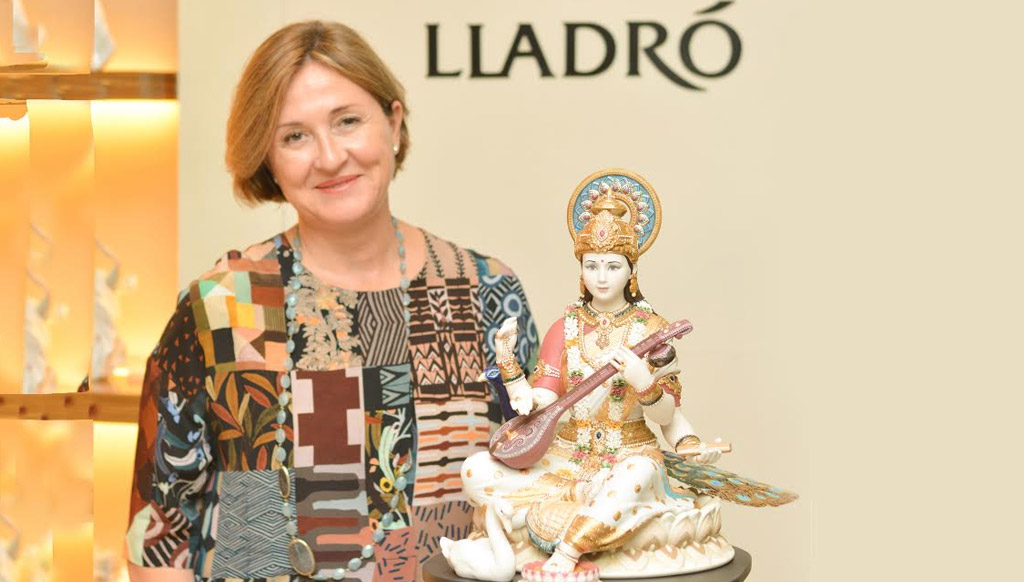 NEW ADDITION | Rosa Lladró, the President of Spanish luxury group Lladró, with the recently launched high porcelain Goddess Saraswati
Rosa Lladró recently visited India to launch the porcelain figurine of Goddess Saraswati. She spoke of similarities in aesthetics and beliefs between the Spanish and the Indians when it comes to purchasing luxury goods and, why young Indians make excellent customers. The President and Heiress of Spanish luxury group Lladró shared her views on luxury with The Luxe Café.
The Luxe Café:  Please tells us something about the latest addition to Lladro's Indian collection of figurines? Who has designed it and what's the significance of Goddess Saraswati in this collection?
Goddess Saraswati is the beautiful goddess of knowledge, wisdom and learning. She is popular across the global Indian community and we want to connect with every Indian. We have made figurines of Hindu deities including those of Ganesh, Lakshmi and Ram Darbar and are looking to add more. One of Lord Shiva is in the works. We have a team of nine sculptors. Goddess Saraswati is designed by Ernest Massuet. While sculpting every piece we keep the traditions in mind and respect each community. We had to add the Goddess of learning, arts, and cultural fulfillment to our spirit of India line.
Saraswati has an Indian touch. How does a Spanish designer work on an Indian connect?
The real artists are like sponge. They like to learn, grow and discover. Artists are curious. They study the cultures and heritage of a particular place and absorb it. They read stories and draw inspiration from within.
We have introduced new colours in the Goddess Saraswati. We keep adding modifications while keeping the tradition in mind. For this figurine, the modifications include the pearls used, the flowers created and the beautiful shades of blue.
Please tell us about the brand philosophy and how does it suit Indian luxury segment? How niche is this segment according to you and who are your potential customers in India?
We focus on the quality and the details. The main thing is creation. Besides the tools, the colours, the brushes, what the artists require, there is also free imagination. Indian culture is very appealing and amazing and feeds your creativity all the time.
We have noticed that the young generation is very curious, updated and very particular. They are very active and dynamic, so we are looking at younger generation as they would appreciate the figurines.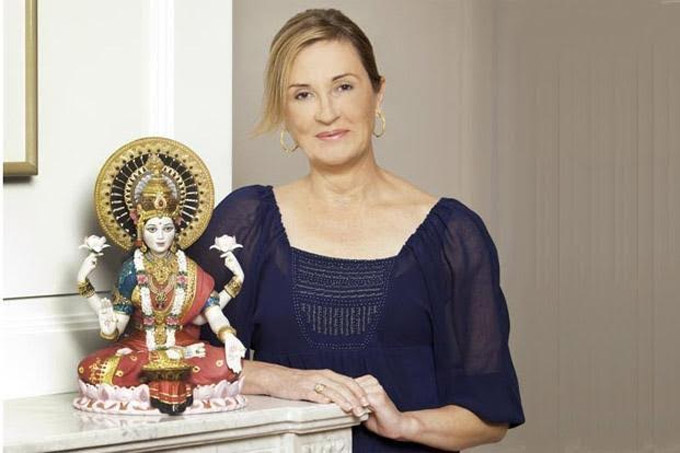 When it comes to Indian luxury market, what are the recent trends and how does Lladro plans to incorporate it in coming collections?
People are looking at quality. A porcelain item may be detailed or not. What buyers are looking for are the quality and the material used to make it. If we make something simple, it looks wonderful but when we add intricate details, it becomes even more attractive.
What is the major difference in Indian and Spanish luxury market that you have observed personally? When it comes to brands such as Lladro what are the modifications and customisations that we see for Indian market?
In general we are very much alike. Both Spanish and Indians are wise in terms of spending and are aware of the kind of material and the detailing that goes into making one sculpture
Consumers are becoming wiser and now real luxury must have something consistent. They spend on items which carry value. Just not the looks, the quality and the utility should also be worth the price.
Please tell us something about your hobbies apart from arts?
When I am not working with sculptors and designers, I like to travel. We travel, we see things, get new ideas and inspiration. There is so much to learn, I am very eclectic. I love few ceramics. Every product means something to me.

We have a good list of gentlemen customers but women are steady visitors and better customers. But then the husbands usually have the last word in India.

What are your best selling products in India and abroad?
Indian themes are very good and preferred in India. Internationally, pieces with flowers are very popular. Themes like family, motherhood, childhood are very popular. We also have themes for men such as horses, Batman forever, golf and polo inspired figurines etc.
We have a good list of gentlemen customers but women are steady visitors and better customers. But then the husbands usually have the last word in India.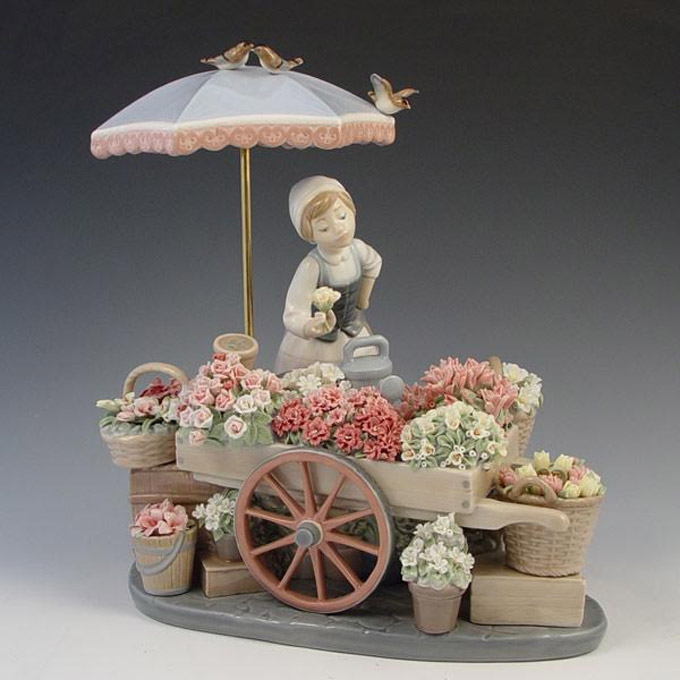 Your personal favourite among sculptures/figurines?
I have too many favourites and I love all of them equally. My personal favourite are the new designs. The one that I like a lot is 'Flowers of the Season'.
Is it your first visit to India? What are things that you like about the country?
I have visited India for short intervals and for holidays. I love Indian food, spices and clothes. I love the way people dress up, the colours are beautiful. I shop in India and wear in Spain!
Can you highlight some interesting things/anecdotes about Indian market, behaviour patterns of buyers?
The Indian market is important though the biggest is Japan. We are young in India and currently in the right places. Indians are sensitive people and understand the quality of porcelain. They understand and appreciate the value. They love the details and are emotionally involved. We connect very well.
What is luxury to you?
Luxury is the state of mind I think. Not everyone can feel the real value of things. Luxury is what makes me happy. What I appreciate is luxury. Coming to India and having Indian food is a privilege – that is luxury to me.