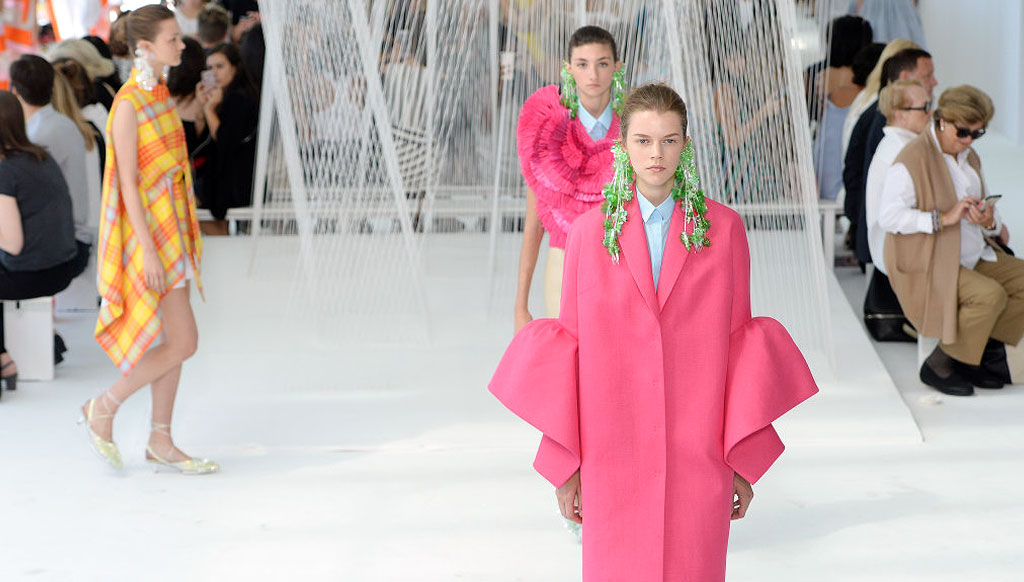 RUNWAY RADAR | From perky pink to played up khakis, the New York Fashion Week had much inspiration to offer for the fashionably inclined
A style report, as this year draws to a close and auguring the next in all its glory, is here to help you decide on your 2017 lookbook, inspired by some of the most wearable and eye-catching trends form the Spring/Summer collections which brought the runways alive
Each year as it comes, brings with it some of the old and a lot of the new. 2016, making way for 2017, might be no different, except for the excitement that gathers around all the trend forecasts. Talking fashion, we have had the international runways ablaze with some retro, a tad revealing and rather edgy looks which are inspiration for our 2017 style and shopping guides. And even though springs seems a little far out, given we are in the throes of merry winter, its time to get a move on, and get in sync with the bright and bold runway trends from Paris, Milan and New York, with the following preview to take you through a trendspotter's guide to the most wearable fashion trends of Spring/Summer 2017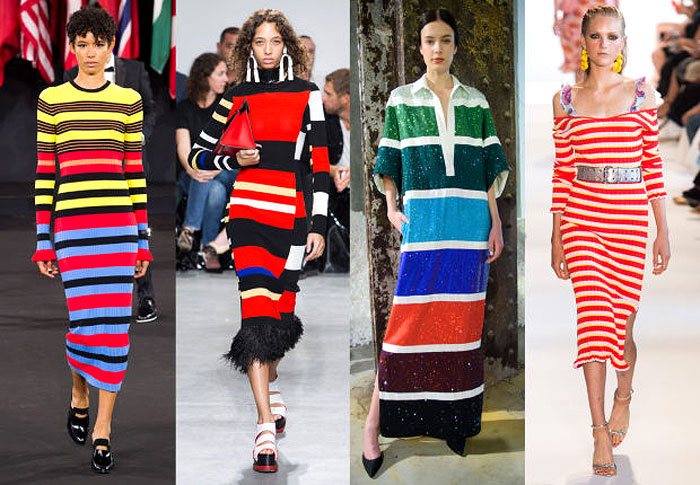 STRIPES 
While this may not seem very original, it did look promising as the flamboyance of stripes was at its max, as spotted in the imaginative mixed and matched stripes from Fendi, to Rosie Assoulin's sparkly sequined striped dress, to the bright multi-coloured stripes of Adam Selman, and on to the bold stripes in Altuzarra's knit dresses. It seemed that even the banker/oxford stripes had gone in for a style overhaul, as the staidness was gone and in its place there were details like ruffles, flounces, skin-showing cuts and sporty silhouettes. But most of the drama was with the story of stripes itself, which seemed to be not just a play of clashing colours and patterns, but in some cases also inspired by the beach umbrellas and lounge chairs, veritably displayed in the designs from the house of Valentino, and fitting right into the scheme of summer.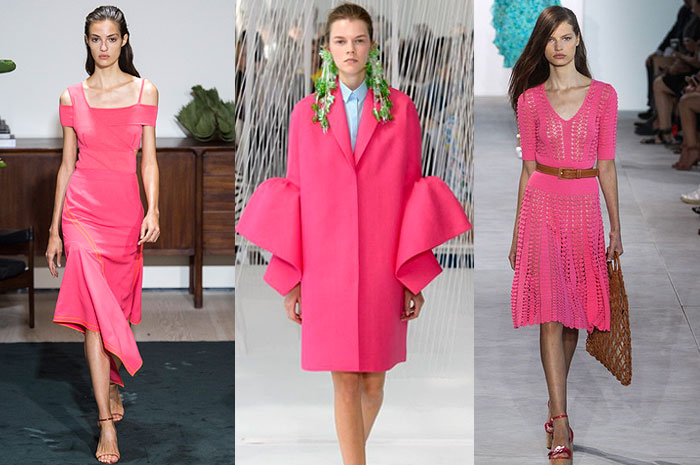 PINK
Who'd have thought that the colour of love would also become one for the fashionable lot to fall in love with, but so it seemed this year at the Paris fashion week runway which seemed awash with this pretty colour when three designers – Balenciaga, Céline, and Valentino – went all the way in doing it up in hot pink. While Nina Ricci's opening number was an eye-catching ensemble comprising a statement pink blouse with purple pants, there were also those in soft, rosy hues, to charm their way into your closet.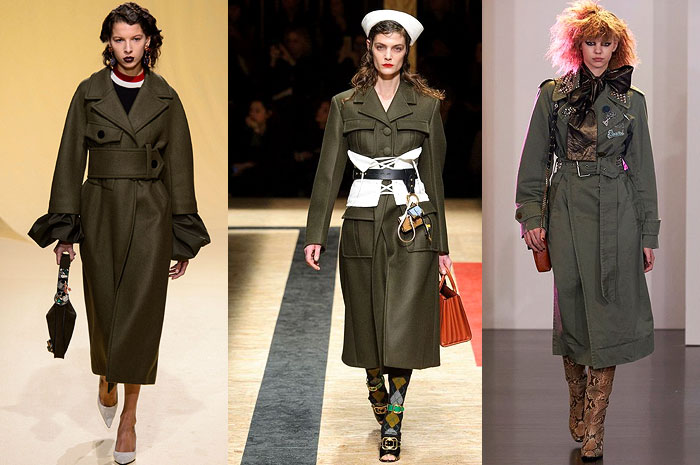 KHAKI
The utilitarian nature of khaki was in for an overhaul as popping up on the international runways you had military style, or safari style designs in khaki. So, March Jacob glammed up military greens with some swish satin, and Ralph Lauren added in soe feminine flair to his safari-inspired palette. Also, the trend of khaki trenches will be coming up big as designers like Dion Lee transformed the classic trench into something more edgy with slit shoulder jackets and belted skirt-pants, and there were others adding in nips and details to make.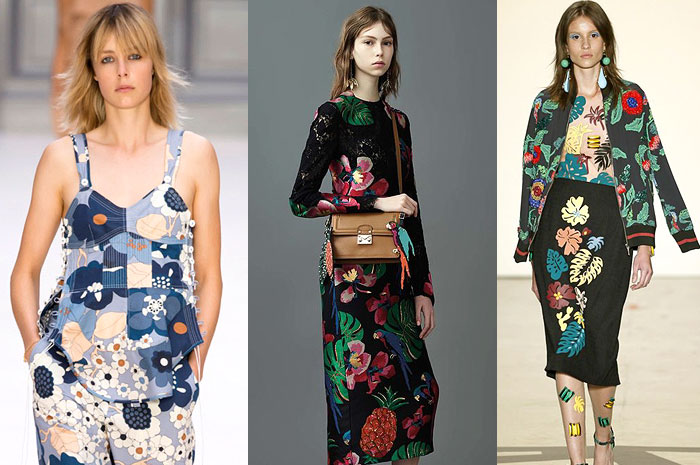 FLORALS
While this is not a new story, but there's a twist on this tale. The blooms are taking over the runway, standing out in their freshness and femininity, as they grace the skirts, the dresses and jumpsuits. Also, novel is the bold and bright graphic take on florals as seen with Balenciaga, Gucci, while the flirty take on florals was apparent in Michael Kors collection, and Tory Burch took the hippie fix to the runway with maxi dresses and kaftans embellished with blooms.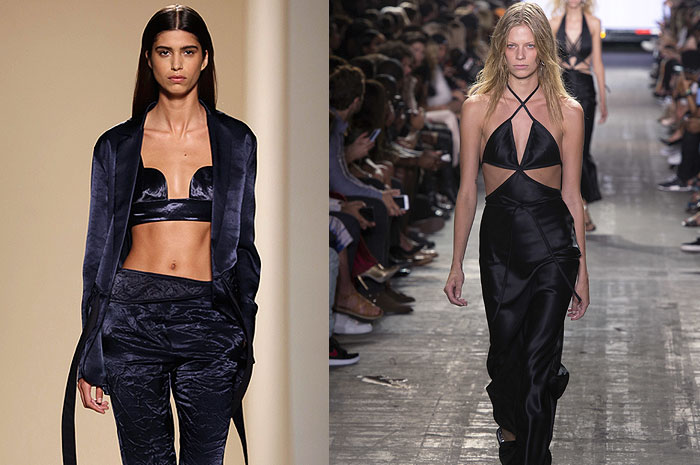 BUSTIER
While althleisure continues to be spotted on the runways, a take off from this is the bralet, or bustier, which founds its favour with the couture clique, and was seen in many designer collections, in all its cropped glory. So one saw the variety of bra tops, in various combinations, gracing the spring/summer looks, and being paired with skirts, suits and pants at Alexander Wang, Tory Burch shows. And then there were bustier style tops worn over shorts as seen with Tome and Tibi, while Victoria Beckham had sculptural bra tops peeping out of velvet blazers for another brazenly glam look.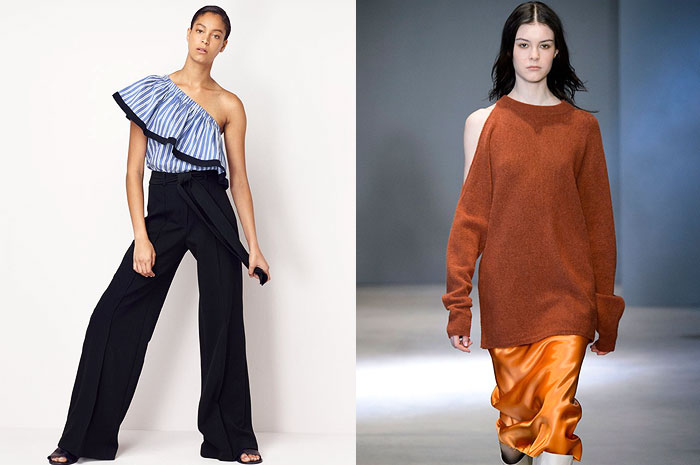 SINGLE SHOULDER CUTOUT
While shoulder blades are sexy, this one part of our anatomy continues to be the favourite of designers who played around with the one-shoulder cutouts, strategically slashed, for the maximum benefit. From shirts to dresses and sweaters, from Saint Laurent to Monse and Self Portrait, the one shoulder style has kept going strong.