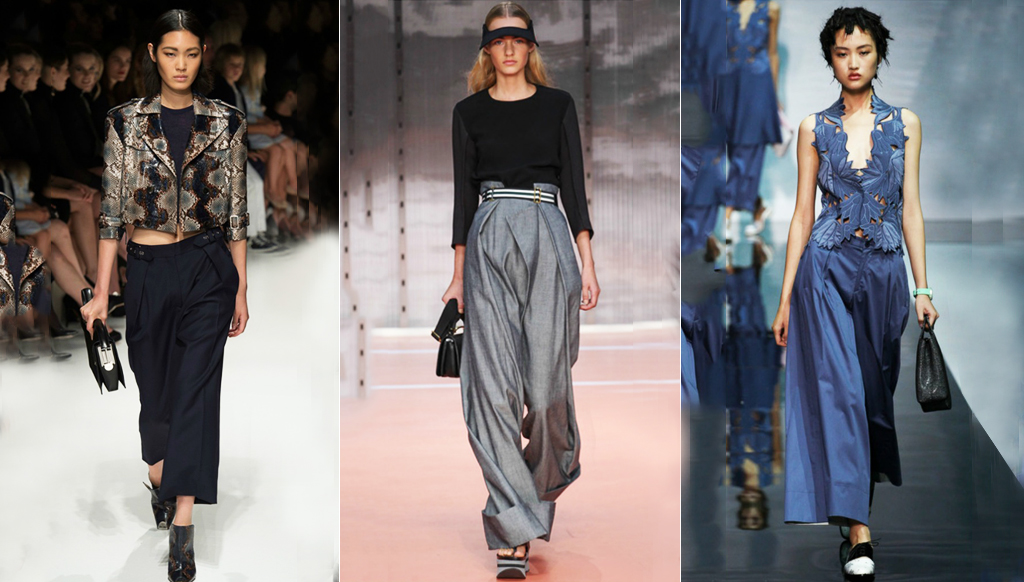 NOT JUST PANTS | From nipped to high waists, flared to cuffed hems, trousers are day-to-evening garments for the modern woman who keeps a tussle-free and trendy wardrobe
Mostly taken for granted, trousers are not just for daily work-wear but also occasional wear. While they are a fashion fix for the days when power dressing is a must, they can very well be your aide in creating a laidback yet elegant style quotient. So, here is our list of Indian labels redefining easy-to-wear designer chic for your next trouser-shopping spree
Trousers are not just part of a working women's day wear conundrum but they are a wardrobe essential for the style savvy ladies, whether they belong to the classics-only clique or to the a-wardrobe-a-season gang. The versatility and the variety both make it a garment which deserves a special mention and place in the cosmopolitan women's closet. While Eastern culture had their women of yore wearing pants, or versions of it, in the West trouser-clad women were more figures of feminist emancipation. French designer Paul Poiret, in 1913, created loose-fitting, wide-leg trousers for women called harem pants inspired by the costumes of the then popular opera, Sheherazade.  Then there was iconic designer Gabrielle "Coco" Chanel who loved wearing pants herself and in bucking fashion norms of the day, created pants to suit activities that women in the post World War I era were engaging in. Her riding trousers for women won her many classy patrons who had previously ridden side-saddle clad in heavy skirts.Further glamourising the trouser-trend were Hollywood divas like Marlene Dietrich and Lauren Bacall who sported pant suits, flared and fitted trousers with much aplomb. In fact, Marlene Dietrich spoke for the liberated, individualistic women when she said, "I dress for myself. Not for the image, not for the public, not for the fashion, not for men."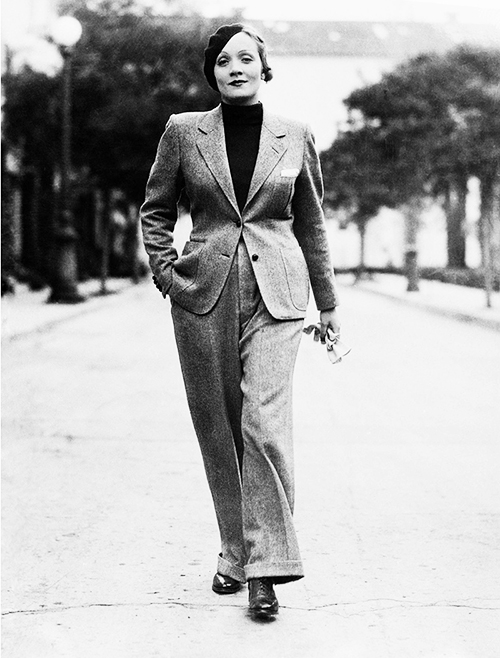 Today the essential trousers have seen many style incarnations with capris to palazzos to dhoti-pants dominating trend reports from season to season, and runway to ramps. Despite the wide range of silhouettes and designs available for the ubiquitous trouser, there is nothing which can take way the timeless elegance of sharply creased, well-fitted tailored trousers. In 2015, with wide-legged, nip-waisted, maxi lengths, sporty, skinny styles being the more visible ones, there has also been a revival of the co-ordinated pant suit for women. With such a range to choose from, one needs to be confident about what compliments the body rather than the trend. So, for ladies on the curvier side of things, wide-legs are the pick and for the petite frames, the high-waisted ones accentuate it better. For those with an hourglass shape, straight-fit trousers with pleats will be good, while for the leggier divas the slim-fit, cropped-hem pants are a must have. Trousers can very well transition from day to evening wear if one chooses the fabric and detailing carefully. Silk or crepe de chine pants could be code to power dressing for a boardroom meeting as well as acocktail party, while fitted, ankle-length pants with cuffed hems ring in office-wear chic.Should you be a prints-only kind of girl then a pair of patterned or textured pants will jazz up monochrome tops for a lunch or dinner date.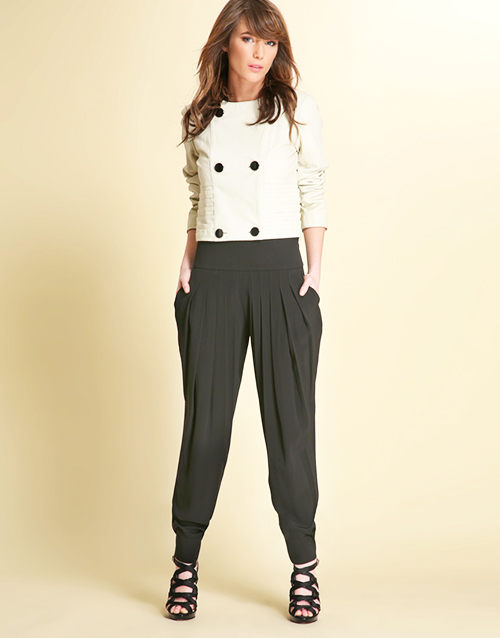 That trousers should be tried before buying is an implied rule because an ill-fitting trouser mars the entire look while a well-fitted one can carry forward an ensemble on its sharp creases. In an attempt to move away from the high-street labels offering some good options, to more bespoke brands imparting a twist to the regular trousers to make them more than just pants, here are four of our favourite young designers who are steadily bringing western wear into its own on the fashion landscape of India. Check these design houses, from different parts of India, for eclectic prints, eco-fabrics, excellent cuts – all in the form of trousers for you ladies of discerning taste and definitive style.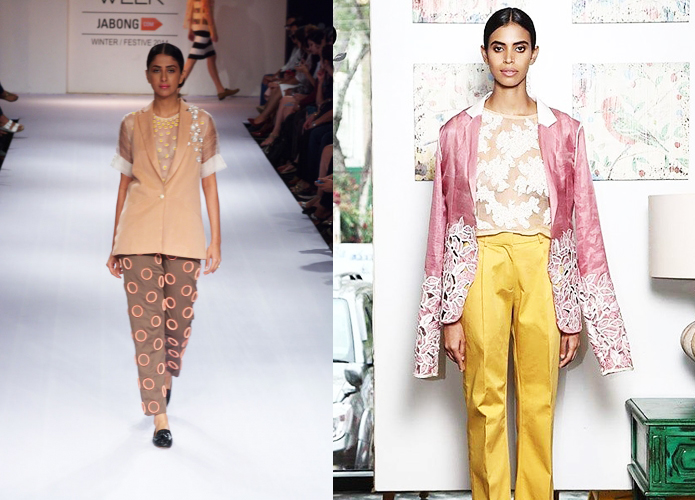 Archana Rao, with her flagship store located in the upscale Banjara Hills neighbourhood of Hyderabad, thinks of fashion as functional art. Her aesthetic is minimalistic, contemporary and understated – perfectly complimenting a modern sensibility. She says, "To me every design should have a purpose so I prefer making clothes that are wearable, useful and efficient."  A fashion graduate from NIFT and Parsons School of Design, her label FrouFrou has won accolades including the Vogue India Fashion Fund last year. Her line includes, among others, dresses, pencil skirts and of course, trousers. Her emphasis on structured and well-cut, tailored look is evident in her collection of trousers which comprised a part of her well-received Summer 2015 collection where she recreated vintage Parisian charmclever juxtaposition of ethereal fabrics with strong silhouettes. Her collection, titled 'The Apartment',was a palette of soft hues starting with nudes, blush pinks, pearly whites transitioning into strong shades like military green and ochré. If you are looking for sleek pants showcasing soft femininity and strong tailoring in solid shades then this is one label you must look out for.A mustard high waist trouser pants in cotton, pleated khaki pants, military green straight led trousers and one in twill with cotton embroidery all over, are just some of her leggy pieces that stand out through her collections. She has aptly described her design ethics when she said, "As a designer, I look for a garment that is usable and re-usable. It should have the potential to be worn differently each time. That's what makes it worth it." So, here you are with a potential brand as a closet staple for when you go trouser shopping.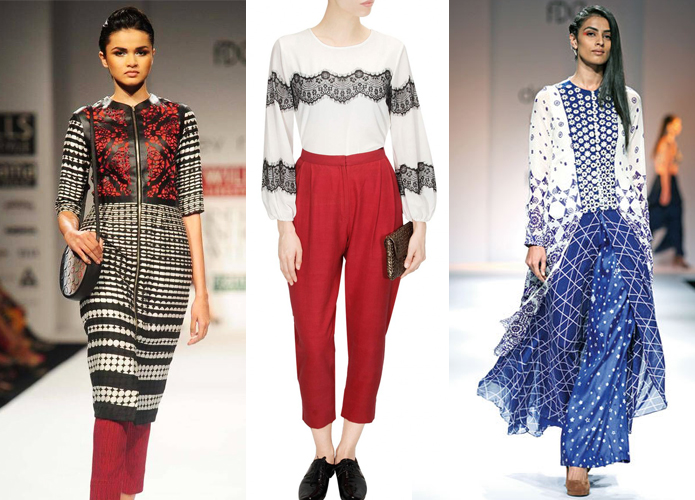 DEV R NIL, also known as the Boys of Bengal, are creating what they like to refer to as "the wardrobe from the east". They have been duly credited for their ability to play with beautiful textiles, subtle surface texturing and classic cuts. Their forte, seen through their collections, is print, which they have reinvented variously. A subdued to bold colour palette, structured silhouettes, eclectic prints and fabrics, meant to make an understated yet powerful statement,further enhance their line of functional ensembles which includes trousers in many interesting combinations, such as with long shirts, flowing jackets and tunics. Their Spring Summer 2015 collection, with prints, mirror work and layered hemlines, depicted the works of Rabindranath Tagore, with his handwriting printed on ensembles, alongside Moroccan mosaic patterns. Hand-wovenikats and silks were seen not only oncoats, layered maxi skirts, crop tops but also on trousers for women, and suits and bandhgalas for men. Worth mentioning here are the printed palazzo pants which have found favour with the designers and can be worn with their stunning crop tops, so there is a script print ivory palazzo, white and blue ikatprinted wide pants, and those in bold colours like in red with geometric prints which could lead the way with the palazzo trend. Ochre yellow and ivory ikat straight trouser pants, red khati ankle length pants, psychedelic patterned cropped pants and print-on-print pant suits are some pieces from the designer duo which are worth a mention and looking out for. So, if you are looking out for a bohemian vibe combined with power-prints in your trousers, Dv R Nil is your brand to consider.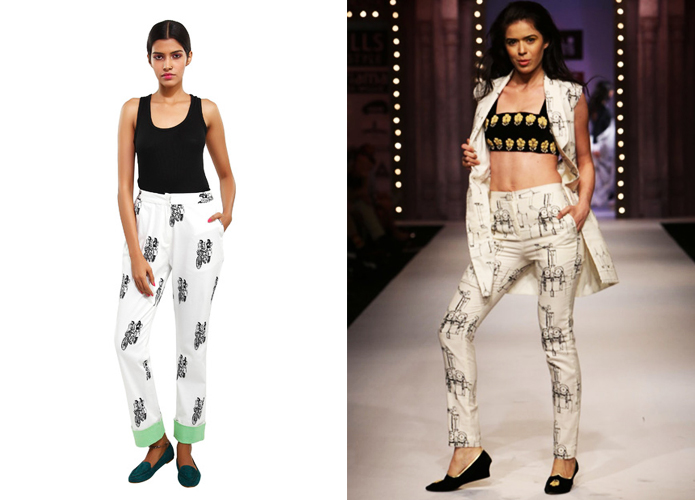 Masaba Gupta is a name to reckon with when it comes to refined and eclectic pre`t couture. Pop colours, quirky prints and avant grade styles with a focus on western wear characterises her line of easy-to-wear garments. Her iconic hand prints and cows print fabrics have slowly faded out and replaced by city skylines, sanskrit texts and alphabets, bold patterns and Chandragupta prints. With dresses, skirts, jumpsuits, summer blazers and crop tops, there is also room for jumpsuits, dungarees, and the skyline printed linen trouser and blazer combo has been a stand out from her line as has been the white applique jacket paired with white culottes. Bold separates and bustling prints characterise Masaba's ready-to-wear collection Lite Collection and you will find airy dhoti pants, palazzos, flared culottes along with fitted cropped pant, printed wide-legged trousers. The very-wearable garments come in contrasting colours interspersed with checks, stripes, floral prints, animal prints & her motifs borrowed from everyday life like taps, scissors, and glass of water.At the Lakmé Fashion Week Winter/Festive 2015, Masaba Gupta's arty 'On Your Mark' collection was inspired by a horse's prowess, gait and dynamism and further made waves as Bollywood's current-favourite couple, Shahid and Mira Kapoor, walked the ramp with Miralooking stunning in an off-shoulder crop top teamed up with Masaba's printed white trousers with neon yellow piping.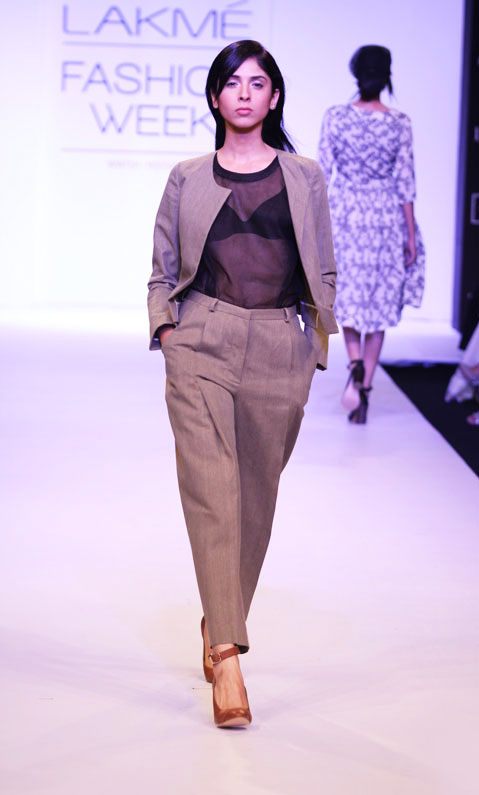 Nimish Shah's label Shift embodies a certain kind of laid back chic which is sort of retro cool. Combining functional comfort and modern utility, Shift has the kind of offering which fit perfectly into the wardrobe of a cosmopolitan working woman. Apart from the French chic that the garments channel in, the label is eponymous with sustainable fashion with its use of organic fabrics which are excellently cut into shift dresses, midi skirts, blazers, shirts and tops, roomy trousers with abstract florals and geometric prints. Light and breezy fabrics like linen, cotton-silk, khadi, organic cottons come alive with expert detailing and in a palette of understated hues like blue, indigo, coral, candy pink and beige. In his collections, you will find midrise straight leg trousers in powder blue and khaki, navy linen work pants with sharp pleats and fitted waistline, olive green cotton gabardine peg pants and drawstring trousers and soft coat in checks and stripes with a relaxed fit. The designer has described his label as a labour of love wherein, "Shift plays creatively on the idea of European flair while still retaining its Indian soul. I adopt a very straightforward, no-nonsense aesthetic when it comes to both colour and cut, and it works for a lot of busy working women these days." His collection at the Lakme Fashion Week Summer/Resort 2015 featured separates which are perfect for a travel wardrobe, being minimal in design and fabric and espousing a global sensibility. Take to Shift if you are not only fashion conscious but also if you are environment-conscious and love dressing down in style.