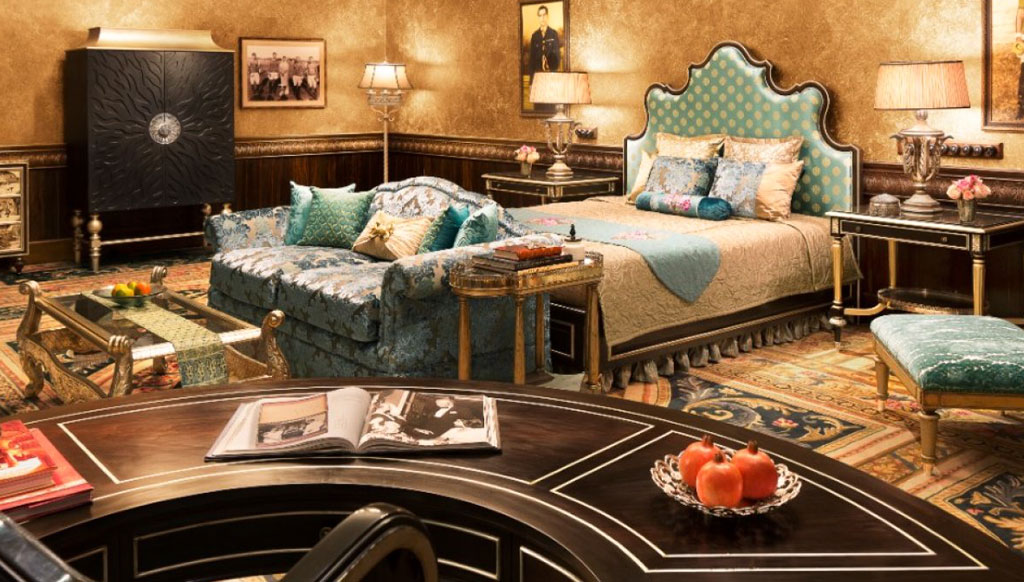 Among the royal retreats is the Sawai Man Singh Suite from Taj Rambagh Palace, Jaipur
The Maharajah Pavilions, Nizam Suites and Tata Suites of Indian hospitality extravaganzas are an opulent delight. Moving away from the plain ol' 'Presidential Suite', these are rich in historical art and architecture, royal decadence and the most modern luxe amenities. For those vacations where time comes to a standstill
India has some of the most opulent retreats the world can offer. Feast your eyes on the most breathtakingly exquisite Royal Suites of some of the best hotels in India
Maharajah's Pavilion, The Raj Palace, Jaipur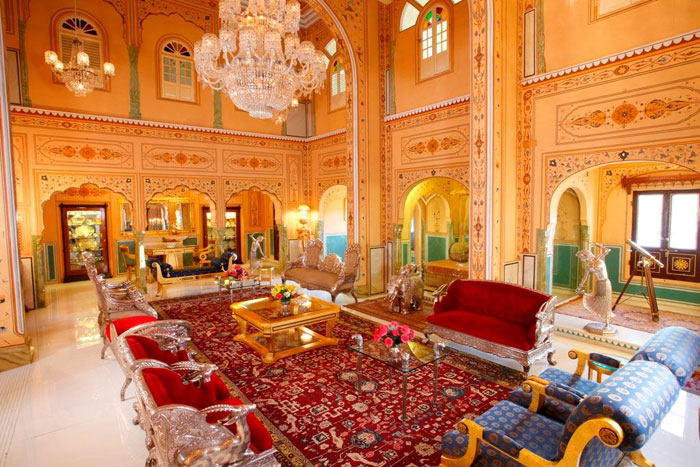 Maharajah's Pavilion, the topmost opulent suite at The Raj Palace is a four-bedroom, 16,000-square-foot palatial retreat. Taking up four floors, the first level includes a private lobby, secretarial area and lounge with bar. The second floor houses a double-height reception room, gold leafed painted walls gold and silver furniture, museum displaying the Old Throne and Bolsters of The Thakur Sahib (the Maharajah) and a private passage connecting the different pavilions (levels). Other amenities include a private theater, library, kitchen staff, swimming pool, Jacuzzi, rooftop terrace and its own spa. It has been acknowledged as 'Asia's Leading Suite' by World Travel Awards for three consecutive years in a row. And the hotel itself has been voted as the "World's Leading Heritage Hotel" by The World Travel Awards consecutively for nine years 2007 – 2016.
Tariff: Rs 12 lakh per night (including taxes)
The Tata Suite at Taj Mahal Palace, Mumbai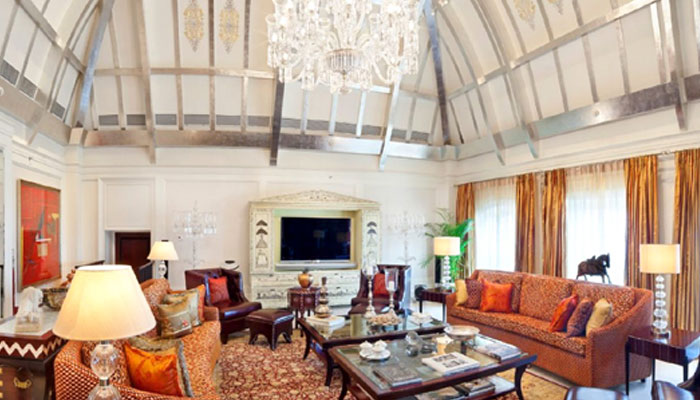 Created in the honor of the Founder, The Tata Suite is an extravagance of exotic artefacts, lush carpets, priceless paintings, authentic colonial furniture and fine architectural detailing. With hand-woven silk draperies and upholstery embroidered with gold and silver threads and finest crystal chandeliers, the suite boasts of colonial furniture from the Campaign to Bombay style. It also comes with a private spa fully equipped with a personalised Jiva Spa menu, steam room, sauna and two professional masseurs. The mirrored master-bathroom offers exotic aroma salts and scents to relax in while gazing at the majestic Gateway of India.
Tariff: Rs 10 lakh (excluding taxes)
Sukh Niwas and Suryavanshi Suites at Rambagh Palace, Jaipur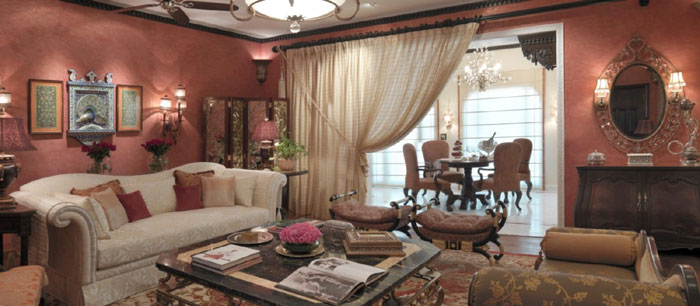 Arched stonework, rich drapes, crystal chandeliers, gold-leaf frescoes, opulent furniture and accessories define the Sukh Niwas and Suryavanshi suites. These suites are some of the most sought after places in the capital of Rajasthan. The perfect destination wedding for rich non-Indians, Rambagh Palace has made its name in various travel guides.
Tariff: Rs 10 lakh per night(excluding taxes)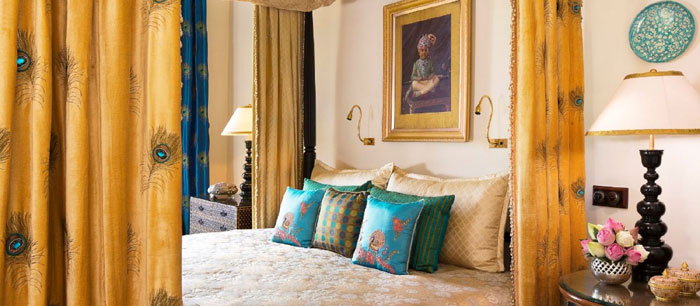 Nizam Suite at Taj Falaknuma Palace, Hyderabad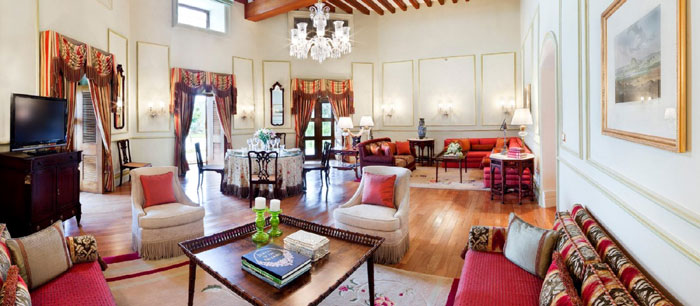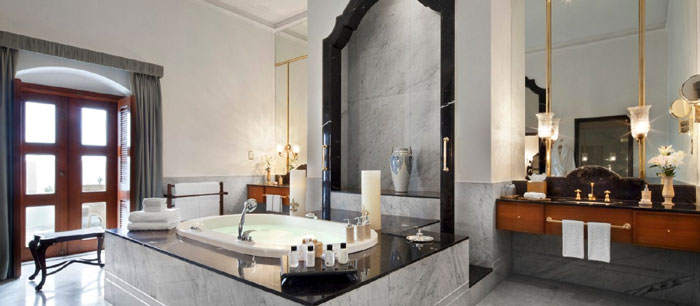 The Nizam Suite was formerly the chamber of the Nizam of Hyderabad and going by the reputation of the Nizam, this duplex suite is claimed by Taj to be the largest presidential suite in the country. Shaped like a scorpion, the Nizam Suite is immaculately done up with ornate interiors and a private swimming pool. Not to mention all the privileges of the Nizam way of life.
Tariff: Rs 7.5 lakh per night(excluding taxes)
Maharaja Suite at The Leela Palace, Udaipur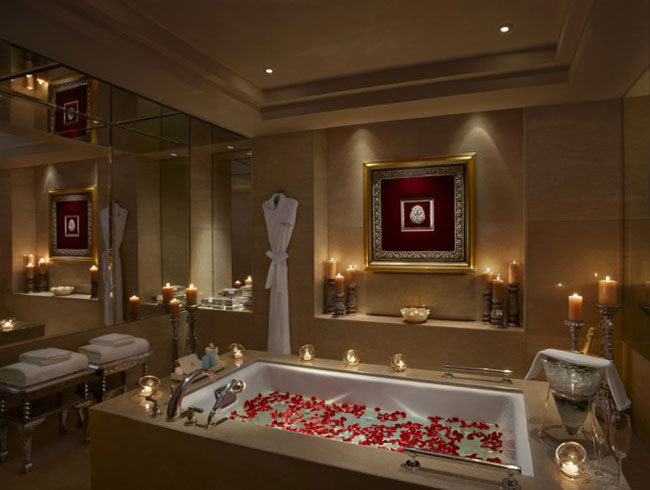 This lake facing 3,552 sqft suite comes complete with plush interiors, contemporary fine art, a dining area with exquisite handcrafted silver furnishings and a study. The master bedroom has separate walk-in closets. It also has its own ESPA massage parlor, a spacious plunge pool and sprawling courtyards for the discreet comfort of its distinguished guests. An interconnecting room is also available for accompanying guests. This is one of the favourite choices of celebrity guests.
Tariff: Rs 6.4 lakh per night (excluding taxes)