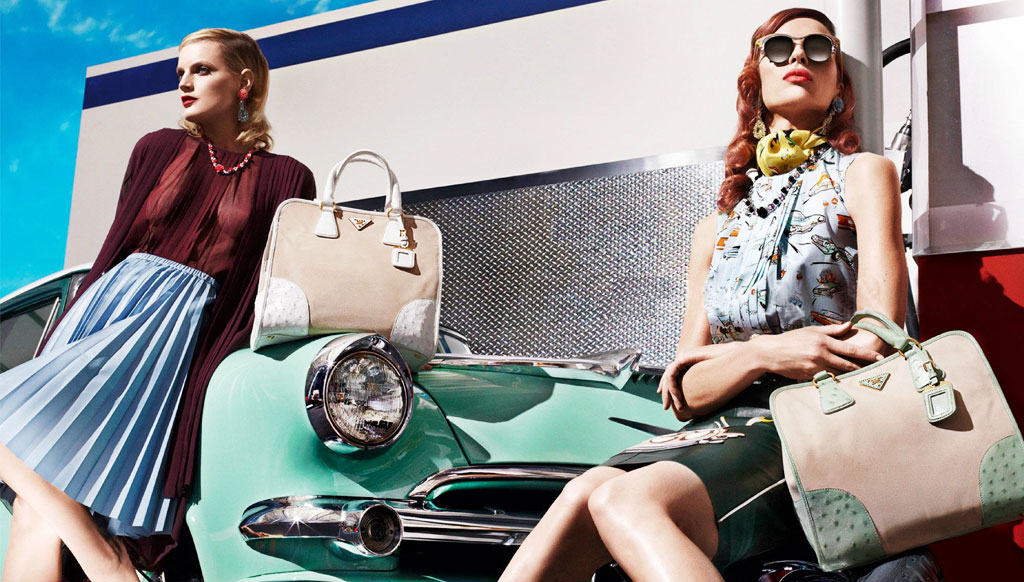 THE RETRO REVIVAL | The biggest names in the industry have showcased the trend and how! Photograph: A campaign for Prada
We're almost halfway through 2015, through various Fashion Weeks and hundreds of catwalk clips! And that one key story of Spring/Summer'15, everybody is interested in is the 70s
The annual fashion forecast states that the 70s are here to stay. Be it work wear, lounge wear, resort wear or simply casual wear—flared bottoms and big-rimmed sunnies are to be taken seriously, as the disco age marks its comeback!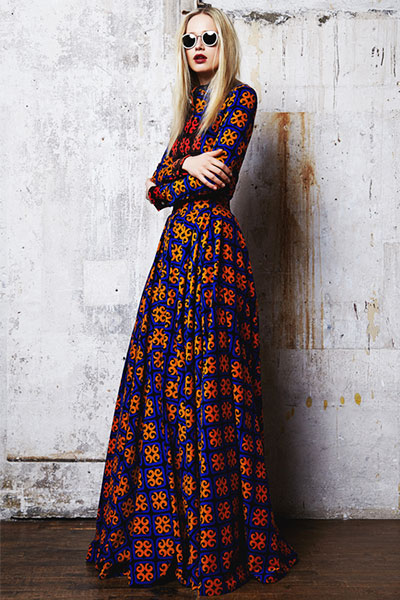 But, if you're thinking of revamping your wardrobe and hoarding it with all that jazz mentioned above? Then think again. Even when we say "Go Retro", we mean, "Wear what suits you and take inspiration from the times that passed by". And who interprets 'inspiration' better than the masters themselves.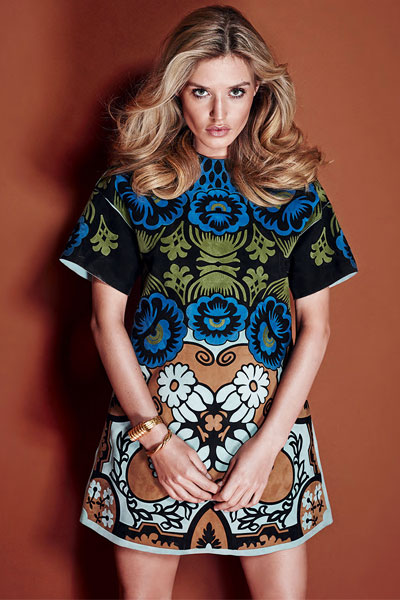 While Valentino's prêt collection has printed Suedes cut into tunics, Chloe RTW celebrates 70s denim like never before.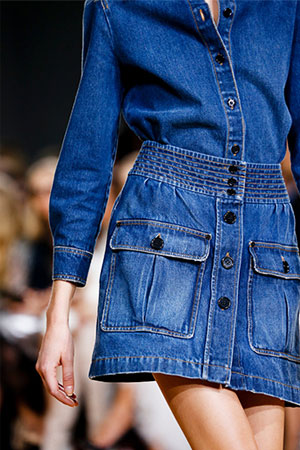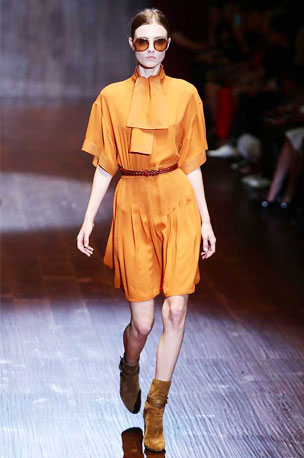 Designers such as Gucci and Etro step away from heavy-duty runway garments this spring, and bring back the swinging 70s by enhancing tiny details such as the scarf-prints, collar ruffles and fringes (right).
Taking cues from some of the best SS'15 catwalks, a handful of our high fashion giants have already managed to score a ten-on-ten in selling this free spirited trend. European giant Zara offers a handful of neat napped suede tunics as well as pants, where the hems are shorter and legs are wider.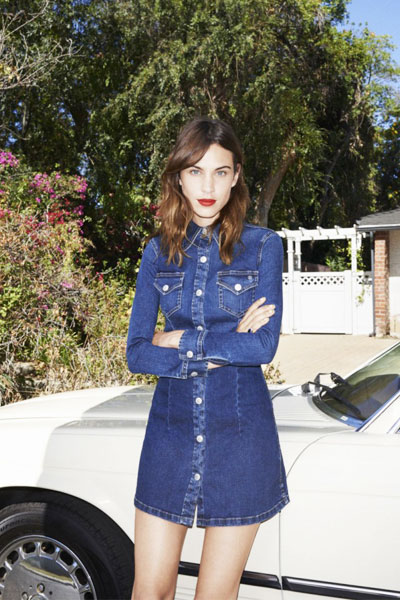 Even American multi-brand, multi-channel, specialty retailer – J.Crew makes a mark by pairing sorbet knits with suede culotte-skirt.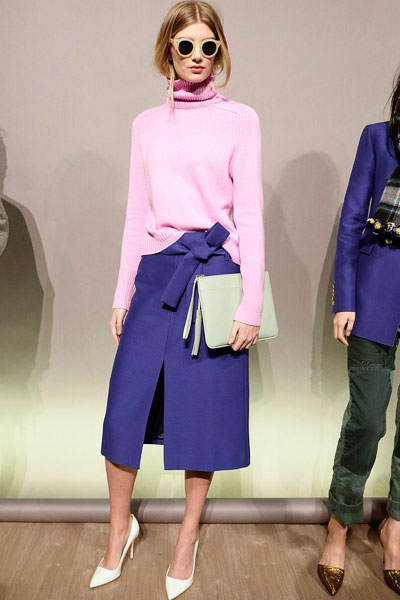 Contributing editor at British Vogue– Alexa Chung, also known for her unique collaborations was in the news early this year for a venture with AG Jeans. Even though the 21-piece collection is not entirely based on the 70s, but the dark washes and flared cuts of some of the items will certainly take you back in time (right).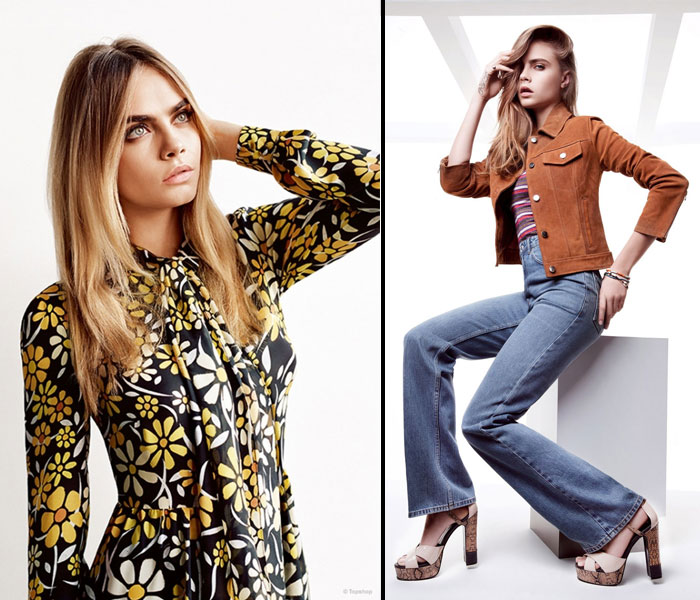 If that wasn't all, famous model turned actress Cara Delevingne comes back to mainstream ad-campaigns in Topshop's SS'15 Lookbook – styled by Topshop's creative director Kate Phelan and captured by Alesdair McLellan. The British fast fashion brand has an appealing range of printed blouses, overalls as well as denims and outerwear to offer.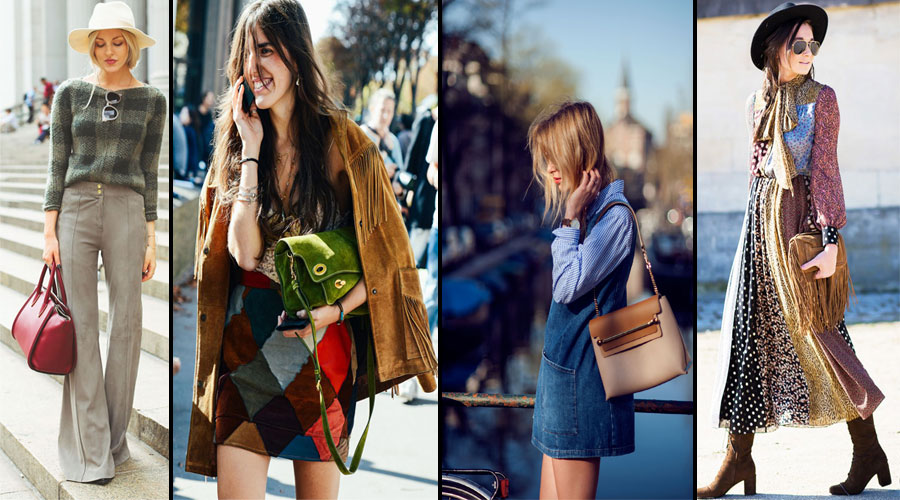 With all that retro buzz around, living in the past has never been so stylish for our favorite Style Blogger from PEACE LOVE SHEA, as she makes this cinematic trend appear wearable (bottom left). We also love a layered rendition, snapped somewhere in the southern hemisphere, along with snippets of few street-styles seen here and there.