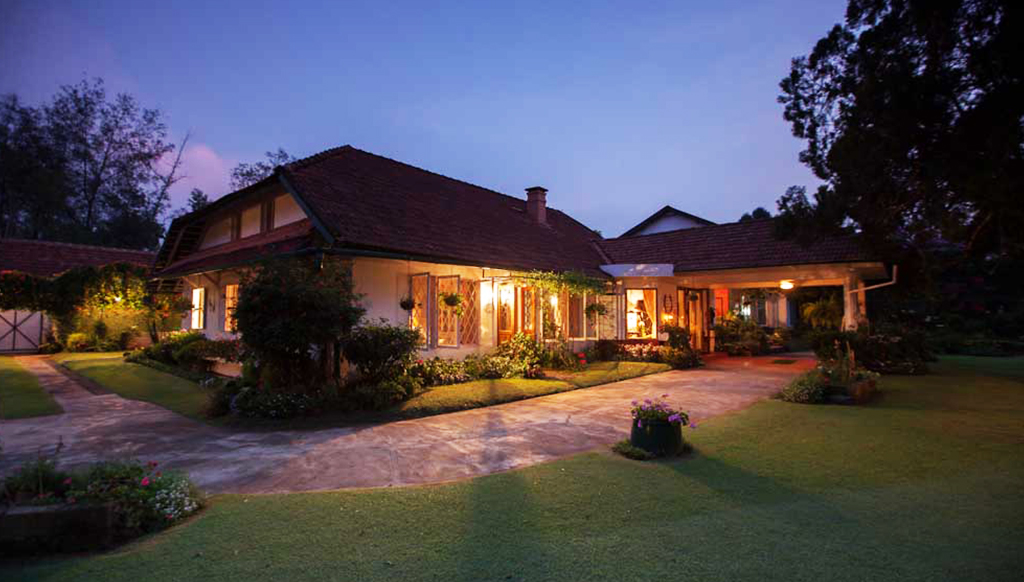 FRESH START | Few things in life can mimic that feeling of waking up amidst lush greens and walking on a thick carpet of dew kissed grass. Photograph: The School Estate, Coorg
Kodagu, also called Coorg, is the land of coffee, cardamom, colonels and the Cauvery. A picturesque town of Karnataka, it is located in a beautiful hilly setting surrounded by the forest slopes of the Western Ghats, where, time seems to
have stood still
Dotted with a cluster of red-roofed dwellings, the town, situated at an elevation of 1,525 m, has that charming old-world look. Not much is known about the early history of Kodagu. However, today the place is nothing short of breathtaking. And we at the Luxe Café have fallen in love with Coorg – a place which is a flawless snapshot of another age…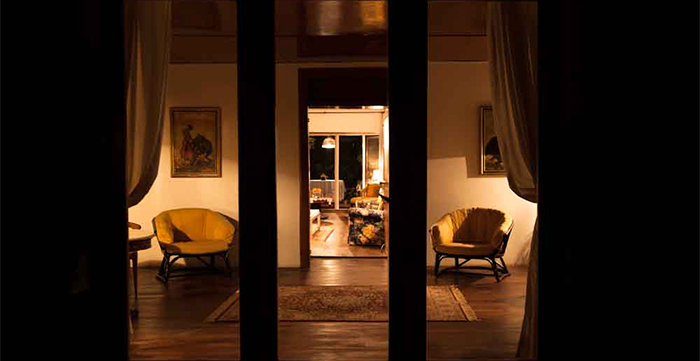 The School Estate 
The School Estate is a grand old plantation bungalow, erstwhile home to Rev. Richter, a 19th century missionary. It is now home to the Aiyappas and continues to host travellers from around the world. Surrounded by carefully tended gardens and verdant plantations, the country home provides an idyllic setting to unwind and leave behind the rigours of city life. With two detached cottages, one large family room and two other rooms to choose from, no matter where you are at The School Estate, you can rest assured of a great view. If you'd like to do nothing more than read a book all day, there are plenty of chairs lying around to settle in to. And when you feel like putting your feet up, you can pick a comfy couch overlooking the gardens, or alternatively snuggle up in a hammock under a tree.
Most of what you'll find on the dinner table at The School Estate comes fresh off the plantations. Whether it's the spices that curry traditional Kodava dishes, or the fresh cream that accompanies your dessert, sourced from their very own cows.(Yes, they do house cows!) Also, every cup of coffee at the estate is made using handpicked coffee beans from the plantation. Adding to the culinary experience, are the settings you can savour all of this in – al-fresco breakfast, under a bottle brush tree, coffee and cake in a sunken garden or dinner at a century-old pool table.
And if you ever feel inclined to leave the comfort of your hammock at School Estate, there is plenty to do and take in. From exploring the estate to mountain walks along ancient pathways, from bathing baby elephants to fishing for the majestic mahseer in the River Cauvery, from languorous cycling trips to a visit to a clan house, the place is sure to make your Coorg experience unforgettable.
Tariff per night: INR 6,300 onwards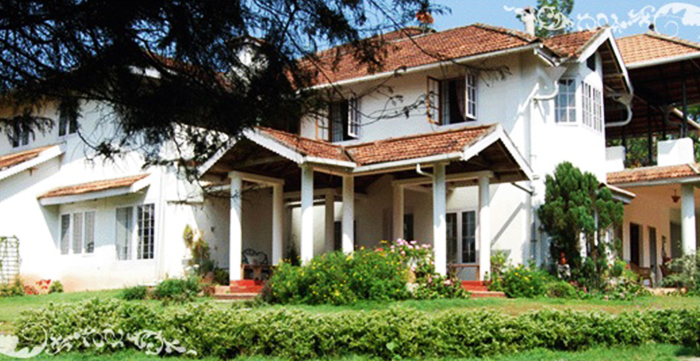 Spring Dale
Spring Dale is a 10,000 Sq.ft charming bungalow situated amidst a 100 Acre coffee and spice plantation in the South of Coorg. The house offers some of the finest country side luxury accommodations in Coorg.
The bungalow offers Bedrooms with classic wooden ceilings. The rosewood dining table and the drawing room with its teakwood floor and a fireplace, offers an unmatched experience of staying in a authentic Coorg home with a colonial flavour.
You can stroll along meandering streams and inhale the fragrance of the coffee blossom, listen to a live symphony of bees, enjoy the dance of sunlight and shade on the myriad evergreen trees. Come back to the dwelling for a freshly brewed coffee and a meal mildly spiced with home grown pepper, vanilla and cardamom.
Fresh homegrown and wild produce from the plantations are sourced to cook a delicious meal for the guests. It is amongst a few homestays in Coorg where you can to savor authentic Coorg cuisine. The Paputtu (cut in wedges) is a tasty dish of broken rice steamed with a generous helping of fresh coconut milk – is a must try!
Tariff per night: INR 5,000–8,000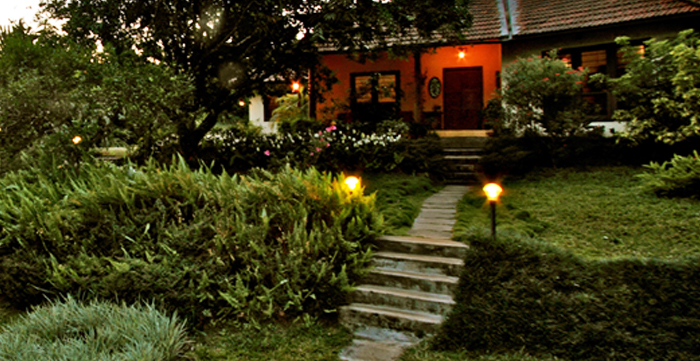 Gowrinivas 
This Kodava home is unlike other on the list as it claims to offer an affordable budget to those looking for a vacation in luxury. Nevertheless, the homestay situated at the heart of Madikeri the capital of Coorg, does provide you that lovely warm comfort (and luxury) of home.
The Cottage consists of two independent rooms which are well furnished with cable TV, hot water kettle, attached bath with running hot / cold water with a common sit out. The House consists of one room which is well furnished with cable TV, hot water kettle, attached bath with running hot & cold water. It is connected with the common living and dining area.
But our favourite has to be the seasonal micro-lite flights that set our adrenaline levels soaring! But if height isn't your cup of tea but you still want to satiate your adventure call,, we suggest you try from the other offerings, such as the still water kayaking, river rafting, Rock Climbing, Rapelling, Trekking. Just do not forget to make a request for the arrangement of adventure at the time of booking.
Tariff per night: INR 3,900 onwards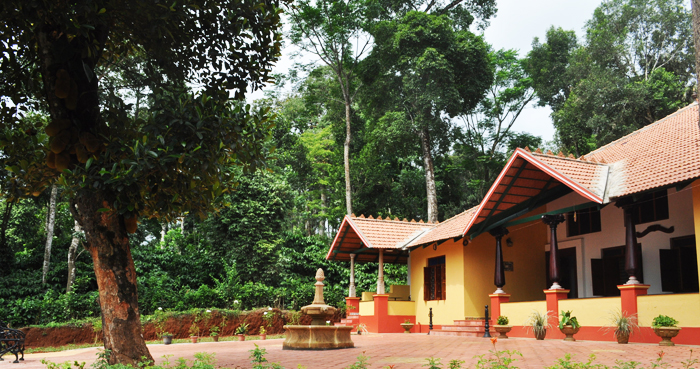 Rare Earth Estate
Exclusive yet easily accessible, the Rare Earth Estate is centrally located and is situated at 8 kms from the Madikeri town. Surrounded by coffee estates, the property is an ideal place to unwind and relax.
But it's the very construction and architecture of this property that has us hooked. The main house consists of three executive king bedrooms with attached washrooms, sitting and dining areas with a common washroom, a kitchen and a large veranda. There are two executive king rooms, with attached washrooms, together yet not far from the main house. Each executive king room has an attached private sit-out and an exclusive garden. This ensures maximum privacy.
Also, the food is perhaps the best available. After all, when both Revathi and Yogesh (your prospective hosts and the owners of the property) themselves take interest in maintaining the kitchen, the results are nothing short of perfection.
However, for us at The Luxe Café, who are totally in for the promotion of the sustainable aspect of tourism, we were struck hard by the fact as to how beautifully the very concept of conservation has been incorporated into the property. For instance, at the very grassroots level, the doors, windows and pillars used in the making of the house, have been procured from broken down homes in South India and then restored and used. Water heating is done using Gujarat Geysers and broken branches & logs. But the icing on the cake is undoubtedly their very selection of over 150 indigenous trees with special emphasis on those that attract birds and are essential for maintaining eco balance.
So go ahead and enjoy, without worrying about leaving any carbon footprint!
Tariff per night: INR 4,500–6,500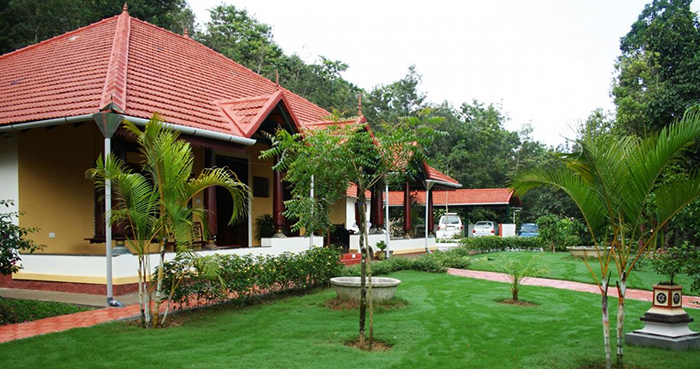 Silver Brook Estate
If awards and accolades are your yardstick while picking a property then look no further. This property is a clear winner year after year! Winner of the best homestay in india award by a leading travel magazine, this property is indeed a traveller's delight.
At Silver Brook Estate Home, there are three kinds of accommodations: two executive rooms, two superior executive rooms and one special executive room. The main bungalow in the estate, has been created with relaxation and comfort in mind.
The main house consists of two Superior executive bedrooms with attached washrooms, sitting and dining areas with a common washroom, a kitchen and a huge, running veranda which ensures privacy to all bedrooms. The executive rooms, with attached washrooms and an interconnecting door, are placed together yet not far from the main house. But our favourite happens to be that one independent special executive room which has a private sit-out–perfect for those bonfire-lit evenings! We can't help but make a mention to the floor tiles used here, which are made individually by artisans from a remote village in Tamil Nadu, with an endeavor to encourage their artistry. Sweet!
As for the gastronomy aspect of your stay, you may savor pure vegetarian or non-vegetarian gourmet food. The choice can be as varied as a complete meal of local Coorg cuisine or a Continental or Indian meal.
As a final thought, we'd say that though it's called the Silver Brook Estate, but it sure is the gold standard in hospitality!
Tariff per night: INR 4,990–6,500