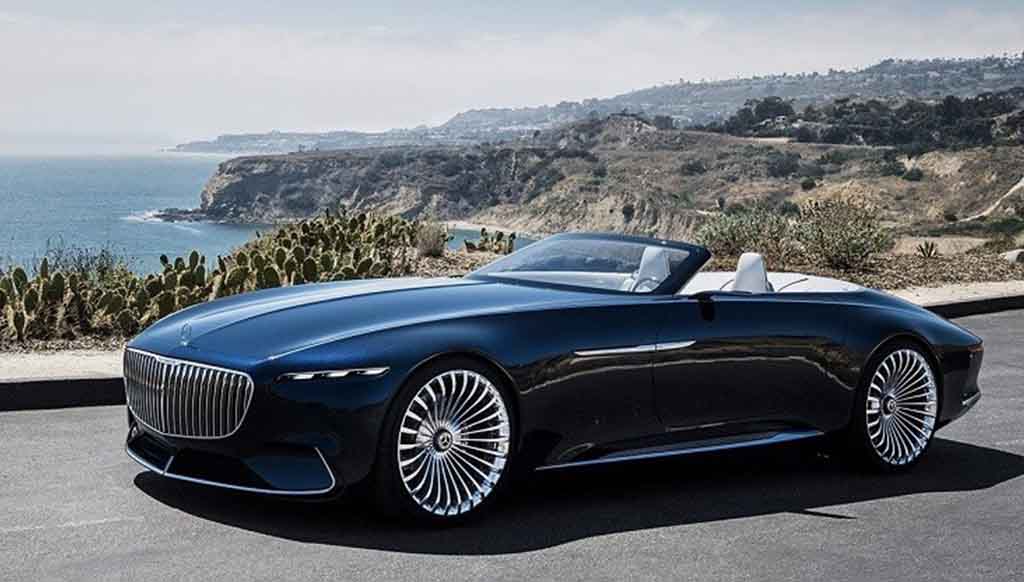 The Mercedes Maybach Vision 6 Cabriolet Concept, an all-electric spectacular two seater convertible, was revealed at Pebble Beach this year
Revealed at Pebble Beach, the Mercedes Maybach Vision 6 Cabriolet Concept is a glorious, all electric two seater convertible. With a boat tail format, Nautical Blue Metallic Body Paint and the gloriously stretched proportions, this car is both a nod to luxury yachts and a grand reinterpretation of the luxury convertible
The Mercedes Maybach Vision 6 Cabriolet Concept, an all-electric gorgeous two seater drop top, has been revealed at Pebble Beach this year.
The Cabriolet Concept keeps all the stately lines of the previous concept but is covered in Nautical Blue Metallic body paint. Stretching a full 20 feet from its 'boat tail' format with narrow tail lights and vertical grillwork inspired by the classic pinstripe suit, the Vision 6 Cabriolet design is a nod to a luxury yacht. The traditional motif of the two-seater cabriolet reminds one of the stretched proportions and design principles of the luxury cars of 1940-50s.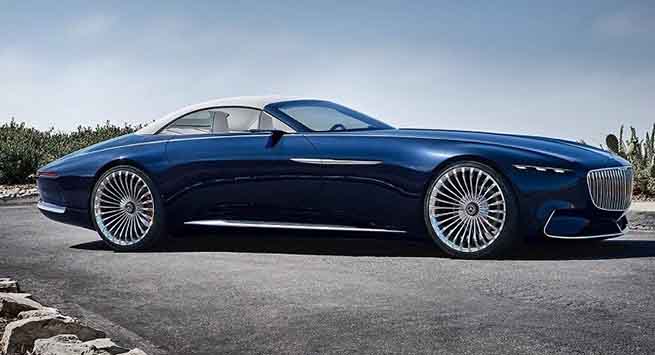 The chrome-laden grille is made of vertical louvres and is flanked by a slender set of LED headlights. The coach line ends right at the boot lid, where a strip of the LED tail lights runs all across the tip of the tail. The chrome strip at the bottom of the bumper accentuates the luxury feel. The Vision 6 Cabriolet rides on massive 24-inch multi-spoke, centre-locking wheels, finished in a 'rose gold' colour.  The custom made retractable top includes rose gold threads too, interwoven to compliment the dark finish.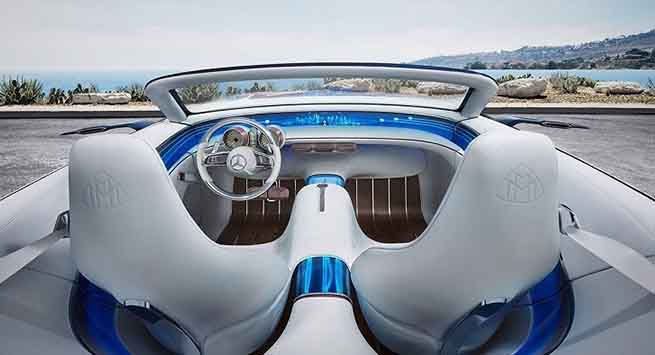 Crsystal white high-quality Nappa leather fills the interior. The wooden floor with aluminium inlays and minimalistic cock-pit with blue surround—all constitute the Mercedes '360degree lounge'. One of the highlights of the cabin is a floating, transparent centre tunnel which visualises the drive system's electrical energy flow by the means of blue fibre optics.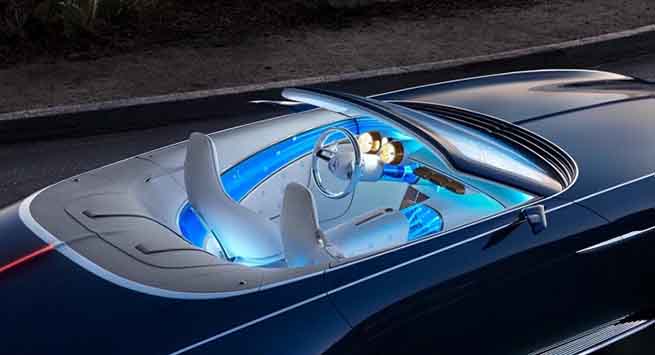 Similar to the hardtop counterpart, the Vision 6 Cabriolet is powered by electric motors. Four motors, each driving a wheel, belt out a whopping 750 hp, accelerating the car to a 100kmph in under four seconds. The top speed is electronically limited to 250kmph.