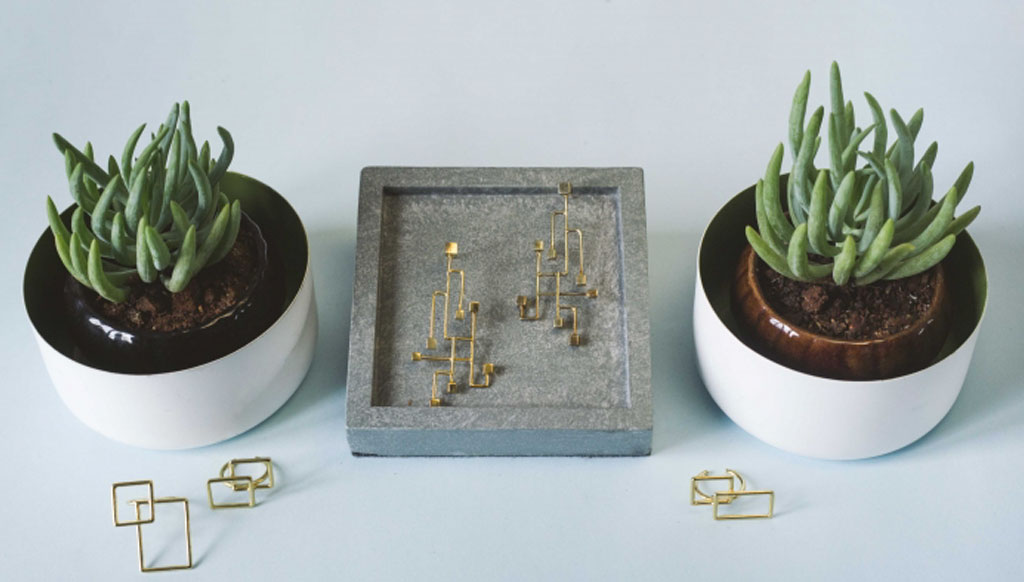 MINIMALIST CHIC | Complex in construction yet simple, minimal and easy to wear, the delicately crafted collection, Vertex, from Misho, draws inspiration from geometric forms
Jewellery has connotations of festivity, and it does celebrate beauty, of the wearer and of its own intrinsic design where material and craft collude to signify something to be treasured. Appreciating the art of jewellery, its need to complete an ensemble and turning to look at the contemporary scenario, we have handpicked some indie brands which are offering some statement pieces redefining jewellery
When you are looking at your day's attire, laid out, perfectly matched and still missing something, you wonder what it could be? And without a blink of an eyelid it comes to you, accessories, or some jewellery to be more specific. Accessorizing is all the craze and gone are the days when just a pair of your mother's subtlest earrings, or your grandma's handed-down ring, or just a watch on the wrist with a smug smile on the face were all it took to complete your look. Now, accessorizing is an art and an expression of not just your taste and trendiness but also your mood, personality and the latest cause you might be celebrating with that pin on your lapel. For the fashionistas who turn to their jewellery boxes not for just some sparkle and bling, but for something a little more special to wear, there are many indie designers and brands which are changing the face of jewellery, as it were, and re-interpreting it as design artifacts rather than just a beautiful accessory.
While stores like Nimai, en Inde, and online portals like Isharya are devoted to the cause of exclusively designed, eclectically curated jewellery, we have some of our own designer favourites adding to the list of labels doing not just pretty baubles, a list which started with names like Eina Ahluwalia and Suhani Pittie, which has grown to include other brilliant sparks. Rummaging through our treasure troves, we bring you these brands which are further propelling the indie jewellery movement, introducing the modern divas to innovative, experimental, bold and beautiful statement jewellery. Not defined by the price, rather by the passion with which they are created, these jewellery brands offer adornments which are flaunt-worthy and yet not flashy, they are loved by the celebs and still not overtly-starry. By the time you reach the end of this story we hope have you convinced about the next-up stores and portals to haunt for adding to your cache of concept jewellery.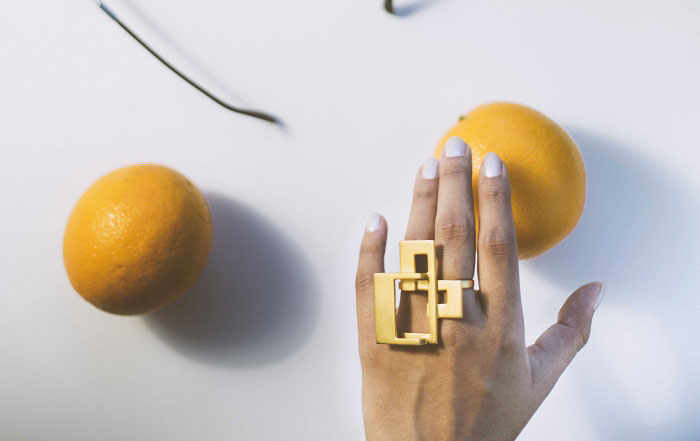 Characterised by clean lines, architectural firms and simplified geometric shapes, Misho is Suhani Parekh's structural jewellery brand that puts a twist on the regular. Drawing from the traditional art of silversmithing, Misho's range of fine jewellery is refined yet playful, edgy yet sophisticated, with a minimalism which stands out. Handcrafted in sterling silver, the collections are quirkily names Gravity, U, Vertex, Mediated Matter, Vertex, Blue Print – names you would not typically associate with jewelry, but echoing of the architectural sensibility with which each piece in these collections is imbued. And this is no wonder because Misho's creative director, Suhani Parekh, worked primarily on sculptures and installations during her fine art and art history years at Goldsmiths. Her designs are influenced by her interactions with contemporary art and the various architectural styles of the cities she has travelled to and lived in. So Bauhaus movement meets Japanese minimalism in Misho's designs which play upon the versatility of silver to become the pieces that are an intellectual indulgence in accessorizing. So, you have Trajectory sterling silver earrings that are Bauhaus inspired, while the concrete and silver Elements cufflinks are very cubist, then you have density rings and those with stacked design, along with ear cuffs and earrings which are not ring-like at all, and thus goes on the story of Misho, so named after a cat in turn named after the Japanese bonsai technique of misho. Shop at mishodesigns.com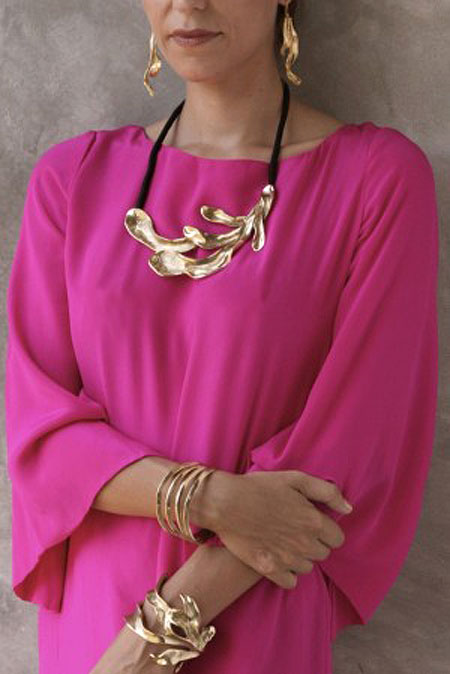 From structural jewellery of Misho, let's move onto sculptural jewellery of another great indie brand – Manifest Design. Siblings, Manreet and Samraat Deol, are at the helm of this enterprise which is all about everyday wearable art, handcrafted by synthesizing art, fashion, design and experience to make jewellery, which the founders hope will be "collected and shared as mementos that infuse inspirations and rekindle forgotten dreams." Bringing together the metal smith's craft with the sculptor's imagination, Manifest brings forth statement jewellery whose inspirations are many and maverick, from gnarled corals, sensuous vines, bold rock sculptures, urban art, opera and street food. So, while the oceanic world of mythical mermaids and magical underwater gardens inspired their Sirena collection, folk art motifs inspired their quarry tribal pieces like bold cuffs, and the world of magical Totems inspired the goldplated hoop earrings meant to be worn as everyday talismans. Their range of ornaments also has offerings for men, like statement kadas in steel and brass along with totem pendants. But the range does not end with earrings, necklaces, bracelets, rings and such, as the cutting edge offerings by Manifest Design also includes smart jewellery pieces like Alive, a handcrafted jewel specially designed for the Sunsprite sunlight tracker. Inspired by the historical sun etchings, the ornamental case for the tracker features a pierced sun motif that is hand carved, cast in solid brass with 18K goldplating and can be preordered as a set on manifestdesign.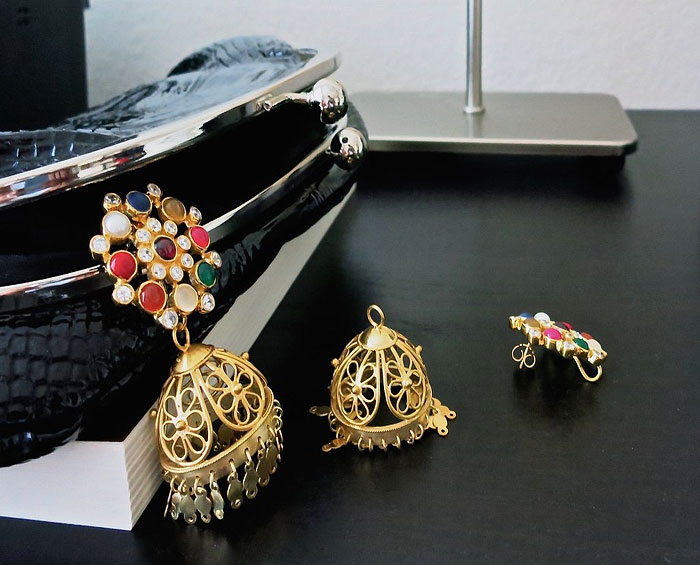 Lai in Sanskrit means the 'beloved one' and in old French refers to a lyrical poem centred around themes of romance and adventure. A name well chosen for a jewellery label which promises to "appeal to the memory collectors, the wanderlust bitten, the experimenters and culture maven looking for timeless design stories in jewellery." Emphasizing on the artisanal value of their designs, Lai's culturally inspired collections of handcrafted sterling silver ornaments vouches to be jewellery with a story which can be passed down generations. Embodying a global flair with an Indian spirit, Lai's collections are inspired by its founder, Puja Bhargava's fascination for different world cultures, textiles, art and architecture. So, there's a collection named after Spain's masterpiece of architecture, the Alhambra palace in Granada, and another called 'Nathdwara' is all about the meenakari (enamel) craftsmanship of Persian descent enamellers from Nathdwara, a town in Rajasthan, and so it goes on as one finds paisley patterns, architectural motifs from Samarkand and Kutch and designs from the Mughal era informing various collections that feature exquisite hair ornaments, nose pins, pendants, neckpieces, earrings, and innovative pieces like detachable jhumkas and more. Subscribing to Fair Trade principles and all of Lai's jewellery is handcrafted by artisans in Jaipur, while they also occasionally collaborate with craft clusters in India, like for their Bidri X MCM or Nathdwara collections. The brainchild of a trained accessory designer from NIFT, Lai has won many awards such as from DeBeers, World Gold Council and Perles de Tahiti. Shop the collection at lai-designs.com