CELEBRATED BEAUTY | Coes Hall lies south of the attractive village of Rotherfield, part of High Wealden's designated Area of Outstanding Natural Beauty
A splendid 11-bedroom Manor House with magnificent gardens, 3 swimming pools and parts that date back to the 15th century, is up for sale in East Sussex. But it's most appealing part is that it is owned by none other than the daughter of Elvis Presley himself: Lisa Marie Presley
Coes Hall is located South of the attractive village of Rotherfield, East Sussex, part of High Wealden's designated Area of Outstanding Natural Beauty, in a delightful rural setting. This splendid manor house in the traditional style with parts dating back to the 15th century is Grade 2 Listed. The house is valued at an estimated £4,500,000.
The extensive accommodation of this 11-bedroom home boasts magnificent views of the gardens, parkland and the rural setting. A charming circular garden room immediately faces one on entrance with splendid views over the garden and lake. The original Tudor house to the south features views over the paddocks and woodland beyond. The accommodation here consists of a kitchen, breakfast room and family room on the ground floor and 2 bedrooms with en-suites comprising the second floor. The more recent center section of the property had a large and spacious drawing room over which is situated the master bedroom suite with two bathroom and two dressing rooms. The sun room leads into the north wing consisting of the dining hall and cinema room together with three further bedroom suites.
Swimming Pools and Gym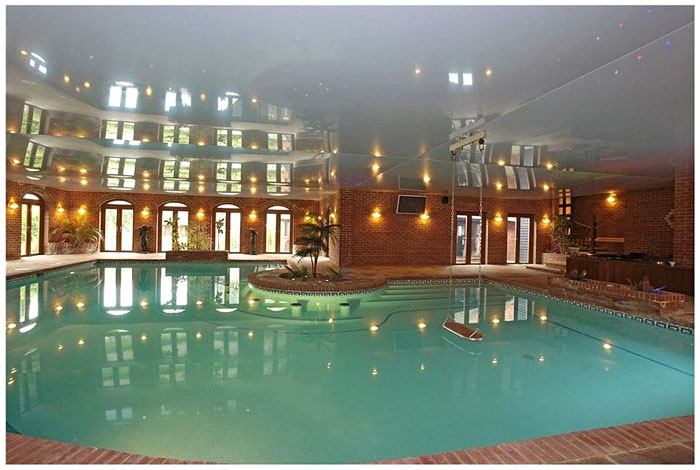 The glorious swimming pool is joined with spa facilities and leads out through 6 double doors to terracing. There are 3 swimming pools overall.
Stable Yard and Ancillary Accommodation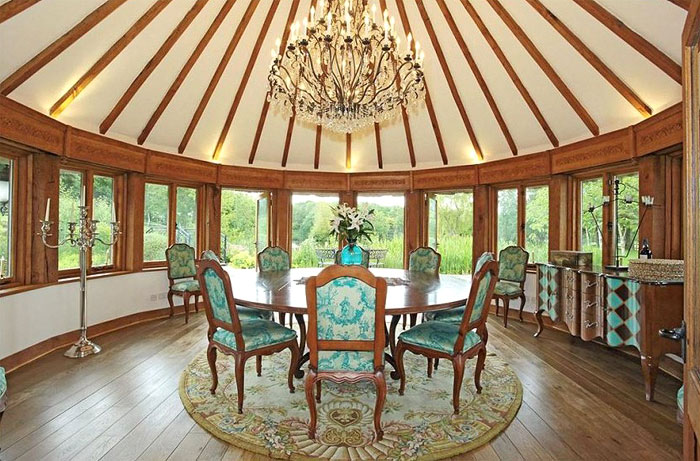 A timber framed building to the West of the main house comprises of an entertainment room, bar, billiard room, stables and estate office. The first floor accommodation also has two apartments each with two bedrooms, bathroom, kitchen and sitting room with each sharing the balcony. There's also a cottage with a sitting room and cozy open fire. Next to this is the Orangery and pond which contains kitchen, living room and shower.
Gardens and Grounds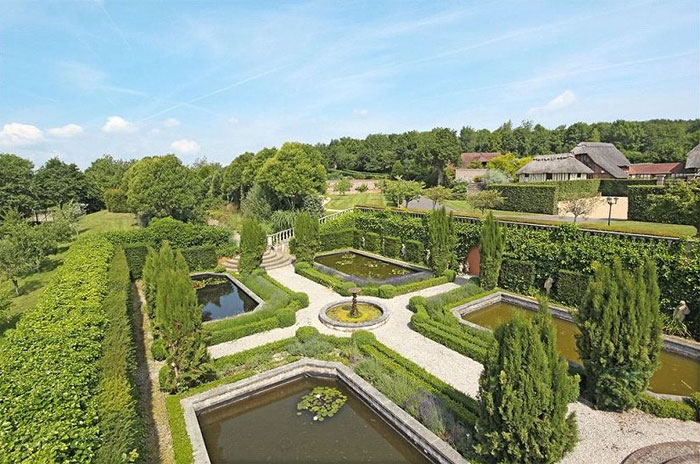 One of the most prominent features of this property is the gardens that surround it. The formal garden begins within the horseshoe of the main house and extends southward, comprising of mature herbaceous borders and a topiary knot garden. It also features a walled garden with raised fruit and vegetable beds. The Southern boundary of the property boasts small streams whilst the Eastern side has a circular garden room which overlooks a splendid lake.