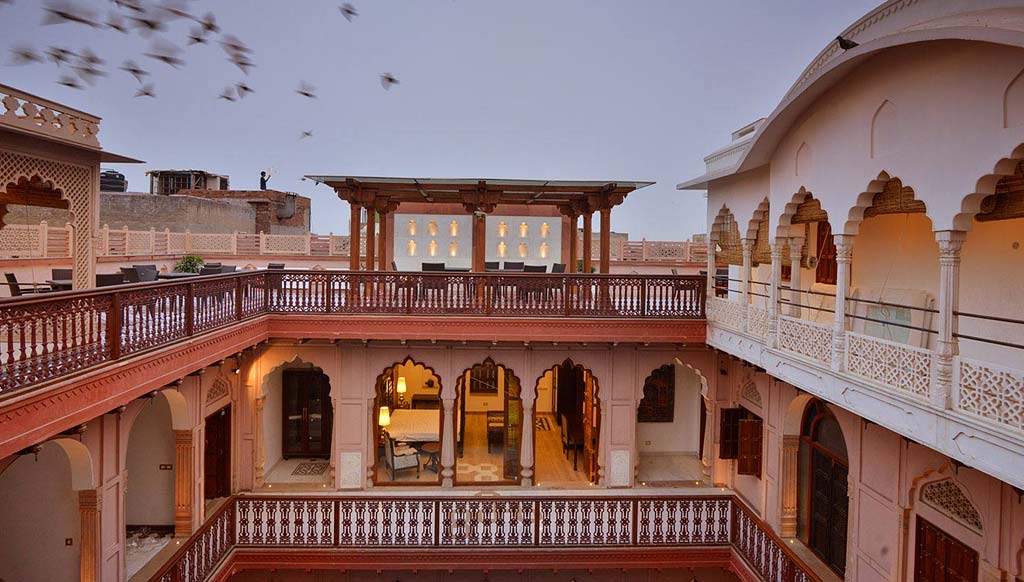 PAEAN TO THE PAST | Haveli Dharampura is a revivalist's dream which stands silent and elegant, in all its restored glory, amidst the curious cacophony of Chandni Chowk
Adding a new and resplendent chapter to its survival today, Haveli Dharampura, an intricately restored heritage haveli in Chandni Chowk, is paving way for more such traditional structures to be preserved and brought into the folds of the mainstream culture
The bylanes of an old city, steeped in mystique and flaunting a motley mix of markers that speak of the good old times, are in stark relief to all the efficiently constructed cacophony of the city as lives outside the worn peripheries of its walled-in prototype. Looking through this enigmatic time warp, one glimpses, at times, visions of the glory and grandeur which then permeated its fabric and which now stands to purport the old world charm of Delhi 6. One such vision is the painstakingly restored Haveli Dharampura which sings of a late Mughal style with its jharokas and stained glass windows, balconies, multifoliated arched gateways, carved sandstone façade, and intricately tiled floors and fountain in the central courtyard. Dating back to sometime in 1887, this is one property which has been restored, over a period of 6 years with the help of Heritage India foundation and with the passionate involvement of former Rajya Sabha MP Vijay Goel. While Chandni Chowk has always been about street food and getting positively delicious greasy fare at a Karim's or Al Jawahar, it is also about getting lost among its numerous and narrow bylanes. But Haveli Dharampura stands tall, located at a two-minute walk from Jama Masjid Police station towards Gali Guliyan, and from its wide and beautifully reconstructed terrace offers a panoramic view of Old Delhi's monumental stalwarts, from the Jama Masjid, Red Fort, Gurudwara Sis Ganj Sahib, Gauri Shankar Temple to St James Church.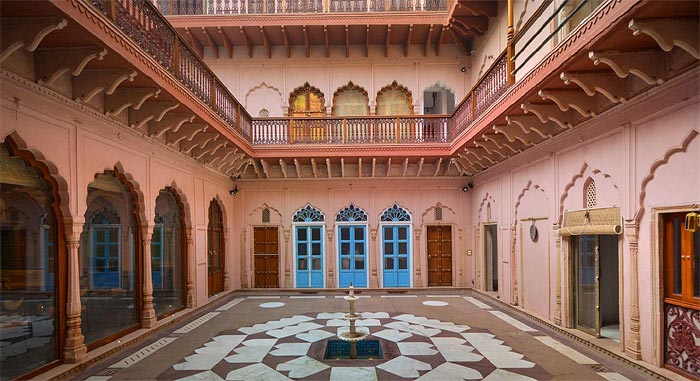 The stories and the sceneries in and around the Haveli have actually come to life with this revival and in an interview earlier this year, Mr Vijay Goel has elaborated, "While restoring this Haveli, top priority was given to retaining the original character and maintenance of the same. All conservation work followed basic principles such as minimum intervention in the historic fabric and respect for historic evidences adopted in various international charters for the conservation of heritage sites." Calling to all the culture and art connoisseurs, the Haveli is a treat for the eyes with a marvelous coming together of disparate ethnic elements like the cast iron railings from Jaipur which speak of Shahjahani design, the entrance wooden door carved in Shekhawati style, the Moradabadi brasswork and glasswork from Ferozabad.
An expansive mansion with its three floors housing 60 rooms in the earlier times, there are now 13 stately rooms, [3 Jharokha Rooms, 4 Diwan-e-Khas Rooms, 6 Shahjahan Suites], done up in a traditional style with antique or art-deco furniture, beautiful ceilings and windows opening out into a balcony, alcove or a siting area. Celebrating the old and the new alike, there is emphasis on staying true to its origins even as the doors are named after the famous entryways of yore – Kashmiri, Turkmani, Ajmeri and more. Mixing up the residential and the commercial, the Haveli also boasts of many splendid engagement options – a spa, two restaurants (of which the Indian one, Lakhori, is currently functional), a small art gallery and in future might be just be the ultimate space for revival of artistic pursuits which are so much a part of Old Delhi's rich heritage.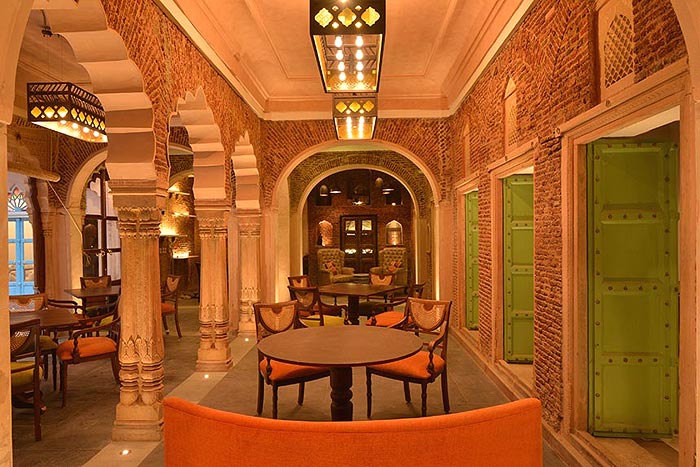 Speaking of heritage, there is no taking away the cuisine from the culture and the Haveli has just the perfect setting for one's gastronomic indulgences from a menu which has been carefully crafted as a modern tribute to the Mughal-inspired north Indian food universe. Lakhori, as this restaurant on the ground floor of the Haveli is called, refers to the kiln-baked lakhori bricks used during Mughal times and sports an old-world ethnic ambience which does justice to the food-based reputation of the place of its origin – Chandni Chowk. With the fine dining aspect in place here, it's a welcome change and a bit of an adventure in itself to not be eating 'dirty' items like papdi chaat, dahi puri, and palak patta chaat. Not to disappoint the meat lovers, Lakhori serves the much-sought after classics such as mutton korma and kadhai chicken [served in a roti bowl and finger licking good]. For those who prefer their plants, there is a deconstructed aloo gobhi mutter [that any self-respecting north Indian restaurant will serve and which their chef has brilliantly re-interpreted] and kofta dogala [spinach wrapped cottage-cheese with a tomato and malai gravy]. With all of this in place, Haveli Dharampura sure is one haven of heritage pleasures and sensuous delights.