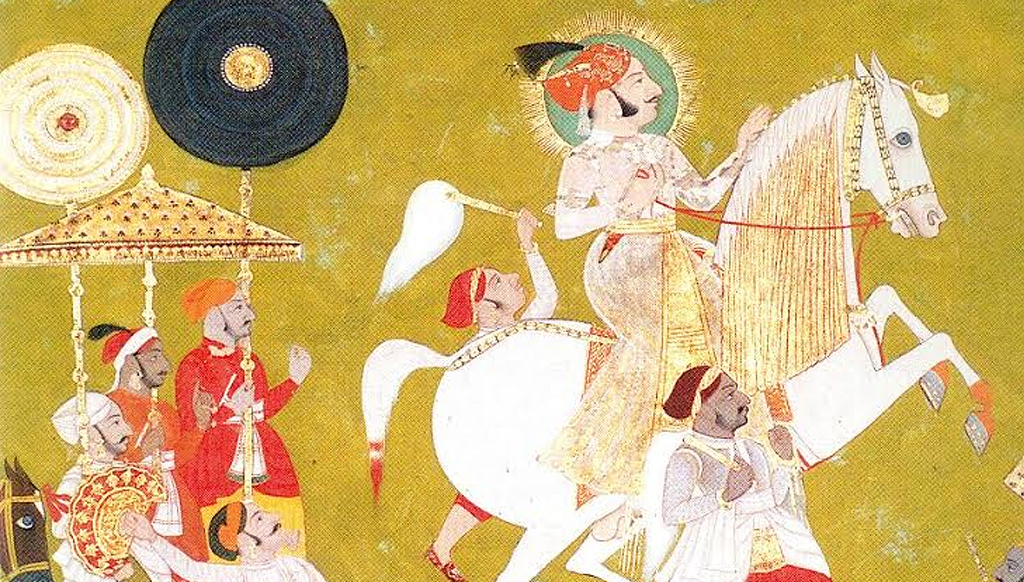 A PRINCELY PROCESSION | Vintage accoutrements like chhatri, gaddi, pankhi are all part of the fashion that comprised a royal's ensemble
Vintage wedding regalia recreating the grandeur of a royal past is now available on order as Rani Sandhya Kumari of Khajurgaon rebuilds the tradition under her own label, reaching out to the contemporary desire for a piece of the rich past
As Rani Sandhya Kumari of Khajurgaon reminisces about how, during Dussehra, the "elegant bichonas were drawn out of the cupboards for ceremonies, to cover the thrones where rulers used to sit", she also remembers that the "embroidery on one designed for my grandmother was elaborate, [while] the work on the other created for my mother was a little light." In the spirit of resurrecting the exquisite heritage inspired art that predominated royal accessories, the Rani of Khajurgaon, in Rai Bareily district of India, has her own brand of vintage regalia seen during royal weddings and processions of yore. Along with chawans (used to ward off evil spirit) and pankhis in gold and silver, she has a rich array of home accents under her label 'Pakke Rang'. We have her here in a short tète a tète
The Luxe Café: Tell us about the work you do?
Royal regalia is a heritage thing, basically used for durbars and weddings. Earlier, the work was in real silver and gold embroidery with semi-precious stones and navratnas work and the entire set up was only used on special occasions. But now we see these things dying out and it's not easy to transform the old stuff. So the thought behind this was to revive the tradition but in contemporary ways. The royal families are still using it and various other people have just kept it. It is very close to the Indian culture and origin. Even today every Dussehra, it is still being used. The person who has inherited the royalty, sits on the throne with entire regalia and the arms are taken out and worshipped.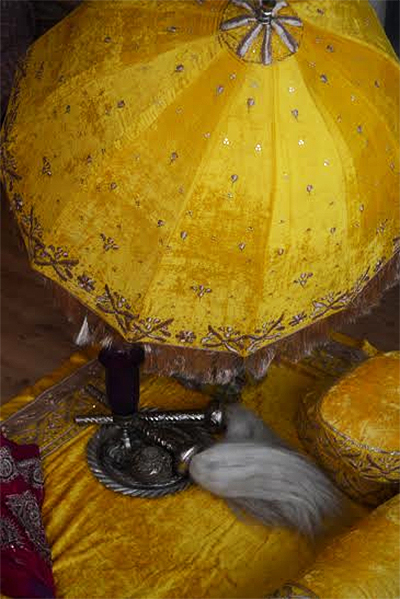 What inspired you to start this?
How I started doing all of this has a small story behind it. My daughter was getting married, during which I restored the entire regalia myself because the kaarigars would not have been able to do justice to the same. It took me 3 months to restore just one bed sheet. Royal families still use the Royal regalia- like galichas at weddigs. The galichas were stitched with different threads and were a very important part of weddings, poojas and other important functions, and are still considered to be an integral part although less used nowadays.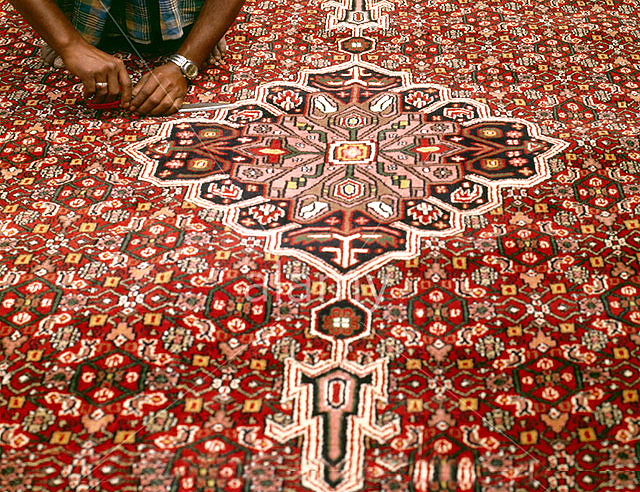 Which fabric do you work with? Specially while making Galichas.
Mostly velvets are used for the richness, and it also looks very royal and intricate. There is a pad of cotton thread in the entire design over which the stitching with threads is done. Falisha work with kasab thread and aari work makes this galicha very special and royal. All this work is done in Lucknow and we have a team of kaarigars who do intricate zardozi work.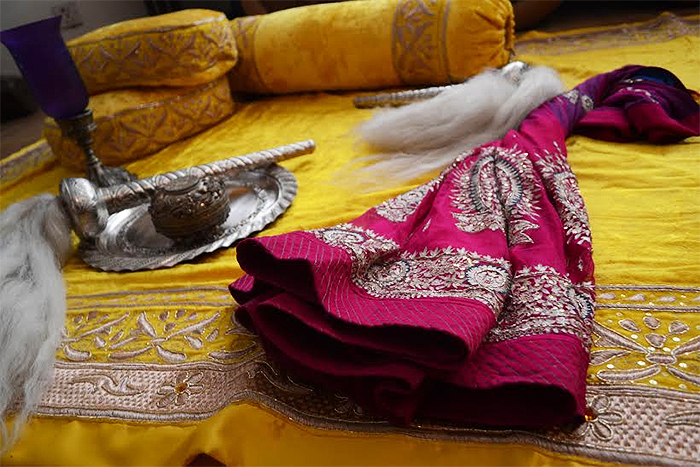 How is the demand for royal home decor stuff?
People like very traditional things. Typical royal families go for gaddas, chatris and we make it on order-to basis. Galichas, pankhis, cushion covers, round table covers, bedsheets and carpets are also in demand. It is very expensive and not everyone can afford it, as we do very intricate work and it is nothing close to the cut paste format.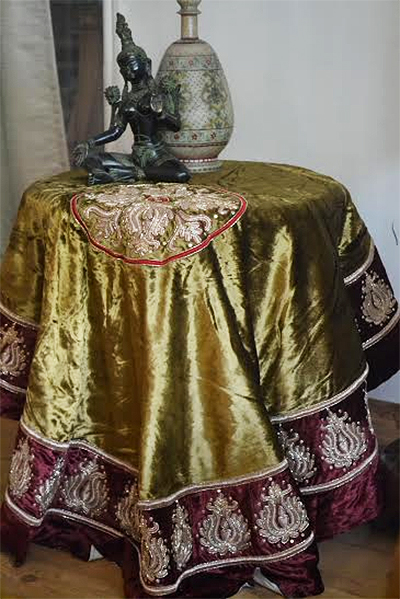 She goes on to add, "We have royal patrons and then we have Marwari clients who come asking for one of the things. Someone who is planning a royal or a theme wedding with heritage properties also goes for this lavish traditional spread. One example of a patron I would like to share – This person was from Scandinavia, he was one of the royalties and he wanted to turn his palace into a resort and he ordered the crest (2 elephants with a tiger head representing bravery and integrity). Every crest has a story attached to it, and he got his crest done on the cushions, stands etc."