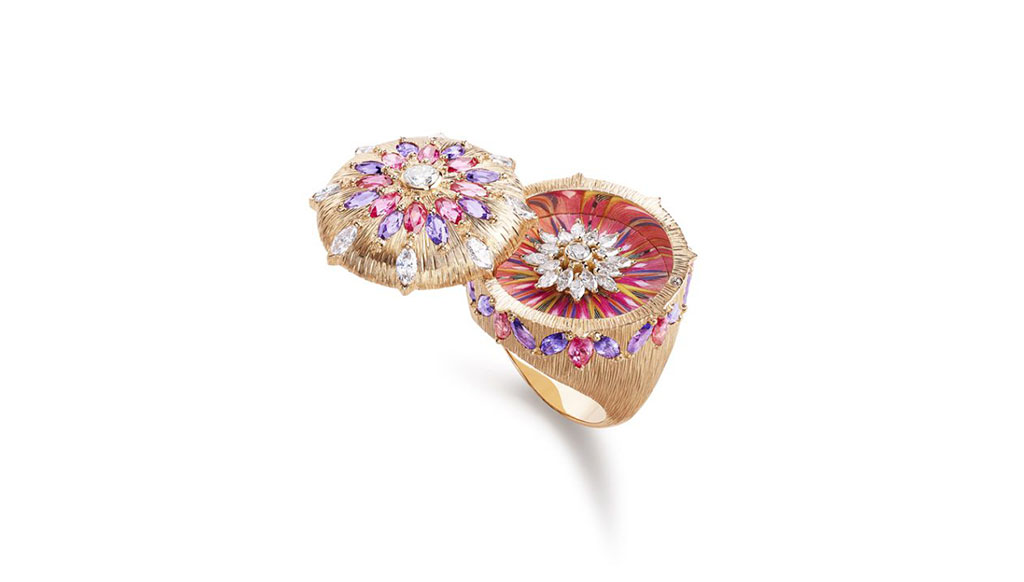 Shades of Sunset: The pink gold Viva l'Arte ring set with purple sapphires, pink spinels and diamonds with feather marquetry is the perfect representation of Sunlight Journey, depicting colours of dusk at the Amalfi coast
The latest high jewelry collection by Piaget captures the vivid dance of sunlight at Italy's Amalfi coast, depicting the range of vibrant colours in the Mediterranean sky at dawn, midday and evening, in the three distinct themes of 'Secrets of Dawn', 'Midday Festival' and 'Nightfall Celebration'
Piaget's high jewelry collection for the year 2017 is breath-taking in its brilliance, attempting to capture Italy's romantic Amlafi Coast in myriad glorious shades as it lies bathed in the rays of the sun. Depicting every minute change from dawn to dusk, and drawing in everything from wave to shore, each piece in the collection is a masterpiece. Named 'Sunlight Journey', Piaget's high jewellery collection dedicated to the shades of sunlight on the sea features three main themes—Secrets of Dawn, Midday Festival and Nightfall Celebration—reverberating throughout in a tapestry of necklaces, watches, cuff and rings.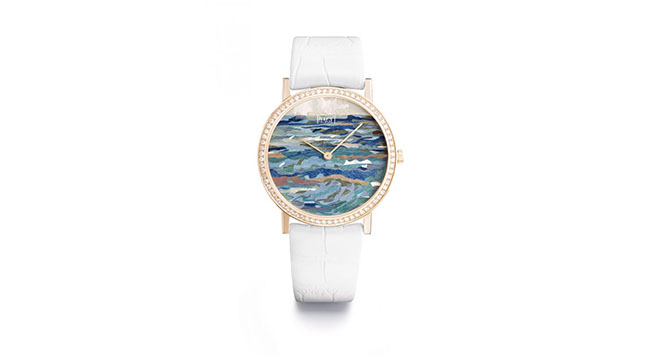 The soft light of dawn is reflected in the 'Sand Waves' Watch, which is set on an 18ct pink gold cuff and set with 428 brilliant-cut diamonds. Its secret cover is set with a white opal, and it has a white mother-of-pearl dial. The 'Infinite Waves' watch is another masterpiece set with 78 brilliant cut diamonds and parchment marquetry, reflecting the Mediterranean sky and sea at dawn.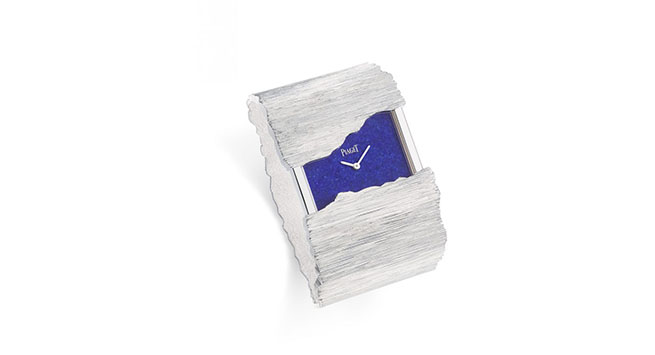 The brilliant golden light of the noonday sun spread regally over the shimmering sea is captured perfectly in the fascinating, unusual 'Verde Bisazza' watch. Enchantingly depicting the ebb and flow of waves rippling at the shore, the watch flaunts a breathtaking assymetrical mosaic of emeralds, diamonds and green tourmalines. The Azzuro Bisazza necklace matches this theme, with its wave-like mosaic of emeralds, diamonds and green tourmalines that best capture the shifting quality of the midday sunlight on waves.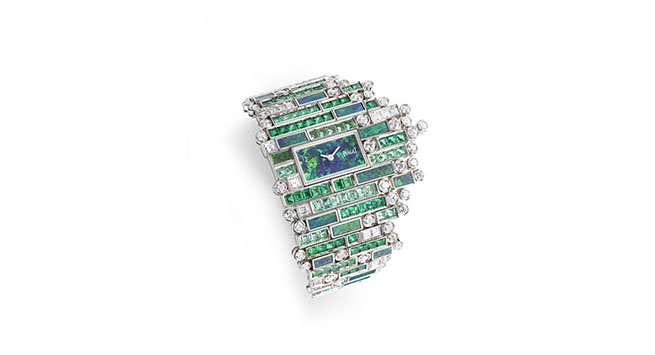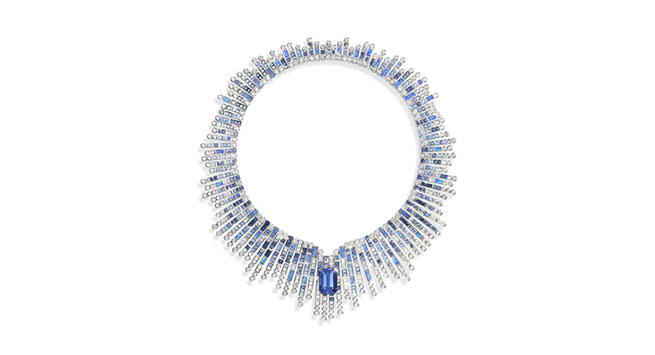 The colours of dusk at the Amalfi coast are represented perfectly by the Viva l'Arte ring and cuff. Adorned with red spinels, purplish pink spinels, pink sapphires and spessartitie gems, the Viva l'Arte cuff is the perfect echo of the shades of Mediterranean sunset: orange, pink and gold flecked with purple. The Viva l'Arte ring is a work of art in itself, featuring the very prominent Piaget motif of feather marquetry in pink gold, set with red spinels, purple sapphires and diamonds.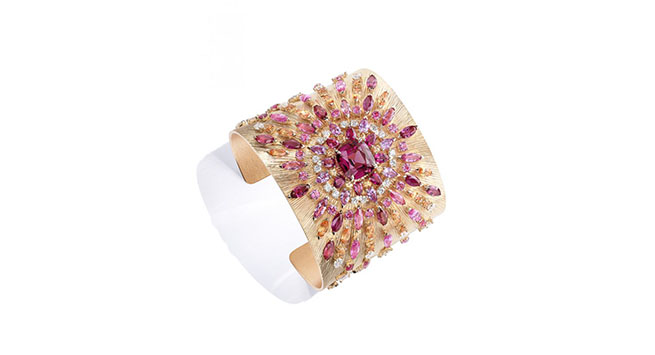 The Sunlight Journey collection is the fourth high jewelry collection by Piaget that pays tribute to the life-bestowing rays to the sun, after Mediterranean Garden, Secrets & Lights and Sunny Side of Life.